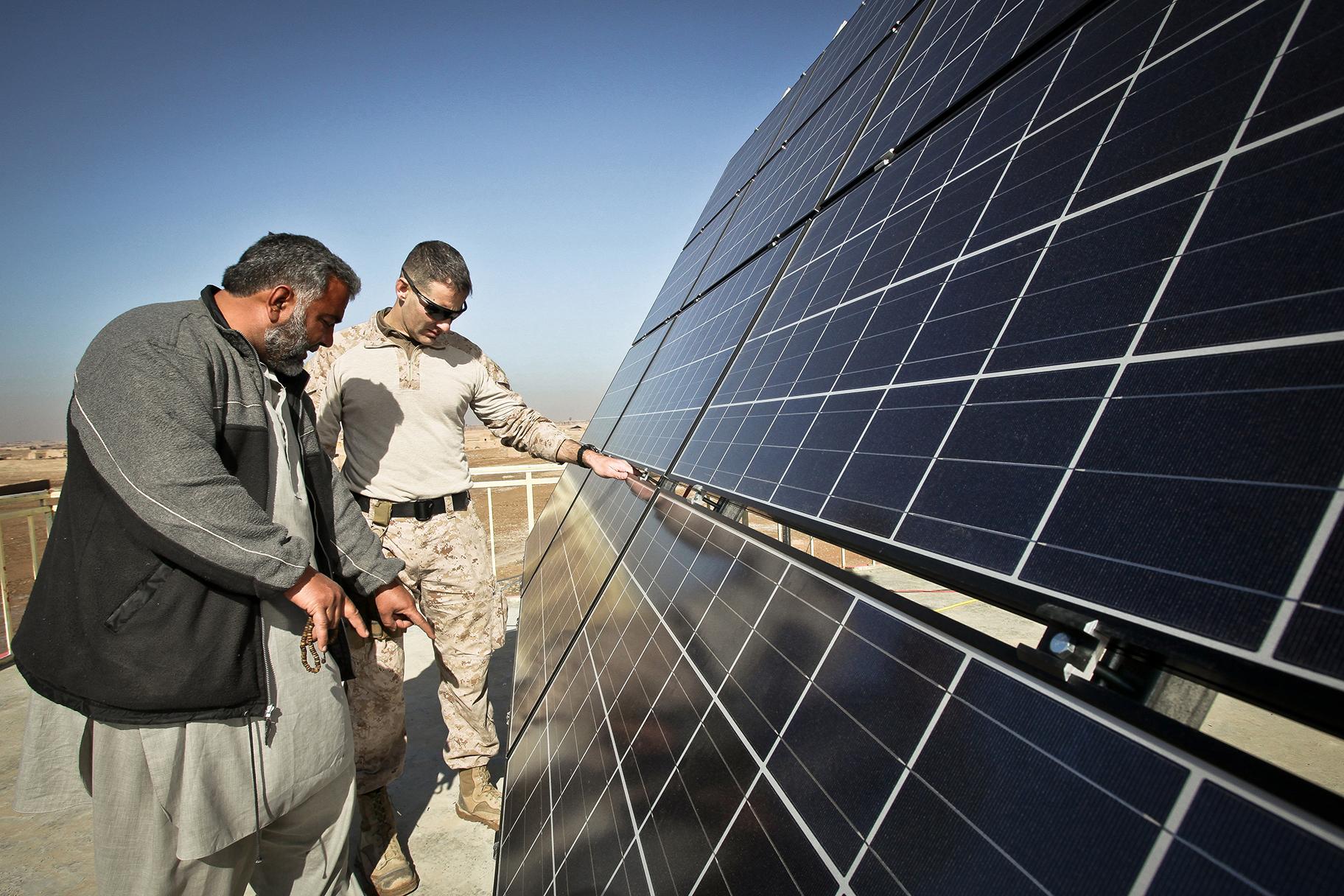 Maj. Erich Bergiel, right, inspects the solar panels on the roof of the Marjeh Fruit and Vegetable Packing Facility in Afghanistan while he talks with Abdul Rahman, a renewable energy engineer. (Master Gunnery Sgt. Phil Mehringer / U.S. Department of Defense)
During a two-year stint with the national service organization AmeriCorps, Jessica Klinge worked to expand recycling programs at a handful of Chicago Public Schools. In some schools, students volunteered to stand by the garbage bins and encourage their classmates to redirect empty milk cartons to the recycling container.
Klinge also organized a "Green Week" that introduced students to a variety of sustainability initiatives. The week featured a number of guest speakers, including a person who makes clothes entirely out of plastic bags.
Klinge did all of this while serving as a noncommissioned officer in the U.S. Army Reserve, where she has worked as a paralegal for nearly 15 years and now holds the title of sergeant first class.
Her interest and background in environmental causes runs counter to what Klinge says is a stereotype surrounding veterans – that many of them don't care about issues like sustainability and clean energy. 
In reality, Klinge said an increasing number of veterans are pursuing careers in fast-growing environmental sectors, like solar and wind energy, water quality, sustainable building and other fields.
Later this month, Klinge will help launch the Illinois chapter of Green Veterans, a national group that helps veterans transition from military to civilian life by connecting them with training for "green industry" jobs and other resources. Based in Chicago, it will join existing chapters in Florida, Wisconsin, Michigan, Rhode Island and Puerto Rico, according to the organization's website.
In Milwaukee, a program run by Green Veterans founder and combat veteran Brian Sales uses urban gardening as an alternative therapy for veterans coping with post-traumatic stress disorder and other mental health conditions.
Such issues can make it difficult for veterans to transition following military service, Klinge said.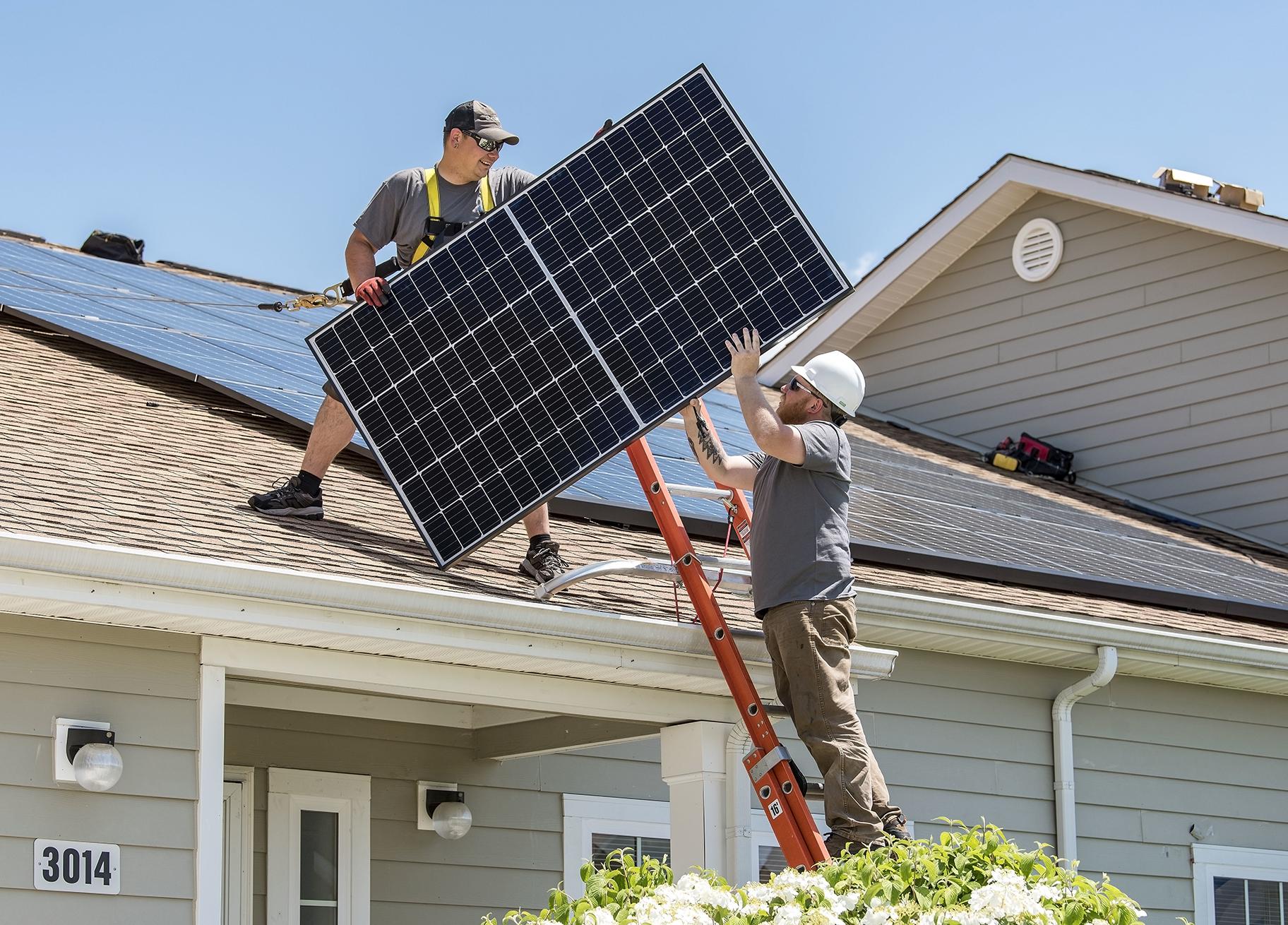 Wyatt Whelan, left, and Eric Roberts move a photovoltaic panel to a roof on May 11, 2018, in the Dover Family Housing community at Dover Air Force Base in Delaware. (Roland Balik / U.S. Air Force)
About 9.5 million veterans were in the labor force as of March, according to data from the U.S. Bureau of Labor Statistics. Another 9.8 million did not have full-time jobs, due to factors such as difficulty finding work, service-related injuries or age.
"For veterans to transition to the workforce, depending on what their situation is, they can definitely have a harder time than civilians," Klinge said. "What you might do in the military doesn't always transfer over to the civilian world as easily."
Klinge said that the new Illinois group, which is hosting a launch event Oct. 22, will look to expand on an existing program with the Chicago Botanic Garden, which offers paid internships to veterans in various departments, including living plant documentation, display gardens, construction and maintenance and photography.
The group is also in conversation with several community gardens about hosting training opportunities for veterans, Klinge said.
Another goal is to help veterans pursue careers beyond the blue-collar ones that make up the majority of those advertised at job fairs for veterans, said Klinge. She said many veterans have college degrees and management experience that could help them start a business with an environmental focus, for example.
For Klinge, starting the Illinois group is a natural step after completing a master's degree in sustainability management at the University of Wisconsin-Green Bay last year. For her master's project, Klinge interviewed more than a dozen veterans about how they transitioned to environmental careers. 
"I really think it's a movement overall, not just in Chicago or Illinois but across the U.S," she said. "A lot of veterans care about these issues."
The launch event for Illinois Green Veterans is scheduled for 6 p.m. Oct. 22 at the American Legion Tattler Post #973, 4355 N. Western Ave. in Chicago. Find more details here.
Contact Alex Ruppenthal: @arupp | (773) 509-5623 | [email protected]
---
Related stories:
UChicago Podcast Strives to Bridge the Civil-Military Divide
New Initiative Aims to Bring Solar Energy, Jobs to Chicago's South Side
Transportation, Jobs at Center of Ambitious Illinois Clean Energy Bill