While other kids were watching cartoons or playing sports after school, Keanon Kyles was singing. At age 8 he joined the Chicago Children's Choir, where he would go on to sing until he was 18. It was during those 10 years that Kyles says he really gained an appreciation for both classical and opera music.
"It was just such an amazing thing to be able to stand next to somebody who you know might've not been in the same social class or financial class as you," Kyles said. "But we all had one goal and that was to make music. Nothing else mattered, and I think that's where I really gained my love for music and diversity."
But even among that diverse group of people, Kyles says he wasn't really aware of the power of his voice. It wasn't until he was singing while attending Morgan Park High School that he realized his potential. While his peers were singing jazz and gospel, Kyles was singing in Italian.
"My music teacher at the time was Richard Nunley, and Richard Nunley gave me my first classical song and it was "Amarilli mia bella," Kyles said. "So we were working on it and, you know, he was teaching me the Italian and everything, and I was like, 'Wow, like, maybe I do have it ...'"
Kyles went on to study music at Columbia College Chicago. When it came time to graduate, he was faced with a hard choice: pursue his passion or pay the bills. But that didn't stop Kyles. He continued to train with a man whom he describes as his "musical father."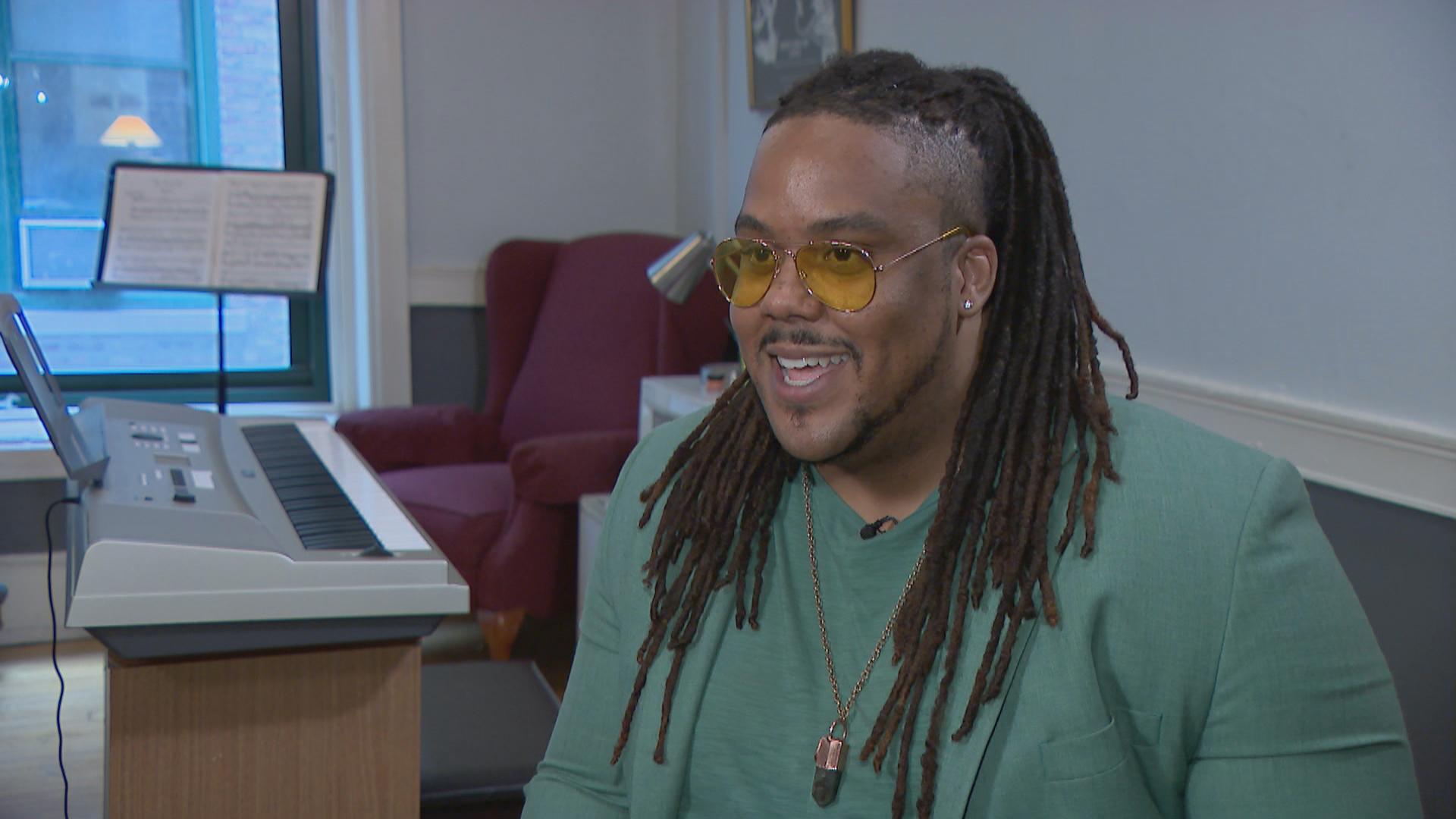 Chicago opera singer Keanon Kyles speaks with WTTW News.
"I think the most important thing or one of the most important things that (Andrew Schultze) does is celebrates my accomplishments, but right after that he'll always give me room for growth," Kyles said.
"What sets Keanon apart, I think, is that he is a hard worker," said Schultze, a retired professor and voice teacher. "He doesn't want to be mollycoddled, he wants to be challenged. And he knows that when there are challenges, that it means that there are things that he has a target for, things where he can see his own growth and his own development."
Keanon spends several hours a day training young singers and says when he encourages them to believe in themselves, he's also encouraging himself.
"So sometimes I have to look back after I'm done with a student and say, 'I think I need to work on that as well,'" Kyles said. "Because as a teacher they always expect you to have the right answers and be confident and be strong and assertive, but we also have those same type of insecurities. And sometimes working through those insecurities with them helps me to find some things about myself that I need to better."
Kyles' determination finally led him to a role as Dagoo in Chicago Opera Theatre's "Moby Dick." He was invited back for their world premiere of "Freedom Ride" in February 2020. But the show doesn't stop there.
"I'm going to Carnegie Hall in the fall and I'll be doing a small private recital so I'm excited for that," he said.
And he says after being denied seven times by the Lyric Opera of Chicago, Kyles was invited to be a part of its outreach program, Lyric Unlimited.
"So I'll be working with them in the fall," Kyles said. "They're doing a new opera called 'Earth to Kenzie' and the outreach program pretty much goes around to different CPS schools and performs this opera for the students."
Kyles hopes to influence Chicago Public Schools students in the long term, helping them realize their potential the same way his mentors helped him.
"I am composing my own opera and it's called 'The Pilot Finding Your Wings.' It's really to engage the youth and children of Chicago," he said. "I'm gearing it towards schools that are at risk in low-income areas just so they can see somebody there who looks like them and give them hope and inspire them to do something that is not always the norm."
Follow Angel Idowu on Twitter: @angelidowu3
Angel Idowu is the JCS Fund of the DuPage Foundation Arts Correspondent.
---
Related stories:
DJ Booth at 95th Red Line Station Offers More Than Free Music
Beyond Good Books, Semicolon Bookstore Aims for Sense of Community
For 20 Years, Music Center a 'Beacon of Hope' on Chicago's West Side
---