As a writer, publisher and general lover of literature, opening a bookstore was never in the plans for Danielle Mullen. But when faced with a tumor on the ocular nerve behind her right eye, she was forced to answer a question she hadn't thought much about.
"I was diagnosed in January and went into a dark space at first because I was like, 'Why?'" Danielle Mullen said. "I took that moment and I started thinking so much about legacy. What am I leaving here? And why wouldn't it be exactly what I wanted to be? What makes that so hard? I was roaming around and just found a spot. And then I was like, 'Well now I have it. I have to do it.'"
Just like that, Semicolon was born. Named after Project Semicolon, Mullen decided to dedicate her store to a movement that pushes people to keep going in their darkest times. Within 30 days, the store transformed into a luminous space for more than just Mullen to occupy.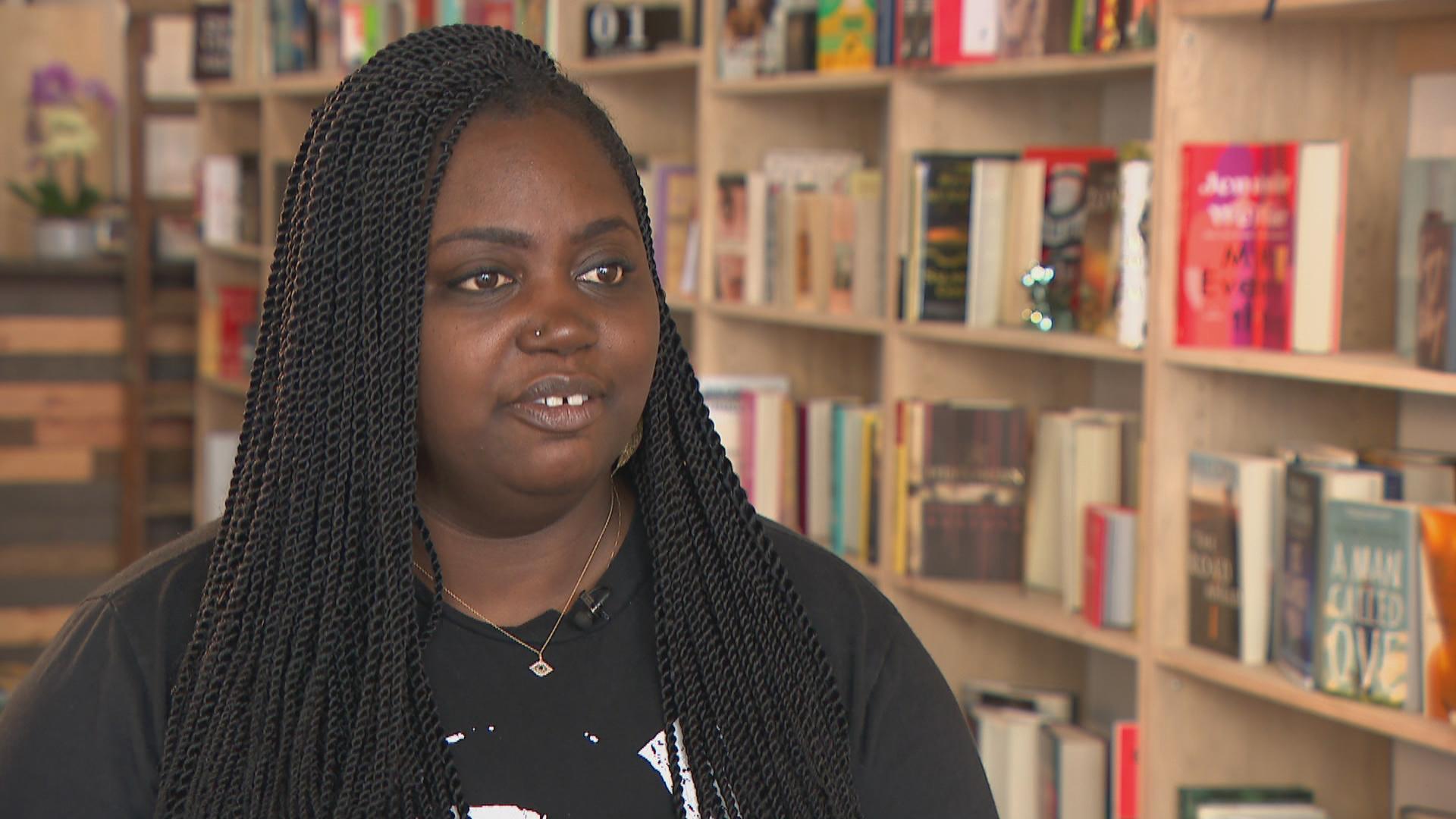 Danielle Mullen, owner of Semicolon Bookstore. (WTTW News)
"Some will love it and some will hate it," Mullen said. "But what I do find is everyone that comes in here likes me. We converse, have a good time, and drink because we're BYOB and we chill out here for hours. That is what I want it to cultivate. Whether you like books or street art or not, it's a sense of community, and now you just have somewhere to come when you just feel like talking about nothing. That is the real purpose." 
An aroma of cinnamon and sandalwood surrounds you immediately. Mullen's 800-plus books greet you front and center with their covers facing forward, all genres mixed together. Opposite stands a colorfully ornate mural that stretches from floor to ceiling. For Mullen, it's about more than a good book. She uses her space to show how all art mediums can be intertwined, while also giving recognition to Chicago artists.
"As someone who creates covers for authors, people put time into these covers," Mullen said. "So no, you won't turn them on the side and see the binding. I want you to see the cover. I want you to find interest in what these artists have taken the time to do. I also want you to connect that the art of the cover can be the same art that is in our city – the street art, the same art that is in museums, and all of that has a purpose and all of that connects to the words that are in the book."
Beneath the bookstore sits a gallery where Chicago artists can showcase their work. Back upstairs you'll find reading sections dedicated to both Chicago authors and artists of color. When asked about being misidentified as the first black women to own a bookstore in Chicago, Mullen, who is actually the third such woman, stated without hesitation: "This is not about that."
"Let's be respectful of the people that have really done this and really done the work," Mullen said. "I was going to do this regardless. What's for you is for you. But there are women who really had to go through it to get their space open. Let's not disrespect these outstanding women. For me to be the third is really cool. But that's not why we're here."
With chemo and radiation, Mullen says she's proud of her body's ability to adapt; even when she's having what she calls a "bad vision day."
"But when I feel like I'm doing too much, I just sit in my chair in my store. I'm going to be in my store until it's time to go," she said.
Angel Idowu is the JCS Fund of the DuPage Foundation Arts Correspondent.
---
Related stories:
Nobel Laureate Toni Morrison Dead at 88
Eve L. Ewing Explores Race Riots in New Poetry Collection '1919'
In 'A Shoppers' Paradise,' the Story of How Women Shaped Chicago's Loop
Valerie Jarrett Outlines 'Journey to the West Wing' in New Memoir
---