For a few years there's been chatter about an emerging guitarist who just might be the future of the blues. Buddy Guy himself called him "the next explosion of the blues" when he was still a teenager.
The long-delayed debut album by Christone "Kingfish" Ingram arrived this summer on Chicago's Alligator Records – and this week earned a Grammy nomination.
---
TRANSCRIPT
Paris Schutz: The guitar prodigy and his band arrived for an afternoon sound check.
At Schuba's Tavern, the star of the show isn't old enough to have a drink. But this 20-year-old can uncork the blues.
Christone Ingram hails from Clarksdale, Mississippi – the legendary crossroads of the blues. He took classes at the Delta Blues Museum, where an instructor gave him the nickname "Kingfish."
And he credits PBS with fostering his interest in the music.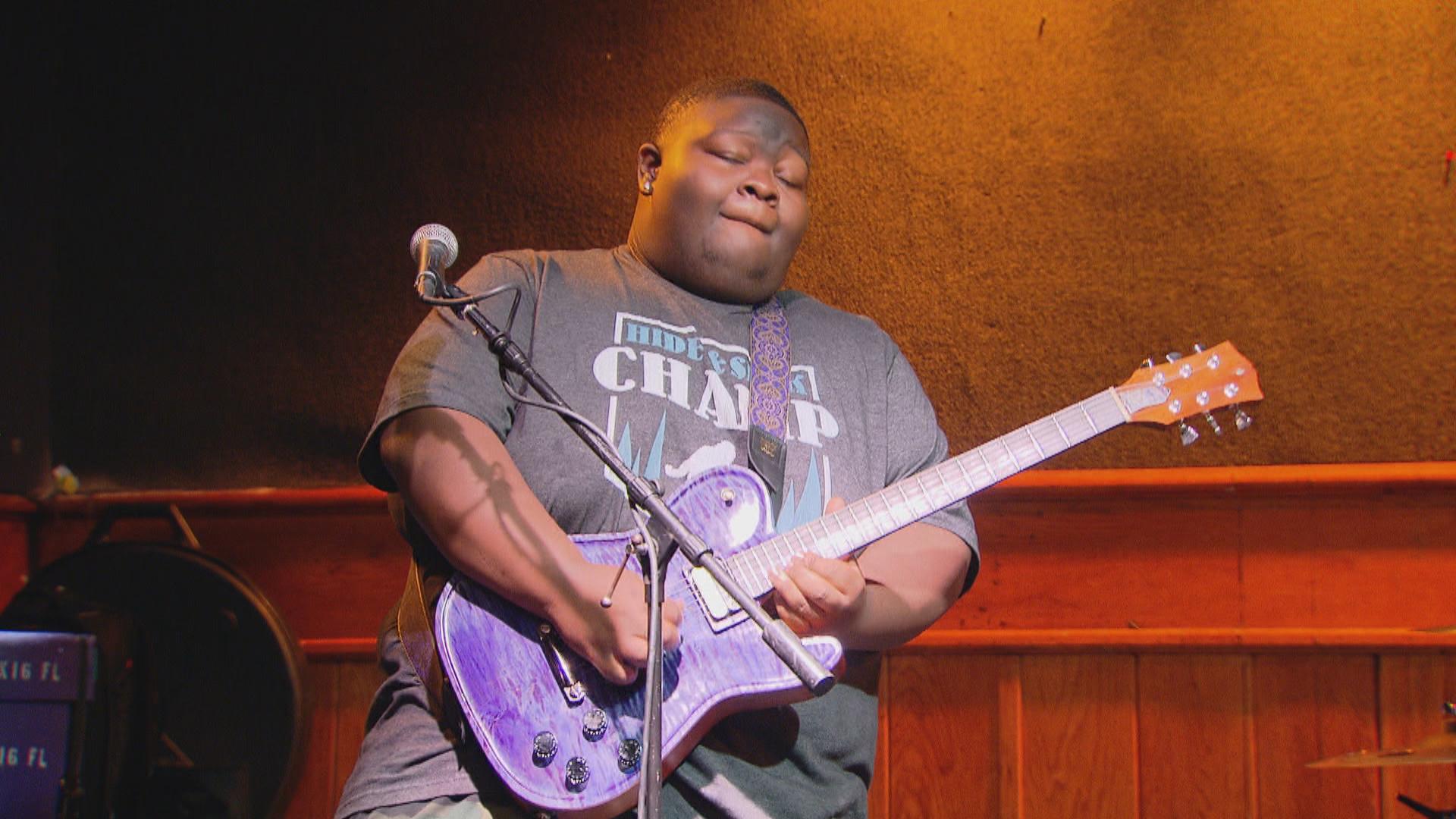 Christone "Kingfish" Ingram
Christone "Kingfish" Ingram: I remember when I was younger, maybe like 5, my dad showed me a PBS documentary on Muddy Waters and he said one of these days I'm gonna take you to the Blues Museum to show you, and so he took me one day. So it all pretty much started, my thing in the blues, with my dad, him showing me that documentary.
All of my uncles and aunts, they preach, they sing in the choir, all of them lead, all of them play instruments. So they were a big influence on me when I was younger. My mom was always taking me to gospel programs and I was going to quartet programs and watching the quartet groups and getting up there with them with my guitar and mimicking but not really knowing what I'm doing.
So yeah, man, my family and church was my first influence.
Schutz: When he's not on the road, Kingfish works with United by Music North America and performs with people who have developmental challenges.
Growing up in Mississippi, he loved all kinds of music – but he fell for the blues while his peers were into hip-hop.
Kingfish: They really thought it was funny, cause it was like "Man you young but you listen to that old, sad stuff." I'm like, "Man, I ain't really like that, I'm listening more for a culture thing, you know? This is history. This birthed what you guys listen to today, because you know rap is nothing but the blues' grandchild."
Schutz: Now, he's released his long-awaited debut album, "Kingfish," on Chicago's independent blues label Alligator Records.
Bruce Iglauer, founder, Alligator Records: Christone has been the buzz of the blues world for the last three or four years. For a young man to play blues and sing blues with this level of authority, and to come out of the blues heartland of Mississippi, made him immediately a bit of a sensation.
Schutz: He told us he loves to play Chicago – and he spoke about his hometown of Clarksdale.
Kingfish: Clarksdale, man, it's the blues mecca. It's really the home of the blues. It's blues all around, with the poverty and this, that, and the third, but as far as the music goes and the cultural aspect, it's all around.
Iglauer: When he was younger, he played a lot of notes, like a lot of younger players do, but by the time he turned 18 he began figuring out which the important notes were, the notes that tell the story. And now he tells a story with his guitar and his voice that's so grown-up you can't believe he just turned 20 years old.
It's thrilling to watch him grow as a musician, and he's just getting started.
Kingfish: I'm very grateful for everybody who's supported me and who's gotten me to this point. I'm just riding the wave to see what the end is gonna be, man. Who knows what might happen in the future? I'm just riding the wave, man, yeah.
---
More on this story
Over the summer, Christone "Kingfish" Ingram played a trio of shows in Chicago before hitting the road again to open for Vampire Weekend across the country. 
His self-titled debut album received a Grammy Award nomination Wednesday in the category for best traditional blues album. The awards will be announced Jan. 26, 2020.
Also in January, Kingfish is scheduled to open for Buddy Guy at Buddy Guy's Legends.
Note: This story was first published on July 2, 2019. It has been updated.
Below, a Kingfish video for his new song "Outside of This Town."
---
Related stories:
'Bitten by the Blues' Chronicles Rise of Chicago's Alligator Records
Remembering Chicago Bluesman Eddy 'The Chief' Clearwater
Documentary Puts Legendary Chicago Bluesman in Spotlight
---