"I don't know if any of you remember, but last November Republicans didn't do so well in Illinois," Senate Republican Leader Bill Brady said Tuesday at the start of his remarks at the City Club of Chicago.
The GOP lost the governor's office to Democrat J.B. Pritzker, and their minority status in both chambers of the legislature was sealed – the General Assembly's 114 Democrats nearly double the 62 Republican representatives and senators.
"We were in the super minority and we had some decisions to make," he said. "And I'll confess to you that there were people in our own party in this state who thought that (House Minority Leader) Jim Durkin and myself and the caucuses that we proudly represent should have taken a fire-and-brimstone approach. We should have just said, 'Oh hell with you Democrats, we're going to fight everything.'"
Despite GOP opposition, Democrats passed a new law that lifts restrictions on abortions, put a graduated income tax constitutional amendment question on the next ballot and hiked the minimum wage statewide.
But Brady said by choosing to instead cooperate, Republicans were able to "moderate" Democrats' progressive plans – securing the continuation of a private school tax scholarship that Gov. Pritzker wanted phased out and getting through tax demands longed for by business groups.
The latter were part of a comprehensive, bipartisan budget and infrastructure spending package paid for, in part, by a massive expansion of gambling.
It's not just new casinos in Chicago, Waukegan and the south suburbs. Establishments that have video gaming terminals can add more, and those who play on them can place higher bets.
Changes from which Brady stands to personally profit.  
"I don't think it's wrong or I wouldn't do it," Brady said Tuesday when asked about the arrangement.
A WBEZ/ProPublica investigation revealed in May that Brady has a "business interest" in Midwest Electronics Gaming, a prominent video gaming company.
"I'm a business person. I've been in various businesses. From my real estate companies to home building business, other businesses like all other members of the General Assembly. This just is another business interest I have, that deals in the area of video poker, entertainment facilities throughout the state," Brady said.
Brady refused to say how much money he's made from his role as a video poker "sales agent."
"No, I won't tell you how much money I make from real estate commissions and other businesses I'm invested in," he said.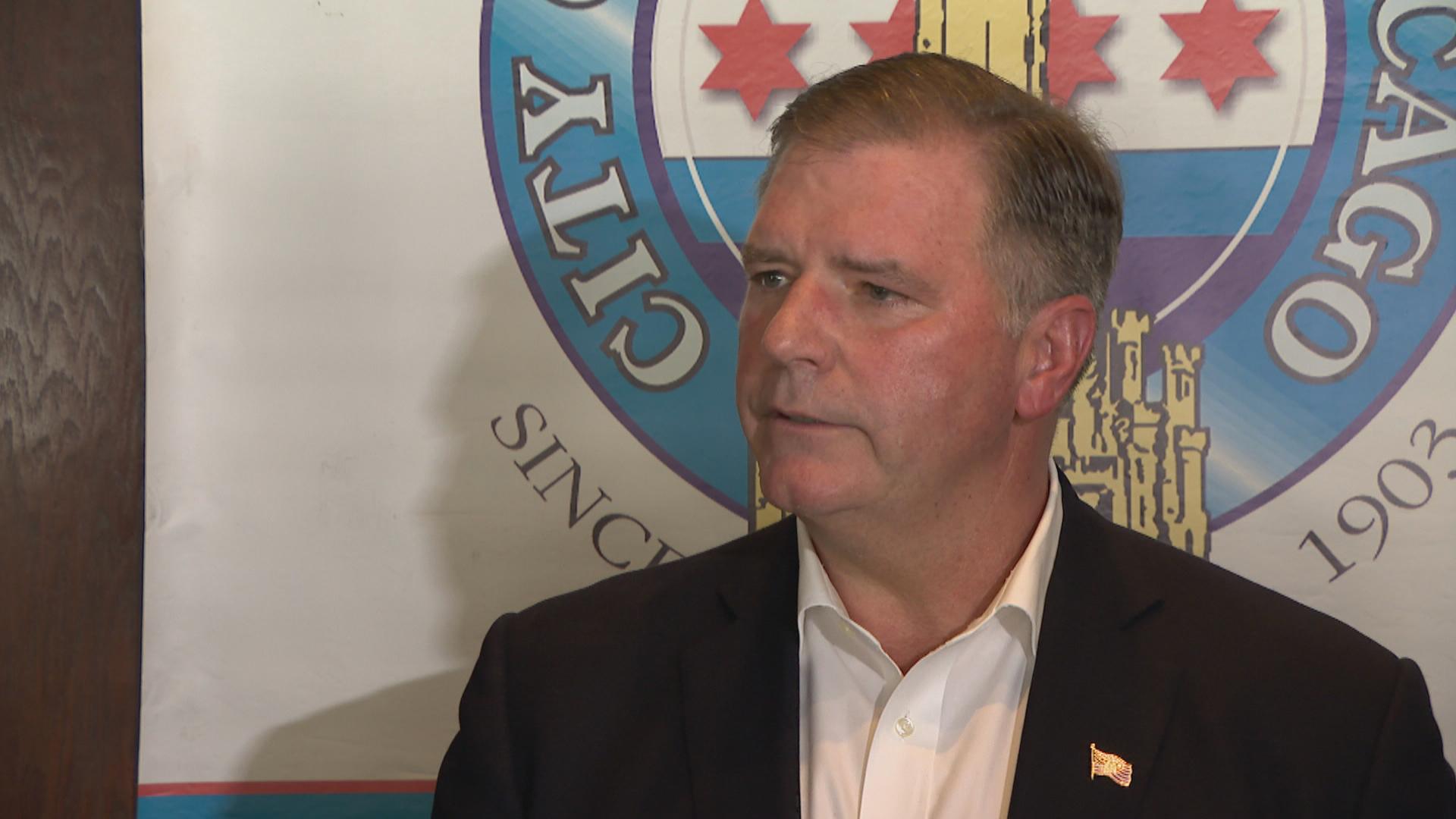 Illinois Senate Republican Leader Bill Brady speaks at the City Club of Chicago on Tuesday, June 18, 2019. (WTTW News)
There is no suggestion Brady has done anything illegal.
The Senate minority leader says he ran his situation past the Senate Republican ethics lawyer, and upon the attorney's suggestion, abstained from voting on the gambling bill (Senate Bill 690, which has yet to be signed into law but which Pritkzer openly supports), though Brady says he did not have to abstain.
Like other state officials, Brady completed a required economic interest statement, which is on file with the state.
But the form is notoriously vague, making it difficult to tell whether an official has any potential conflicts of interest.
Brady's disclosure makes no mention of Midwest Gaming. The supplemental form lists "Brady Ventures." The WBEZ/ProPublica reporters found Brady's payments from Midwest go to Brady Ventures.
Past efforts, supported by then-Lt. Gov. Sheila Simon and the Better Government Association, to strengthen disclosure requirements have stalled in the legislature.
"Evaluating things like that on a constant basis is a positive thing," Brady said. "In my case, if I run across a situation – which seldom happens – I talk to my ethics officer as I follow what my ethics officer has told me to do. So I'm not aware of any changes that need to be made at this point in time."
Follow Amanda Vinicky on Twitter: @AmandaVinicky
---
Related stories:
Illinois' Gaming Expansion Could Be a Losing Bet for Problem Gamblers
Legislative Leaders in the Dark on Gaming Bill Specifics
Place Your Bets: Where Should the Chicago Casino Be Built?
---