UPDATE: Illinois Welcomes Weed, Waits on a Budget with Another Extended Session
Anyone who figured it would be easy for Democrats to legalize marijuana, think again.
Attempts have stalled in New York and New Jersey. The effort is still alive in Illinois, but there's only a week or so left before the legislative session is set to adjourn, and negotiations are ongoing.
Where does that leave the state's blossoming medical marijuana pilot program, which first took effect in 2014 and is set to expire next year?
The program was intentionally restrictive – so much so that when pot dispensaries opened their doors in 2015, sales were slow.
"I think there was a lot of people that didn't that the program was even going on. I still a lot of people aren't necessarily informed that it's going on," said Paul Lee, the general manager of Chicago's first cannabis shop, Dispensary 33 in Andersonville.
He says things picked up – especially after former Gov. Bruce Rauner last summer signed a law liberalizing the program. It allows doctors to effectively prescribe marijuana as an alternative to addicting opioids, it removed a requirement that potential patients be fingerprinted, and patients can register for provisional access rather than having to wait months for approval.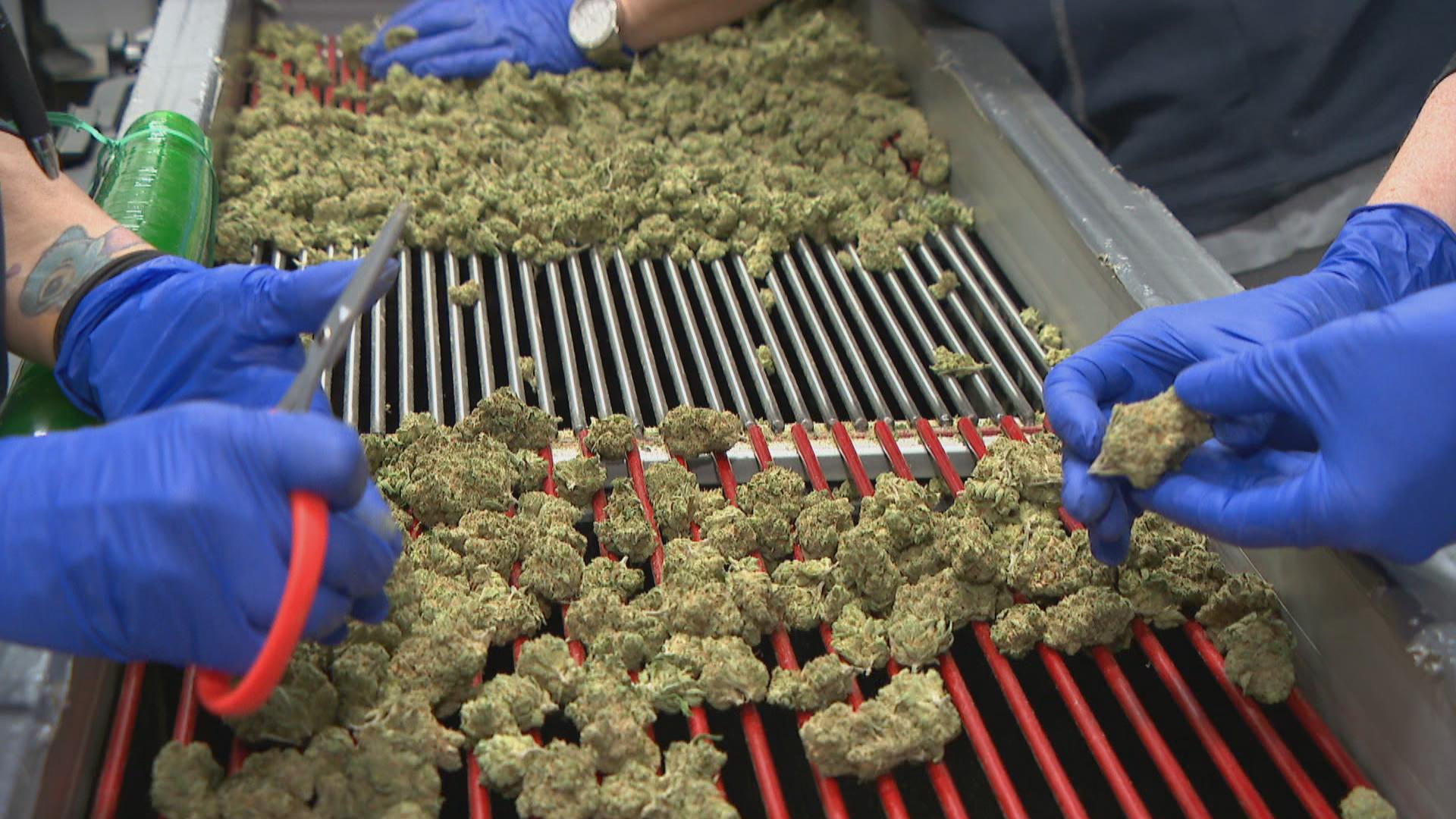 Total retail sales since the program's inception have now topped $323 million, and as of early May, more than 65,500 patients are certified to participate – nearly double the number of patients on the state's registry at this time last year.
Dispensary 33 is preparing for the day Illinois' market opens up even more – to anyone 21 or older.
Lee is hiring more employees, increasing training, even redecorating the store with custom cannabis wallpaper and art made of hand-stained sheets cut to the size of rolling paper.
Cannabis cultivation centers, like Cresco Labs, are also expanding in preparation for legal weed.
"Of course, we're looking down the road at what it could be. So, this facility here in Joliet, you know, we've built out to our full capacity and we're expanding other facilities around the state to be able to accommodate both the future patient growth and an adult-use program here in this state," Cresco spokesman Jason Erkes said. "We want to be ready for when and if that happens, to be able to accommodate, you know, the patients, the consumers, and anybody that's interested in buying cannabis products."
While lawmakers continue to debate what legal pot should look like in Illinois, it seems they have settled on this much: Even if it gets to the point that any adult could get legal weed, llinois will continue to have a medical marijuana program.
"Why would we keep a medical program, if there's a recreational source around and you could skip seeing the doctor and just go get it yourself? It's that you'll miss out on the monitoring with one's other medications, for instance," said Dr. Leslie Mendoza Temple, a physician in Glenview who chaired the state government's now-disbanded Medical Marijuana Advisory Board. "We would want to be sure we're monitoring for abuse, toxicity. And you wouldn't have those checks in place if one were just using it without kind of any medical supervision, if you're using it for medical purposes."
To be part of the official medical program, a physician needs to certify patients as having one of the 41 debilitating conditions, including AIDS, glaucoma, Parkinson's or PTSD.
Lawmakers are also set to consider adding more conditions and letting nurses (not just doctors) do the certification, under a plan sponsored by state Rep. Bob Morgan, D-Deerfield, that would also make the medical marijuana program permanent.
Patients using pot as medicine have to apply, register with the state and pay the $100 annual fee for a card.
It's a somewhat rigorous process that requires completing a bunch of paperwork.
But patients would get a benefit for their trouble:
-The recreational cannabis legislation contemplates tax rates ranging from 10% to 25%, depending on THC levels.
Compare that with the 1% sales tax on medical marijuana (the same sales tax for all pharmaceuticals).
-The medical cannabis wouldn't be subject to the same potency limits as recreational pot.
-It's likely that only medical marijuana patients will be permitted to grow weed at home.
The initial proposal backed by Gov. J.B. Pritzker called for allowing anyone over 21 to be able to grow up to five cannabis plants at home.
But a forthcoming revised version is expected to scale it back as part of a compromise with law enforcement.
Sponsoring Sen. Heather Steans, D-Chicago, told WTTW News it's an important option for those who use marijuana as medicine, given that insurance and Medicaid won't pay for it because the drug is still illegal at the federal level.
Steans says growing it at home could be a less-expensive option.
But Temple is against recreational marijuana – she's concerned about the message it sends to youth, and about potential abuses.
She's also concerned about what an expanded market will mean for her patients, who count on the drug to help them sleep, stem nausea or subdue pain.
"I want to see my patients protected in getting the highest quality products with the high CBD, the low THC, which many of them want and benefit from, and what I don't know is how the market is going to take over when recreational cannabis takes over. Because then price will become a driver," she said.
Even some initial skeptics admit they've warmed to Illinois' strict rules governing the medical marijuana program.
"We've ensured basically that each patient, when they come in and buy one of our products, they know exactly what they're getting, they know that it hasn't been treated with pesticides, they know that it's good quality, and they know that it's going to be consistent every time they get it," said John Sullivan of Illinois Grown Medicine, a cultivation center in Elk Grove Village.
Like Dispensary 33 and Cresco, Illinois Grown Medicine is growing operations in anticipation of Illinois making weed legal to anyone age 21 or older.
Under the proposal lawmakers are set to consider, patients who want to continue buying medical marijuana would get dibs.
"Dispensaries and cultivators will have to set aside products sufficient to meet the demands of patients," said state Rep. Kelly Cassidy, D-Chicago, who is the House sponsor of the recreational cannabis bill. "We're not going to let folks go without their relief."
Follow Amanda Vinicky on Twitter: @AmandaVinicky
---
Related stories:
Marijuana is a Psychoactive Drug. But is it Really a Medicine?
The Growing Business of Cannabis in San Diego
How the Legalization Debate is Playing Out Across the US
High Time or Half-Baked? Illinois Looks to Legalize Weed
---