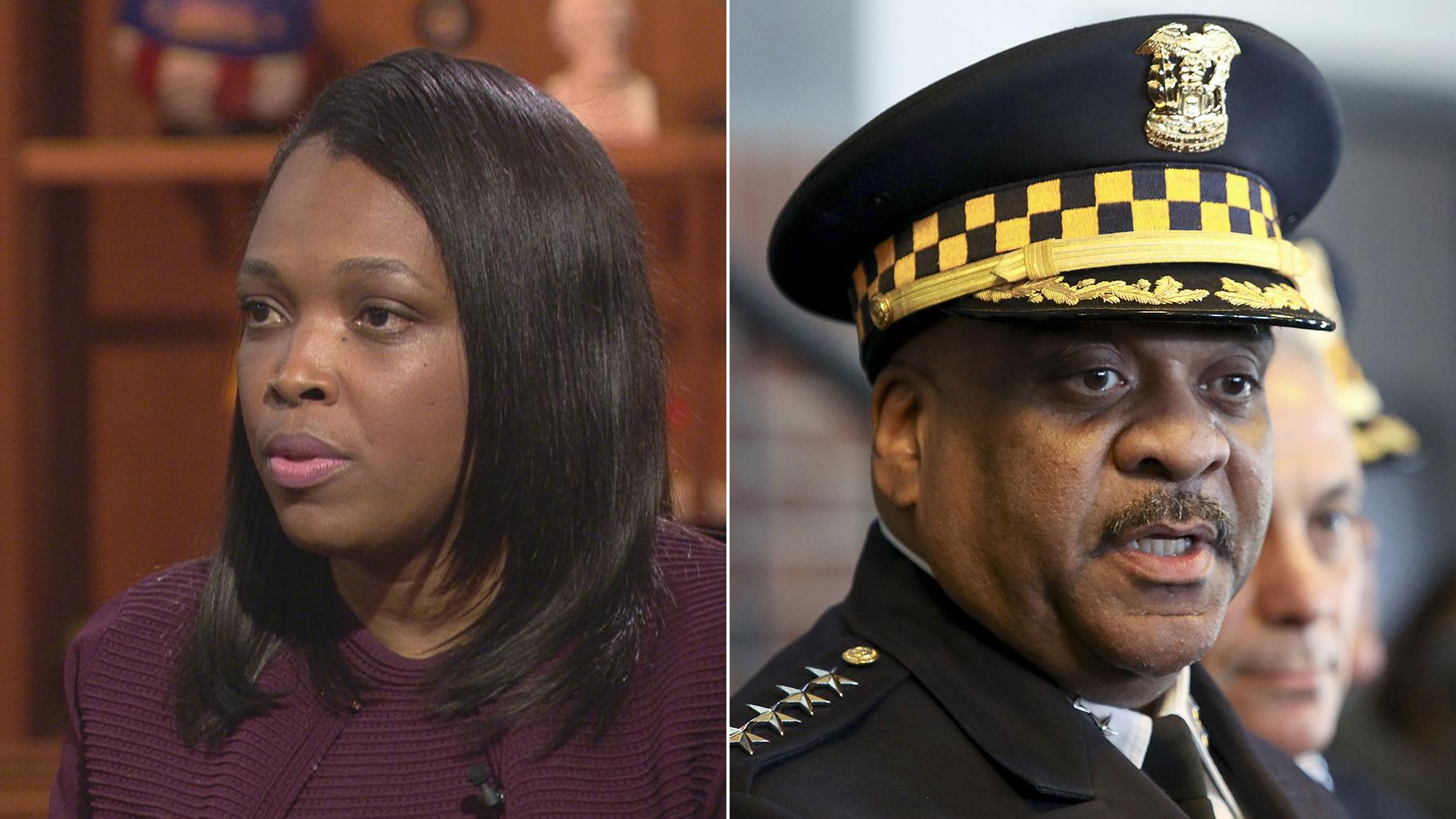 Janice Jackson, left, appears on "Chicago Tonight" on April 19, 2018. Eddie Johnson, right, speaks during a news conference Tuesday, March 26, 2019. (AP Photo / Teresa Crawford)
On her first full day in office, Mayor Lori Lightfoot announced a number of leaders who will serve in her administration, as well as several senior staff members.
Most notably, Lightfoot says Police Superintendent Eddie Johnson will remain in his position, as will Chicago Public Schools CEO Janice Jackson.
The current heads of the City Colleges of Chicago, Chicago Transit Authority, Chicago Housing Authority and the Chicago Park District will all remain in their positions also.
Dr. Alison Arwady will serve as acting commissioner of the Department of Health while a national search to replace outgoing Commissioner Julie Morita is conducted.
Thomas Carney will run the Department of Transportation in an acting capacity until a replacement is found.
Below, the full list of appointments.
---
• Samantha Fields, Senior Advisor for Legislative Counsel and Government Affairs (LCGA)
• Samir Mayekar, Deputy Mayor for Neighborhood & Economic Development
• Marisa Novara, Commissioner of Housing
• Manuel Perez, Managing Deputy Director of Legislative Counsel and Governmental Affairs (LCGA)
• Tiffany Sostrin, Deputy Director of Legislative Counsel and Governmental Affairs (LCGA)
Lightfoot named the following individuals to lead city departments:
• Alison Arwady, Chicago Department of Public Health
• Thomas R. Carney, Chicago Department of Transportation
• Andrea Telli, Chicago Public Library
• Eleanor Gorski, Department of Planning and Development
Lightfoot also announced the following agency department heads will remain in their current positions:
• Eddie Johnson, Chicago Police Department Superintendent
• Janice Jackson, Chicago Public Schools CEO
• Juan Salgado, City Colleges of Chicago Chancellor
• Dorval Carter, Chicago Transit Authority President
• Michael Kelly, Chicago Park District General Superintendent and CEO
• Eugene Jones, Chicago Housing Authority CEO
Follow Brandis Friedman on Twitter @BrandisFriedman
---
Related stories:
Lightfoot Signs Executive Order Curbing Aldermanic Prerogative
Aldermen on Governing with Mayor Lori Lightfoot
Lightfoot Sworn in as Chicago Mayor: 'This City Felt Like Where I Belonged'
---