A viewer's photo of her mother at a glamorous restaurant in 1940s Chicago left her wondering where the photo was taken. Geoffrey Baer takes a look back at a Polynesian palace on State Street in this week's Ask Geoffrey. And we finally address an elephant in the room at Marshall Field's.
---
I was wondering if you might be able to help identify a picture I have from the '40s of my mother and her girlfriends (at) a restaurant in Chicago. Mom lived on Lake Shore Drive, near the Drake. She was an airline stewardess with Eastern, flying back and forth from Chicago to Florida.
– Paula Marietta, North Webster, Indiana
Paula's mom Rose Mary Secondino is second from the left in this photo, below, of her night out with friends. You can't see too much of the restaurant in the photo, but some distinctive detail – namely, the swirled ornament and palm trees in the background – mark it as one of two restaurants that operated at 222 N. State St. in the 1940s.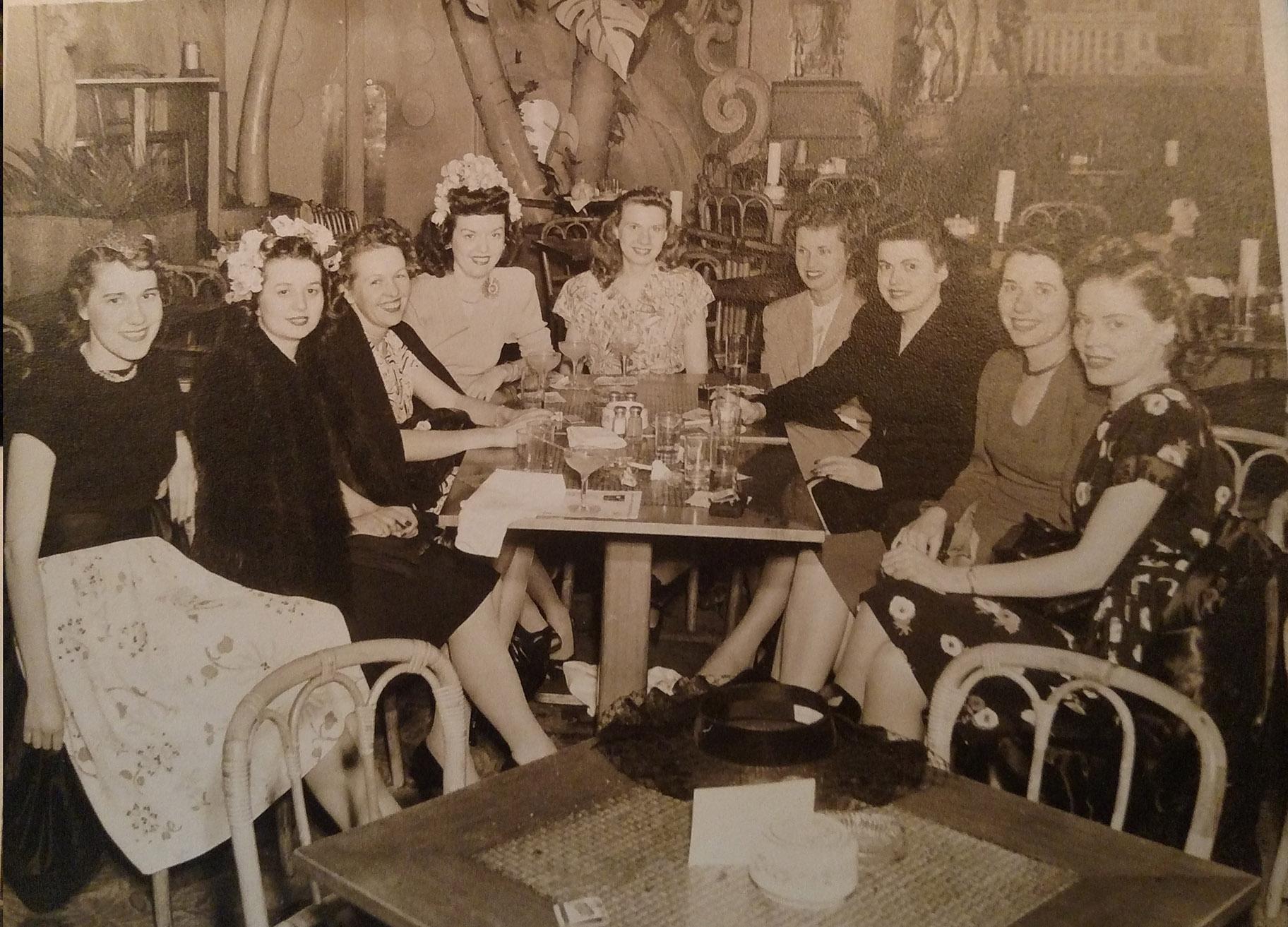 From 1941 to 1942, it was the Rhumba Casino, a splashy Latin-themed club that enjoyed quite a bit of popularity in its short run – maybe too much. In 1942, Mayor Edward Kelly took it upon himself to tour a few downtown taverns incognito, including the Rhumba Casino. Unfortunately what he found there were drunk underage sailors. Four of the bars had their licenses revoked. Some of the bars were allowed to re-open after cleaning up their acts, but damning testimony from the underage sailors themselves permanently closed the Rhumba Casino.
But a phoenix rose from the ashes of the Rhumba: the Polynesian-themed Shangri-La, which billed itself as "The World's Most Romantic Restaurant." It opened in 1944 and quickly became a hot spot famous for its Cantonese cuisine.
Chicago Tribune journalist Jimmy Savage wrote a breathless review of the place for his Tower Ticker column, saying, "the very richness and difference of the menu precludes daily dining here, for too much of this good thing would make return to the commonplace all the more difficult."
The restaurant's charming host, Jimmy Moy, sometimes presented recipes for Cantonese dishes like Shangri-La's in Chicago Tribune columns – you can try them out for yourself here and here.
The restaurant remained popular until 1968, when the IRS closed it down for failing to turn over income taxes withheld from a year's worth of employees' checks.
It was remodeled into an adult theater in 1969 during a time when State Street wasn't such a great street. The theater operated for about a decade.
The building was demolished in 1981 and was used as a parking lot until a hotel was built there in 1991.
Shangri-La head chef Paul Fong went on to open his own restaurant in North Riverside, Chef Shangri-La. He died in 2012, but the restaurant is still operating.
---
When I google "elephant by Marshall Fields" a picture of a large elephant sculpture appeared on the side of the store. Was this a real event?
– Patricia Hickey, Belmont Gardens
Below is the photo in question – you can just make out the sign the elephant sculpture is holding in its trunk – the plastic pachyderm is promoting Fash Bash, a fashion show and party at Marshall Field's, which ran annually from 1999 to 2013 benefitting the Art Institute of Chicago.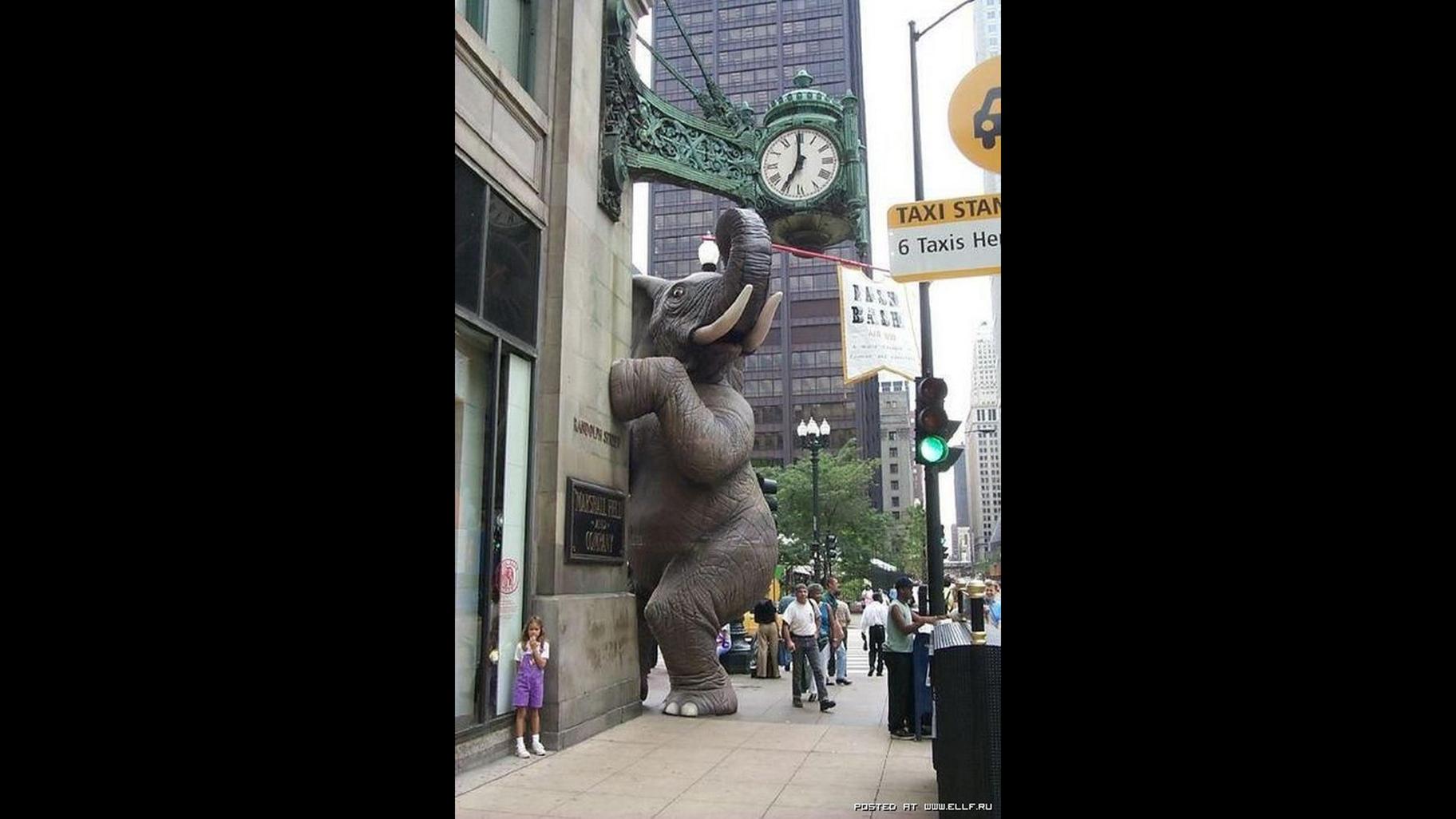 That's pretty much the whole story there, but our research into this question led us to another story about an actual live elephant inside Marshall Field's! It was a marketing stunt in 1944 to promote the children's book "The Elegant Elephant" by Russell McCracken.
The book told the story of Eddie, a baby elephant who wanted to become elegant enough to join the circus. The publishers cooked up the idea of bringing not a baby elephant, but a 7-foot-tall, 3,000-pound, 12-year-old elephant named Judy into the department store to sign "autographs" as a promotion for two days.
Judy the elephant was borrowed from a Sheboygan, Wisconsin, circus and hoisted to Marshall Field's third floor book department via the freight elevator. There she performed tricks and "signed" books with a hand stamp held in her trunk.
Unfortunately, Judy was not so elegant after the party. She refused to re-enter the freight elevator to go to her overnight accommodations. Her handlers tried to back her into the elevator, but that didn't work either. She stomped away from the freight elevator, knocking down books and rugs in her path.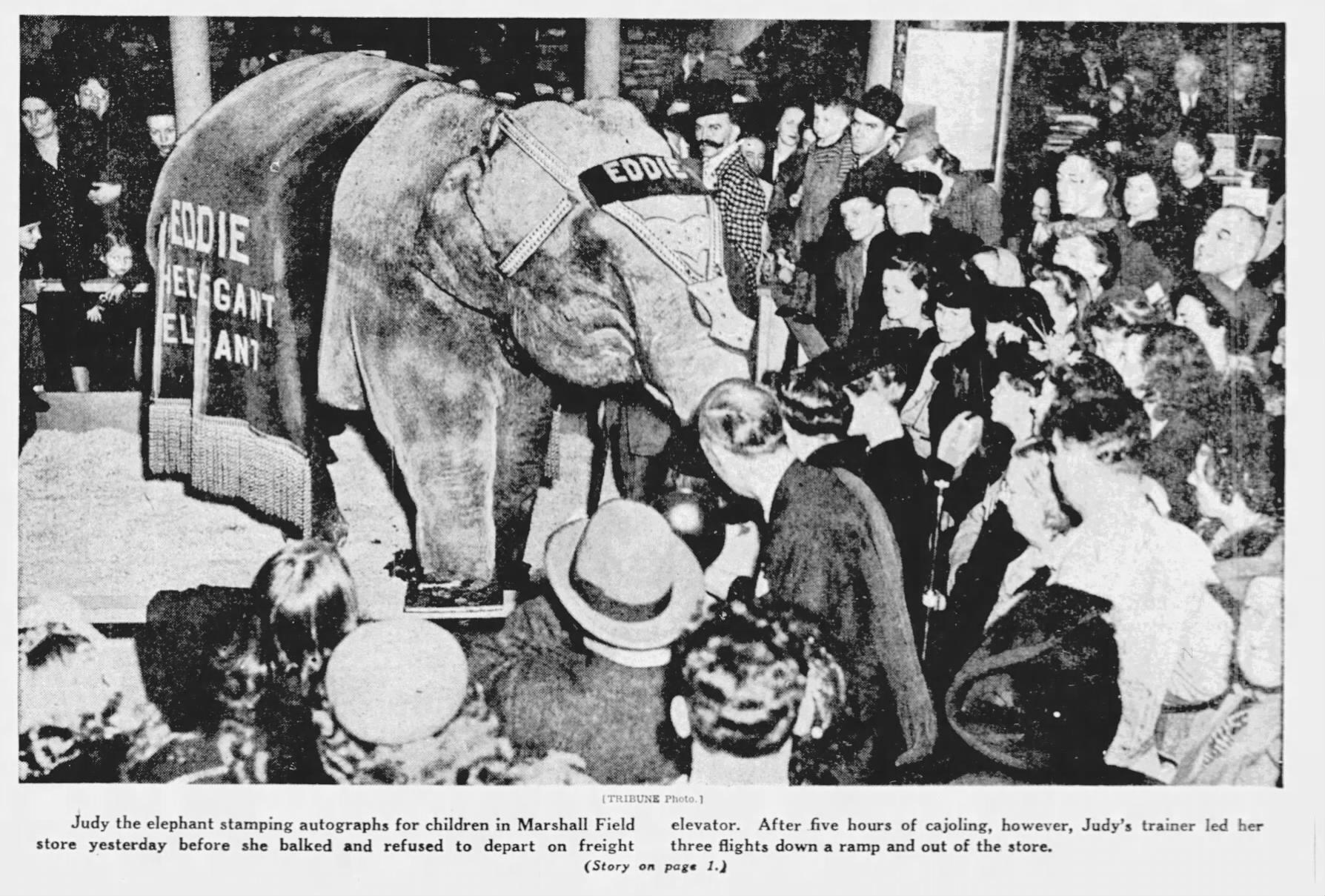 In desperation, her handlers called Brookfield Zoo for advice. They suggested that she might be willing to walk down a ramp, so Judy stayed in the store until carpenters could hastily construct a three-story ramp that allowed her to walk out to the first floor.
Marshall Field's wound up cancelling the rest of the event.
The episode inspired author McCracken to write a follow-up book about Eddie's experience at Marshall Field's called "Eddie Elephant Has a Party."
Note: This story was originally published May 15, 2019. It has been updated.
---
More Ask Geoffrey: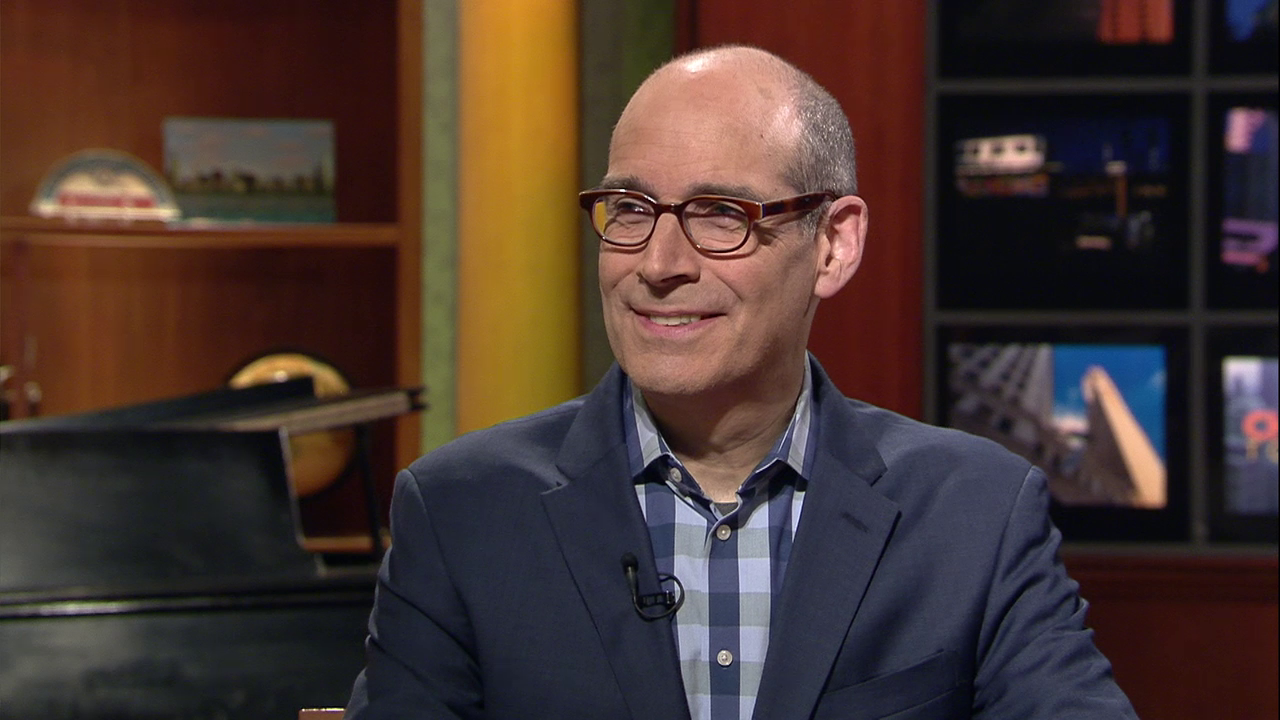 Did you know that you can dig through our Ask Geoffrey archives? Revisit your favorite episodes, discover new secrets about the city's past, and ask Geoffrey your own questions for possible exploration in upcoming episodes. Find it all right here.
Do you have a question for Geoffrey? Ask him.
---