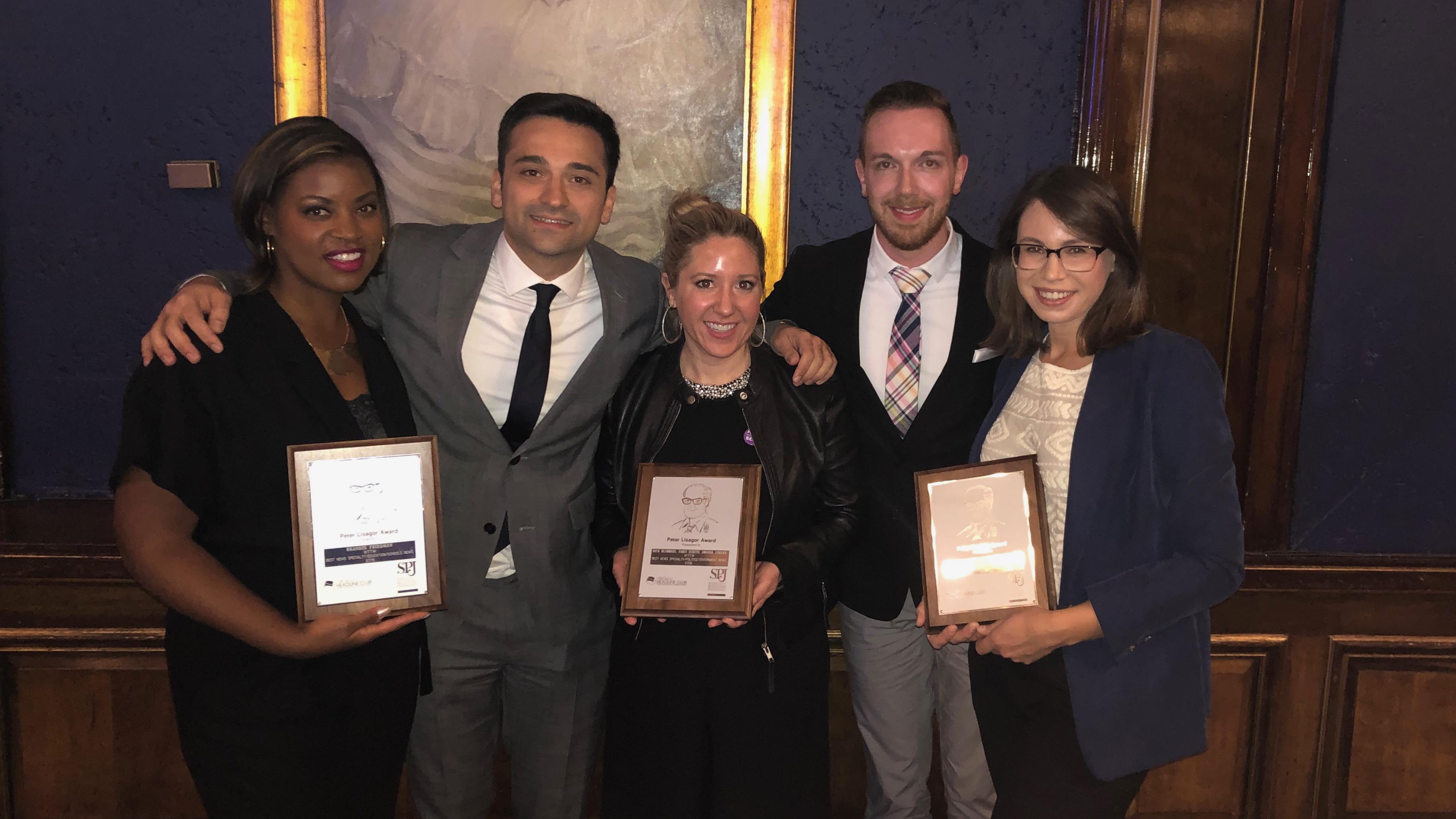 "Chicago Tonight" 2018 Lisagor Award winners Brandis Friedman, Paris Schutz, Amanda Vinicky, Nick Blumberg and Nicole Cardos attend the awards ceremony on Friday, May 10, 2019.
"Chicago Tonight" has won three prestigious Lisagor awards for the best in Chicago journalism, for the best in arts, education and government news.
Producer Nicole Cardos won in the "Best News Specialty/Arts/Culture/Entertainment News – Feature or Series" for her story "Photographer's 'Scream Sessions' Aim to Challenge Stereotypes," a moving, non-narrated piece about a photographer empowers woman to speak out by bringing them together to shout and let it out, and then capturing it on camera.
Correspondent Brandis Friedman won in the "Best News Specialty/Education/Schools News" for her story "FAFSA Verification an 'Unfair Burden' on Low-Income Students," about how the federal government's decision to require more financial aid applicants for proof of their low-income status has resulted in students leaving school.
Documentaries on 2018 gubernatorial candidates J.B. Pritzker, who won the November general election, and then-Gov. Bruce Rauner, by producer Nick Blumberg, correspondent Paris Schutz and correspondent Amanda Vinicky took the top prize in the Best News Specialty/Politics/Government News category. "The Choice for Governor: A WTTW News Special" spent an hour looking past the day-to-day news of the race, and instead took an in-depth look at the life experiences that shaped the candidates.
Another WTTW special, "Art & Design in Chicago," by the team of Daniel Andries, Dan Soles, Liz Reeves, Paul Thornton, Kaitlynn Scannell and Shonna Pryor was a finalist for "Best News Specialty/Arts/Culture/Entertainment News – Feature or Series." The television program and accompanying interactive website explore the contributions of Chicago's artists and designers.
The Chicago Headline Club, the largest Society of Professional Journalist chapter in the nation, announced winners Friday. (See the full list of winners here; and the full list of finalists here.)
The Lisagor Awards for Exemplary Journalism are named after former Chicago Daily News Washington bureau chief Peter Lisagor.
Follow Amanda Vinicky on Twitter: @AmandaVinicky
---