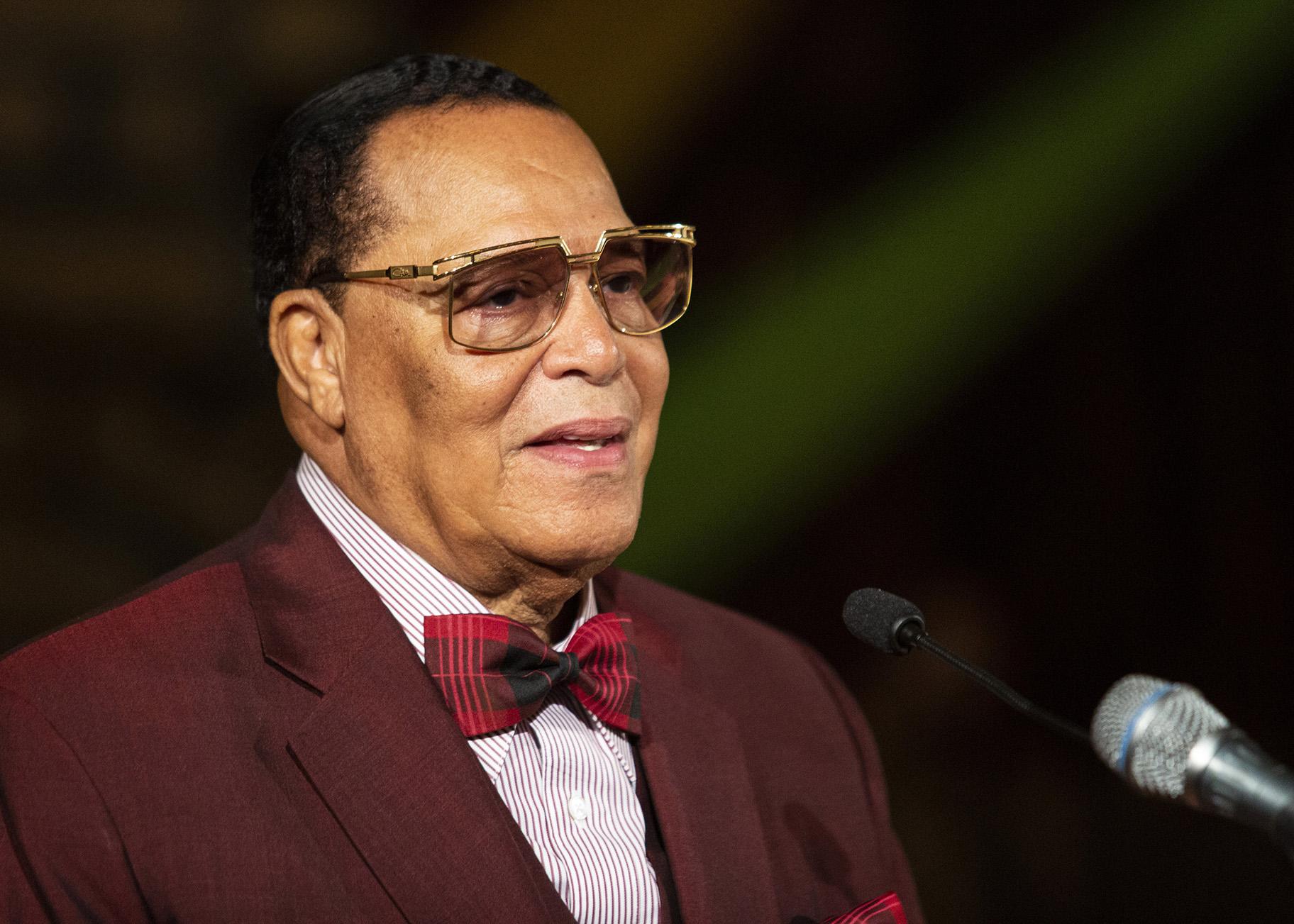 Minister Louis Farrakhan of the Nation of Islam speaks at St. Sabina Church on Thursday night, May 9, 2019. (Ashlee Rezin / Chicago Sun-Times via AP)
A controversial figure who was recently banned from Facebook spoke Thursday night on Chicago's South Side.
Nation of Islam leader Louis Farrakhan held court at the Rev. Michael Pfleger's St. Sabina parish in Auburn Gresham. The speech drew condemnation from both Catholic and Jewish officials.
Farrakhan spoke for a little over an hour in a wide-ranging sermon that hit upon some of the anti-Semitic and black nationalist themes he has come to be known for.
"I am here to separate the good Jews from the Satanic Jews," Farrakhan said during his remarks.
Pfleger looked on in admiration for much of the speech, claiming that he "loved" Farrakhan, and condemning Facebook and Instagram for banning his account.
"This is the same Facebook that has livestreamed shootings, attempted rape, white supremacists, and countless other violent and racist acts," Pfleger said. "It is dangerous to me when we begin to stop free speech, and seek to silence prophetic voices. There are many who say they do not like Minister Farrakhan, because all they have heard is various sound bites. Perhaps that is why Facebook wanted to ban him. To keep people from hearing his whole talk, his entire message, and the truth that he seeks to teach us."
Pfleger drew fire for inviting Farrakhan to give the address from both the Catholic Archdiocese of Chicago and prominent Jewish officials.
"There is no place in American life for discriminatory rhetoric of any kind," the Archdiocese said in a statement. "At a time when hate crimes are on the rise, when religious believers are murdered in their places of worship, we cannot countenance any speech that dehumanizes persons on the basis of ethnicity, religious belief, economic status, or country of origin."
Video: Paris Schutz reports live from St. Sabina Church on Thursday as crowds gather in anticipation of Farrakhan's address.
---
Indeed, Farrakhan and the Nation of Islam have been called out by the Southern Poverty Law Center as promoting black nationalism, bigotry, hate and anti-Semitism. Groups like the Illinois Holocaust Museum and the Jewish United Fund of Greater Chicago expressed their dismay at Pfleger for giving Farrakhan the platform.
"Not just Jews, but to the LGBT community, immigrants, and many others. Jews are just his favorite villian of choice," said Jay Tcath, executive vice president of the Jewish United Fund. "He calls us the devil, he calls our sacred textbooks evil. He associates all of societies' ills with the doings of individual Jews. The exact definition of bigotry is associating negative traits with entire people."
Farrakhan claimed throughout his speech that he is hated because he speaks what he sees as the truth. He claimed that there hadn't been any hate crimes committed as a result of his rhetoric.
"This is just the beginning, banning me from this social platform," he said. "I used that platform with respect. I never allowed those who followed me to become violent as those who speak evil of us."
Harold Krent, dean of IIT Chicago Kent College of Law, says he doesn't believe Facebook (which also owns Instagram) has run afoul of any First Amendment considerations, but he says he'd like the company to better explain it's rationale for banning some people while allowing others to use the platform.
"I think Facebook's within its rights, but it should strive for greater transparency for the reasons and rationales for why someone's kicked off," Krent said. "There may be others that are worse, but we don't know. So if Facebook can show reasons why it chose A, B and C, but not F, to ban from its platform, we'd all be better off."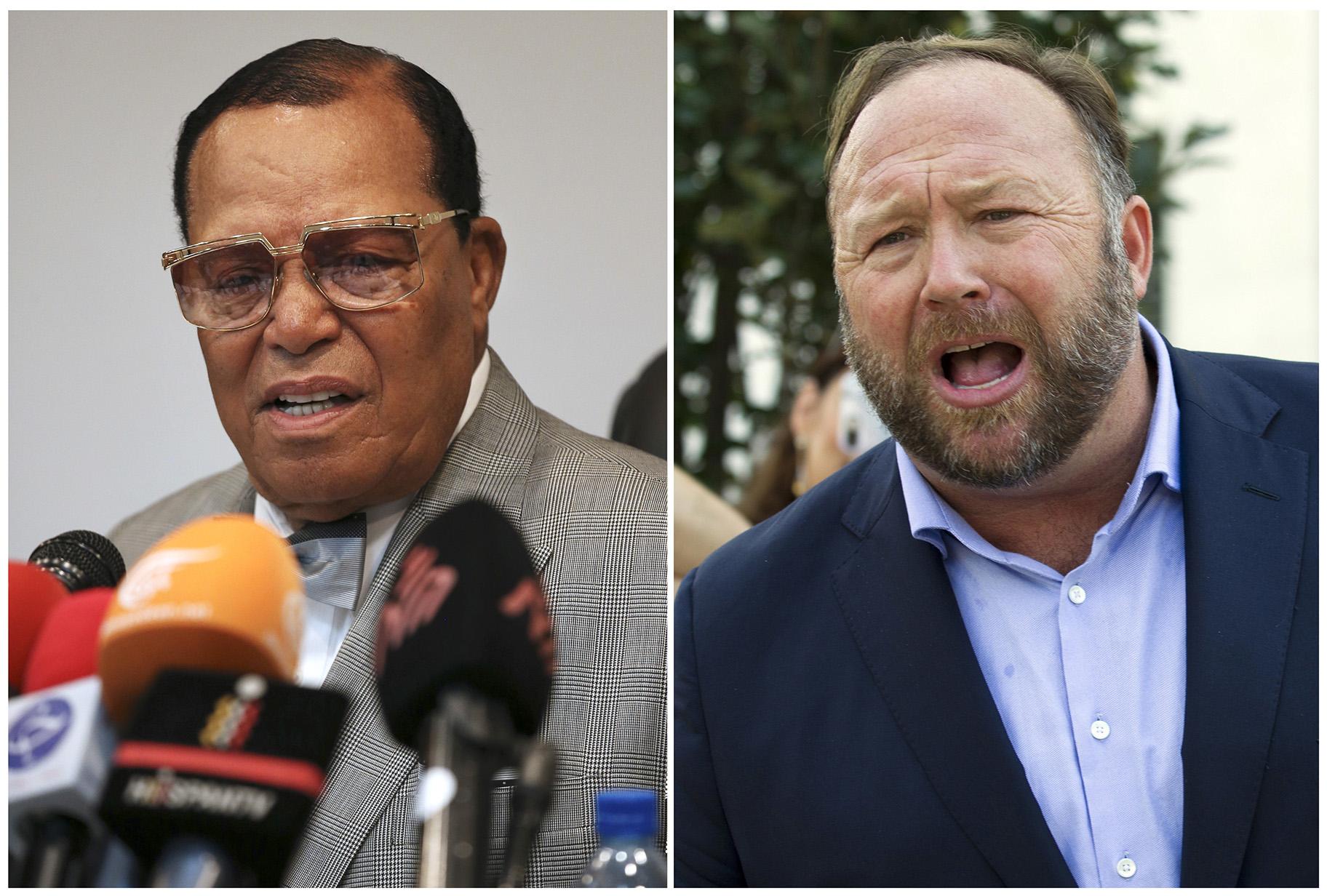 This combination of file photo shows minister Louis Farrakhan, the leader of the Nation of Islam, in Tehran, Iran, on Nov. 8, 2018, left, and conspiracy theorist Alex Jones in Washington on Sept. 5, 2018, right. (AP Photo)
Farrakhan was banned by Facebook for using the platform for promoting or engaging in what the company sees as violence or hate. Facebook also banned the accounts of right wing conspiracy theorist Alex Jones, and right wing provocateur Milo Yiannopoulos. 
Attendees at Farrakhan's speech at St. Sabina Church were overwhelmingly in his corner, and questioned why Facebook singled him out.
"I don't understand why he's being blocked from speaking the truth," said Larry Stewart. "In America you have freedom of speech, so I don't know what's so wrong with it."
"He's no worse than the person in the White House," said Regina Johnson. "He gives his opinion, so why can't Farrakhan give his?"
Follow Paris Schutz on Twitter: @paschutz
---
Related stories:
Louis Farrakhan Invited to Address Facebook Ban at St. Sabina Thursday
#DeleteFacebook: Is It Time to Say Farewell to Facebook?
Banning Alex Jones: A Dangerous Move for Free Speech?
---