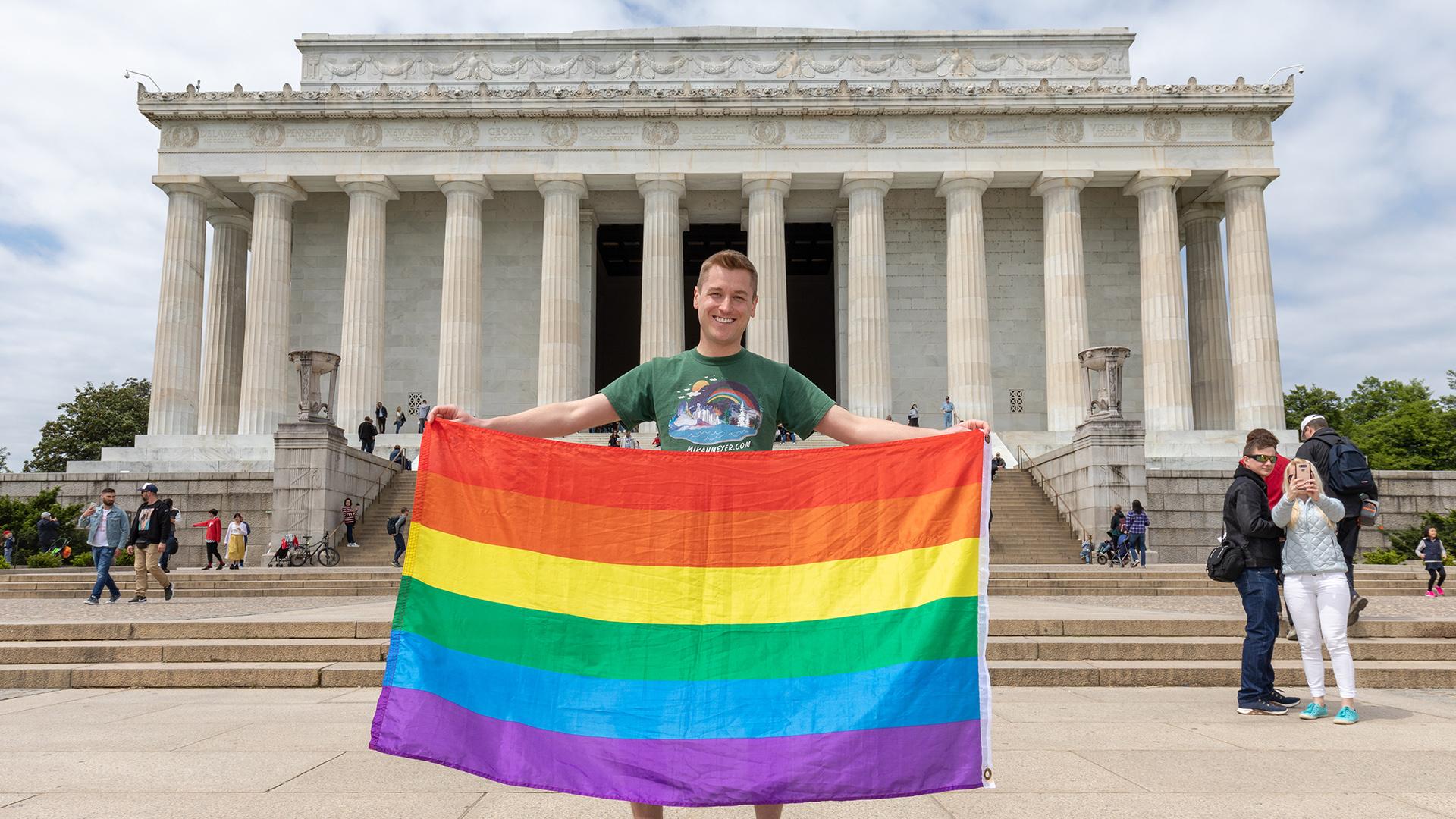 Mikah Meyer visits the Lincoln Memorial in Washington, D.C. on Monday, April 29, 2019. The national park site was his final stop on a three-year journey visiting all 419 national park sites. (Courtesy of Mikah Meyer)
When 33-year-old Mikah Meyer ascended the stairs of the Lincoln Memorial on Monday, he made history as the youngest person to visit all 419 national park sites in one continuous trip.
"It's a bit overwhelming," Meyer told WTTW News after completing the journey we first reported on in 2016 (when, incidentally, there were only 412 sites). "It still feels like I'm in the moment right now."
The Lincoln, Nebraska, native spent years saving for the trip, which he started in 2016 as a way to commemorate his late father, Larry, who died of cancer at age 58 in 2005 (and loved road trips). It was also a way for Meyer to celebrate his own 30th birthday.
Over the past three years, Meyer performed 132 concerts and speeches, which funded the bulk of his trip. He also raised funds through donations from social media fans and corporate sponsors.
Meyer says he had very little experience with the outdoors before setting out on the cross-country trip, and he hopes his success will encourage others to visit the country's national parks – even if they don't consider themselves "outdoorsy." Among his tips: always bring water, and talk to park rangers. "These people are so knowledgeable and passionate," Meyer said. "It's a waste of a resource to not talk to them. I always talk to a ranger to get a game plan."
Meyer's next destination? Minneapolis, where he plans to write a book about his experience and continue giving speeches on the topic.
WTTW News caught up with Meyer this week to ask how he felt after meeting his goal. Read our edited Q&A below.
---
You just visited your last site Monday. What was it like completing your three-year journey?
Mikah Meyer: It was a pretty incredible day. I got to the Washington Monument 30 minutes before I told all my friends, family and the public to arrive. I had about two minutes before people started arriving early. Friends came and surprised me. People from early in the journey and more recently came. There were about 100 people total that gathered and at 11 a.m. – which is the same time I started the journey three years ago to the minute – we all began to walk to the Lincoln Memorial.
I remember going up the stairs and thinking, "take one more step, take one more step," and when I got to the top step of the monument, everyone began to cheer even random strangers in the Lincoln Memorial. It was just a magical moment. All the reporters were asking me, "How do you feel?" For the first time ever, I had no words.
You launched your trip at the Washington Monument because most people don't know it's one of the national park sites. Was there a significance as to why you chose to end your trip there too?
Initially, I liked the idea of having a full-circle moment of climbing the steps and looking back to where I began three years earlier. I liked the symbolism of ending where I began. But then that moment took on all these new meanings from things that happened on my trip. I learned as someone who grew up in Lincoln, Nebraska, I never realized that Kentucky and Illinois all fight desperately to let you know that their state had more influence on Abraham Lincoln than any other state. I learned a lot about the namesake of my hometown, and particularly that he's really known as a civil rights president.
And why that became poetic, this journey since we talked (in August 2016) actually has taken on a large role of LGBTQ advocacy, as far as trying to put out a new role model in the world that didn't really exist before this trip. And so it was this poetic moment of ending at the steps of a civil rights president, very near a spot where Martin Luther King Jr. gave his "I Have a Dream" speech. And now here I was fulfilling one of my dreams that was motivated by my father who was a Lutheran pastor.
Mikah Meyer visits Little Rock Central High School, where a group of nine African American teens enrolled in 1957 to desegregate the formerly all-white school. (Courtesy of Mikah Meyer)
How did your role as an LGBTQ advocate/role model grow during your journey?
When we talked in August 2016, I was sort of battling an internal struggle as far as how open am I about who I am because I had heard outdoors nonprofits say, "Hey we really need this image. It would help us if you could do this." But I was also – with it being 2016 and our culture being what it is – I was really worried that if people knew I was gay they wouldn't want to support me.
In January 2017, after a slew of messages from people, I got this one message from a kid who said, "I'm 15 years old. I go to a private Baptist school in Texas, I'm not out of the closet to anyone, but I read about your journey and was looking you up. I just want to thank you because now I know when I grow up, I can be ordinary. If you can set world records, I know I can also grow up to be extraordinary." It was sort of this moment where everything changed for me where I need to throw away any fear that I have about offending people and them not wanting to support this project because that kid needs me. And there are probably a thousand more that do too.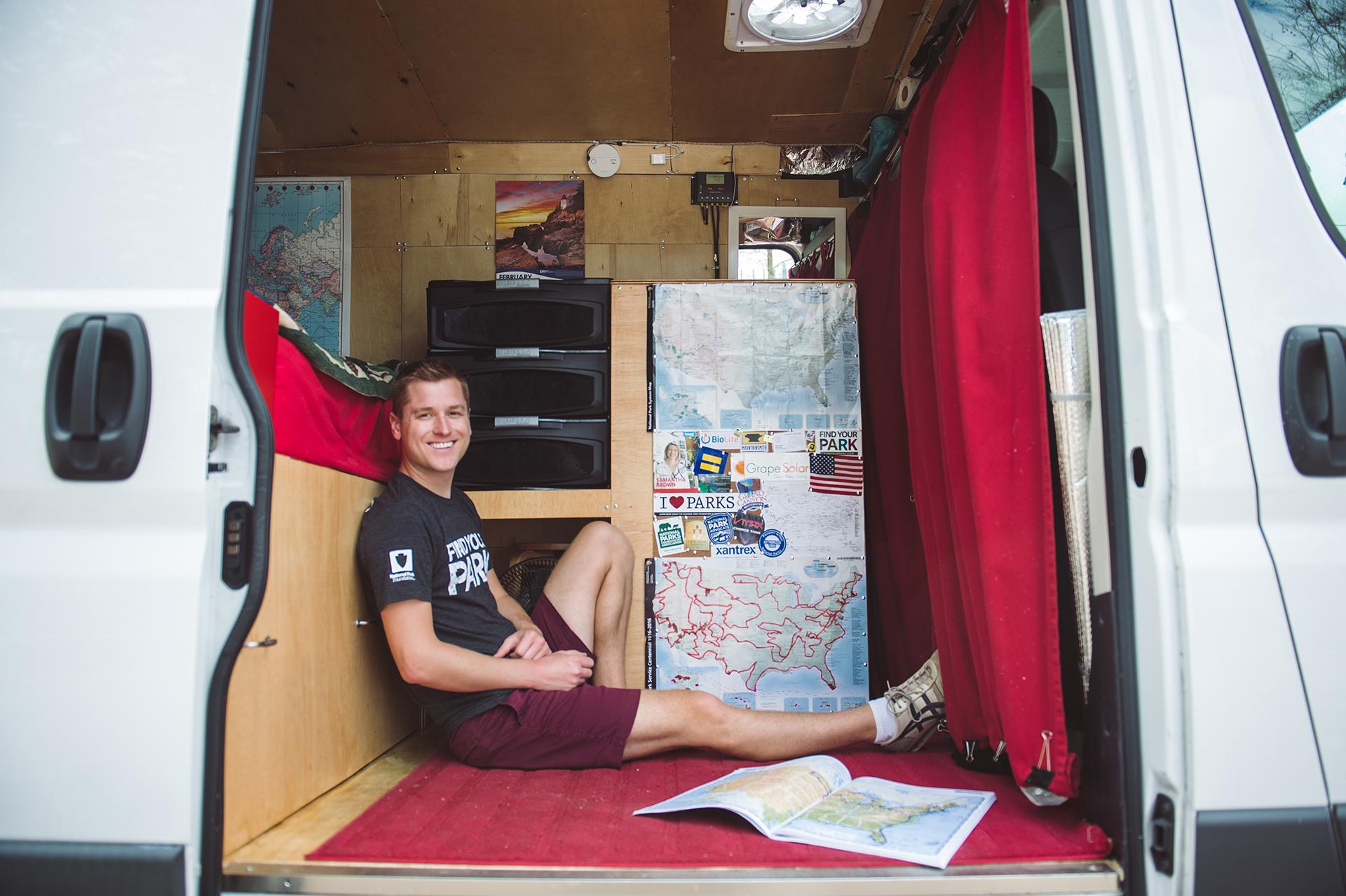 For the past three years, Mikah Meyer lived out of a van as he drove across country visiting all 419 national park sites. (Courtesy of Mikah Meyer)
You spent the past three years living out of a van. What was that like? How many miles did you put on it?
It got to be really hard, to be honest. At first it was new and exciting, and then by the time real winter hit and it was cold and lonely, it got tough. I think when we see van living on social media, it looks glamorous, which is a problem with social media. In reality, it's only glamorous 1% of the time. The rest of the time you're brushing your teeth in a parking lot somewhere, and it definitely took a toll on me. (The van) has 70,000 more miles now. When I got it had 19,000 miles, so now he's at 89,000 miles.
What were some of the more interesting or surprising national park sites that you came across that you wouldn't have known about otherwise?
I have one site that has become my favorite national park site of all of them – and it's not a capital "n" capital "p" of national parks. And I didn't plan it this way but it's how it ended up. It's a national monument, called Dinosaur National Monument. It's on the border of Utah and Colorado.
I love it because it's some of the most spectacular geology I've seen in the entire country. Some of the most beautiful nature. It has tons of recreation options, you can raft down rivers. There are canyons you can hike. There are long, green plateaus and snow-capped monuments, and there's even dinosaur bones. It's sort of everything the National Park Service has to offer all wrapped up in one site. And it only gets as 7% as many visitors as Zion National Park or Rocky Mountain National Park.
Mikah Meyer visits Dinosaur National Monument (Courtesy of Mikah Meyer)
The last time we chatted was before you visited Chicago and the Pullman neighborhood. What was your impression of that site?
I think the coolest thing of this whole journey – and this goes back to your previous question – rather than just going to the capital "n" capital "p" national parks, by going to all of them I got to experience a really deep and diverse breadth of experiences when it comes to our American story.
Just this past week, I finally got to go to the Smithsonian National Museum of African History and Culture, and there was an exhibit about the Pullman cars. And I was like, I was there. I went to this place. And all these sites – not just at that museum – but tons of museums now, I look at these exhibits and I remember going there. Because our park service tells our American stories whether that's Revolutionary War sites, Civil War sites, civil rights sites, women's rights sites, LGBT sites – it preserves all of these places that made us what we are today as Americans.
It was so incredible to get to go to those places and see how they all connect. To see how the Pullman National Monument connects to the civil rights in the American southeast, and connects to the Nicodemus, Kansas, where free African Americans were able to move and own land, and how all these pieces of our American history and all these national park sites are all tied together.
Mikah Meyer visits Sleeping Bear Dunes National Lakeshore in Empire, Michigan. (Courtesy of Mikah Meyer)
Which other parks stood out to you?
Some areas that are close to you: Sleeping Bear Dunes National Lakeshore and Picture Rocks National Lakeshore in Michigan were absolutely stunning. Theodore Roosevelt National Park in North Dakota and Badlands National Park in South Dakota were some of the most unique places I've seen in the whole country and the most beautiful sunsets I experienced.
Do you have any thoughts in terms of next trips?
I'll be back in Illinois this fall because I really want to keep up this ethos of following your dreams while you're alive to do so, living for today and appreciating time and people while you have them. I'm going to do another one of my lifes goals: I'll be joined by my childhood best friend and we will be doing a road trip to every single (University of) Nebraska Cornhuskers football game this coming fall. Both as a way to take something very relatable that can hopefully inspire people not to wait forever to pursue their dreams, but also as a way to continue breaking stereotypes about what types of activities gay men do and don't like in America.
For more information about Meyer, visit his website.
---
Related stories:
Midwest Native Driving to All 412 National Park Sites
Illinois' Bicentennial: People, Places and Things to Celebrate
Geoffrey Baer on the Making of 'Chicago on Vacation'
Chicago Couple Opens Lakeside Resort in Wisconsin's Northwoods
---