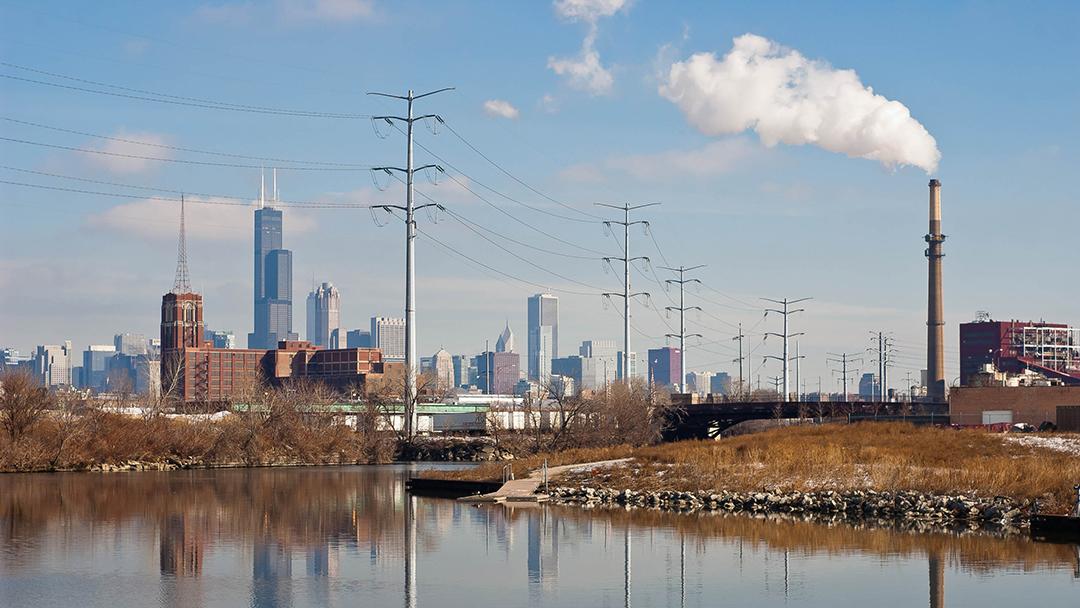 (Creative Commons / © 2013, Jeremy Atherton)
A new report shows that Chicago has experienced an increase in days with spikes of ozone-polluted air, which can be especially harmful to children, older adults and those with asthma or lung diseases.
The American Lung Association's 2019 "State of the Air" report found that the city had a yearly average of 14 "unhealthy ozone days" from 2015-17, which represents the most recent comprehensive set of data on ozone pollution throughout the country. In last year's report, Chicago was shown to have an annual average of about 10 unhealthy ozone days.
Based on the increase, the ALA now classifies Chicago as the 18th most polluted city in the U.S., up from 22nd last year and 26th the year prior.
"Chicago residents should be aware that we're breathing unhealthy air, largely caused by hotter days and vehicle emissions, placing our health and lives at risk," said Angela Tin, national senior director for clean air initiatives for the ALA, in a statement.
The annual report by the Chicago-based organization tracks Americans' exposure to dangerous levels of the two most widespread outdoor air pollutants: ozone pollution, also known as smog; and particle pollution, also called soot. Both types of pollution can increase the risk of premature death and other health effects such as lung cancer, asthma attacks, cardiovascular damage and developmental and reproductive harm, according to the report.
Document: The 2019 "State of the Air" report (American Lung Association) In terms of ozone pollution, the report measures ground-level ozone, which is created by chemical reactions from pollutants emitted by sources such as cars, power plants, boilers and refineries.
"When older adults or children with asthma breathe ozone-polluted air, too often they end up in the doctor's office, the hospital or the emergency room," Tin said in a statement. "Ozone can even shorten life itself."
The report shows how warmer temperatures influenced by climate change make ozone more likely to form and harder to clean up.
Despite the jump in unhealthy ozone days in Chicago and other cities, ozone pollution has decreased nationwide over the past decade in large part due to reductions in major sources of emissions, especially from coal-fired power plants and vehicles.
The new report does include a bright spot for Chicago specifically. From 2015-17, the city recorded its lowest levels in the study's 20-year history for both year-round and short-term particle pollution, which is made of tiny particles (soot) that come from sources such as diesel emissions, wildfires and wood-burning devices. The particles can lodge deep in the lungs and trigger asthma attacks, heart attacks and strokes, according to ALA.
This year's report found that Chicago had a yearly average of just 1.2 unhealthy air quality days in terms of particle pollution.
Although the study provides a big-picture look at Chicago's air quality, there is not enough data to evaluate short-term effects of pollution in the city, according to the report.
Estimates show that more than 640,000 adults and 130,000 children in the Chicago area suffer from asthma. More than 510,000 adults in the area have been diagnosed with chronic obstructive pulmonary disease, also known as COPD, estimates show.
Nationwide, the ALA found that four in 10 Americans now live in areas with unhealthy air.
"We're heading in the wrong direction when it comes to protecting public health," Tin said in a statement.
Real the ALA's full 2019 "State of the Air" report here. 
Contact Alex Ruppenthal: @arupp | [email protected] | (773) 509-5623
---
Related stories:
Chicago Adopts Stricter Rules for Manganese, Other Pollutants
VW Settlement: Illinois Awards $19M for Cleaner Bus and Train Engines