Less than one mile from the site of the future Barack Obama Presidential Center, an epic tribute to the 44th president has just been installed. It is a massive work of art consisting of nearly 3,000 paintings – one for each day of the Obama presidency.
"Chicago Tonight" met a visiting artist whose work is having a bit of a homecoming.
---
TRANSCRIPT
Phil Ponce: It is monumental and presidential.
In November 2008, an artist found inspiration when Barack Obama won the historic election.
Rob Pruitt: I wanted it to be something more than just like a football game where your team wins and it's back to work on Monday morning. So I thought that what it is I do is make pictures and tell stories. I'm going to go back to my studio with this happy result of Obama's victory and paint a picture every day and try to tell the story of his presidency.
Ponce: All 2,922 days of his presidency.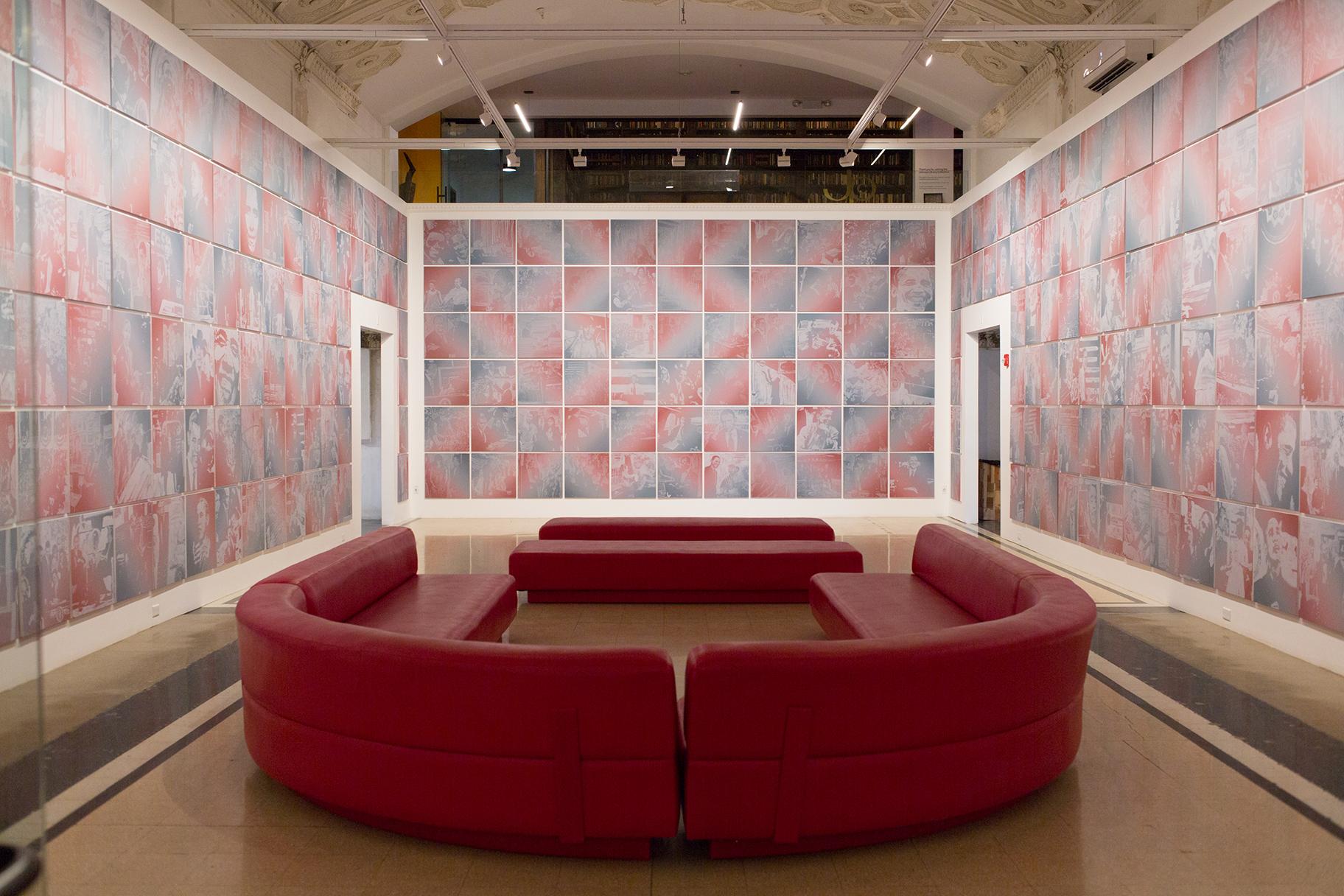 (David Sampson / Rebuild Foundation)
Pruitt: It ended up being like a daily meditation. Everyone I think needs a good way to launch the start of each day. I've never been that person that gets to the gym, but I could do this. I could open Google, do a search on what the president had done the day before and find the thing that interested me the most and make my version of a picture of his activity for that day.
Ponce: He'd find an image, crop it in Photoshop, and then …
Pruitt: …make a printout of that version, pin it to the wall next to the canvas I was about to paint and paint from that, in a very quick and gestural style.
Ponce: It took about an hour a day to make each painting.
Pruitt: It's acrylic paint. I painted all of the backgrounds in advance to make each morning a little seamless. The background that I painted is a gradient that goes from blue to violet in the center to red and it's a bit faded.
I come from Washington, D.C., so I grew up with this notion or understanding of what a monument could be and all of the different styles of monuments that are part of the public landscape. And so when I thought about this project, I knew that I wanted it to be a monument to the presidency, and so I thought about those elements of monuments that I thought worked well and that I wanted to bring to this.
It needed to be somber and serious. I knew that I was going to be using canvas and paint and not chiseled marble, but I did want it to have that feeling of permanence like marble has. So I thought if I take the highly chromatic red, white and blue of the American flag and dull it a bit, it might have that feeling of stone.
Ponce: Hundreds of paintings are hung on the walls of the Stony Island Arts Bank. Over 2,000 others are shelved and can be easily viewed by visitors.
(David Sampson / Rebuild Foundation)
Tregg Duerson, Stony Island Arts Bank: The Stony Island Arts Bank is a space that celebrates black achievement and pays respects to the trauma the black community has faced throughout American history. Here we have collections that are meant to uplift the South Side community and also uplift all travelers who come to the Arts Bank.
Ponce: The artist has never met the subject of his paintings. He's just happy his prodigious collection of presidential paintings has a temporary home in Obama's neighborhood.
Pruitt: So far it's been shown in New York City, where I work and live, and in Detroit. Now this is the third time that it's been shown, and it just makes so much poetic sense to me for it to be here.
Duerson: It's really a compelling and inspirational work. It would be very great if President Obama and his family could come visit us.
---
More on this story
"The Obama Paintings" are on view at the Stony Island Arts Bank through Aug. 25, 2019.
On Aug. 4, there will be a Barack Obama birthday celebration at the Arts Bank and artist Rob Pruitt will be in attendance. 
Note: This story was first published April 22, 2019.
---
Related stories:
Dual Art Show at Intuit Makes Case for Art as Therapy