At one of the handful of Venezuelan restaurants in Chicago, some members of the Venezuelan community gathered this week to watch a televised celebration in their homeland. It was the annual commemoration of the Day of the Youth, a national holiday. And it was headlined by the young, self-declared interim president of the country, Juan Guaidó.
For Andres Weig, a recent arrival to Chicago, it was an encouraging sign for his beleaguered country.
"I'm really hopeful because we have been through a lot of situations and change but this is the most positive [development] we've had in a long time," Weig said.
With the collapse of Venezuela's economic and social structures, Illinois has become the new home of a growing number of Venezuelans. An estimated 12,000 Venezuelans now reside in the state, a sharp jump from just a few years ago. Many, like 32-year-old Luciana Diaz, who worked as a radio reporter in her hometown of Valencia, say they had no choice but to leave for their own safety.
"All the violence that happens in my city, it was very dangerous," Diaz said. "So my mom and my dad worry about me and said, 'We have friends in Chicago. It's better you go there to study and maybe you can start a new life.'"
Venezuela has been on a downward spiral for the last five years after oil prices plummeted, leading the oil-rich country to unravel economically and politically. Food and medicine shortages have reached critical levels while hyperinflation has left many Venezuelans in dire straits. Ana Gil-Garcia is a native of Venezuela who's lived in Chicago for nearly 30 years and is a professor of education at Northeastern Illinois University. She returns to her homeland frequently and says these days she barely recognizes her once wealthy country.
"In December, I was there for 25 days I was feeling so hopeless," Gil-Garcia said.
At the center of Venezuela's crisis is Nicolás Maduro, the authoritarian leader who's been president since 2013 and has refused calls to step down. Most observers say Venezuela's elections last May, in which Maduro won, were not conducted according to the country's constitution. In recent weeks, the U.S. and 60 other nations announced they no longer recognize Maduro as Venezuela's legitimate leader. The U.S. says Guaidó, the head of the country's National Assembly, is who they accept as interim president of Venezuela.
"The constitution says in the absence of the president then the president of the National Assembly, which is the congress, becomes the president," said Gil-Garcia.
A standoff between the opposing forces supporting Guaidó and Maduro is reaching a boiling point while a humanitarian crisis grows even more grave. And Maduro has blocked international aid from entering the country.
In a meeting with the president of Colombia at the White House on Wednesday, President Donald Trump offered his support for Guaidó but would not say how the U.S. might respond to the growing crisis in Venezuela. One of the new Venezuelans in Chicago, however, is unequivocal about what she believes needs to happen for change to come to her country. Asked if she supports military intervention by the U.S., Diaz says she does.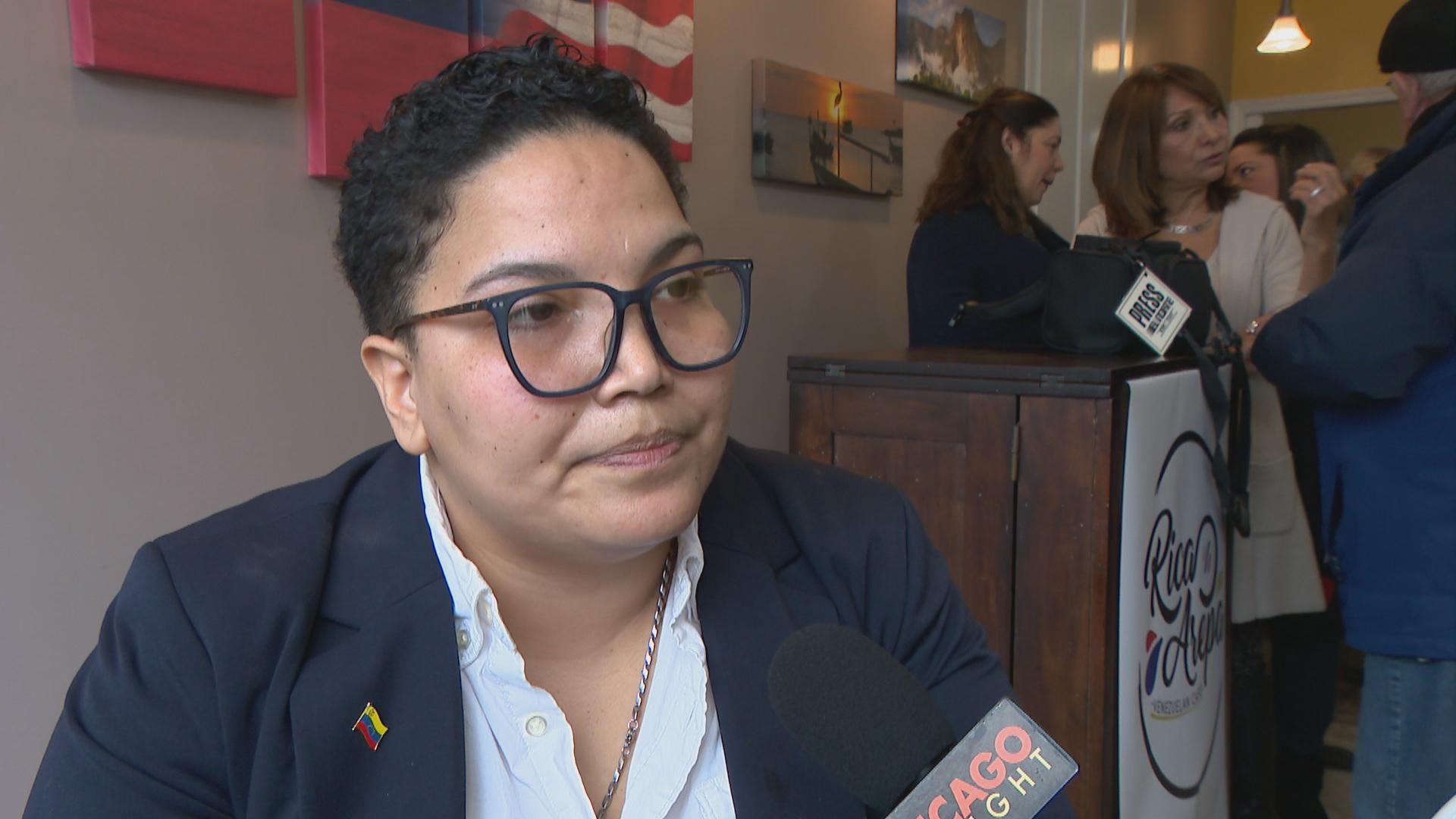 Over the last four years, an estimated 2.5 million Venezuelans have fled their country. Weig, who was born in Venezuela to Chinese parents, says he had to leave after being kidnapped four times. There's a common perception in his country, he says, that Asians are all wealthy even though his family is not. Because of that belief, Weig says he was the repeated victim of a common crime in Venezuela called "secuestro express," or kidnapping express: roving bandits pull up in a car, force a victim in and take them to an ATM demanding they withdraw all their money.
Several years ago, Gil-Garcia began an organization called the Illinois Venezuela Alliance that helps send food and medicine to her native country. When she visits Venezuela, Gil-Garcia enlists the help of volunteers to provide meals for children. But during her last trip, she says her despair for her country was overwhelming.
"My family and I, we knew that going out to the street was about having children asking you for something to eat," she said.
Many of Chicago's Venezuelans watching the events unfolding in their country believe that change is coming soon – maybe within a matter of weeks. And some of the recent exiles might go back to help rebuild their shattered country. But others, like Diaz, says they've found a new home.
"Chicago is my city now," Diaz said. "I'm not going to go back but I'm going to try to help from here."
---
Related stories:
Refugee Photo Exhibit 'Designed to Engage You Empathetically'
As Global Refugee Numbers Swell, Trump Targets Salvadorans in US
Rohingya Flee Myanmar, Find New Life in Chicago
---