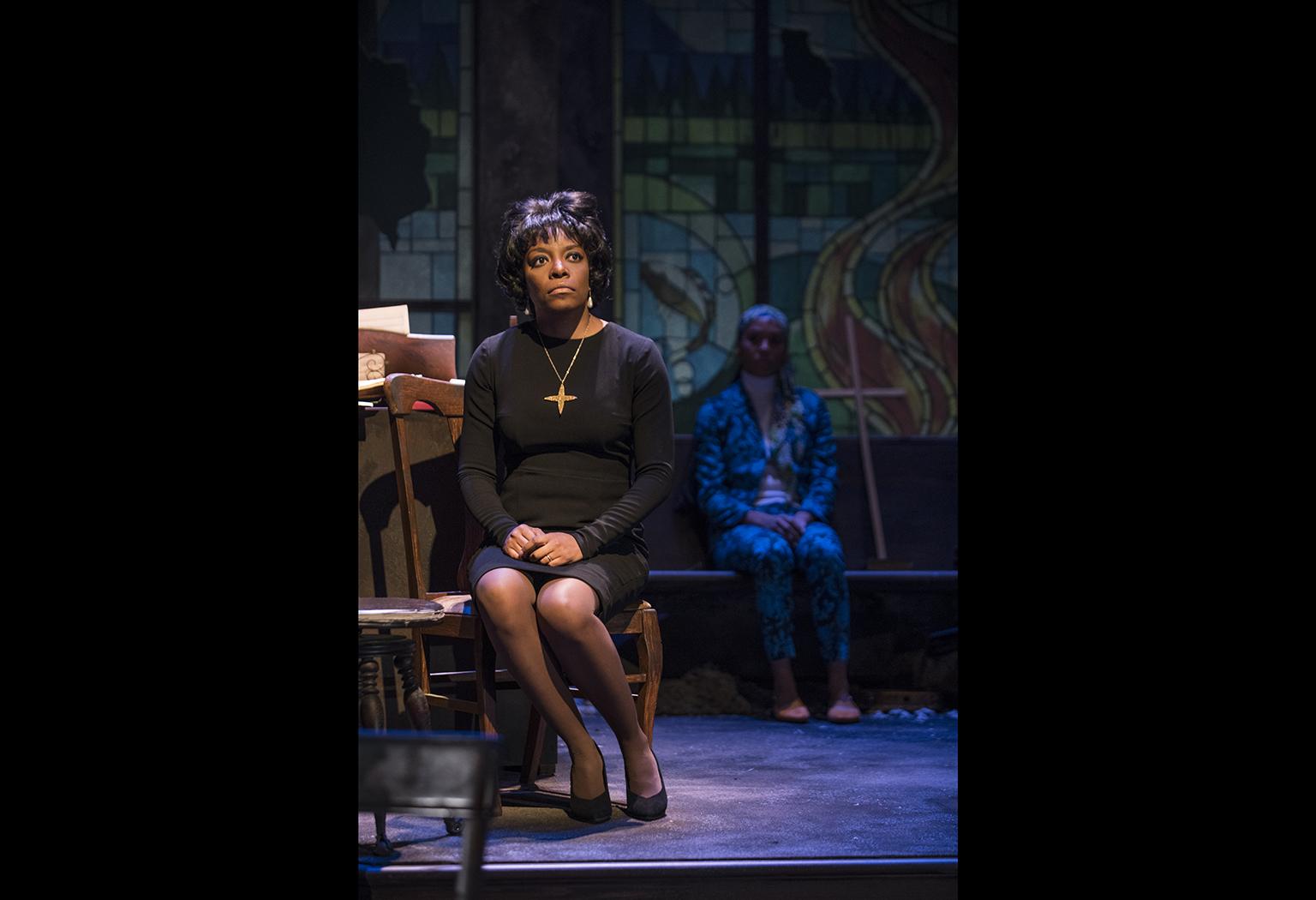 Sydney Charles in Christina Ham's play "Nina Simone: Four Women" at Northlight Theatre. (Photo credit: Michael Brosilow)
Christina Ham's play, "Nina Simone: Four Women," now in a feverishly acted Northlight Theatre production directed by Kenneth L. Roberson, is the anatomy of a song. And by extension, it is the anatomy of the angry, emotionally wounded singer, songwriter, pianist and civil rights activist of the title who wrote it, and who is seen at a pivotal moment in her life. It also is a vivid reminder of a horrific, galvanizing moment in the life of the civil rights movement itself.
The time is September 1963, shortly after four members of the Ku Klux Klan bombed the 16th Street Baptist Church in Birmingham, Alabama, on a Sunday morning, leaving four young black girls blown to bits and many other people injured. (Christopher Rhoton's remarkable set, with its wall of shattered stained glass windows and its splintered wood floorboards, captures the carnage of the scene to haunting effect.)
Simone (in a tour de force turn by Sydney Charles that emanates bitterness, rage and pain, as well as a certain defining hauteur), was 30 at the time. Though chic and fashionable on the outside, and a piano prodigy from a poor North Carolina family who had studied on a scholarship at Juilliard, Simone was already deeply scarred by what she believed was her rejection from the Curtis Institute of Music in Philadelphia because of racial discrimination. And by the time of the bombing she had already become a militant – suspending her dream of becoming a classical pianist and earning her living (and garnering a certain amount of renown) by singing in New York's Greenwich Village clubs, and recording a hit version of "I Loves You, Porgy" from the Gershwin opera, "Porgy and Bess."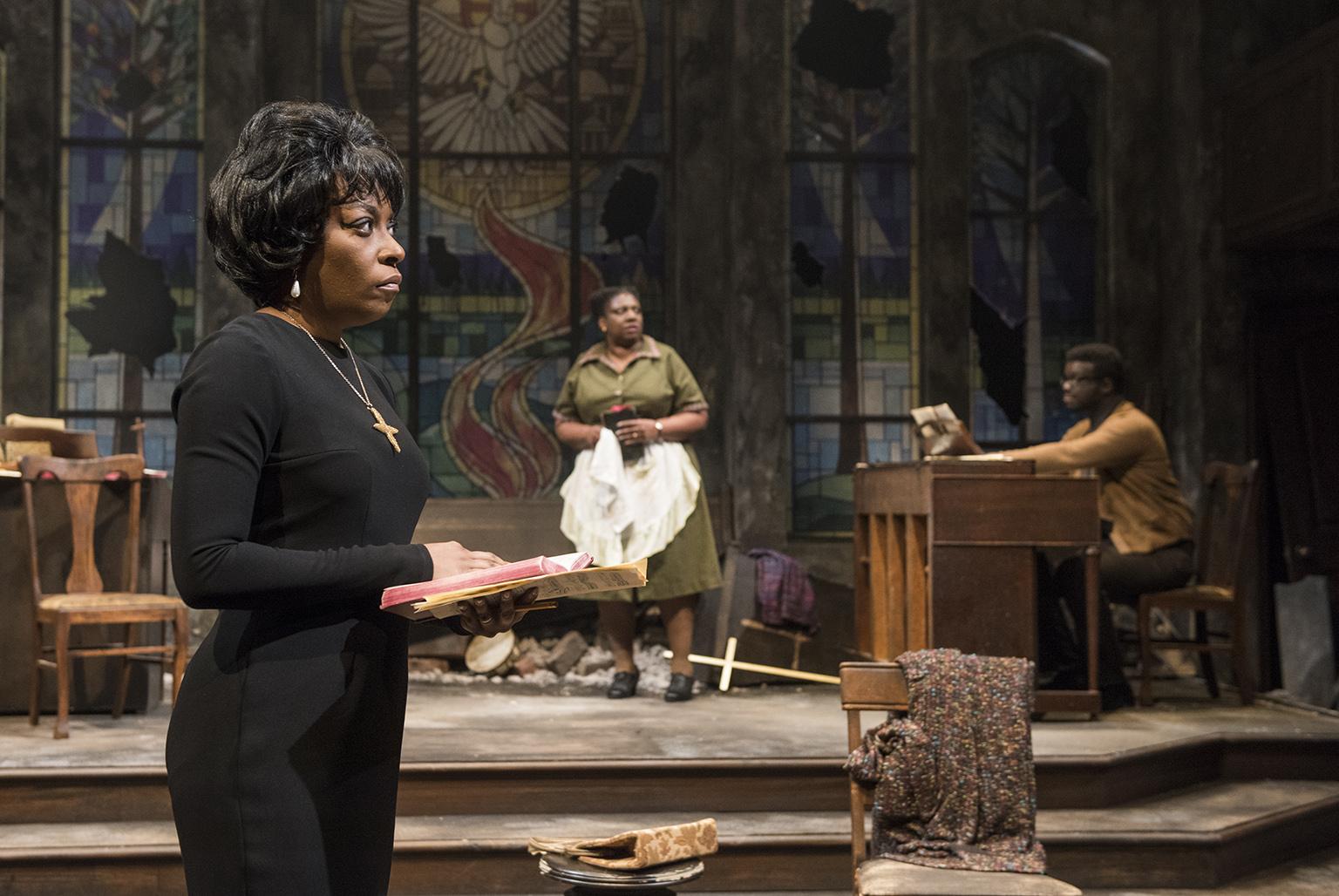 From left: Sydney Charles, Deanna Reed-Foster and Daniel Riley in Christina Ham's play "Nina Simone: Four Women." (Photo credit: Michael Brosilow)
Yet while Simone refused to suffer the indignities of a Jim Crow society, she did not join in demonstrations or attend the March on Washington held a month earlier. And she had little patience with Dr. Martin Luther King Jr.'s philosophy of nonviolence. The church bombing only pushed her over the edge, driving her to write songs that would set people on fire rather than instill a sense of "We Shall Overcome"-like patience and time endurance.
But Ham's play is no biography. Nor does it have the depth and genius of Lorraine Hansberry's "A Raisin in the Sun," which arrived on Broadway in 1959 and already gave audiences portraits of an African-American family comprised of an "old school" mother figure, her fully "woke" college-educated daughter, and her only gradually "waking" daughter-in-law.
Rather, "Four Women" is a straightforward construct laced with more than a dozen songs (from traditional hymns to Simone's covers and self-penned works), designed to capture Simon's outrage at the bombing (and the assassination, earlier that same summer, of Medgar Evers). It also serves as a platform on which Simone can vent about what she saw as the movement's male-dominated mind-set and its relegation of African-American women to second-class status. Along the way, what Ham gives us is the fury that will fuel the creation of Simone's first major protest song, the no-holds-barred "Mississippi Goddam," as well as the more inspirational "Young, Gifted and Black," the scorching "Sinnerman," and above all, an imagined "backstory" for the quartet of portraits that comprise her signature song of 1966, "Four Women."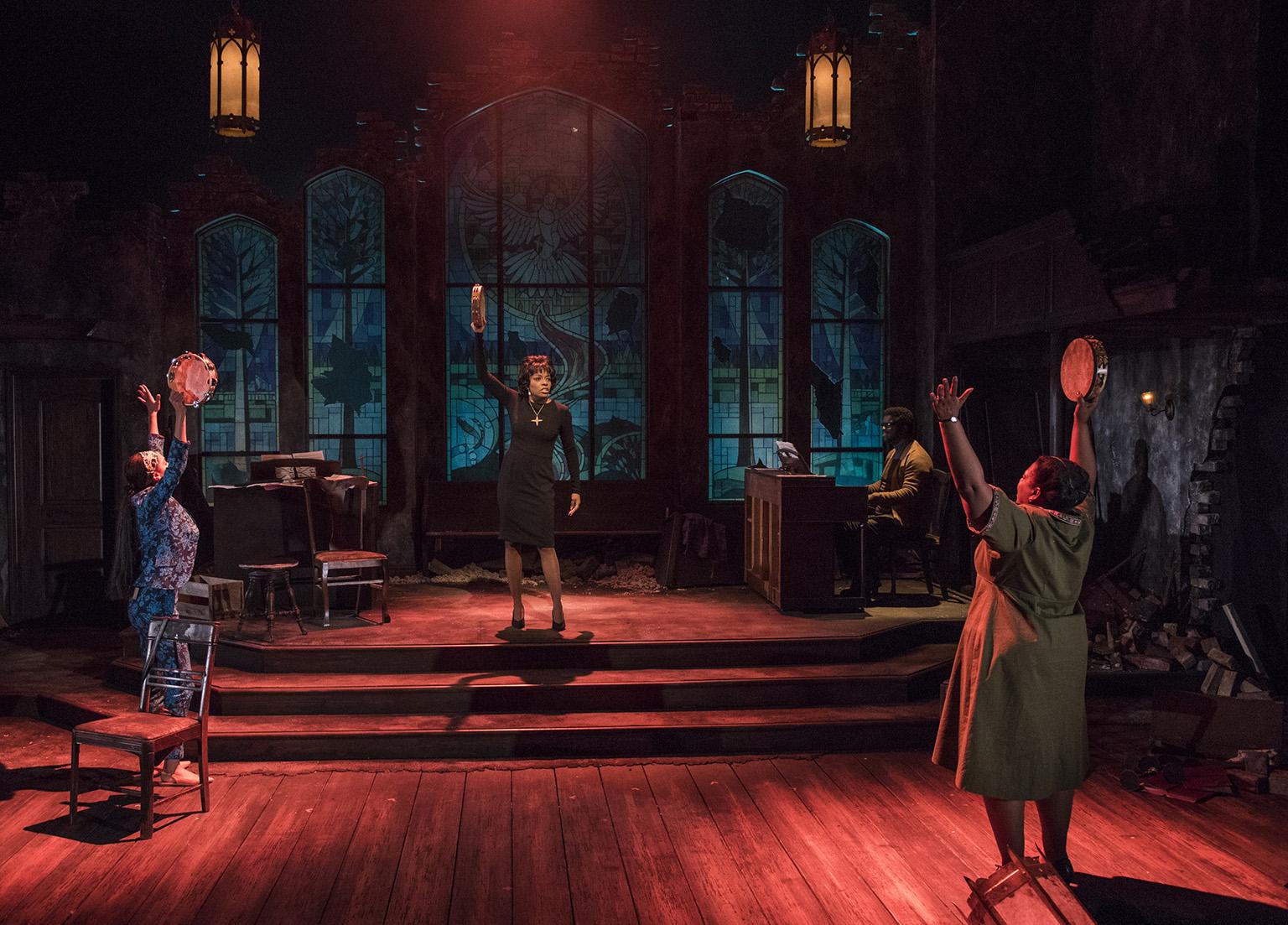 From left: Ariel Richardson, Sydney Charles, Daniel Riley and Deanna Reed-Foster. (Photo credit: Michael Brosilow)
That song, as it happens, is something of a play all by itself as it captures the lives of archetypal African-American women who show up in the 16th Street church where Simone happens to be surveying the ruins and sheltering from dangerous street protests. (It also just happens that Simon's brother, Sam Waymon, expertly played by music director Daniel Riley, is seated at a surviving upright piano.)
Simone's first encounter is with Sarah (Deanna Reed-Foster), the older woman who has worked long years as a maid, still invests her faith in a higher power, and wants no part of the violence that has erupted. And Reed-Foster brings an inner strength and sense of self, as well as a fear of change, to a role that is much like that of the maid in the musical "Caroline, or Change."
The next to take shelter in the church is Sephronia (an intriguingly etched performance by Ariel Richardson), the twentysomething "high yeller" activist. A light-skinned woman with a black mother and absent white father, she is scorned by both African-Americans (for her perceived privilege), and discriminated against by whites.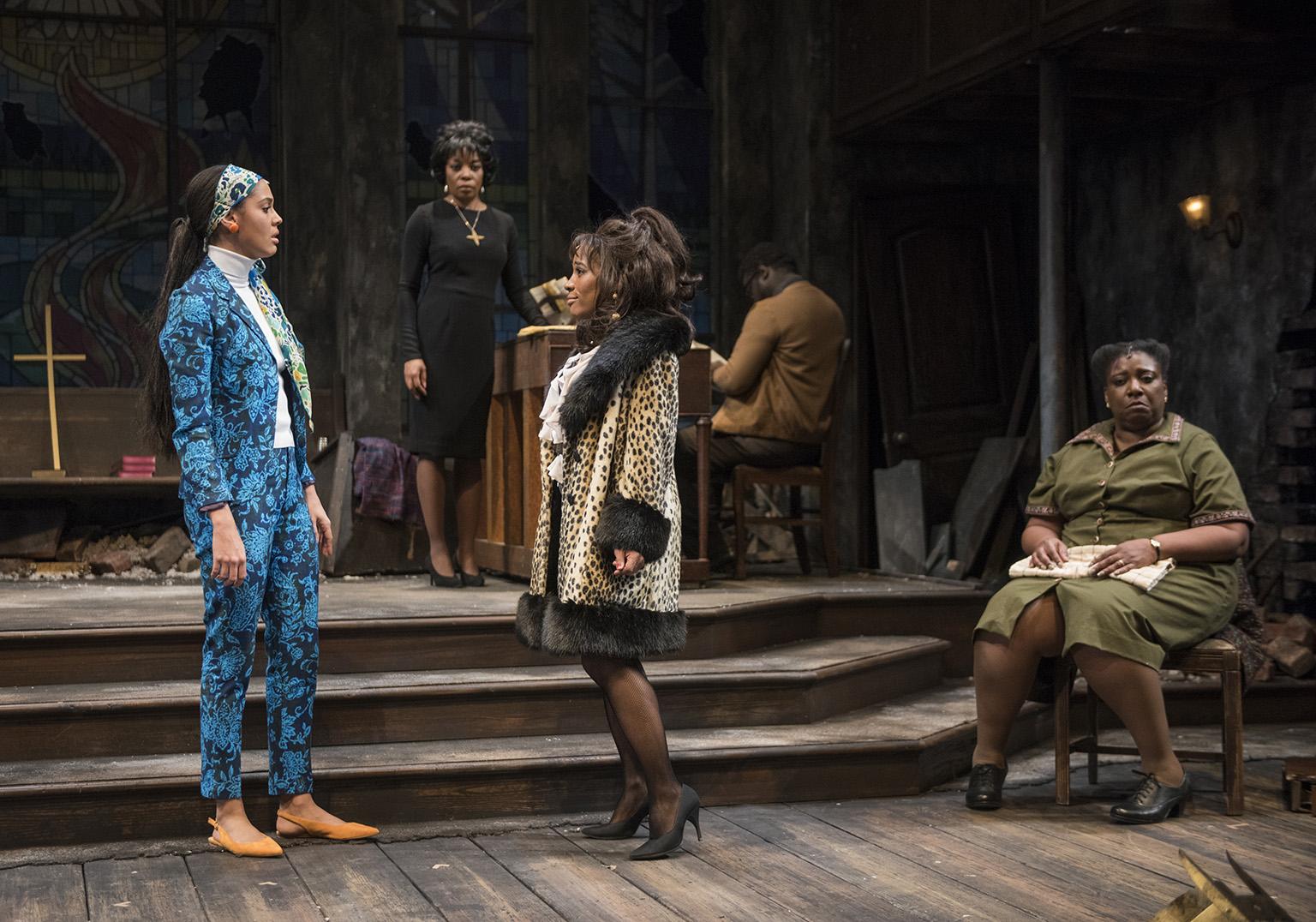 Front, from left: Ariel Richardson, Melanie Brezill, Deanna Reed-Foster. Back, from left: Sydney Charles, Daniel Riley. (Photo credit: Michael Brosilow)
And then there is Sweet Thing (the wild and fiery Melanie Brezill), a sharp-edged, unapologetic prostitute with a fierce temper and a cynical capitalist drive. (She even bags a shoe that might have belonged to one of the murdered young girls with the hope of selling it.)
Each of these four women has suffered because of the color of her skin and the oppression of black women by both black and white men. Yet they are the bedrock of the race.
Of course the primary force that drives the story here is the already semi-famous Simone, whose profoundly troubled marriage, troubling role as a mother, and self-exile to Europe and Africa is yet to come, but whose mix of self-hatred and exceptionalism is expertly channeled by Charles, an actress-singer of smoldering intensity who rips the stuffing out of each of her songs. (Something wonderful also happens when the four women join voices to create superb harmonies.)
Overall there is an agitprop quality to Ham's play. And while Simone might well have had conflicted feelings about "Porgy and Bess" (despite the fact that her recordings of "Summertime" and "I Loves You, Porgy" were among her hits), to suggest that the George Gershwin/DuBose Heyward opera was racist or condescending is profoundly misguided. It was, in fact, ahead of its time, as was Gershwin's adamant demand that it only be performed by a black cast. And not only have singers from Marian Anderson, Leontyne Price and Audra McDonald tapped into its beauty, but Langston Hughes, the great Harlem Renaissance poet (and social activist) championed it.
That said, there are countless reasons to see "Four Women," and to be reminded of just how ahead of her time Simone herself happened to be.
"Nina Simone: Four Women" runs through March 2 at Northlight Theater, 9501 N. Skokie Blvd., Skokie. For tickets ($30-$88) call (847) 673-6300 or visit www.northlight.org. Running time is one hour and 40 minutes with no intermission.
Follow Hedy Weiss on Twitter: @HedyWeissCritic
---
'Gentleman's Guide' Musical Chronicles Wild, Wacky Road to Inheritance
'Photograph 51' Exposes Pattern of Delayed Recognition for Rosalind Franklin
In 'The Realistic Joneses,' 2 Couples Try Desperately to Connect
---