Amid unpopular school closings and a contentious relationship between Mayor Rahm Emanuel and the Chicago Teachers Union, calls for Chicago to have an elected school board have been growing in recent years.
In 1995, Chicago's then-Mayor Richard M. Daley took complete control of the schools and the Board of Education. But mayoral control of school boards is not the norm, according to Maureen Kelleher, senior writer and editor for Education Post.
"If you look at school systems in total, the vast majority are elected. What's different is that in large urban districts there has been increased interest in having them controlled by the mayor," she said.
But in Chicago, momentum seems to have shifted toward an elected school board.
The majority of candidates running to replace Emanuel -- including Toni Preckwinkle and Lori Lightfoot -- have voiced support for a fully elected school board. Others, including Bill Daley, Susana Mendoza and Garry McCarthy, say they favor a hybrid system in which some board members are elected and some chosen by the mayor.
Kelleher says that while she can understand the desire for more democracy in the way that the Board of Education operates, she leans toward supporting the hybrid model.
"I actually think a hybrid with the majority of members appointed by the mayor – so if it's a five-member board you could have three appointed and two elected – I kind of lean toward that as sort of promising," said Kelleher. "But I understand the depth of momentum around an elected board right now and the frustration that people feel."
One of those frustrated people is Roderick Wilson, executive director of the Lugenia Burns Hope Center. He supports a fully elected school board.
"This allows Chicago to be like all the other 891 school districts in Illinois that have an elected school board," Wilson said. "Right now we have a school board but we don't have any voice. If we have a school board that is appointed by the mayor they are beholden to the mayor versus being beholden to the people that are most impacted by this. It's about empowering the people."
Wilson acknowledged that an elected school board is no panacea for all the ills of Chicago's schools but said it will at least allow for greater accountability.
"There's no guarantee that people will always make good decisions, but at least with an elected school board we have the power to decide who makes those decisions for us," said Wilson. "I do believe that with an elected school board you will get better schools – although I believe the metrics of what makes a good school may be looked at differently."
Kelleher says there is scant evidence that elected school boards have much of an impact on school quality.
What studies she has seen show "a very modest correlation between appointed boards and increased student achievement," she said. "In the big urban school districts the concern is that elected school boards kind of devolve into politicking and it's very hard for them to get anything done, whereas mayorally appointed boards, it sort of greases the wheels for decision-making."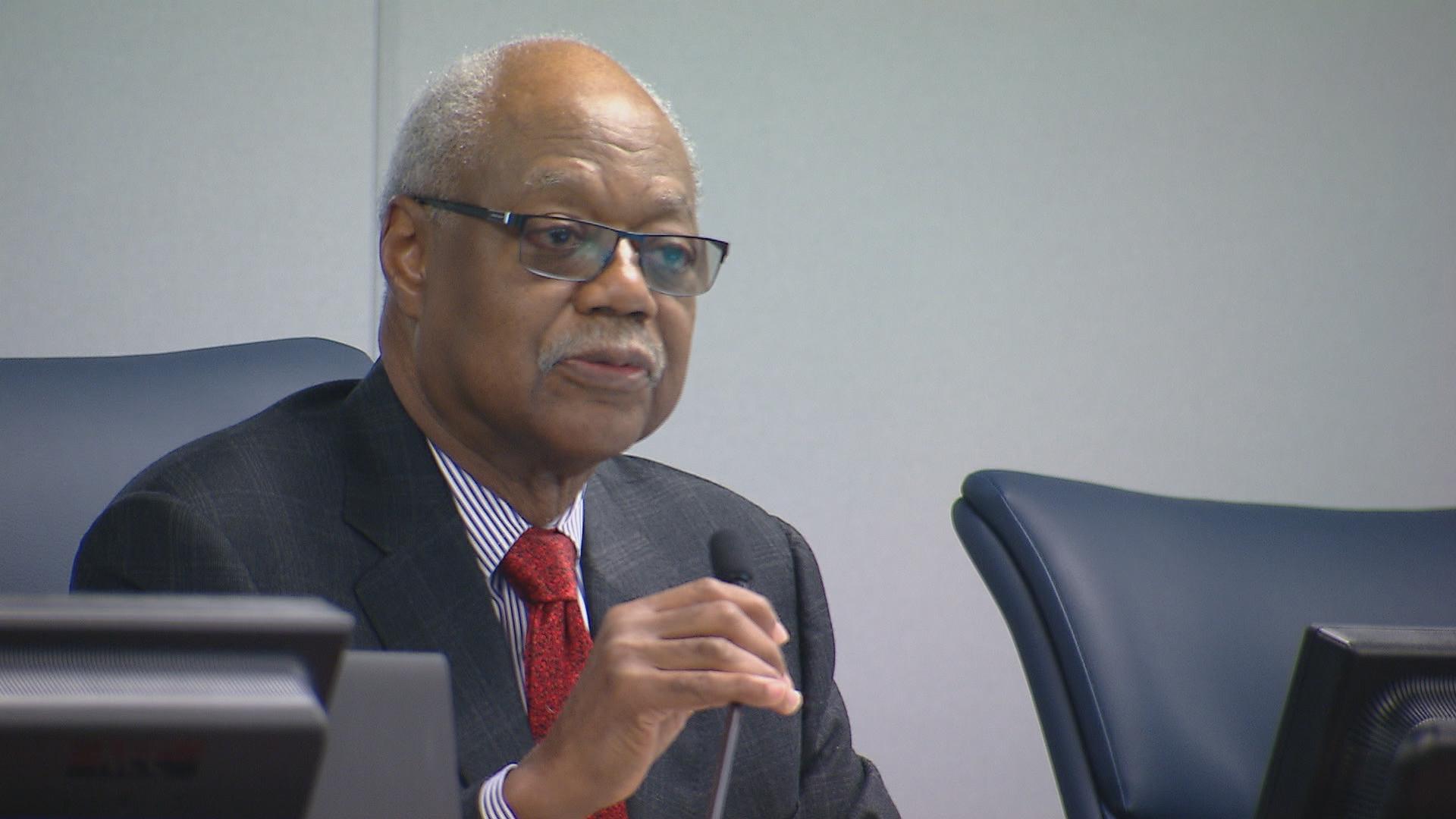 In this file photo, Board of Education President Frank Clark speaks during an August 2017 board meeting. (Chicago Tonight)
One argument put forward in favor of an appointed board is that it enables the selection of appointees with experience running large, complex organizations with multimillion-dollar budgets.
"Those skills are certainly needed to run a complex school system like Chicago's," said Kelleher, but she added that favoring appointees with those kinds of skills has pushed out people "who really understand how decisions made at the central level are going to really impact local communities."
And Wilson noted that the city doesn't require aldermen to have complex qualifications to do their job.
"You don't have to have much of nothing to be an alderman," Wilson said. "I'm not sure you even have to have a high school diploma to be an alderman. So why are we saying the school board has to be more? I think that's just an argument from those who don't want it as to why this won't work."
But one potential downside of having an elected school board could be highly politicized school boards and a polarized process.
"In Detroit when things became very polarized it was a lot of board members shouting at each other and really ineffective governance happening," said Kelleher. "In Los Angeles right now, a lot of the controversy around elected school boards centers on the amount of money being spent on the races. Pro-charter forces spent more than $9.5 million and the teacher's union spent a little over $4 million. We don't have that in Chicago right now but if we had an elected board we would see that kind of stuff."
---
Related stories:
Chicago Mayoral Candidates Differ on Elected School Board
Mayor Appoints New Chicago Board of Education Member
Chicago Activists Call For Action on Elected School Board Bill
---