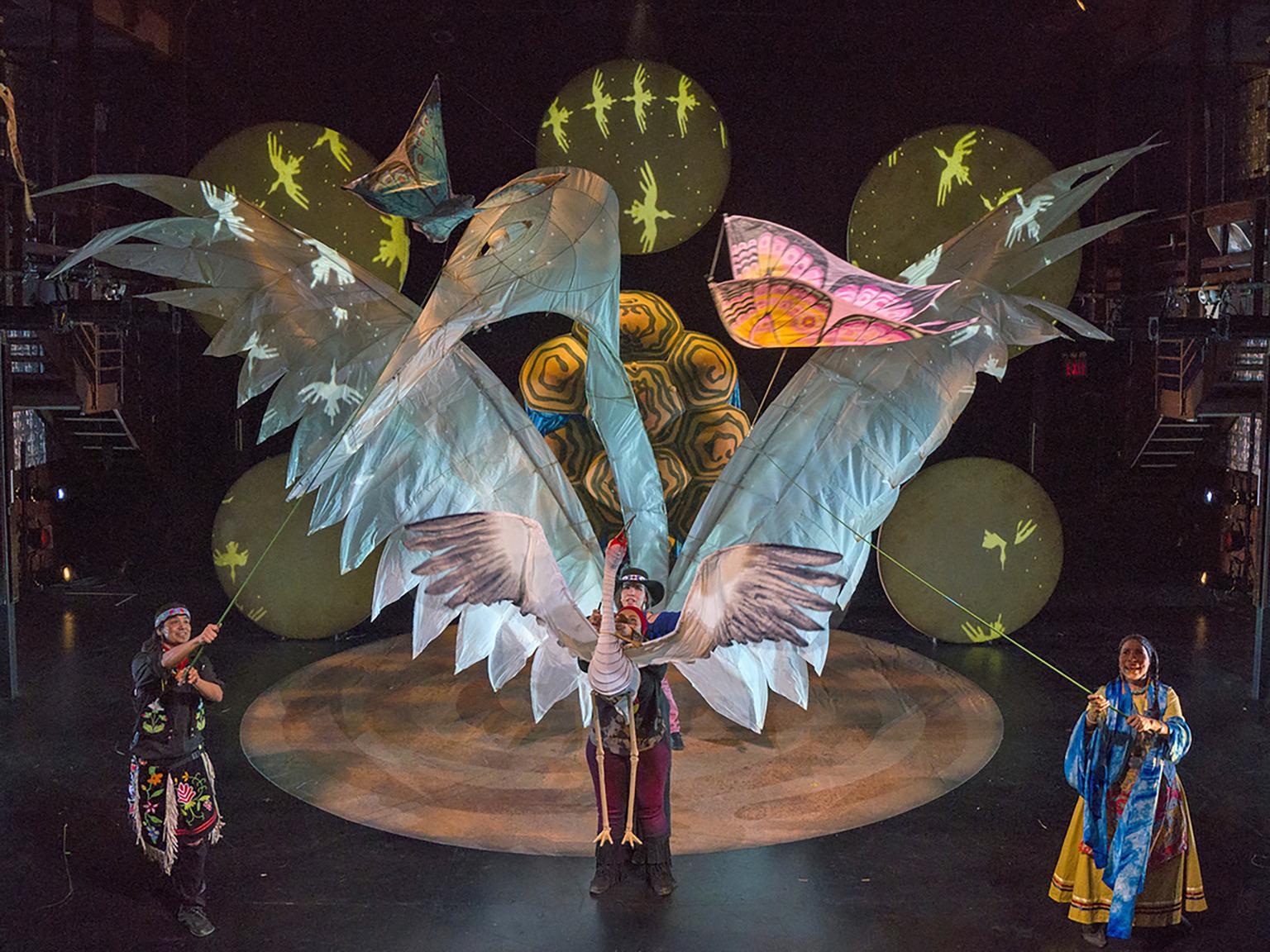 Cast of "Ajijaak on Turtle Island"; An IBEX Puppetry production directed by Ty Defoe and Heather Henson (© 2018 Richard Termine)
A most wondrous citywide event is now in process.
Not only is the third biannual Chicago International Puppet Theater Festival currently presenting more than 100 performances of 20 different productions from Chicago and around the world at more than a dozen venues throughout the city. But the wildly multidisciplinary event, which kicked off Thursday and will be presenting performances through Jan. 27, has garnered the cooperation of 20 major Chicago cultural institutions. And it has attracted an audience far larger than might be expected given what could easily be thought of as a rarified art form, even if puppetry happens to be one of the most ancient, wide-ranging and enduring arts of all.
Beyond all this, the festival – the brainchild of master puppeteer Blair Thomas, a co-founder of Redmoon Theater in 1990, who left that company to forge his own visionary enterprise – expands the very definition of puppetry. And it demonstrates just what a highly sophisticated, and at times truly transgressive art form it can be as it moves beyond classic hand puppets, marionettes, the groundbreaking Muppets of Jim Henson, the balletic creatures in Julie Taylor's "The Lion King" or even the alter-ego antics of "Avenue Q" characters.
In some cases the work on view (most of it clocking in at about an action-packed, fully satisfying hour or so), is most definitely not child's play, although there are many family friendly productions in the mix. But all three of the shows I've sampled so far conveyed a strong sense that puppets (or the objects that assume the role of puppets) have the power to take on the most vivid existences, even as their human puppeteers project powerful profiles of their own.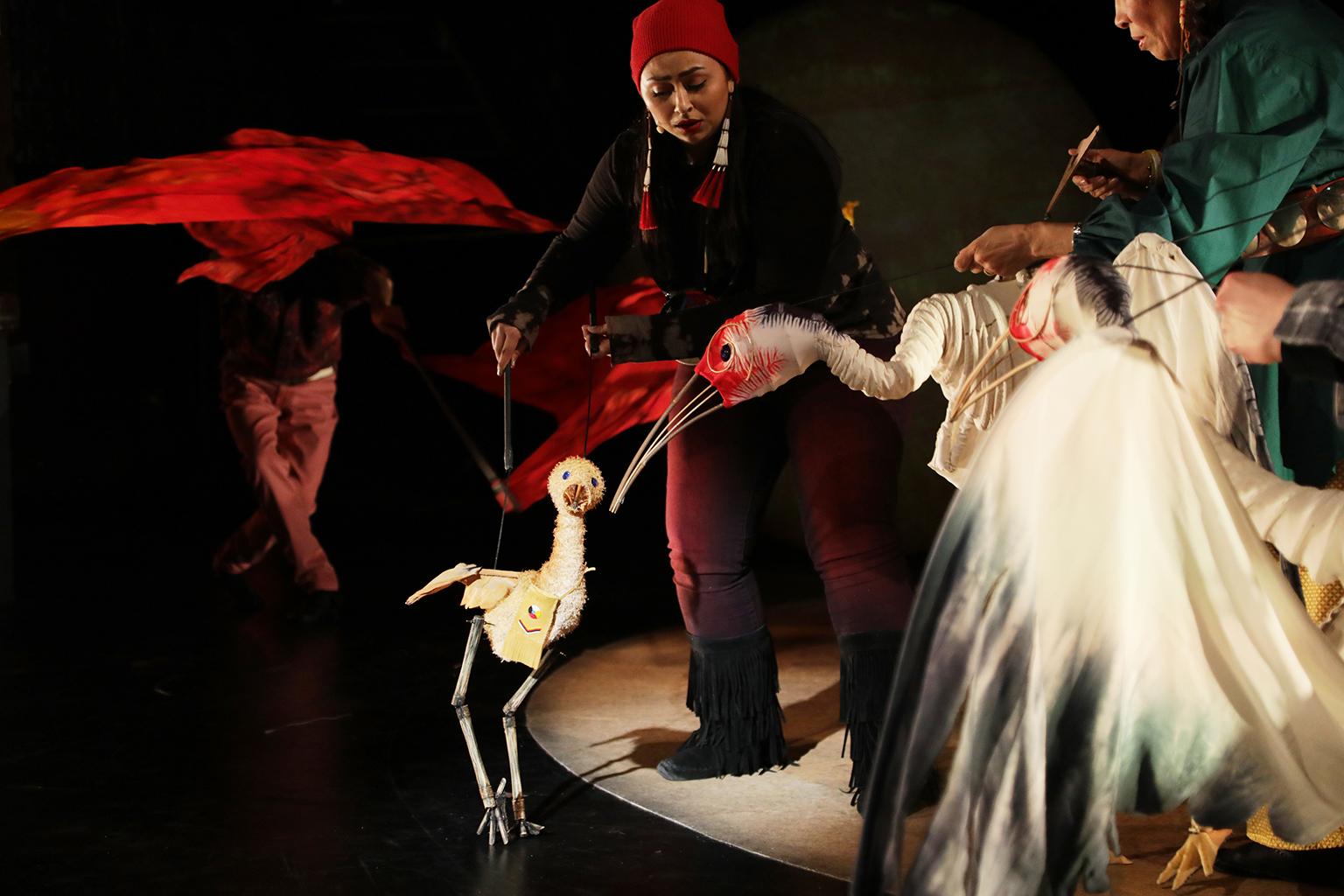 Cast of "Ajijaak on Turtle Island"; An IBEX Puppetry production directed by Ty Defoe and Heather Henson (© 2018 Richard Termine)
The grand-scale opening work in the festival was IBEX Puppetry's "Ajijaak on Turtle Island," an exquisite tale of American Indian heritage and environmental concerns. Staged at the Studebaker Theatre, this co-production with the American Indian Center of Chicago is the creation of writer and co-director Ty Defoe (of the Oneida and Ojibwe Nations), co-director and producer Heather Henson (daughter of puppetry genius Jim Henson), composers Dawn Avery and Kevin Tarrant, and a slew of other actor-puppeteers, dancers and designers including the radiant Henu Josephine Tarrant.
The show chronicles the poignant tale of a young crane who is separated from her family early in life as the result of a tar sands fire. All alone in the world, she is sent out on a great migratory route from Canada to the Gulf Coast to reclaim her heritage and observe the world, ultimately reclaiming her roots in Ojibwe, Lakota and Cherokee lore.
Among the more unforgettable moments in the show, which cleverly suggests the tension between the natural world and urban construction (and destruction), was the arrival of a fox, who initially appears as an armful of birch tree logs but is then magically unfolded to become an impossibly graceful four-legged creature with a twig-like head of exquisite beauty. Breathtaking.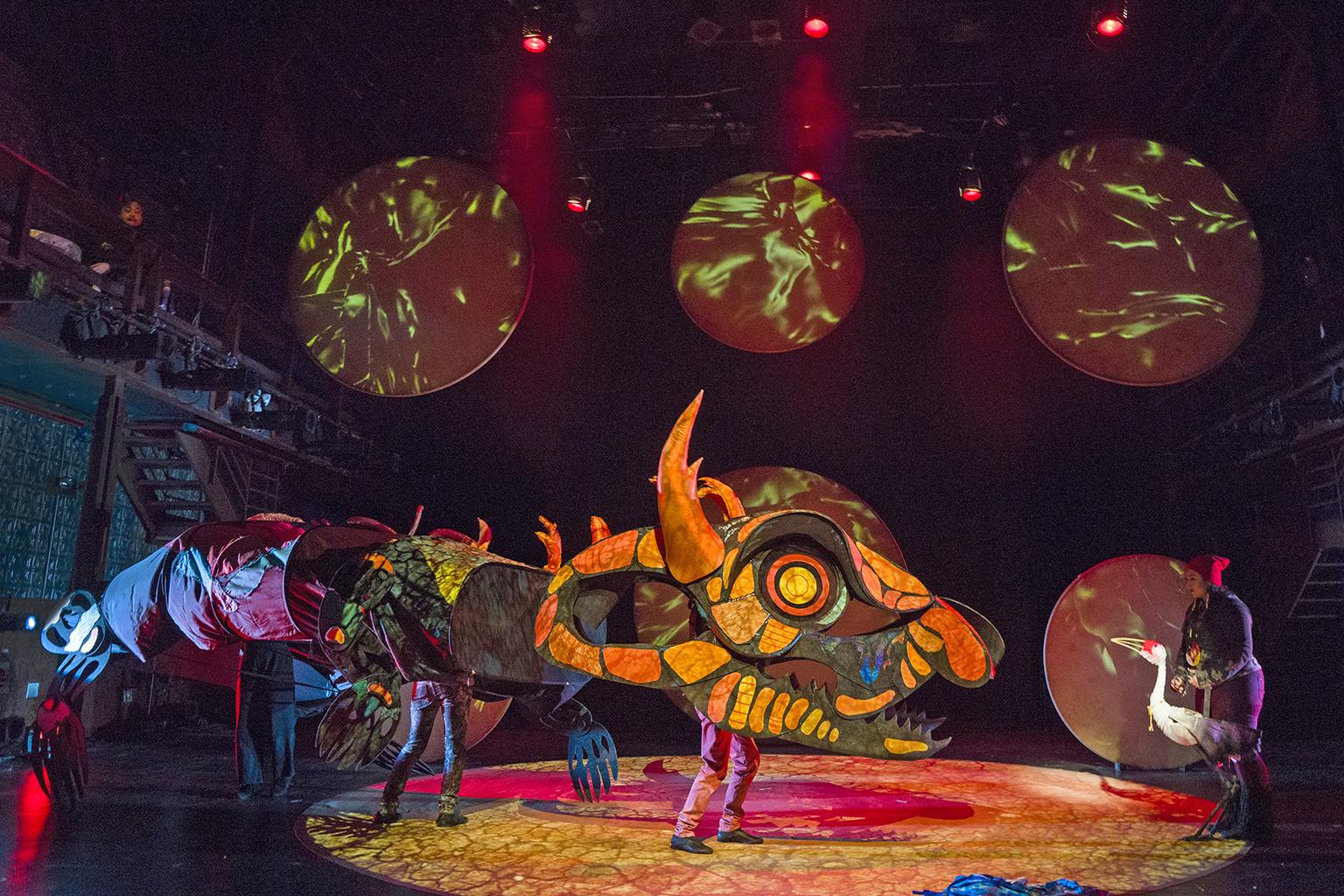 Cast of "Ajijaak on Turtle Island"; An IBEX Puppetry production directed by Ty Defoe and Heather Henson (© 2018 Richard Termine)
But so was the sight of the frail Ajijaak initially emerging from her shell, and of the giant, brilliantly colored creature who sleeps beneath the ocean until some terrible natural disturbance awakes him, and of the many kites that soar throughout the story. The spectacular puppets – including frogs, bison, turtles and cranes – were designed by artists of the Jim Henson Workshop. Their imprint is unmistakable.
A more radically different, macabre and unquestionably adult puppet show, "Chambre Noire," was presented on the stage of the Dance Center of Columbia College. Produced by Plexus Polaire, it featured chilling performances by the French-Norwegian actress-puppeteer Yngvild Aspeli and her superb percussionist, Ane Martha Sorlien Holen, as it captured the tormented, sexually twisted, abuse-filled life of Valerie Jean Solanas, whose primary claims to fame were her radical feminist rants and notorious SCUM (Society for Cutting Up Men) Manifesto, and her attempted assassination, in 1968, of pop artist and filmmaker Andy Warhol.
The sexually explicit puppet of Solanas, manipulated by Aspeli with both an eerily erotic intimacy and a ferocious sense of rage, brutality and despair, was unusually shocking and creepy as it embodied the psyche of a woman driven by a combination of social outrage and mental illness. But it was a moment from Solanas' childhood – when the puppet figure of a very young Solanas grabs hold of her attractive prostitute mother (Aspeli), and clings to her with all her might in an attempt to keep her at home – that in many ways is the most poignant and powerful moment in this fearsomely conceived and realized work. The floating projections of the head of Warhol add a touch of black humor. And the interplay between Aspeli and Holen (charismatic blondes who could pass for twins) was exceptional.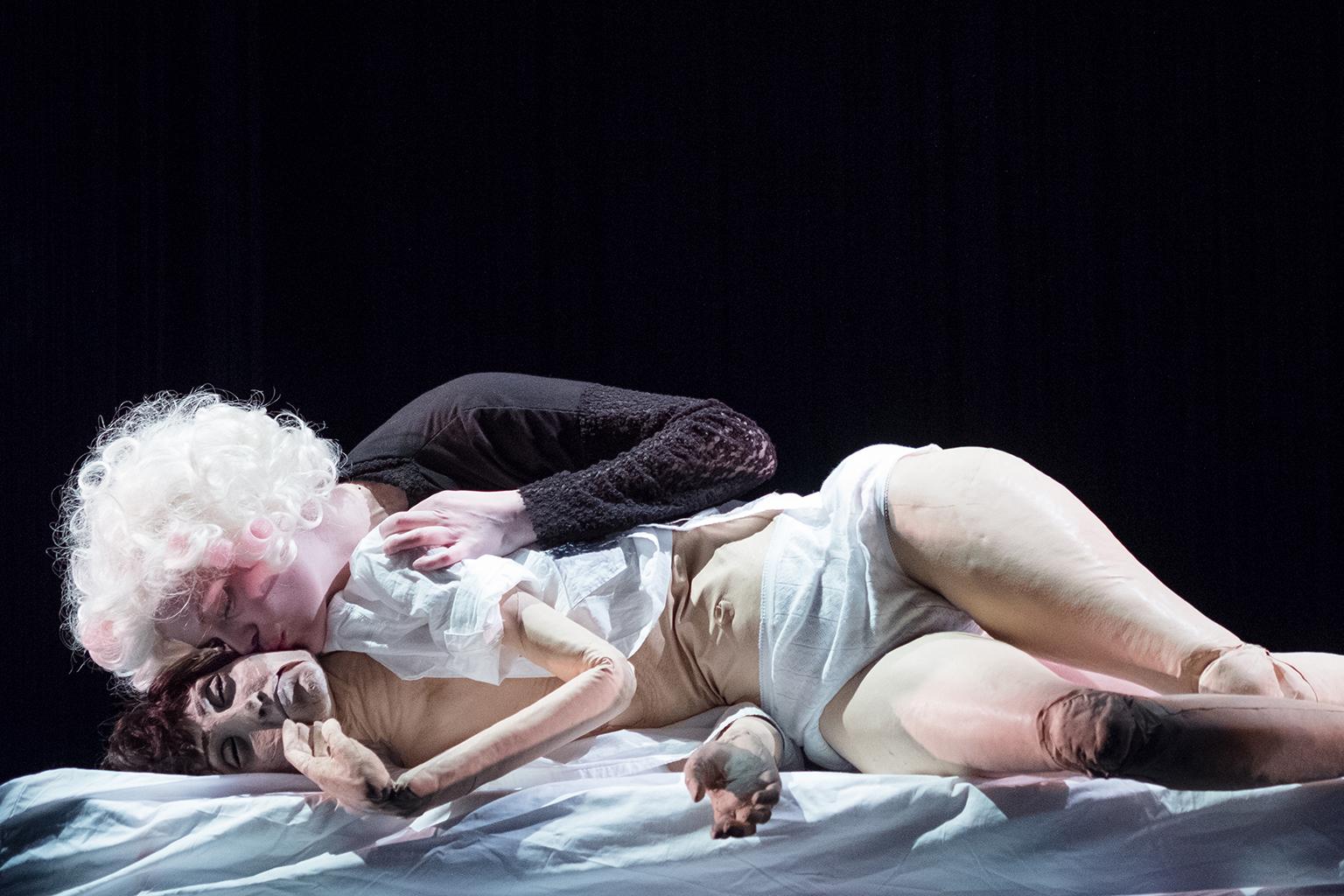 "Chambre Noire" (Credit: Benoit Schupp)
And then, at the Chopin Theatre, there was "Paper Cut," ingeniously imagined and exuberantly performed by Yael Rasooly, the multi-talented Israeli actress, comedienne, singer and cut-paper artist possessed of a phenomenal talent for capturing male and female voices and a slew of accents.
Rasooly plays a supremely competent but romantically starved secretary with a passion for the glamour of 1940s Hollywood movies and the noir terrors of Alfred Hitchcock films. She imagines a great romance (with the volumes of legal contracts, pages of film magazines and umbrella stored in her desk morphing into the props for hilarious scenes), and everything seems to go perfectly right until it all goes terribly wrong. (There also is one priceless moment when she literally devours and spits out the man who betrays her. You really had to be there to understand the zaniness of it all.)
In an exceptionally charming post-show chat, Rasooly talked about her life and art. And in one brief anecdote she casually revealed everything about how a puppet artist's mind works. Recounting how a friend gave her a discarded cello case she said that after opening it up she immediately realized its two halves could be turned into the story of a husband and wife.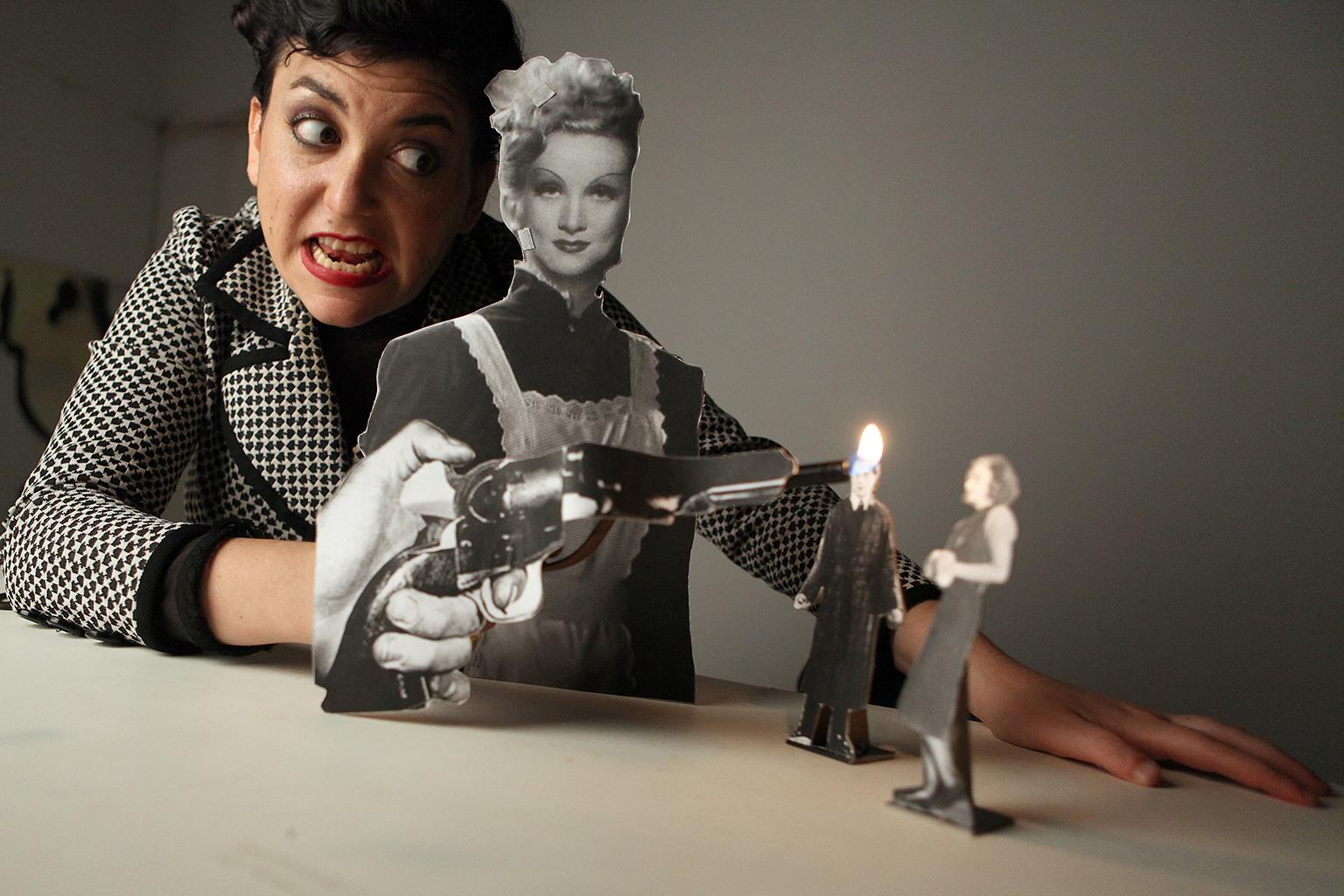 "Paper Cut" (Credit: Boaz Zippor)
You still have many more chances to catch some of the winningly eclectic entries in this festival. Among them are: Mariano Pensotti's musings on revolution in "Arde Brilliante en los Bosques de la Noche (Burning Bright in the Forest of the Night)" at the MCA Stage; Chicago's Jesse Mooney-Bullock and Moonbull Studio's look at the flights of imagination of Orville and Wilbur Wright in "How to Build a Flying Machine," at Theater on the Lake; Silencio Blanco's "Pescador (Fishermen)," a series of portraits of people at sea at Instituto Cervantes de Chicago; France's Compagnie Non Nova in "L'Apres-Midi d'un Foehn," a visual ballet constructed from a flimsy plastic bag, at the Chicago Shakespeare Theatre; and "Tabletop Tragedies," a triptych of works ("The Last Matador," "The Death and Life of Billy the Kid" and "A Simple Soul"), by Chicago's Cabinet of Curiosity artists Frank Maugeri and Seth Bockley, at Links Hall.
The Chicago International Puppet Theater Festival runs through Jan. 27 at multiple venues. For a complete schedule visit www.chicagopuppetfest.org or call (312) 753-3234.
Follow Hedy Weiss on Twitter: @HedyWeissCritic
---
Related stories:
A Look Inside Chicago's International Puppet Theater Festival
Windy City Playhouse Stages Breathtaking Production of 'Noises Off'
Burnt-out Theater Critic Succumbs to Seductive Offer in 'St. Nicholas'
---