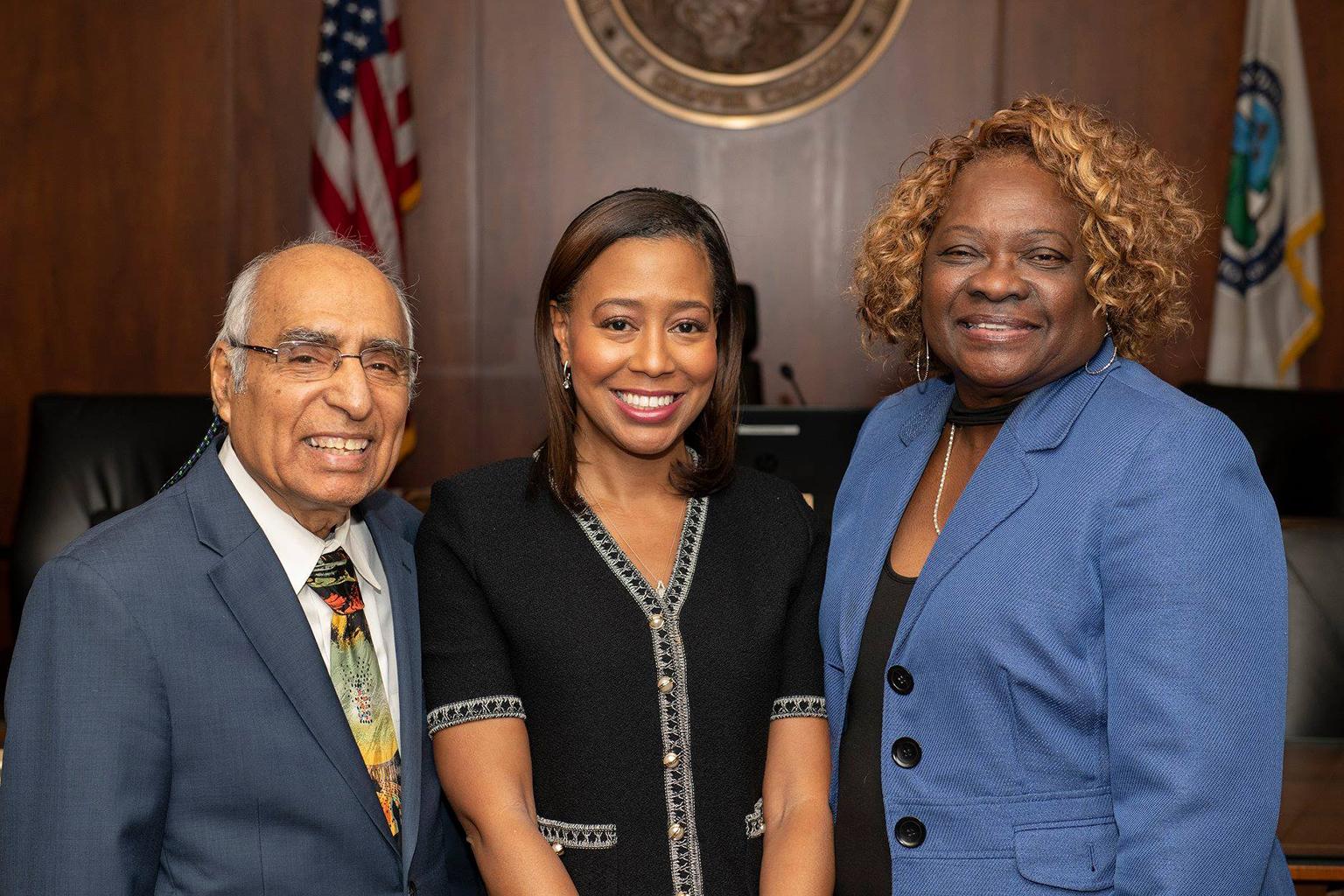 Newly elected MWRD President Kari Steele (center) with Finance Chairman Frank Avila and Vice President Barbara McGowan (Metropolitan Water Reclamation District of Greater Chicago)
Second-term Commissioner Kari Steele was elected earlier this month as the new president of the Metropolitan Water Reclamation District of Greater Chicago, replacing outgoing President Mariyana Spyropoulos, who had served in the role for the past four years.
Spyropoulos nominated Steele for the position, and MWRD's board voted unanimously in Steele's favor. Steele will now lead the nine-member group overseeing the $1.2 billion, 2,000-employee agency that treats wastewater and mitigates flooding across Cook County.
Steele was first elected to the organization's board in 2012 and won re-election in November, securing a full six-year term with 23.5 percent of votes, second only to fellow Democrat Commissioner Debra Shore.
Steele is currently the only chemist serving on MWRD's board, having worked previously as a water chemist at the Jardine Water Purification Plant and a water sampler and lab technician for MWRD.
Recently elected MWRD President Kari Steele (second from left) oversees her first board meeting as president earlier this month. (Metropolitan Water Reclamation District of Greater Chicago)
Since her election to MWRD's board in 2012, Steele has served as chair of several committees, including Budget and Employment, Information Technology and Monitoring/Research. A self-described environmentalist, Steele has also chaired the organization's Employees Credit Union Board of Directors.
"This is much more than a job for me," Steele said in a statement. "[MWRD] is part of what makes me who I am and represents the people and places that I am proud to serve. I thank my fellow commissioners and staff members for their support and look forward to carrying on the excellent tradition of the MWRD and working hand in hand with our exceptional clean water team."
Steele's election as president comes a month after MWRD welcomed three new commissioners – Kimberly Du Buclet, Cameron Davis and Marcelino Garcia – who were elected in November. The organization also appointed longtime staffer Brian Perkovich as its new executive director in December.
Contact Alex Ruppenthal: @arupp | [email protected] | (773) 509-5623
---
Related stories:
MWRD Selects Veteran Staffer Brian Perkovich as New Executive Director
5 CPS Schools Selected for Green 'Schoolyard Transformations' in 2019