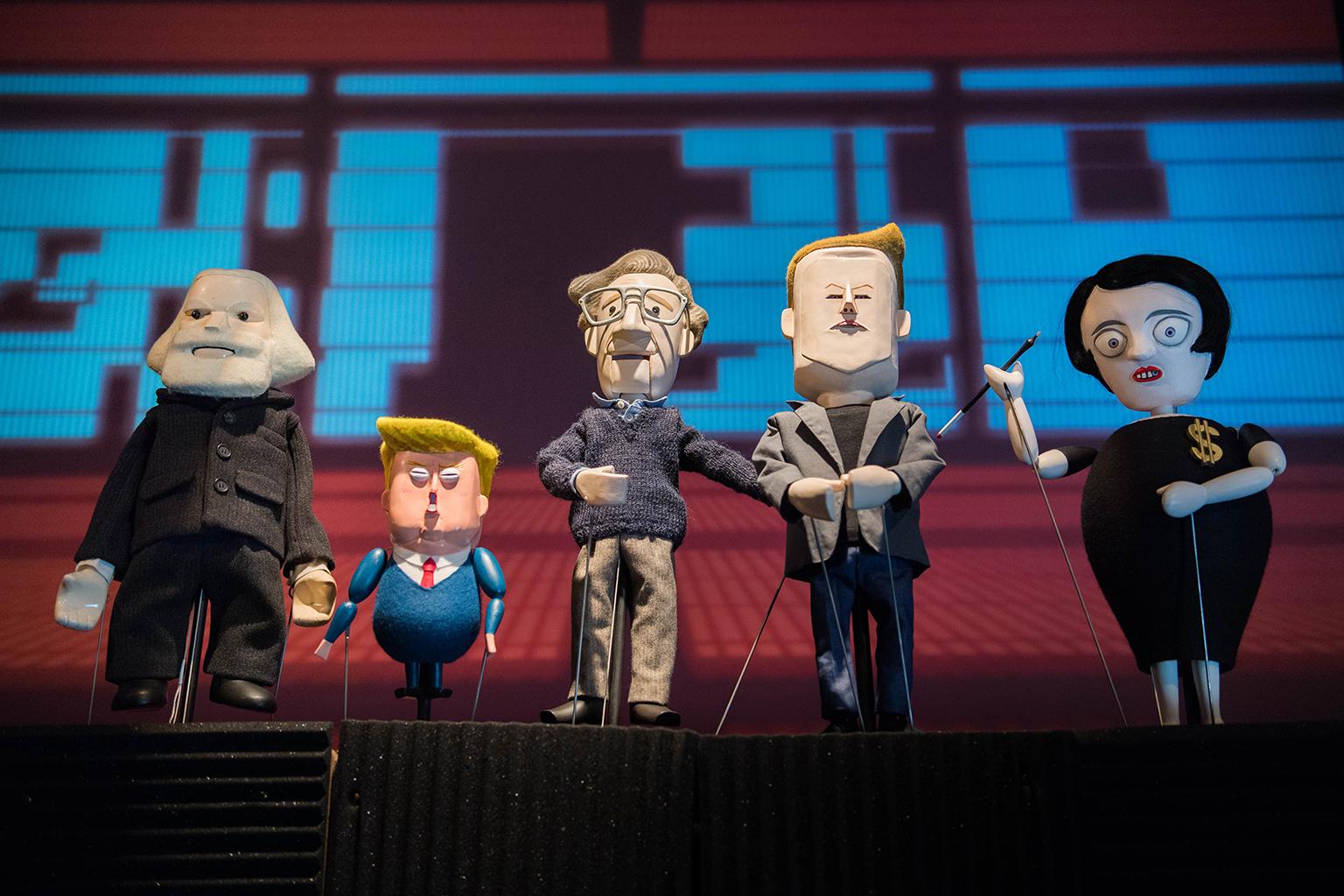 Pedro Reyes's puppet play "Manufacturing Mischief,"featuring Karl Marx, Tiny Trump, Noam Chomsky, Elon Musk and Ayn Rand. (Photo by Sham Sthankiya April 2018)
1. Delight
From the fanciful to the frightening, hundreds of puppets take over local stages for the Chicago International Puppet Theater Festival. See "Manufacturing Mischief," a satirical puppet play, starring Noam Chomsky, Steve Jobs and President Drumpf (performances Friday-Sunday). For a family-friendly show, check out "Ajijaak on Turtle Island." The show (presented Thursday-Sunday) draws on Ojibwe, Lakota and Cherokee lore and is presented in collaboration with master puppeteer Jim Henson's daughter, Heather Henson. The festival will feature more than 100 performances over 11 days, including a free Neighborhood Festival Tour.
Details: Performance times, costs and locations vary through Jan. 27
---
2. Jump in
You don't have to wait till summer to lounge lakeside sans coat, thanks to The Beach Chicago. You can frolic and float in a sea of more than one million antimicrobial and recyclable plastic balls as the immersive art installation takes over Navy Pier. Created by New York-based designers Snarkitecture, the exhibit will include deck chairs, umbrellas and lifeguard chairs. (Before you go, check out the event's waiver and release form.)
Details: 11 a.m.-8 p.m. Friday and Saturday, starting Jan. 19; 11 a.m.-5 p.m. Sunday; 11 a.m.-6 p.m. Monday; 3-8 p.m. Wednesday and Thursday through Feb. 3 (exceptions: closed Jan. 22, Jan. 28 and Jan. 29) at Navy Pier's Aon Grand Ballroom, 600 E. Grand Ave. Free / MAP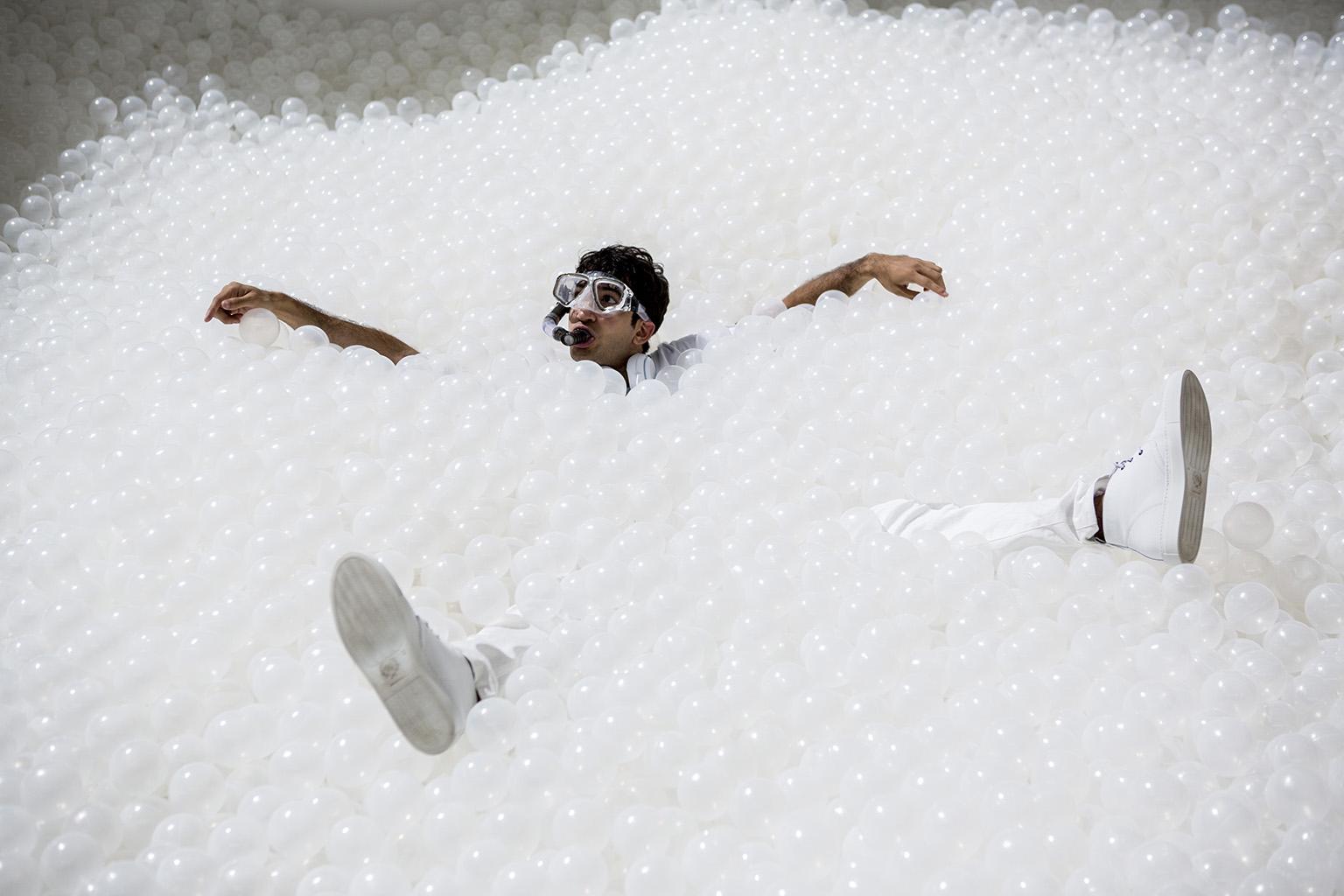 (Courtesy of Snarkitecture)
3. Honor
On Martin Luther King Jr. Day, commemorate the life and legacy of the civil rights leader with special activities and performances designed to reflect King's messages of peace and justice. Events include a 45-minute performance by the Writers Theatre, a re-enactment of King's "I Have a Dream" speech by Oba William King and crafts for kids.
Details: 10 a.m.-3 p.m. Monday at the Chicago History Museum, 1601 N. Clark St. Free / MAP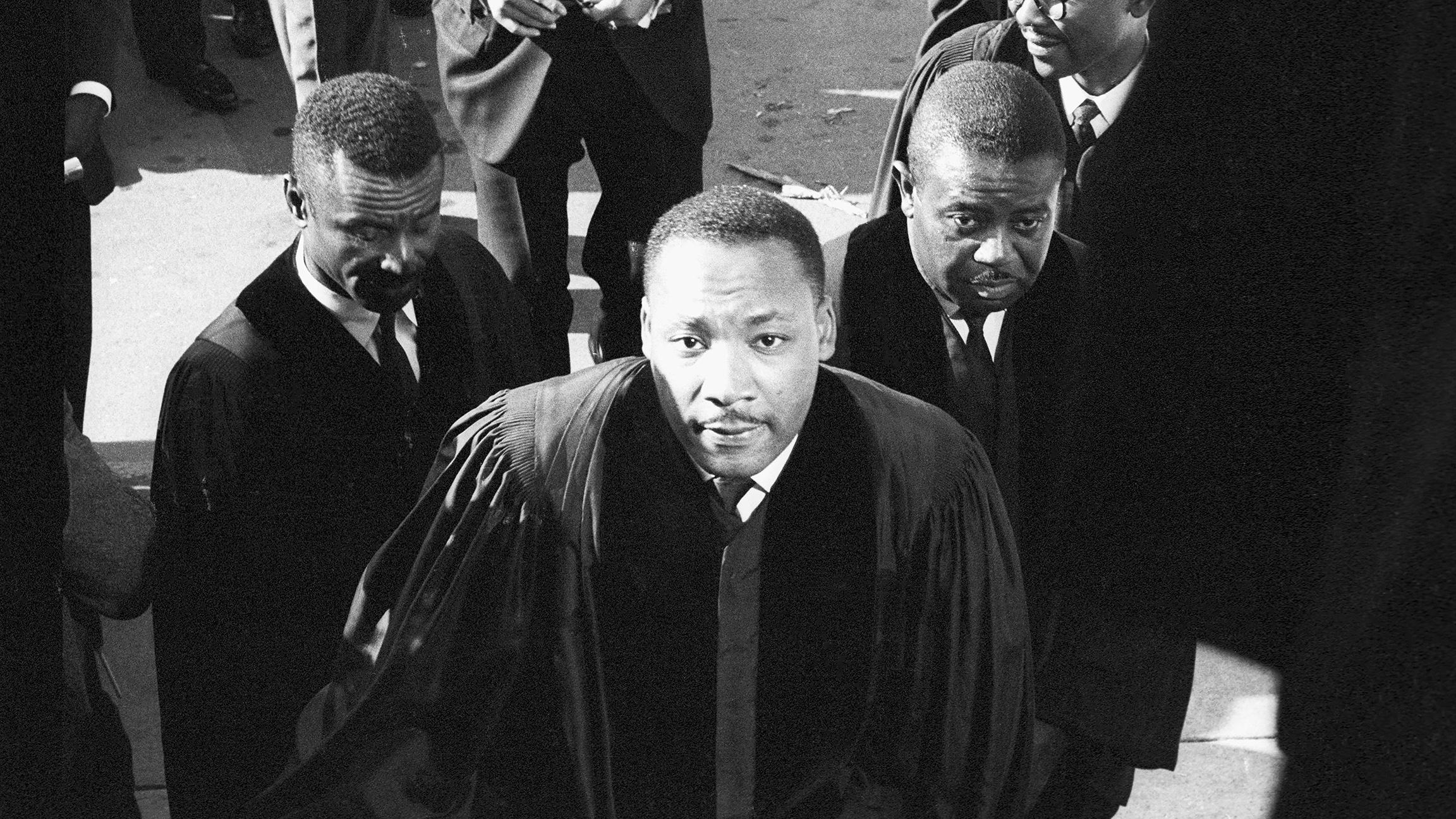 (Chicago History Museum)
4. Stay up
Keep your eyes on the sky at Lunapalooza, where you can watch this weekend's lunar eclipse alongside friends, family and astronomers in a semi-heated area. Complimentary cups of hot cocoa will be served. The partial eclipse is scheduled to begin at 9:34 p.m., followed by the total eclipse starting at 10:41 p.m. Totality, or when the light from the moon is totally obscured, is set to end at 11:43 p.m. Indoor events include a glow-in-the-dark PJ party; a screening of the new sky show, "Imagine the Moon"; and a chance to touch a real piece of the moon.
Details: 8 p.m.-midnight Sunday at the Adler Planetarium, 1300 S. Lake Shore Drive. Free outside observing; $12; $8 kids for indoor activities / MAP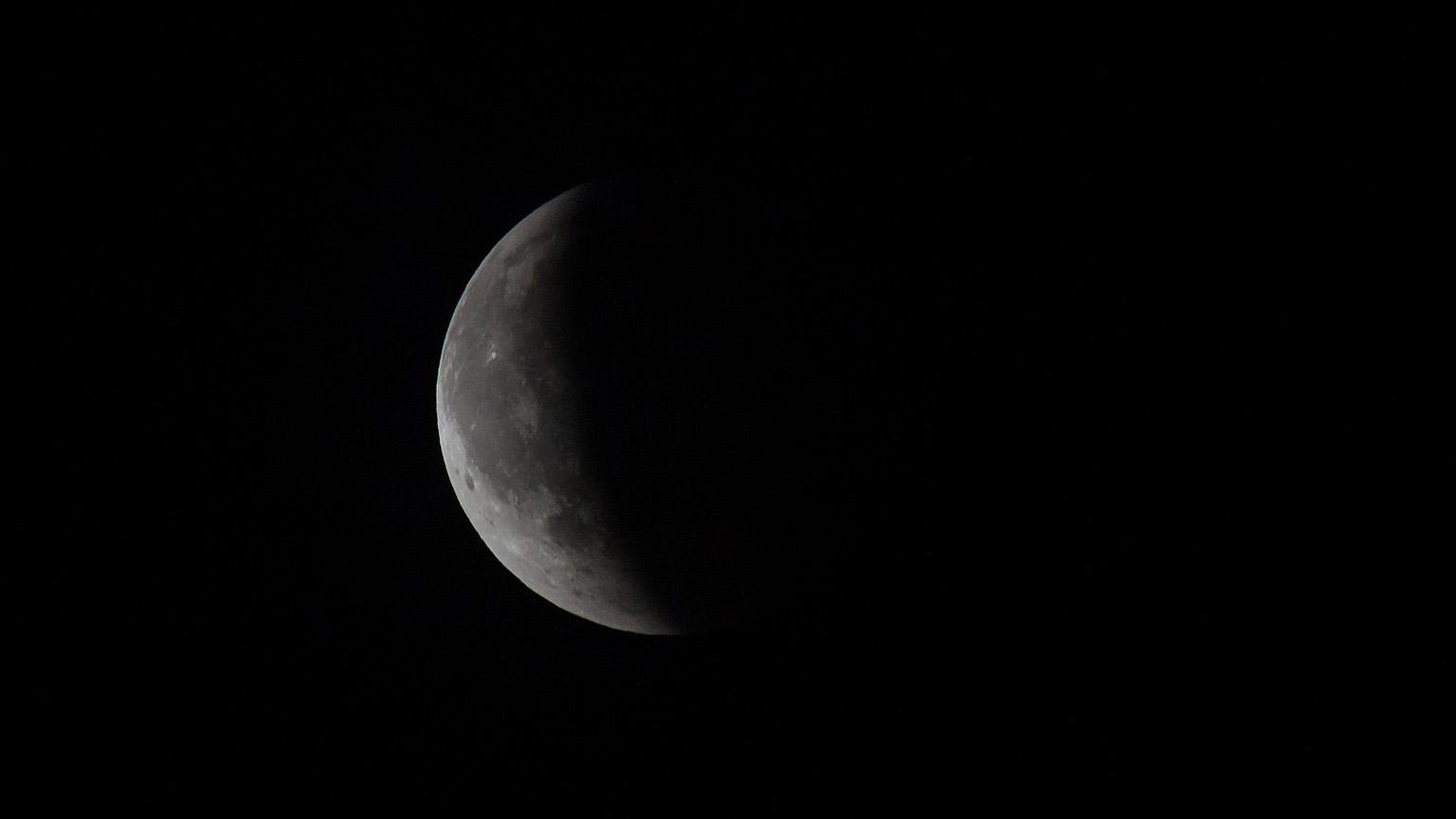 (Daniela / Flickr)
5. Hark
Herman Melville's classic 1851 novel comes to life at the Moby Dick Read-a-Thon. The 25-hour marathon reading will feature a series of performers, including Chicago Tonight's Eddie Arruza (1:51 p.m. Saturday), WFMT's Lisa Flynn (5:20 p.m. Sunday), WFMT's Candice Agree (5:30 p.m. Sunday) and WFMT's Robbie Ellis (5:40 p.m. Sunday). A keynote address about the enduring power of "Moby Dick" kicks off the event at 11 a.m. Saturday.
Details: 10:30 a.m. Saturday-1 p.m. Sunday at the Newberry Library, 60 W. Walton St. Free / MAP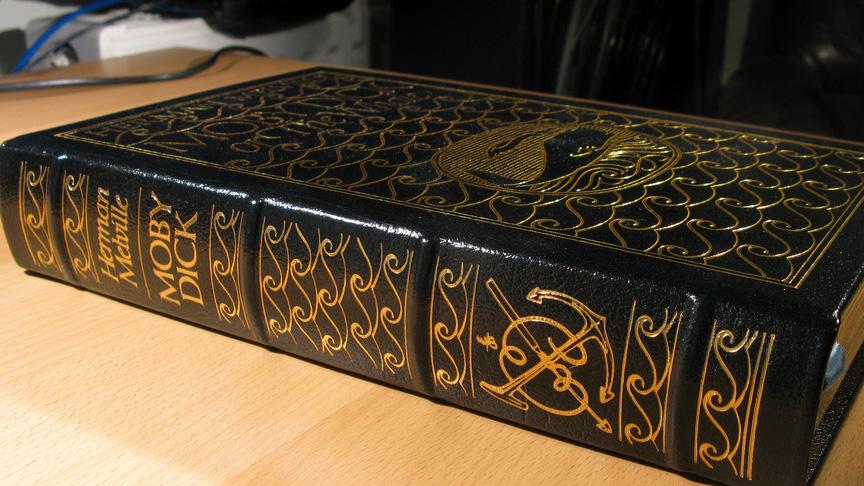 (Robert / Flickr)
6. Snap
More than 100 Chicago musicians and singers come together for "Too Hot to Handel: The Jazz-Gospel Messiah," including soloists Rodrick Dixon, Alfreda Burke and Karen Marie Richardson, as well as famed Detroit pianist Alvin Waddles. Enjoy their unique twist of rock, blues, jazz and gospel on Handel's classic oratorio.
Details: Performances at 7:30 p.m. Saturday and 3 p.m. Sunday at the Auditorium Theatre of Roosevelt University, 50 E. Ida B. Wells Drive $29-$68 / MAP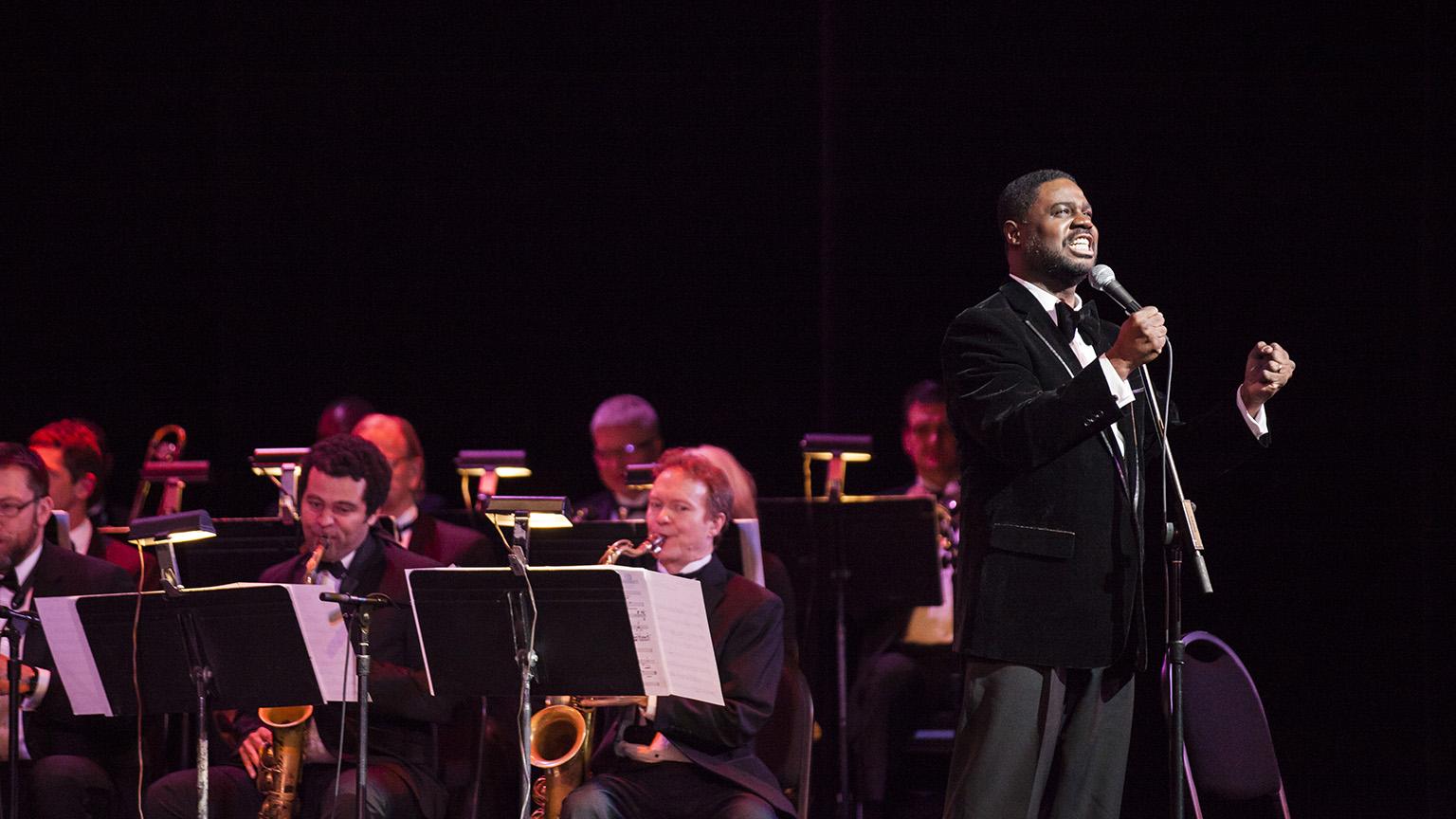 (Photo by Kristie Kahns)
7. Ponder
Youngsters are invited to travel back in time to learn about the civil rights movement through the musical drama "What Does It Mean, Dr. King?" The show, written by museum staff, touches on key historical moments, including the Montgomery bus boycott and the 1963 March on Washington, while incorporating key figures like a young King and 6-year-old Ruby Bridges. Children are encouraged to write letters to King following the performance.
Details: Shows at 11 a.m., 2 p.m. and 3 p.m. Sunday and Monday at the Chicago Children's Museum at Navy Pier, 700 E. Grand Ave. Free with museum admission / MAP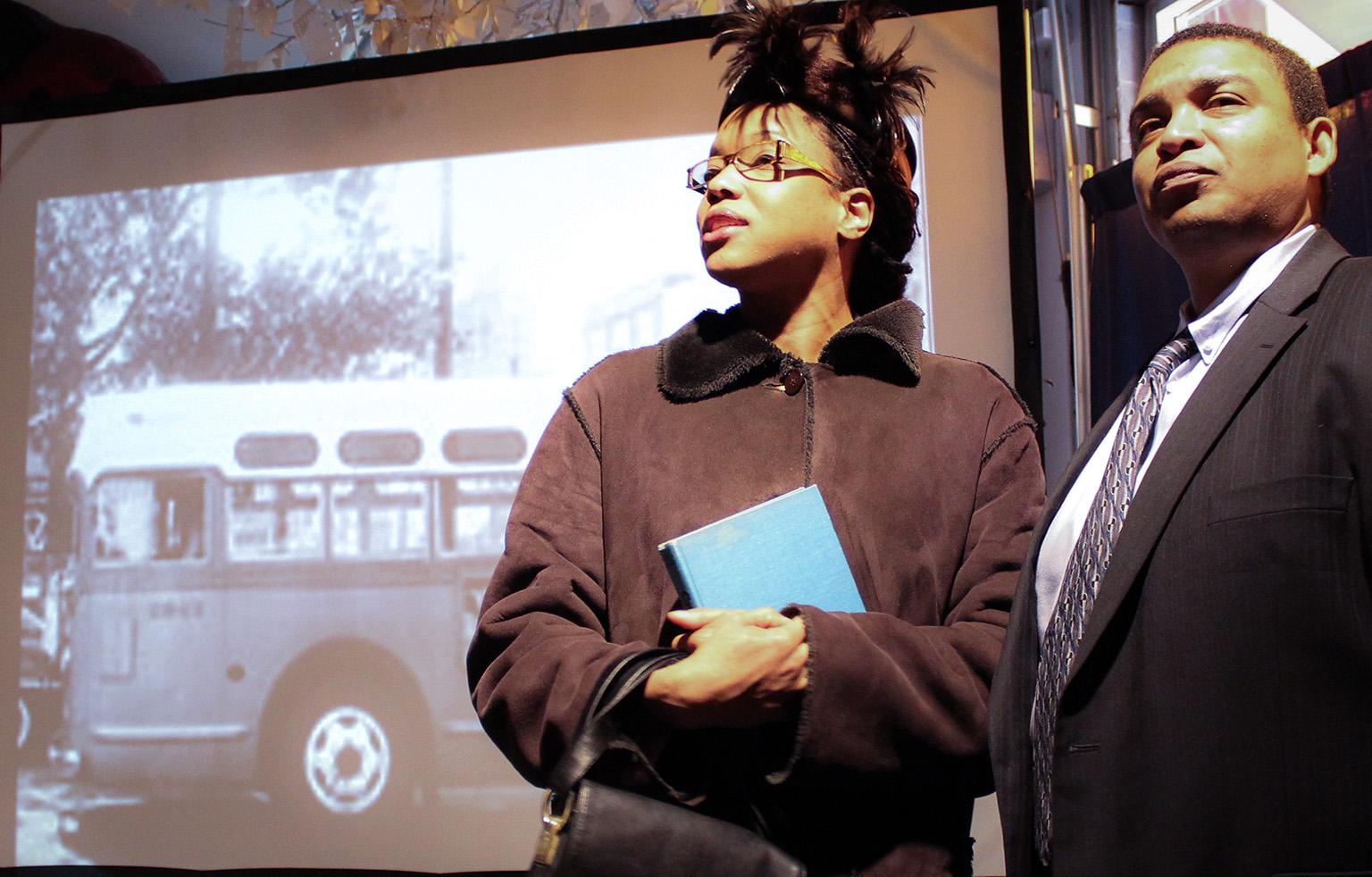 (Credit: Chicago Children's Museum)
8. Observe
The Lula Washington Dance Theatre blends a mix of African, modern, classical ballet and hip-hop genres to explore social and humanitarian issues reflecting aspects of African-American culture and history. The troupe has presented powerful, provocative works about being homeless, police brutality, the Civil Rights movement and the Underground Railroad.
Details: 7:30 p.m. Saturday at Dominican University's Lund Auditorium, 7900 Division St., River Forest, $35 / MAP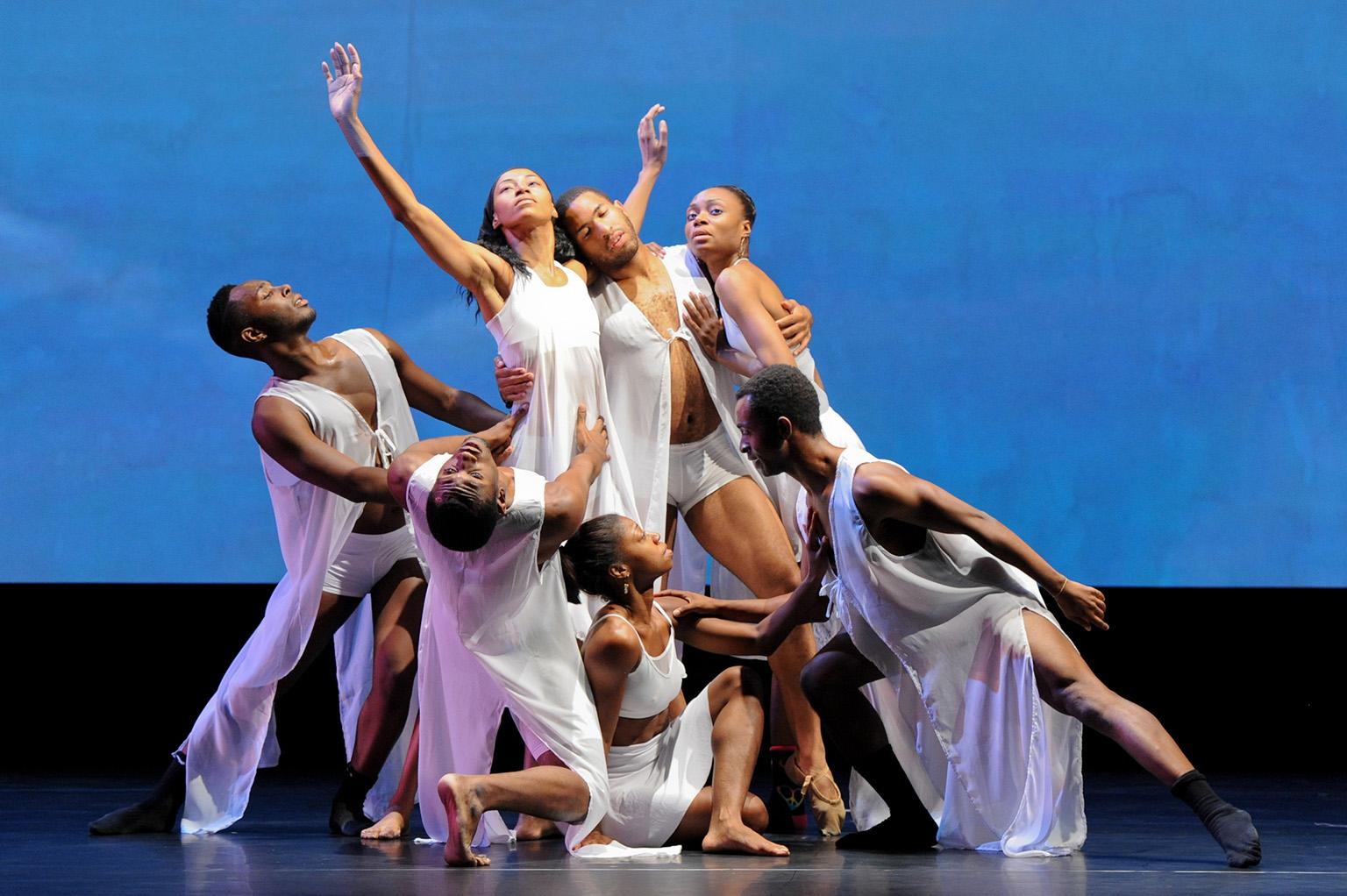 (Copyright © 2010 R. Jack Hartin)
9. Chow down
Warm up this weekend with a bowl or two of spicy stews at a Chili Cook-Off, benefiting Opportunity Knocks, a nonprofit that serves young people who have intellectual and developmental disabilities. Live music from the True Company Band keeps you entertained till the NFL's NFC Championship game starts.
Details: Noon-5 p.m. Sunday at Fitzgeralds, 6615 W. Roosevelt Road, Berwyn $30; Free for kids 12 and under / MAP
(kalhh / Pixabay)
10. Harmonize
Dr. King's words meld with music in the Chicago Sinfonietta's annual MLK Tribute Concert. The orchestra will perform a range of pieces, from Ludwig Van Beethoven's Egmont Overture, Op. 84 to Sir Michael Tippett's Five Negro Spirituals from "A Child of Our Time." Interlaced with the music will be a spoken word performance of King's most important speeches by Kenneth Woods.
Details: 3 p.m. Sunday at Wentz Concert Hall at North Central College, 171 E. Chicago Ave., Naperville, $10-$62 / MAP. 7:30 p.m. Monday at the Chicago Symphony Center, 220 S. Michigan Ave. $10-$62 / MAP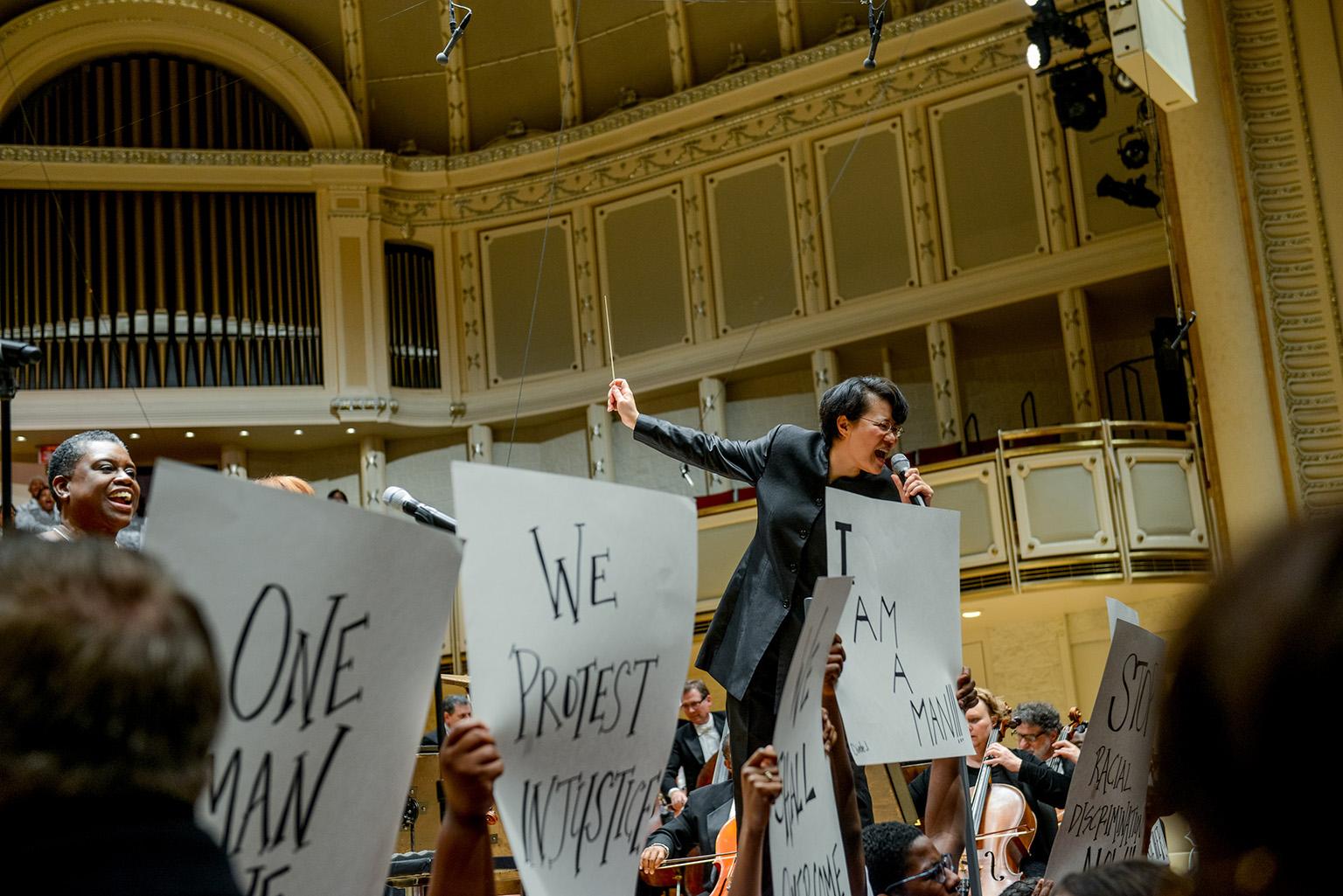 (Credit: Chicago Sinfonietta)
11. Unite
Raise your voice at the Young Women's March Rally 2019. Women and men of all ages are encouraged to attend to stand in solidarity with women's marches across the country. Organizers seek to raise awareness about issues such as violence against women, reproductive rights, immigrant rights and racial justice, among others.  
Details: 10-11:30 a.m. Saturday at Federal Plaza, Dearborn and Adams Streets. Free / MAP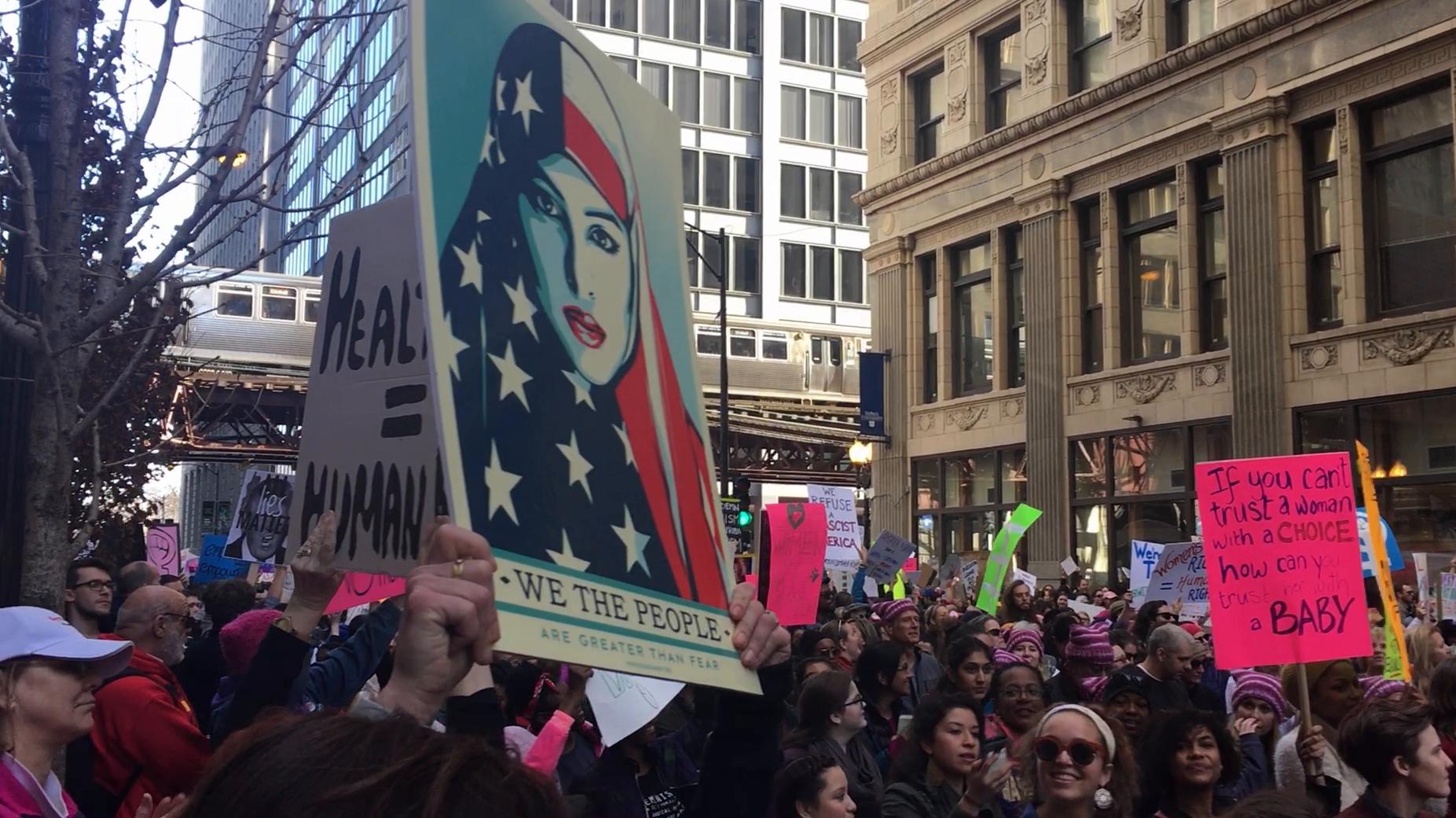 (Maya Miller / Chicago Tonight)
12. Contribute
Explore the ideas of identity and freedom through the Art Institute's various collections and special programming designed to honor Martin Luther King Jr. At King Day Festival: Long Journey into Freedom, attendees can learn about King's journey while creating their own journey book of places they've visited and would like to go. Visitors can also contribute to Englewood photographer and activist Tonika Johnson's Folded Map project and hear a performance by the award-winning poetry slam team, Reborn Poetry Ensemble.
Details: 10:30 a.m.-3 p.m. Monday at the Art Institute of Chicago, 111 S. Michigan Ave. Free / MAP
---
Events listed are subject to change. We recommend double-checking times and locations before you head out the door. Want to share your upcoming events with us for consideration in a future roundup? Send us an email.
---