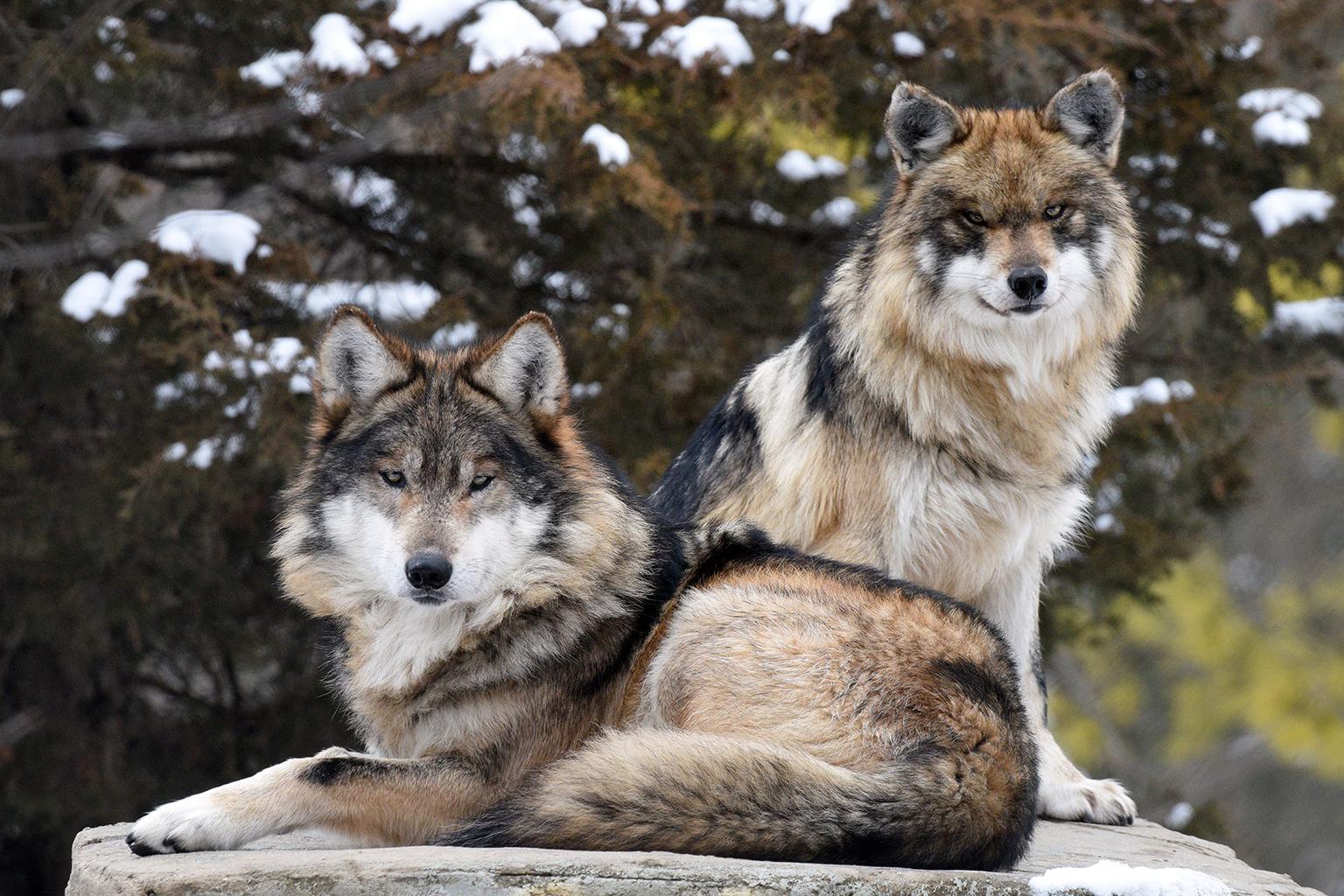 Apache, foreground, a 7-year-old old male Mexican wolf recently arrived at Brookfield Zoo to be paired with 2-year-old Ela. (Jim Schulz / Chicago Zoological Society)
With the arrival of a new male wolf last month, Brookfield Zoo plans to establish a new pack of endangered Mexican wolves. Zoo officials said this week they are hopeful that 2-year-old Ela and newcomer Apache, 7, will have a successful breeding season this winter and produce a litter of wolf pups in the spring.
Apache arrived at the zoo in December from Albuquerque Bio Park in New Mexico. Brookfield Zoo was home to Ela's original pack until November, when nine wolves were transferred to new homes in Missouri. Ela's packmates were moved because as wolves mature, they typically disperse from their natal pack. The 10-wolf pack was one of the largest and most successful packs in the history of the Mexican Wolf Recovery Program, according to the zoo.
Apache and Ela can be seen at the zoo's Regenstein Wolf Woods habitat. 
"While this is Ela's first experience meeting a male outside of her natal pack, she is a confident wolf and we expect her to bond well with Apache," said Joan Daniels, curator of mammals for the Chicago Zoological Society, which manages the zoo, in a statement. "Ela's familiarity with the successful den sites in the habitat at Brookfield Zoo and observations of her mother, Zana, rearing a litter in 2017 makes her the perfect partner for Apache."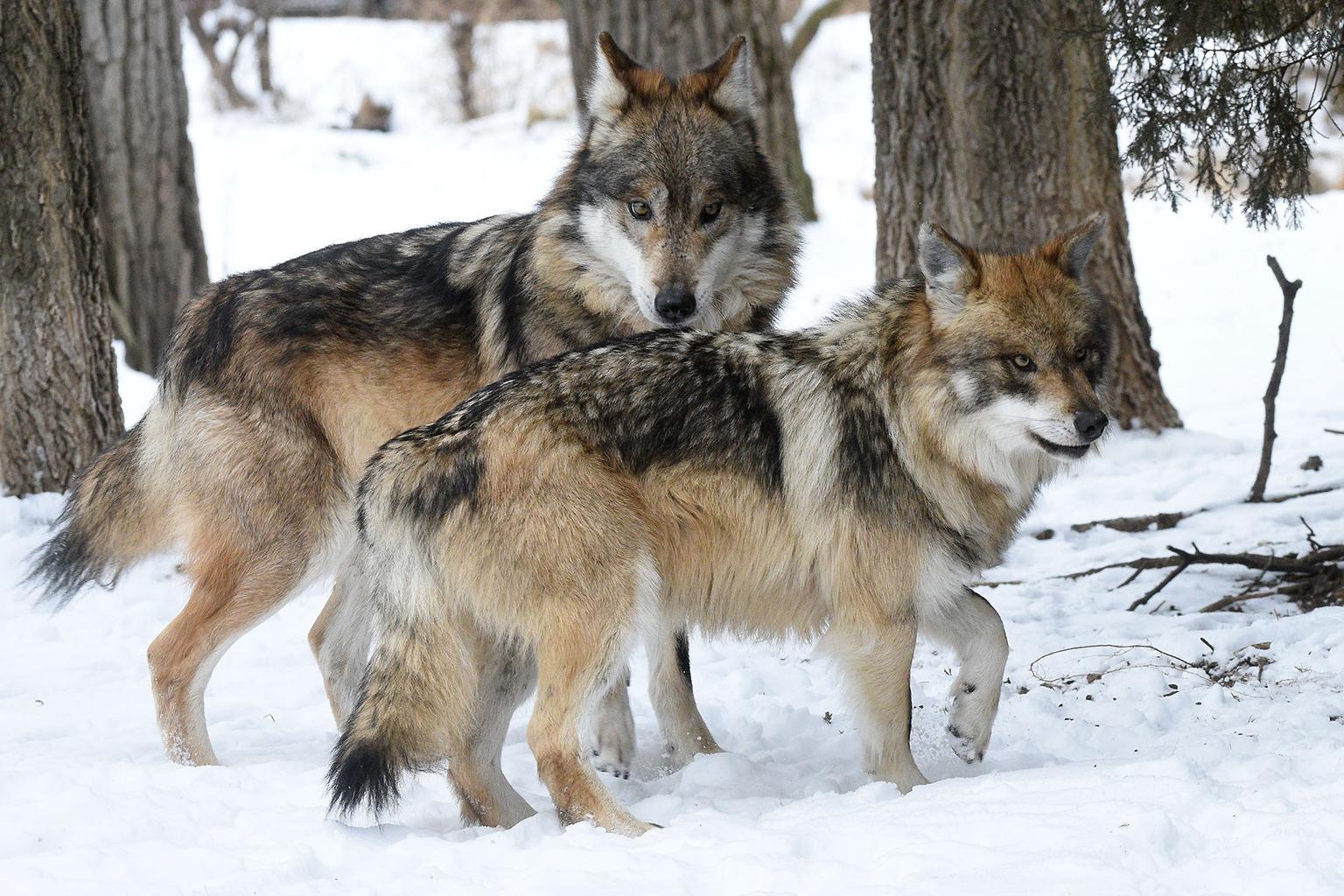 Apache, background, and Ela will be the new alpha Mexican wolf pair at Brookfield Zoo. (Jim Schulz / Chicago Zoological Society)
Because of the zoo's prior breeding success, the Association of Zoos and Aquariums requested that the zoo establish the new breeding pair as part of its Mexican Wolf Species Survival Plan.
Mexican wolves were once common in the southwestern U.S. but today are one of the world's rarest species, having been nearly wiped out in the mid-1970s, with fewer than 10 remaining at one point.
Starting in 1998, 11 Mexican wolves were reintroduced to the wild in Arizona after being bred in captivity. Although their numbers have grown, there are still only 114 individuals living in the wild in the U.S. and another 31 in Mexico, according to the U.S. Fish and Wildlife Service (USFWS).
Since 2003, the Chicago Zoological Soceity and Brookfield Zoo have collaborated with USFWS on its recovery program for the species, facilitating cross-fosterings of puppies born at the zoo and releasing one adult female into the wild who subsequently had her own litter of pups.
Contact Alex Ruppenthal: @arupp | [email protected] | (773) 509-5623
---
Related stories:
Nine Mexican Wolves Leaving Brookfield Zoo for New Homes
Brookfield Zoo Helps Bring Mexican Wolves Back From Brink of Extinction
How Artificial Insemination is Saving Mexican Wolf Populations
Brookfield Zoo Wolf Released into Wild Found Healthy in New Mexico
5 Endangered Gray Wolf Pups Born at Brookfield Zoo, 2 Sent to the Wild
---