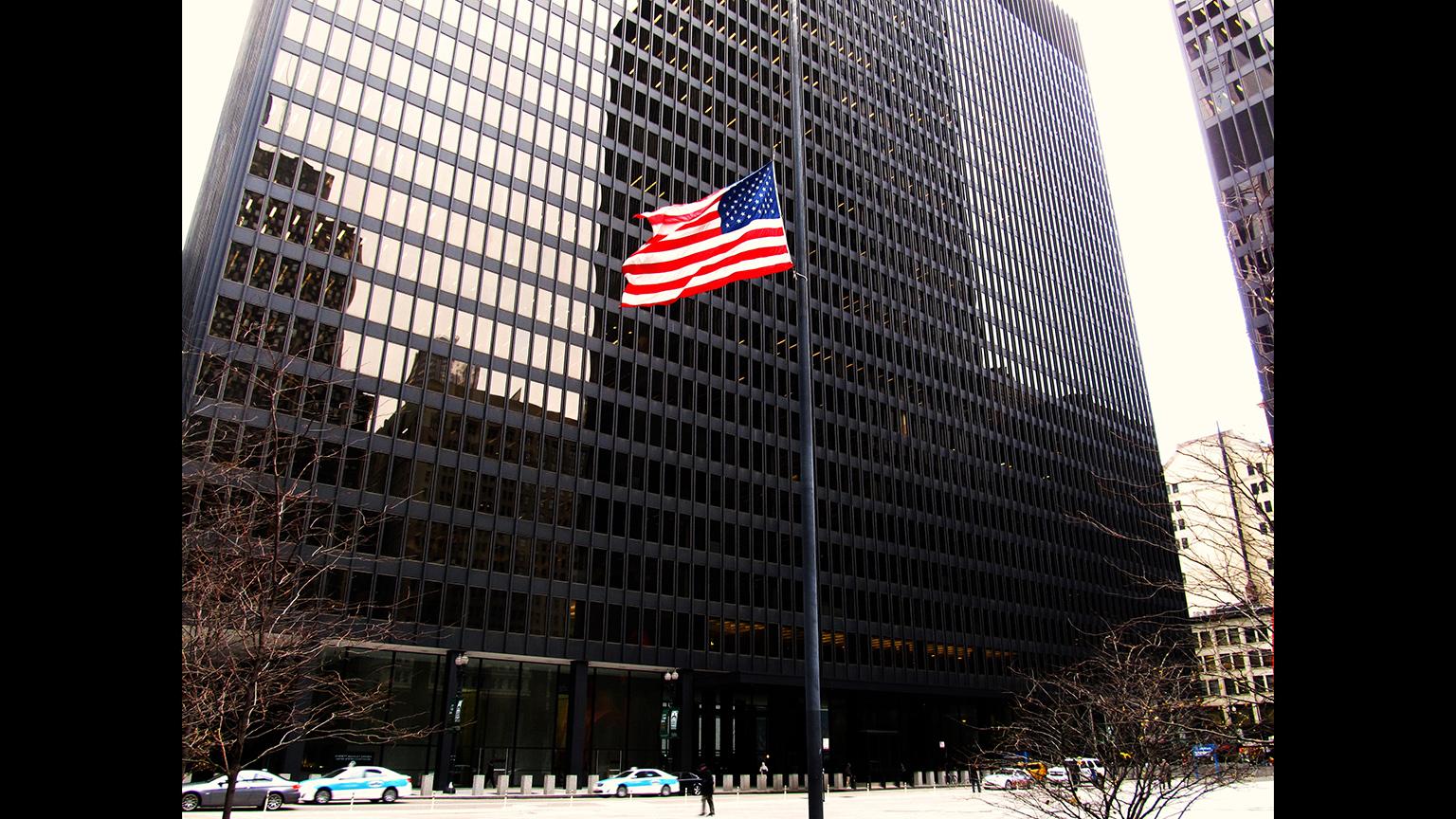 Dirksen United States Courthouse (Ken Lund / Flickr)
Airports, national parks and other federal agencies have already felt the impact of the partial government shutdown, now in its third week. And unless the situation in Washington is resolved soon, federal court operations may also soon be limited.
Chief Judge Ruben Castillo of the Northern District of Illinois court said Thursday he is "deeply concerned" that a lack of federal funds could delay the court's ability to "ensure timely justice."
The judiciary is currently using court fees and other so-called no-year funds to maintain normal operations. But earlier this week, the Administrative Office of the U.S. Courts issued a revised timeline, estimating that this plan can only sustain paid operations through Jan. 18.
If there is still no resolution by that date, court employees will still be required to work, but won't receive payment until federal funding is restored.
"If we reach the point where paychecks are not being issued, the consequences could be very problematic," Castillo said in a statement.
"Many Court employees live paycheck to paycheck and will be forced to make extremely tough financial decisions to keep their families afloat. The morale of our Court workforce suffers when public servants and their livelihoods become hostage to political talks."
Should the shutdown last beyond Jan. 18, the court will be forced to operate under the Anti-Deficiency Act, which allows only "essential work" to continue. That means existing criminal and civil trials will continue, but jurors will not be paid until the shutdown is over. And no new civil trials would begin.
Already Castillo has suspended all existing litigation involving the U.S. government and its agencies – nearly 1,000 cases – many of which involve the Social Security Administration, the Equal Employment Opportunity Commission and the Environmental Protection Agency.
That stay will remain in place until the shutdown has ended, at which point court deadlines will be extended by the number of days of the shutdown, plus seven days.
As the shutdown stretches on, Transportation Security Administration employees have continued working without pay, though some have begun calling in sick at various airports (though not yet in Chicago) so they can try to find other income sources. National parks have also seen mounting waste and damage while park employees remain furloughed.
"Federal workers should not have to worry about how they will pay their bills," Dorothy James, national vice president of the American Federation of Government Employees District 7, said in a statement. AFGE members took part in a rally in downtown Chicago on Thursday afternoon, calling for an end to the shutdown.
"The Public should not have to worry," James continued, "whether they will be able rely on everything from food inspection, a clean environment, well guarded prisons, safe airports, stable housing, secure borders, SNAP benefits, and more. We need the Senate and White House to pass a budget."
Contact Matt Masterson: @ByMattMasterson | [email protected] | (773) 509-5431
---
Related stories:
No Signs of Sickout Among Chicago TSA Agents
Standoff Over Border Wall, Government Funding Continues
Trump, Democrats Continue Battle Over Funding, With No Budget in Sight