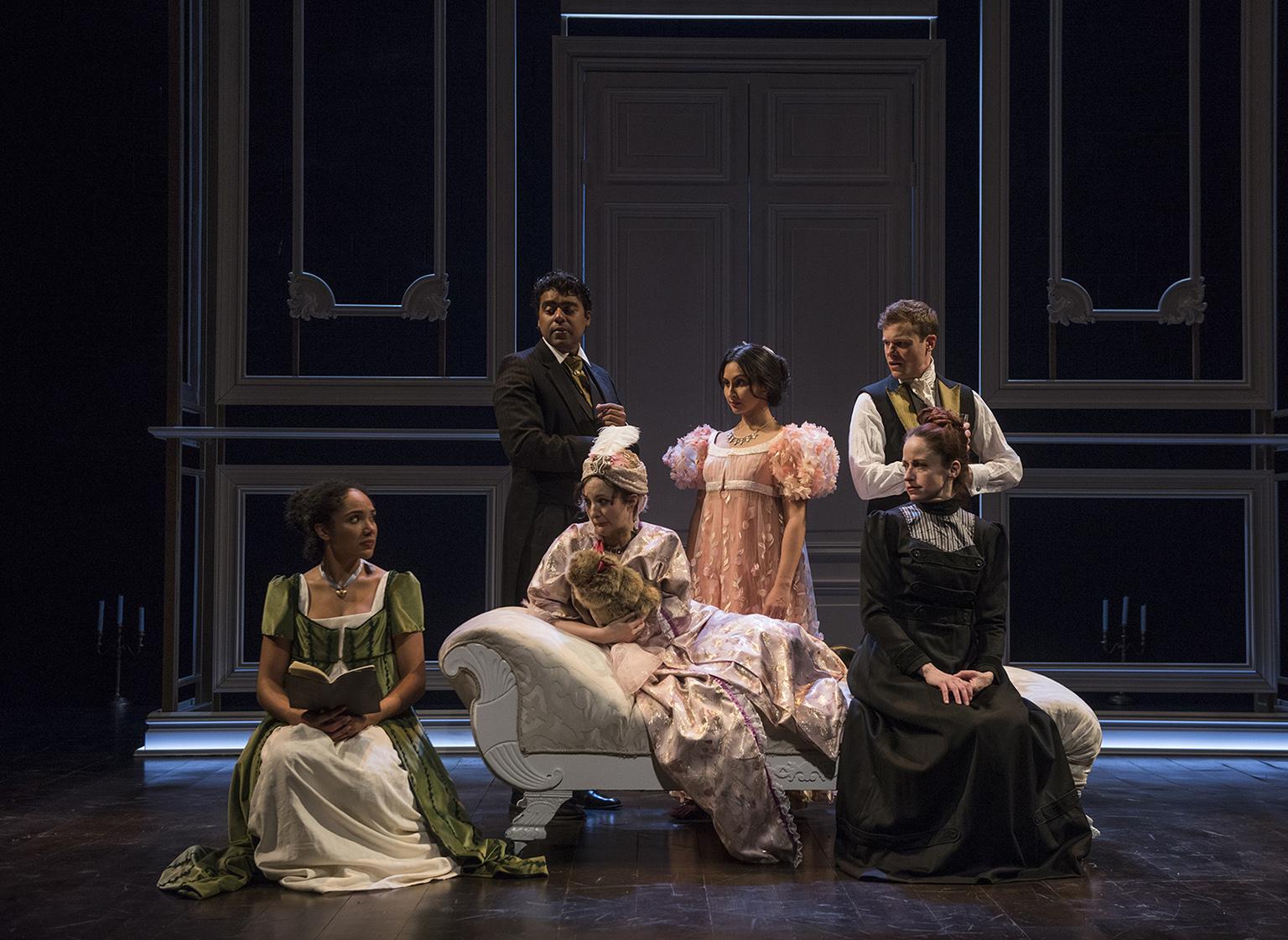 A scene from the world premiere of "Mansfield Park" at Northlight Theatre. Front, from left: Kayla Carter, Kate Hamill and Heidi Kettenring. Back, from left: Gabriel Ruiz, Anu Bhatt and Curtis Edward Jackson. (Photo credit: Michael Brosilow)
Watching Northlight Theatre's luminous world premiere stage version of "Mansfield Park," Jane Austen's third published novel (which was ignored by critics when it arrived in 1814, but became the most successful of her books during her lifetime), it was impossible not to wonder what the writer might make of her enduring cult status among 21st century audiences.
So much has changed in terms of the status of women since she penned the novel. But human nature has remained the same. And Austen's acute observations on social class, romantic attraction, marriage, family, ethical versus pragmatic choices, self-destructive behavior, hypocrisy and the importance of self-knowledge continue to ring true. So does her wit and sarcasm, and the pre-Dickensian quality of her brilliantly limned characters. In addition, and unique to this particular work, there is Austen's understanding of the pernicious wealth built on slavery. (Athough outlawed in England in 1772, the slave trade continued on into the 19th century.)
From left: Heidi Kettenring, Kayla Carter and Kate Hamill. (Photo credit: Michael Brosilow)
The new production now at Northlight is the fleet work of actress and playwright/adapter Kate Hamill, who previously devised plays based on Austen's other great novels – "Pride and Prejudice" and "Sense and Sensibility" – and who here plays several roles. And under the razor-sharp, fast-paced direction of Stuart Carden, a superb cast and design team do the rest to set it all in motion, with Yu Shibagaki Taylor's elegant Regency-era architectural backdrop and wheeled furniture (lit by Christine A. Binder), as exuberantly "choreographed" as Steph Paul's brilliant dance sequences, and enhanced by Andrew Hansen's exuberant incidental music and Izumi Inaba's lavish costumes.
At the center of "Mansfield Park" is Fanny Price (Kayla Carter), a "poor relation" of the fabulously wealthy (if seriously dysfunctional) Bertram family which owns the grand Northamptonshire estate of the title. As a young girl, Fanny, the oldest of nine children in the impoverished family of Lady Bertram's younger sister, is sent to live with her rich relatives and to serve as a much-berated companion to Mariah Bertram (Anu Bhatt), the spoiled daughter in a family that also includes a dictatorial father, Lord Bertram (Mark Montgomery), his neurotic, laudanum-taking wife, Lady Bertram (Hamill), and two sons – the kind and courtly Edmund (Gabriel Ruiz), who considers becoming a (poorly paid) clergyman, and his rebellious, dissolute older brother, Tom (Curtis Edward Jackson), who will have a rude awakening when he accompanies his father on a business trip to Antigua.
Kayla Carter and Gabriel Ruiz (Photo credit: Michael Brosilow)
Although initially unschooled, unworldly and badly treated by everyone, including Mrs. Norris (Heidi Kettenring), her officious aunt who manages the manor, Fanny finds a kind friend in Edmund. And her innate moral compass, discretion and canny, instinctive sense about the character of the people around her, are her salvation. Her mantra becomes, "I can learn," and indeed she does, as she closely observes the behavior of those who possess far greater money and privilege, but far less heart. She is a romantic, not an opportunist, and despite temptation, she understands that no amount of financial security is worth the price paid for marrying a man one does not love.
The trouble begins with the arrival of several outsiders – first the half-mad Mr. Rushworth (Jackson), and then a pair of snobby young socialites – the dissolute Henry Crawford (Nate Burger), and his shrewdly calculating sister, Mary (Hamill). Fanny is repelled by Crawford, who makes her the focus of a nasty "hunt," but he also is keenly attracted to her because of the challenge that comes with her dismissal of him. But it is Mary who most worries Fanny because by now Fanny has fallen for Edmund, and Mary has clearly set her sights on marrying him for what will be his formidable inheritance.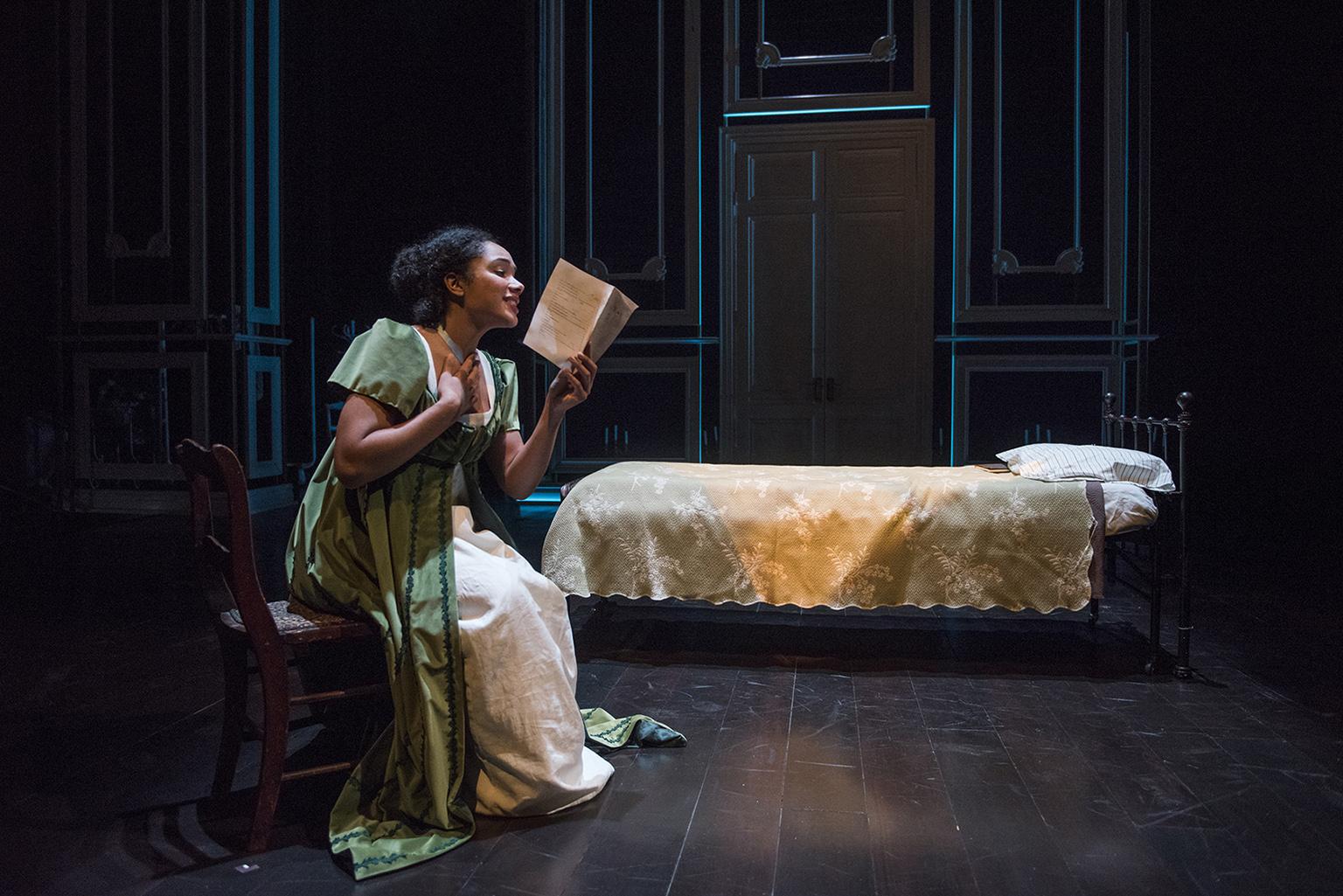 Kayla Carter in "Mansfield Park." (Photo credit: Michael Brosilow)
It is not until the second act that the transformed Fanny returns to her own destitute family in a Portsmouth slum, encountering a bit of culture shock as she is reunited with her mother (Kettenring), feckless, alcoholic father (Montgomery), a ragged younger brother (Burger), younger sister (Bhatt), and her most beloved brother, William (Jackson), who wants to get ahead in life but has no connections.
There is more, but for that you must see the show and enjoy the uniformly superb cast. Of course it is the portrayal of Fanny that is of the utmost importance. And Carter, so raw and awkward at first glimpse, morphs into the loveliest of swans in the most poignant and subtle ways – always conscious of the truth and falsity in those around her, suffering much heartbreak and many crises of conscience, and finally, learning to be happy. 
"Mansfield Park" runs through Dec. 16 at Northlight Theatre, 9501 Skokie Blvd., Skokie. For tickets ($30-$88) call (847) 673-6300 or visit northlight.org. Running time is 2 hours and 20 minutes with one intermission.
Follow Hedy Weiss on Twitter: @HedyWeissCritic
---
Irving Berlin's 'Holiday Inn' Becomes Newly Minted Gem on Marriott Stage
Nature, Nurture and the Art of Creation in Manual Cinema's Astonishing 'Frankenstein'
In 'Scientific Method,' Politics in the Lab Are as Rigorous as the Research
---