(U.S. Air Force photo by Airman 1st Class Alexxis Pons Abascal)
City officials were aware of data that showed elevated lead levels in the water of homes that had recently had water meters installed. This, according to a study conducted jointly by the city's Water Department and the U.S. EPA that was published in 2013.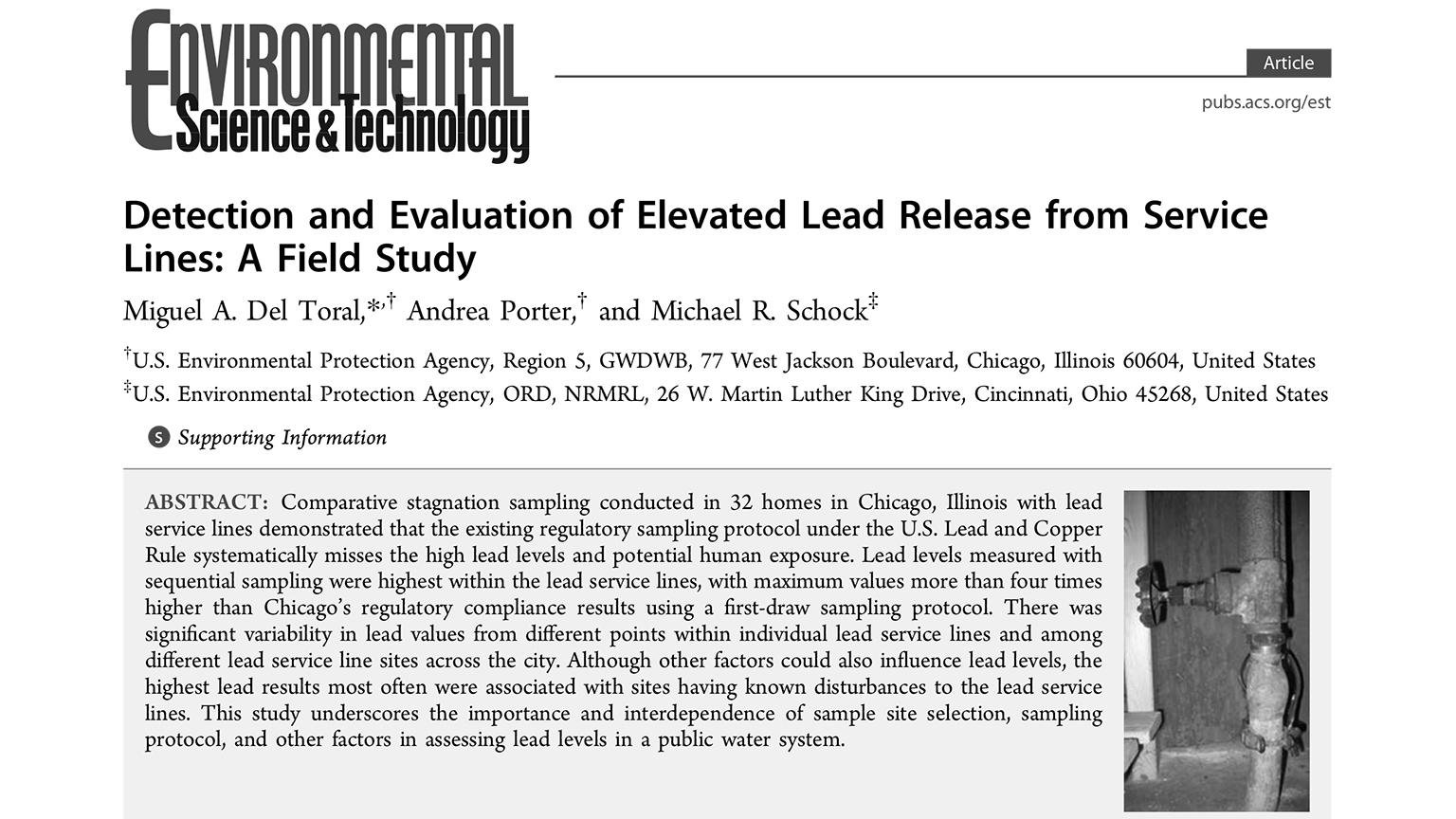 Document: Read the 2013 report The study, entitled "Detection and Evaluation of Elevated Lead Release from Service Lines," repeatedly tested water samples from 32 homes. It found "the highest lead results most often were associated with sites having known disturbances to the lead service lines," with disturbance defined as a "meter installation, or replacement, auto-meter reader installation, service line leak repair, external service shutoff valve repair or replacement, or significant street excavation directly in front of the home that could disturb the lead service line." Of the 13 sites that had recently had water shut off for any of those reasons, 12 showed elevated lead levels, according to the study. Of the 16 sites that did not have a shutoff in water flow, only three sites showed elevated lead levels. Other sites were labeled as "indeterminate," because the resident didn't know if their water had been shut off or not.
"The increase in lead levels after a disturbance is very well documented," said Jen Walling, executive director of the Illinois Environmental Council. "Water meter installation has always been part of the discussion on that."
In fact, a state law passed in 2017 requires the city to inform residents of lead exposure risks when repairing or replacing a water meter. But when asked via email whether the city has followed that law, a spokesperson for the Water Department did not respond to that question.
Ald. Gilbert Villegas, 36th Ward, who last week proposed an ordinance that would raise $2 billion from the real estate transfer tax to pay for replacing all of the city's lead service lines, says he had a water meter installed but did not receive notification about the lead risks. He says he did, however, receive a water filter from the city.
Chicago's Water Department and Health Commissioner Dr. Julie Morita announced Thursday that they began a study in 2016 "to investigate the possible impact of water main construction and meter installation on residential lead levels." This, after releasing preliminary information that found elevated levels of lead in 51 out of 296 homes that had recently had water meters installed. They did not mention the study that had already been conducted in 2013.
Video: City Finds High Levels of Lead in Water of Some Homes
A spokesperson for the Water Department says the results do not necessarily show a correlation between water meter installation and increased lead exposure. The 2013 study "was conducted in partnership with the city's Department of Water Management to help determine the best methods to measure lead levels in water – it was not a study to determine the safety/lead levels of Chicago water. Some have taken information from the study to suggest that work done on consumers' lead pipes might disturb the phosphate coating and allow lead to enter the water. Those conclusions are far from scientifically established; the study looked at a very small sample of houses and did not measure lead levels before and after the pipe interference," said Water Department spokesperson Megan Vidis.
The city has maintained that it consistently meets the EPA's standards of water quality. But the 2013 study also concludes that the EPA's test, written in 1991, is insufficient. In Chicago, the EPA regulations only require the city collect samples from 50 homes, and requires that 90 percent of them show lead levels that fall beneath the EPA standard. The EPA only takes one "first draw" sample of the water at each site, which most likely captures water stagnant inside the home, says the EPA, not in the lead service line. The 2013 study took multiple samples and found that the lead levels were as much as four times the amount found when using the EPA's protocol. It concludes that the EPA's method "systematically misses the high lead levels and potential human exposure."
All of Chicago's water is treated with a chemical called orthophosphate that coats lead water pipes to prevent lead runoff into the water. The theory among water experts, though not universally confirmed, is that a disturbance in water flow, or a water shut-off, could cause erosion of orthophosphate coating in the pipe. Experts say residents should run their water for a short period of time after any water disturbance to make sure the coating is built up. But that action is no guarantee that lead particulates won't appear in the water later.
The city says that 165,000 homes have water meters. As many as 375,000 homes could have lead service lines, which deliver water from the mains into individual households, because city law required lead until a U.S. EPA ruling outlawed it in 1986. But the city does not have an inventory of which properties have updated their service lines and which still have lead. The Water Department's latest study aims to determine just that, as well as the feasibility of replacing all of the remaining lead service lines.
Follow Paris Schutz on Twitter: @paschutz
---
Related stories:
EPA Finds Lead Contamination in Southeast Side Soil – In Addition to Manganese
City Finds High Levels of Lead in Water of Some Homes
Emanuel Opposes Tax on High-End Real Estate to Address Homelessness, Lead
Aldermen Consider $2 Billion Plan to Get Lead Out of City Water
Could Milwaukee Be a Model for Replacing Chicago's Lead Water Pipes?
Chicago's Lead Pipes: What You Need to Know
---