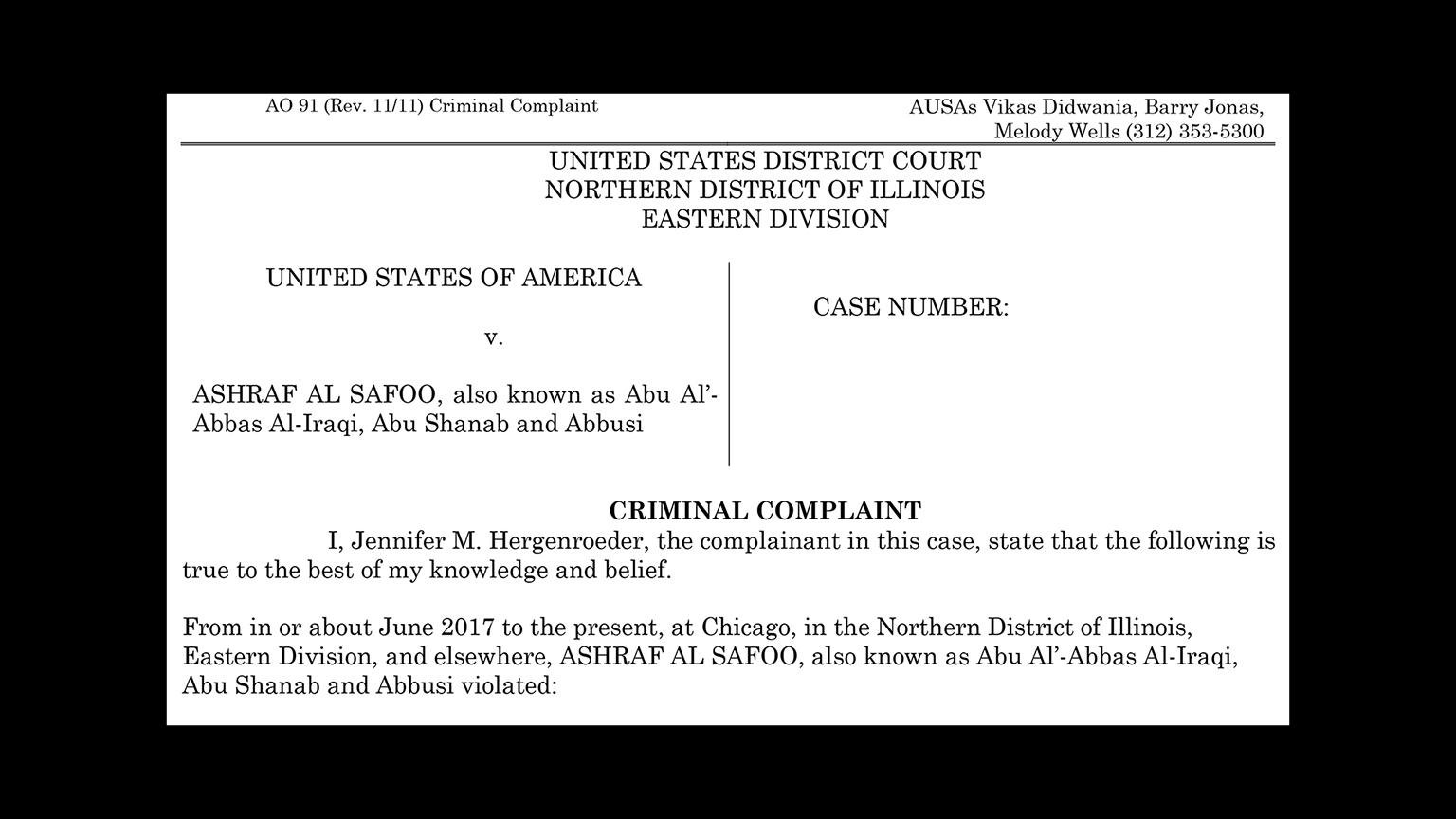 Document: Read the complaint
A Chicago man has been charged with using Twitter, Facebook and other social media applications to recruit operatives, encourage terrorist attacks and provide aid to ISIS, according to federal charging documents filed Friday.
Ashraf Al Safoo, a naturalized U.S. citizen, was arrested Wednesday and charged with one count of conspiracy to provide material support and resources to a foreign terrorist organization. He allegedly created and disseminated videos and images encouraging "lone wolf" terror attacks and showing celebrations following mass shootings and other attacks in the U.S.
The 34-year-old resident of the Budlong Woods neighborhood on the city's North Side reportedly told U.S. Magistrate Judge M. David Weisman on Friday he has a master's degree in computer science and works for an IT company. He is currently being held without bond pending a hearing next Thursday.
"This charge demonstrates that in order to keep our communities safe, law enforcement will vigorously pursue those who provide material support – in whatever form – to designated foreign terrorist organizations," said U.S. Attorney John Lausch said in a statement. "Today's arrest is a testament to the commitment and dedication of our prosecutors and law enforcement partners who stand watch over our country."
According to the complaint, Al Safoo and other co-conspirators are members of the Khattab Media Foundation, an online organization "dedicated to the creation and widespread dissemination of ISIS propaganda."
Al Safoo allegedly swore an oath to ISIS and has posted pro-ISIS propaganda promoting violence on Twitter, Facebook, YouTube and another unnamed social media application.
According to the complaint, he's worked as a leader of the Khattab Media Foundation, an online organization "dedicated to the creation and widespread dissemination of ISIS propaganda" since March, but was an "active member" in the group beforehand.
The group used "sophisticated operational security measures" including TOR browsers and virtual private networks to conceal their identities online, according to the complaint.
In a letter to its members sent last December, the foundation's staff group sent a letter to its members stating "By Allah, it's a blaze that will devour the cross worshippers. Don't forget you are the ones who represent the Islamic State on the Internet, so present it in a fine way and terrorize Allah's enemies."
A month earlier, Al Safoo allegedly reposted an encouragement, urging Khattab members to support ISIS in "any way possible" including offering "money or themselves."
Several similar messages sent in the ensuing months are also referenced in the complaint. Last October, Al Safoo allegedly disseminated a video titled "The Brothers in Marawi," which glorified "death in battle on behalf of ISIS and encourage(ed) individuals to fight for ISIS."
Other videos Al Safoo allegedly created and shared include images of President Donald Trump, an animated bomb with a ticking timer placed under a Christmas tree and graphic footage of "assassinations, close range combat and bloody scenes." He also shared an image encouraging a "lone wolf" attack at the Eiffel Tower and uploaded multiple graphic videos to YouTube, according to the complaint.
If convicted, Al Safoo faces up to 20 years in prison.
"The safety of the American public is the FBI's highest priority," FBI Special Agent-in-Charge Jeffrey Sallet said in a statement. "Home-grown terrorists and 'lone-actor' operators continue to represent a threat to the homeland. The arrest today should send a clear message to these individuals, no matter who you are or where you may be, we will find you and arrest you."
Contact Matt Masterson: @ByMattMasterson | [email protected] | (773) 509-5431
---
Related stories:
Prize-Winning Journalist Rukmini Callimachi Risks Her Life Reporting on Islamic State
Local FBI Chief Talks Terror Challenges
Paris Terrorist Attacks Cause Worldwide Security Concerns About ISIS
---