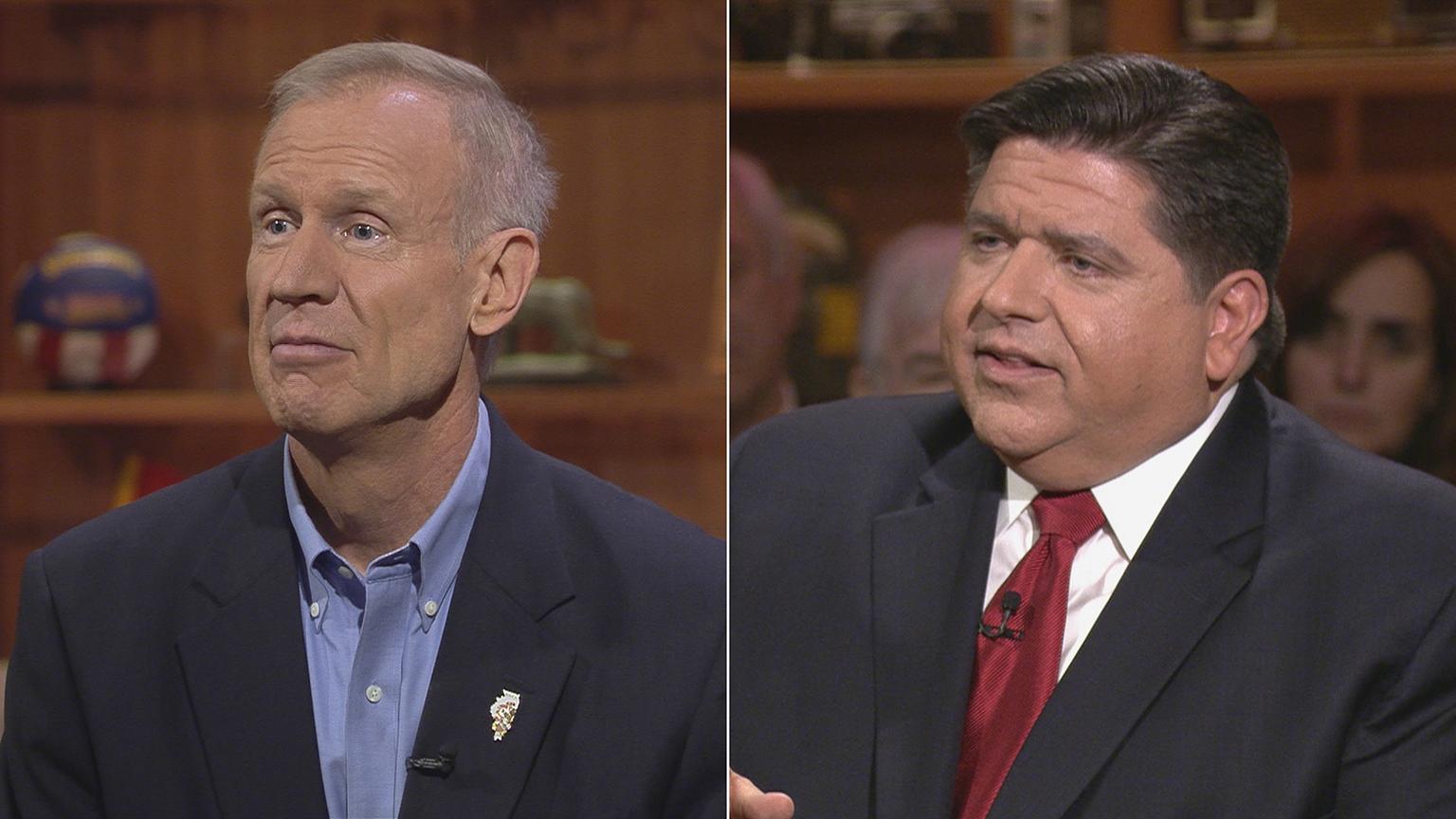 Gov. Bruce Rauner and J.B. Pritzker appear on "Chicago Tonight" on Aug. 14, 2017 and March 14, 2018, respectively.
Quincy, the Illinois city of just over 40,000 that sits along the Mississippi River, on Thursday hosted the final debate between Republican Gov. Bruce Rauner and Democratic challenger JB Pritzker.
It's also the site of a state-run veterans home besieged by repeated outbreaks of a pneumonia-like sickness caused by the water-borne Legionella bacteria – outbreaks have led to the deaths of 14 elderly veterans home residents.
Why Quincy?
Pritkzer's campaign was first to accept it as the location of one of three televised debates he'd participate in.
Democrats have been highly critical of the Rauner administration's handling of the Legionnaire's outbreaks, following a series of reports by WBEZ that show a delay in notifying the public or otherwise taking protective action. Several families of those who died from Legionnaire's disease are suing the state, and blame Rauner for ignoring their loved ones and mischaracterizing the situation.
"Actions were not taken immediately," Pritkzer said. "And as a result of his failures and his fatal mismanagement, he's now under a criminal probe, as is his administration. It's a shameful neglect of our veterans, who we should be standing up for every single day."
Earlier this month, Attorney General Lisa Madigan's office confirmed that she has opened a criminal investigation; an Adams County grand jury is to hear evidence in two weeks.
Insiders say Rauner has come to be embraced by some locals, though, who he's gotten to know after making trips to the area, even staying overnight at the veterans home and pushing for this year's budget to include funding of a new campus for veterans, complete with updated plumbing.
Rauner on Thursday called the infections heartbreaking and a tragedy, telling those relatives: "I am sorry for your loss. It is deeply painful."
The governor went on to insist that action was "immediately taken." 
"Water supplies were shut off, windows were closed, fountains were shut down, bathtubs drained and no longer used and the veterans were evaluated for their health condition. Those who were infected were treated promptly," he said.
But, he admitted, "No one's perfect. In retrospect, we could all learn lessons about how to do things better. But the veterans were well-served by the outstanding staff here."
Rauner attempted to categorize the "so-called criminal investigation" as a "political ploy to divert attention from the tax fraud that Mr. Pritkzer has engaged in. And I believe it's a shameful abuse of power by the attorney general."
Madigan, a Democrat, is the daughter of Illinois House Speaker Michael Madigan – Rauner's political nemesis. The attorney general's office insists the investigation is not influenced by politics.
Pritzker likewise sought to appeal to locals. While other Democrats, including U.S. Sen. Dick Durbin, had suggested shutting the home down completely, Pritzker – in response to a question in which the moderator emphasized the facility's importance to Quincy's economy – promised that he would keep it open.
"I will commit myself to keeping veterans safe here in Quincy," Pritkzer said. "I believe that this Quincy veterans home needs to be rebuilt."
Pritzker once again refused to give detailed answers as to where Illinois would come up with the money for that as well as the billions of dollars' worth of other promises he's made, nor would he share projected tax rates despite a debate moderator needling him for having "tap dancing" around his centerpiece plan of amending the constitution so that Illinois could tax income based on wealth brackets.
Pritzker says Illinois will get additional revenue through job growth, legalizing and taxing marijuana, expanding gambling and legalizing sports betting. 
Both candidates frequently responded to the others' answers with retorts like "come on" or "not true," though they interrupted one another less often than in other recent appearances; the hourlong forum was, however, punctuated by frequent cheering from the audience.
They still each got in one-liners with bite.
Pritzker joked that while Rauner must be living in a state of denial, the "rest of us are living in the state of Illinois."
Rauner suggested that Pritkzer dodges questions like he does his taxes – a reference to a Cook County inspector general's report that found Pritkzer participated in a "scheme to defraud" local residents by unfairly obtaining a tax break on one of his homes.
Follow Amanda Vinicky on Twitter: @AmandaVinicky
---
Related stories:
2018 Voters' Guide to the General Election
'Boys, Boys': Rauner, Pritzker Get Nasty in Debate
JB Pritzker Fields Questions from High School Students
Rauner, Pritzker Square Off in Second Illinois Governor Debate
---