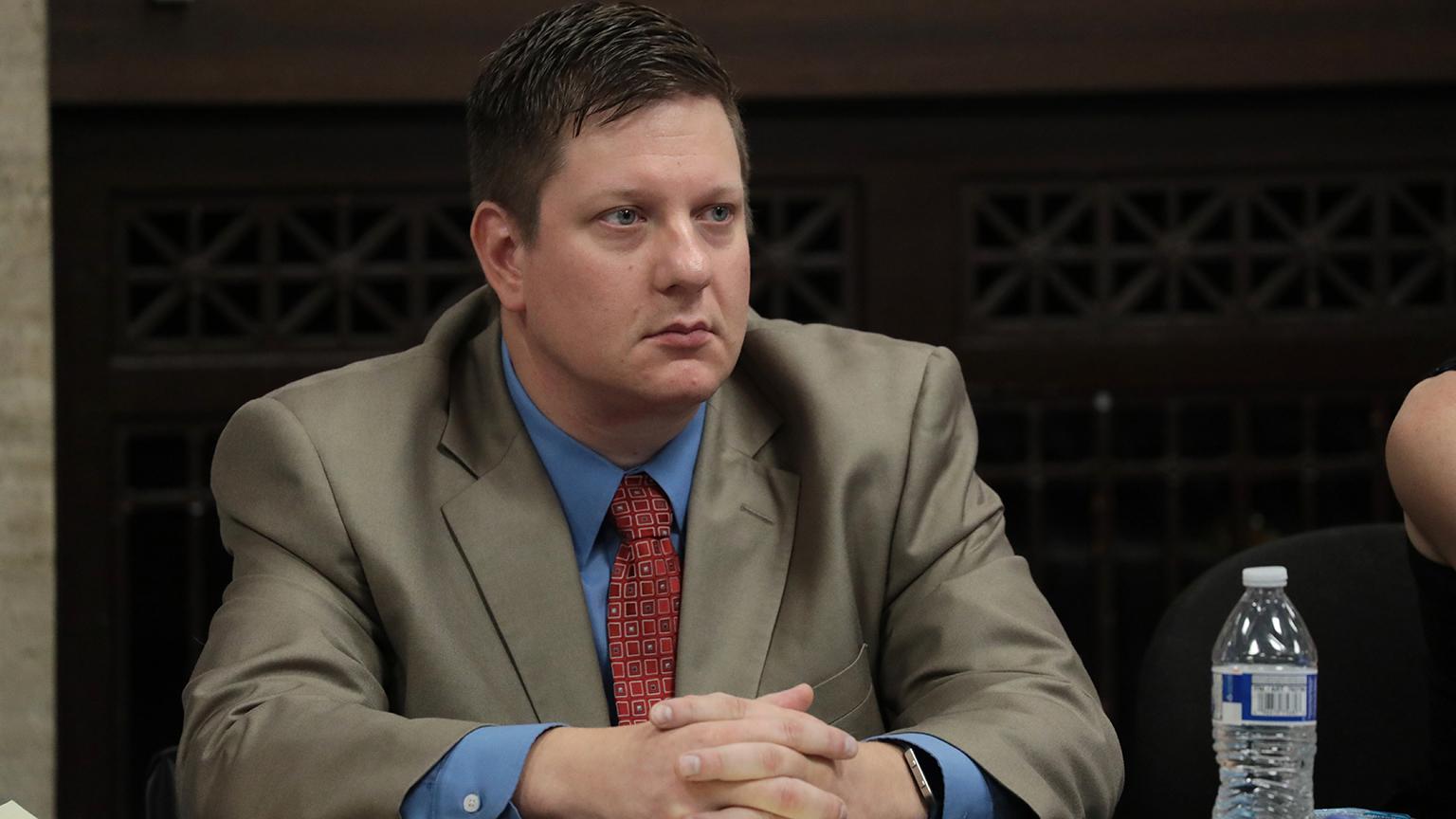 Chicago police Officer Jason Van Dyke listens to closing arguments Thursday, Oct. 4, 2018. (Antonio Perez / Chicago Tribune / Pool)
Cook County Jail officials say Chicago police Officer Jason Van Dyke is being housed in the Cermak unit of the jail, away from other inmates.
On Friday, Van Dyke was found guilty of second-decree murder and 16 counts of aggravated battery with a firearm in the fatal shooting of teen Laquan McDonald in 2014.
The sheriff's chief policy officer, Cara Smith, says it's standard protocol for high-profile defendants to be kept there. "The protocol we're employing with him is what we do for anyone in his position," she said.
In Cermak, Smith says Van Dyke is receiving mental health evaluations and is being closely monitored for his own safety and security, as well as that of the jail.
Van Dyke is being held in a single cell, but will have "leisure time" in a day room with access to a television, showers and pay phones.
Though Cermak is the on-site infirmary for the jail, Smith emphasizes that he's being housed there because it is the most prudent place for him to be as a high-profile detainee, not for any medical or mental health reason.
Cermak inmates are allowed visitors, like the rest of the jail's population, but Smith couldn't confirm that anyone had visited Van Dyke over the weekend.
His next court date is Oct. 31, but it's not certain whether he'll be sentenced then.
"Whenever he is sentenced, he would be transferred [to state prison] as early as that day, or the following day," Smith said. "We transfer men to IDOC four out of five days a week, and high-profile defendants, sometimes we send them the day they're sentenced, even if it's a non-shipment day."
Smith said she is not sure if Van Dyke would stay in Cermak for the duration of his time with the county, or be moved to one of the general population units. It would depend on availability and safety in other divisions, as well has his own mental and behavioral status.
"We're all grateful that it's been an uneventful weekend and hopefully that will continue," she said.
Follow Brandis Friedman on Twitter @BrandisFriedman
---
Related stories:
Jason Van Dyke Found Guilty of Second-Degree Murder
Police Union President Defends Van Dyke, Vows Appeal
'I Feel That We Gave a Good Verdict': Van Dyke Jurors Speak Out After Trial
---