Illinois' three-year budget impasse was particularly hard on the state's public universities. Chicago's cash-strapped Northeastern Illinois University faced forced furloughs and hundreds of layoffs. The mainly minority, commuter campus now has a new president, its first African-American woman.  
Gloria Gibson shares her plans for the Northwest Side campus.
Below, an edited Q&A with Gibson.
What are your immediate objectives for NEIU?
We have a number of areas to focus on with enrollment and access being at the top. Want to make sure we're reaching out to all students in Chicagoland and throughout Illinois. We want to send the message that NEIU is an excellent institution and a good option for Illinois' students. My other main objective is not just recruiting students, but providing for their success, improving our retention and graduation rate, making sure our students have the necessary support services to ensure their success.
Illinois' public universities were hit particularly hard by the state's financial crisis. More than 20 percent of NEIU's budget relies on money from Springfield. Last year, 180 employees were laid off. How is the university doing?
First thing I have to say is we are very appreciative that we got a state budget. I arrived in June and shortly after that a state budget was passed. That budget allows us to have our state funding for this year, plus a 2-percent increase.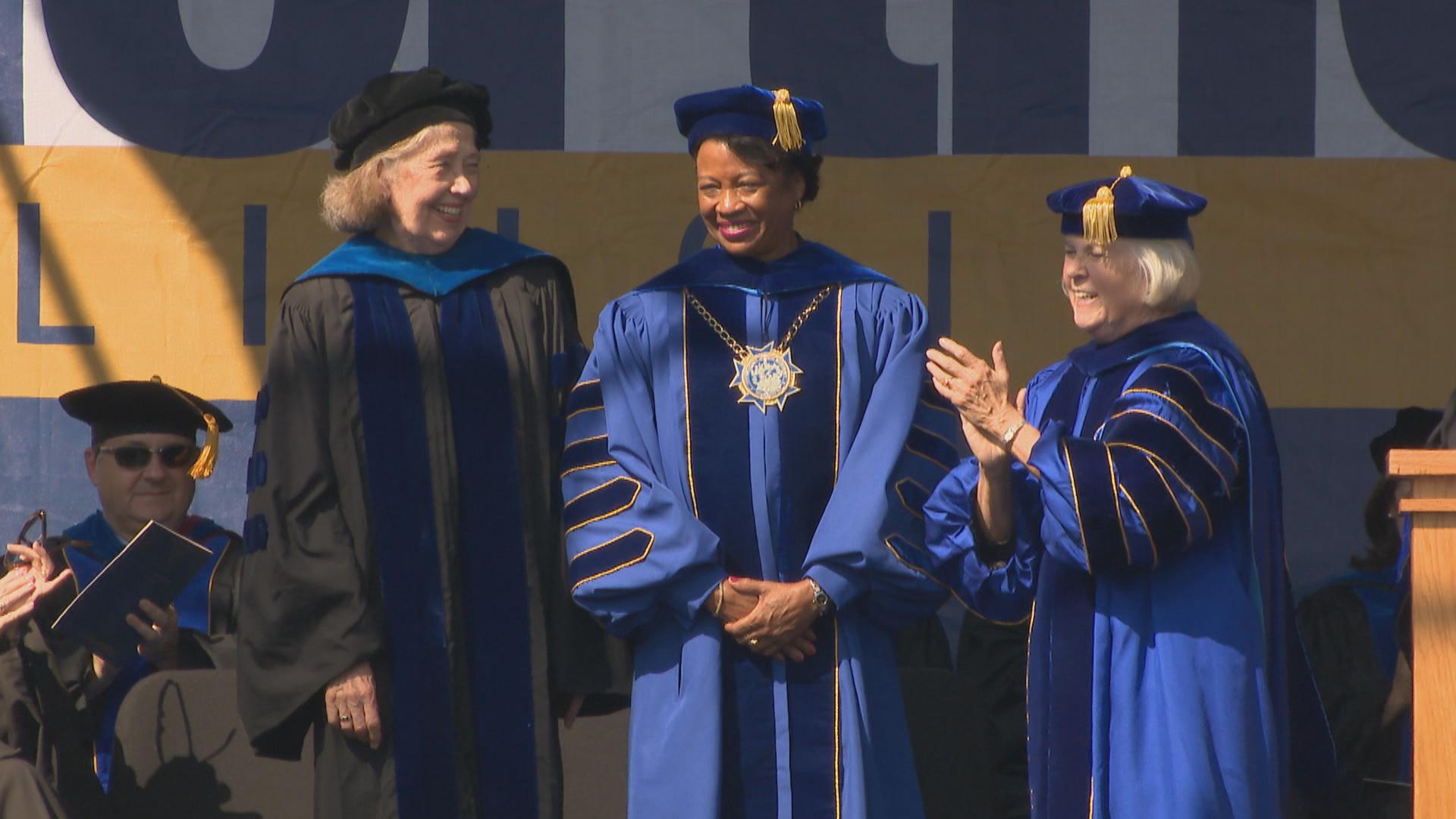 Enrollment declined 17 percent between 2013 and last fall. What are you doing to try and attract more students?
Yes, our enrollment is down again this year. I think as we begin to do an analysis of why, certainly part of that is because students have decided to accept offers from other states. A lot of our work is to persuade those students to stay in Illinois. I think cost is another factor. Many students are deciding to go to community college for two years, before they transfer to a four-year institution. We have a lot of students who are first generation students. We take a lot of pride in that fact, but we also understand that many of those students are working one job, two jobs to make ends meet, and may need to go part-time instead of full time. We need to continue to find ways to meet the needs of our students.
You are the school's first black female president. Do you see yourself as a role model for the school's population, which is majority minority?   
As you know, we're a largely Hispanic-serving institution with a significant number of African-American students, so I certainly see myself as a role model. I feel strongly that if I can do it, others can do it. It does require hard work. It does require a support system. But I'm very proud to encourage our students here that getting that degree is something they can do, and it will help them fulfill their lifelong career goals. I've met a few music majors here and I'll say to them that I began my career as a music teacher in a public school in Alton, Illinois. I started as a teacher, and now I'm a president.
Contact Andrea Guthmann: @AndreaGuthmann
---
Related stories:
Lincoln Park Zoo Names Megan Ross as First Female Director
'Historic' Deal Creates Chicago's Only Public Law School
Illinois' Public University Problem: NEIU, GSU Presidents Weigh In
---