As the makeup of the Supreme Court shifts, a timely new book examines how the court has influenced America's public schools.
In "The Schoolhouse Gate: Public Education, the Supreme Court, and the Battle for the American Mind," a former law clerk to Justices Stephen Breyer and Sandra Day O'Connor analyzes the impact Supreme Court decisions have had on the nation's public schools.
Author Justin Driver, a professor at the University of Chicago Law School, explores how Supreme Court rulings on free speech, unwarranted searches, affirmative action, religious rights and more have impacted students' lives.
Driver joins us in conversation.
Below, an excerpt from "The Schoolhouse Gate."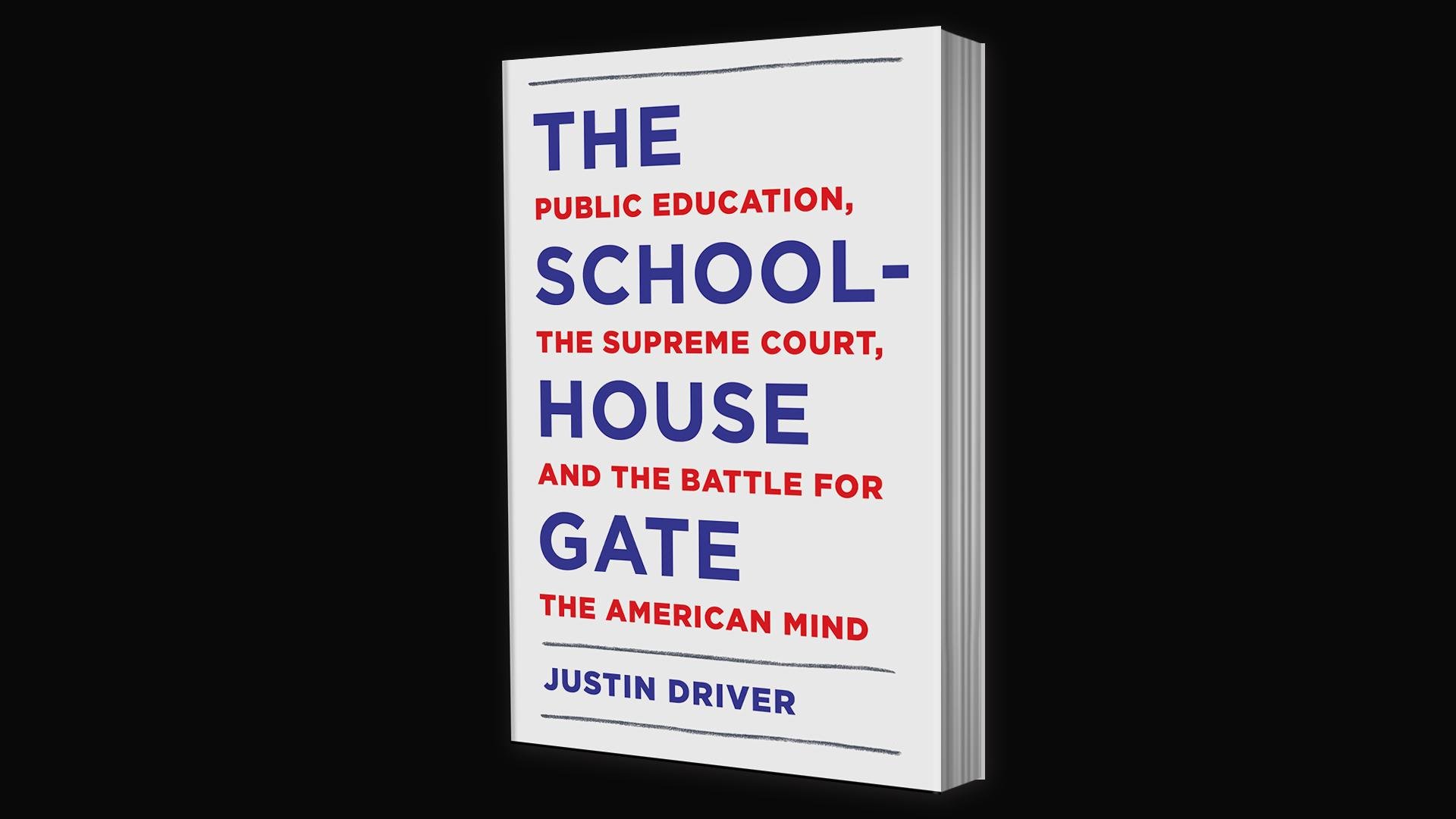 On June 5, 1940, hours before Katharine Meyer would marry Philip Graham at her family's sprawling, lavish estate in Mount Kisco, New York, the happy couple joined an intimate collection of friends for what was meant to be a celebratory luncheon. It would have been difficult to envision a more stately location for the gathering, as the property called Seven Springs Farm contained one thousand acres of land and a nearly thirty-­thousand-­square-­foot Georgian mansion, boasting some fourteen bedrooms, three swimming pools, two servants' quarters, and its own elevator. Despite this grand setting, the pre-­wedding luncheon proved anything but festive. Instead, what began as an engaging discussion rapidly descended into a ferocious dispute, with several members of the wedding party—­including both bride and groom—excoriating Justice Felix Frankfurter for an opinion that he issued on behalf of the U.S. Supreme Court only two days earlier. Frankfurter—who prior to joining the Court had been a legendary professor at Harvard Law School, where he was also Philip Graham's beloved mentor—­usually relished nothing more than vigorous, even combative intellectual exchange. Indeed, The New York Times would remember Frankfurter as "the greatest talker of his time" and noted, "He loved to argue, his head darting here and there, his hand suddenly gripping the listener's elbow as he made a point."
In Mount Kisco, however, the silver-­tongued Frankfurter received more than he could handle. Even close to six decades after the incident, the ugly scene at Seven Springs remained with Katharine Graham, as she recalled in her memoir, Personal History: "Felix loved and encouraged loud and violent arguments, which everyone usually enjoyed, but this time the argument went over the edge into bitter passion." Those in attendance reviled Frankfurter's opinion as "deeply disturb[ing]" and "shock[ing]," she noted. The debate grew so intense, so strained that the groom's best man dissolved into emotion as he emitted not merely discreet sniffles, but full-­fledged waterworks—shedding "great large tears" that he permitted to stream down his crimson cheeks. Frankfurter gamely sought to defend his view, but the onslaught provoked the justice to lose his composure, exclaiming that he would never again discuss judicial business in social settings. Katharine Graham recollected that "[t]he argument went on and on," persisting so long, in fact, that they inadvertently kept the Lutheran minister waiting to perform the ceremony for more than an hour. The row did not finally dissipate, she noted, until Frankfurter "grabb[ed] [her] arm with his always iron hand and [said], 'Come along, Kay. We will go for a walk in the woods and calm down.' "
What legal decision elicited this acrimony on such an improbable occasion? The underlying dispute dated back five years, to a community located roughly two hundred miles southwest of Seven Springs but whose reality stood much further removed still from the heights of Mount Kisco's rarefied air—­in the valleys of Pennsylvania's coal country. On October 22, 1935, in a small town suitably, if unimaginatively, called Minersville, a ten-­year-­old public school student named William Gobitis refused to recite the Pledge of Allegiance along with his fifth-­grade classmates. When Gobitis's teacher noticed that he had not joined the others in saluting the American flag, she marched right over and tried to force his arm into the proper position. But Gobitis managed to resist her entreaties, locking his arm into place, with his right hand clutching his pocket. In response, Minersville's notoriously austere school superintendent, Charles Roudabush, contacted state education officials to ensure that he possessed the authority to expel Gobitis for this brazen act of insubordination. It made no difference to Roudabush that Gobitis attributed his unwillingness to recite the pledge to his faith as a Jehovah's Witness. As Gobitis subsequently explained in a letter to the school board, he—­and many other Witnesses, including his older sister Lillian—­interpreted Exodus's prohibition on worshipping graven images to preclude participation in the ritual. "I do not salute the flag not because I do not love my country," he explained, "but [because] I love God more and I must obey His commandments." Despite the claim that the pledge requirement interfered with the Witnesses' right to free exercise of religion protected by the Constitution's First Amendment, Roudabush nevertheless expelled the Gobitises, ordering them not to return until they were prepared to salute Old Glory.
Although two lower federal courts vindicated the family's claim, Justice Frankfurter's opinion for the Court in Minersville School District v. Gobitis maintained that expelling Jehovah's Witnesses for refusing to recite the pledge did not violate the First Amendment. Portions of Justice Frankfurter's opinion, in the 8–­1 decision, extolled the unifying potential of requiring students around the nation to honor the American flag. "We are dealing with an interest inferior to none in the hierarchy of legal values," Frankfurter proclaimed. "National unity is the basis of national security. ... The flag is the symbol of our national unity, transcending all internal differences, however large, within the framework of the Constitution." Ultimately, however, Frankfurter's reasoning in Gobitis hinged not on the appeal of patriotism but on the overarching principle that it would be improper for the judiciary to reach into public schools, overturning educators' independent decisions. "The wisdom of training children in patriotic impulses by ... compulsions which necessarily pervade so much of the educational process is not for our independent judgment," Frankfurter warned in a critical passage. "[T]he courtroom is not the arena for debating issues of educational policy. ... So to hold would in effect make us the school board for the country." The negative consequences of vindicating the Gobitises' constitutional challenge in this instance ought not be overlooked, Frankfurter insisted, for invalidating Minersville's expulsions would undermine "the authorities in a thousand counties and school districts of this country," amounting to the imposition of "pedagogical and psychological dogma in a field where courts possess no marked and certainly no controlling competence." Gobitis concluded, in sum, that judges should mind their own business, and leave educators to the business of molding American minds.
In Minersville, news of the Supreme Court's decision stunned the Gobitises. After hearing a radio broadcaster announce the adverse outcome, Lillian and her mother sat speechless in their kitchen for several minutes, paralyzed in disbelief. Their refusal to pledge had long ago transformed the Gobitis children into town pariahs, with peers flinging stones in their direction and sometimes shouting, "Here comes Jehovah!" The family's successive victories in lower courts caused them to dismiss any concern that the Supreme Court would not also redeem their sacrifices. "It never really occurred to us that the Court's decision would be anything but favorable," Lillian recalled. Yet the Court's rejection hardly signaled the end of their ordeal. Shortly after the decision, a close friend called to warn the Gobitises that vigilantes planned to destroy their family-­owned grocery store if they persisted in refusing to salute the flag. Fearing violence, the Gobitis parents hastily arranged for their children to relocate to a safe house, and contacted law enforcement to protect the family's modest business. Although a state police cruiser parked outside the store evidently deterred the plot for physical destruction, Minersville's anti-­Gobitis contingent soon alighted upon an alternate strategy of damaging the business: a boycott. This economic approach gained enough adherents to inflict serious financial distress on the Gobitises, who were forced to borrow money from relatives simply to pay their mortgage.
The Gobitises were far from the only members of their faith to suffer in the aftermath of Frankfurter's opinion, as many contemporaneous observers connected a surge of anti-­Witness violence to the Court's legitimation of student salute requirements. The opinion arrived at an especially fraught political moment in American history as patriotic fervor reached a crescendo due to widespread fears that the nation would soon enter World War II. One day before Gobitis appeared, a Gallup poll revealed that 65 percent of Americans anticipated that Germany would attack the United States imminently. American flags sold so briskly during the month of the decision that leading outlets in New York City could not keep the item stocked. Given this frenzied environment, it should hardly be surprising that post-­Gobitis the practice of expelling Jehovah's Witness students for refusing to salute spread dramatically throughout the country. When the Court issued Gobitis, students in fifteen states either had been or were in the process of being expelled due to the saluting controversy. Just three years later, schools had expelled students in every one of the nation's forty-­eight states, totaling approximately two thousand students, virtually all of whom were Witnesses. Some jurisdictions, moreover, followed up on the expulsions by prosecuting Witness parents for contributing to the delinquency of minors, asserting that their children violated compulsory school attendance laws.
While Gobitis enjoyed approval in much of the country, the media overwhelmingly reviled the opinion, as more than 170 newspapers condemned the opinion, and only a handful of publications praised it. For present purposes, however, the most remarkable aspect of that reaction was that no single passage in Gobitis drew more ire than Frankfurter's assertion that had the Court invalidated Minersville's salute requirement, it would have succeeded in transforming the Supreme Court into a national school board. This dismissive sentiment especially rankled periodicals concerned with religious autonomy. Thus, The Christian Science Monitor seized upon Frankfurter's line to suggest that Gobitis "has ... taken a step toward abdicating [the Court's] position as a constitutional guarantor of freedom of worship." Similarly, in an editorial titled "The Court Abdicates," The Christian Century insisted that "a question of educational policy may also be a question of fundamental rights," and noted that "[c]ourts that will not protect even Jehovah's Witnesses will not long protect anybody." Paul Blakely—­writing in the Jesuit magazine America—­also contended that Gobitis's avowed withdrawal from the educational domain succeeded in making school boards all-­powerful. "What further restrictions upon the right of parents to direct the education of their children will the States impose?," Blakely lamented. "We do not know; all we know is that these are hysterical days, and that objectors will find no protection in the Supreme Court."
Excerpted from The Schoolhouse Gate by Justin Driver. Copyright © 2018 by Justin Driver. All rights reserved. No part of this excerpt may be reproduced or reprinted without permission in writing from the publisher.
---
Contact Andrea Guthmann: @AndreaGuthmann