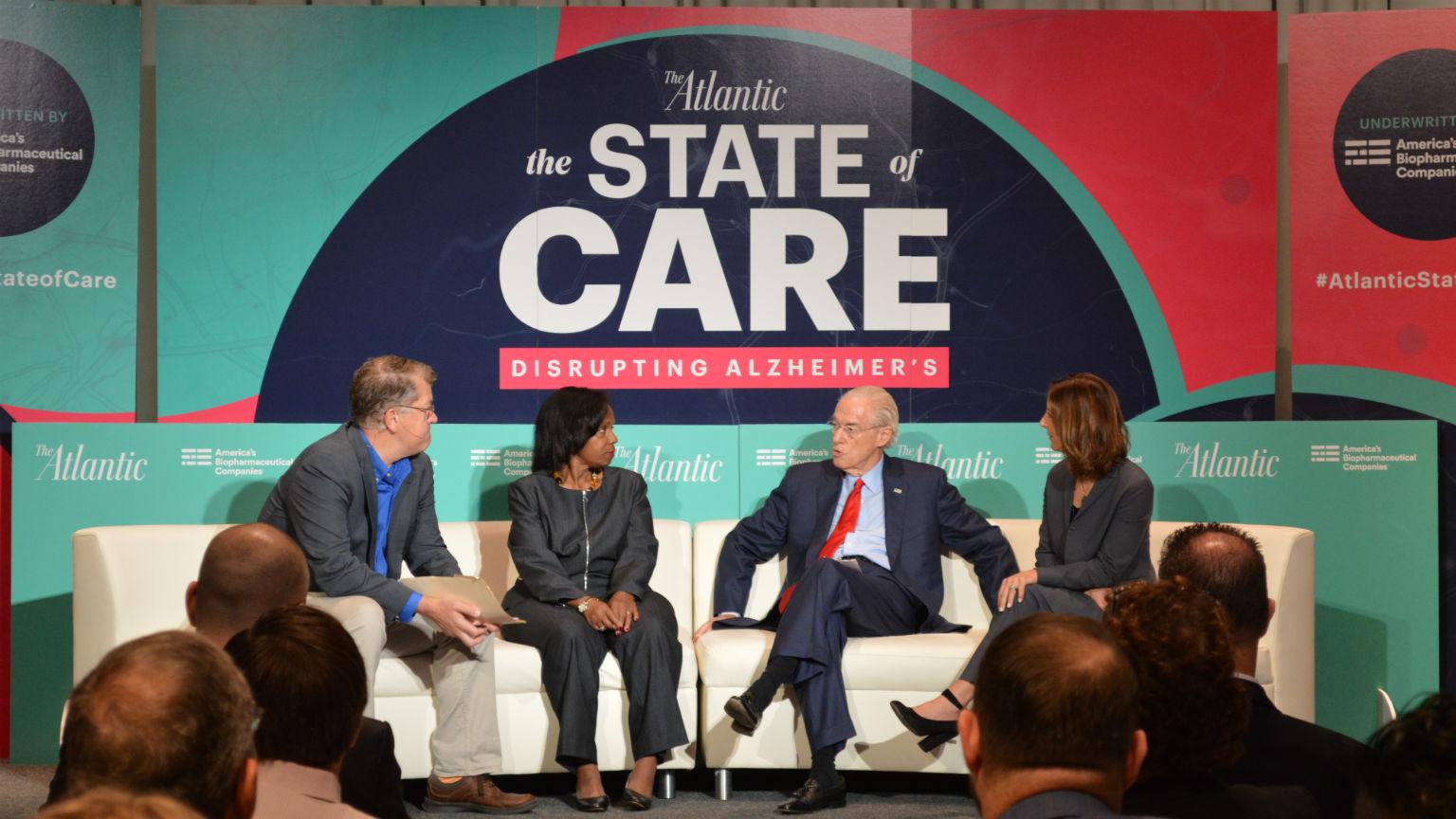 Speakers at The Atlantic's "Disrupting Alzheimer's" event on Wednesday, Sept. 12, 2018. From left: Steve Clemons, The Atlantic's Washington editor at large; Stephanie Monroe, executive director of African Americans Against Alzheimer's; George Vradenburg, chairman and co-founder of Us Against Alzheimer's; and Jill Lesser, president of Women Against Alzheimer's. (Kristen Thometz / Chicago Tonight)
Caring for a loved one with Alzheimer's disease can be physically and emotionally demanding. When Jay Newton-Small's father was diagnosed with the progressive neurological condition – the sixth leading cause of death in the U.S., according to the Alzheimer's Association – her mother became his primary caregiver.
"She had no time off," said Newton-Small, co-founder of digital storytelling platform MemoryWell.
Ten years later, at the age of 59, her mother died "of a stress-induced brain aneurysm," said Newton-Small, who in 2011 became her father's caregiver. A job she says she realized she "couldn't handle."
According to the Alzheimer's Association, 5.7 million Americans are living with the disease and 16.1 million provide unpaid care for people with Alzheimer's or other dementias. These caregivers provide an estimated 18.4 billion hours of care at a cost valued at $323 billion.
"There's not enough support for family caregivers," said Sarita Gupta, who is caring for her father, who has Alzheimer's, in addition to raising an 8-year-old daughter. She is also the co-executive director of Jobs With Justice and co-director of Caring Across Generations.
"It's a deeply emotional journey to watch someone you love slip away slowly. … It's a real emotional toll and financial commitment and it doesn't have to be this hard," she said.
With the number of Americans living with Alzheimer's disease estimated to hit 14 million by 2050, The Atlantic magazine hosted a panel Wednesday dedicated to the condition. Called "The State of Care: Disrupting Alzheimer's," the event featured caregivers, researchers and advocates, as well as a local politician and a clinical trial participant.
"The facts speak for themselves. (Alzheimer's disease) is one of the most devastating diseases, (with) a slow and excruciating descent that robs people of their memories and identities," said AtlanticLIVE President Margaret Low.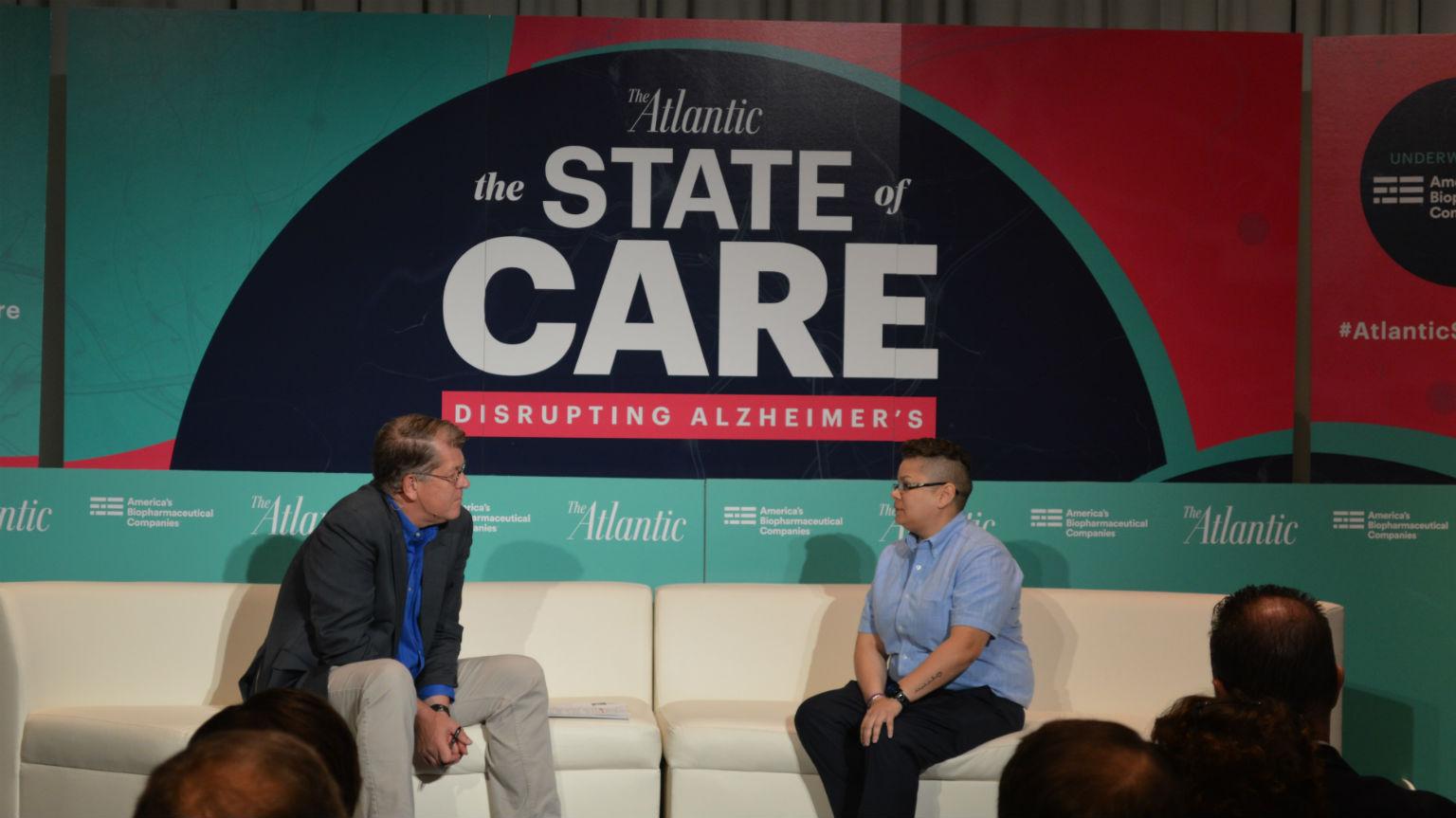 The Atlantic's Steve Clemons, left, speaks with Daisy Duarte about her experience working as a caregiver for her mother, who was diagnosed with Alzheimer's disease. (Kristen Thometz / Chicago Tonight)
Springfield, Missouri, resident Daisy Duarte is familiar with the toll Alzheimer's can take. "Seventy-five percent of my family has passed away (from) or has Alzheimer's disease now," said Duarte, who became her mother's caregiver three years ago. "My grandmother had 11 siblings and (they) all died with Alzheimer's disease. My mom has six siblings, including herself and two of them passed away and two of them have (Alzheimer's disease)."
Duarte's mother was diagnosed with early onset Alzheimer's three years ago – she was 55 at the time. Shortly after the diagnosis, Duarte tested positive for an early onset familial gene. She was 38. "It was a sad moment," Duarte said. But rather than be depressed, she decided to do something about it. "I never felt like a victim," Duarte said. "I had my faith in the lord, and I just stay positive."
Duarte is a patient and caregiver advocate for the LatinosAgainst Alzheimer's Network. She's also a participant in a clinical trial for at-risk patients for dominantly inherited Alzheimer's disease.
Duarte hopes by sharing her story it will inspire others, particularly Latinos and African-Americans, to get involved with clinical trials. African-Americans are twice as likely as older white adults to have Alzheimer's or other dementias, while Latinos are 1.5 times more likely than whites to develop Alzheimer's or other dementias.
In addition to getting more people involved in clinical trials, advocates and researchers are calling for more education of the condition. "The notion that this is an old people's disease is not true anymore," said Elli Kaplan, co-founder and CEO of Neurotrack, a company that uses eye-tracking technology to predict cognitive decline. "We need to begin to educate people about brain health and starting the process very early is important. … People should think of their brain as an organ they take care of like everything else."
Despite decades of research and lack of a treatment to cure or slow the progression of the disease, researchers, caregivers and advocates are optimistic about the future.
"I see a treatment, it's going to happen. Scientists are very close," said William Klein, a professor at Northwestern University.  
"I believe we're on a positive path," said Harry John, CEO of the Alzheimer's Association. "We've got a lot to do but we're on a positive path."
Contact Kristen Thometz: @kristenthometz | [email protected] | (773) 509-5452
---
Related stories
Forgotten, But Not Gone: Sea Slug Brains Show Traces of Lost Memories
Study: Waterfall Sounds Enhance Deep Sleep, Memory in Older Adults
Alzheimer's Study Findings a 'Double-Edged Sword' for Women
---