A pair of young recording artists in Chicago have already worked with Jeff Tweedy of Wilco, Chance the Rapper and many more luminaries of rock and rap. Now they are making some noise with the release of their first full-length recording.
"Chicago Tonight" visited the basement headquarters of Ohmme.
---
TRANSCRIPT
Brandis Friedman: For a band called Ohmme they can get pretty loud. They're equally comfortable in a pop groove laced with vocal harmonies.
They blame their hometown.
Macie Stewart, Ohmme: We're both Chicago born and raised. I think that's a really big part of our identities as human beings and musicians, and that's kind of how we came together.
We both went to the same high school, which was Whitney Young, and we were in a lot of music programs around the city.
Friedman: Their backgrounds include classical piano training and stints in the Chicago Children's Choir and the Merit School of Music.
That was before they took a deep dip in the improvised music scene at clubs like Constellation and the Hideout.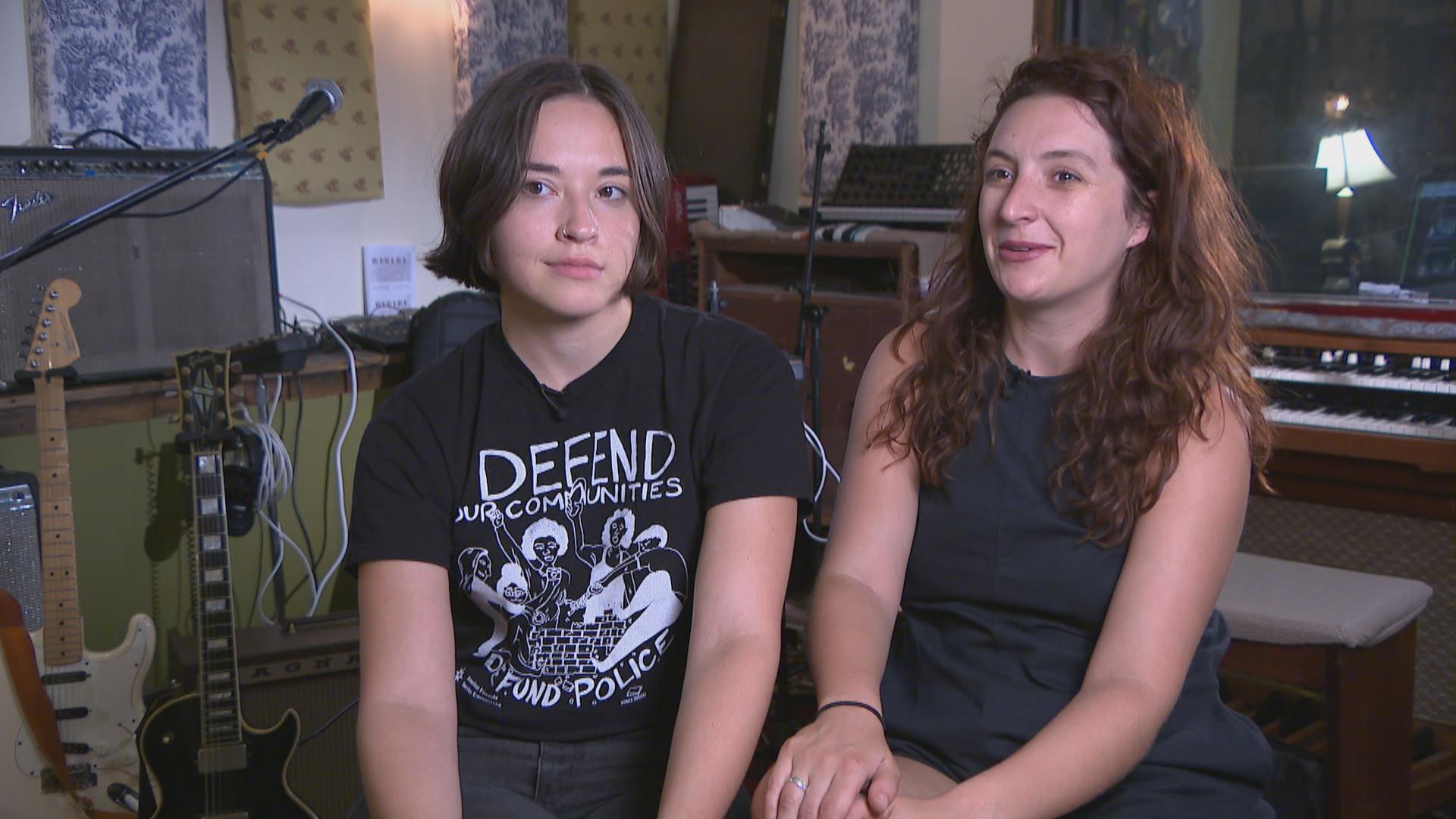 Macie Stewart, left, and Sima Cunningham of Ohmme. (Chicago Tonight)
Sima Cunningham, Ohmme: We kind of got immersed in the scene there and met a lot of our musical friends, and, I'd say, collaborators and heroes through that scene.
Friedman: Some of those friends include Jeff Tweedy, who Sima Cunningham tours with in his band Tweedy.
Sima and Macie were among the backing vocalists on Chance the Rapper's "Coloring Book."
And Macie Stewart was still in high school when she made a splash with the band Kids These Days and shared the mic with rapper Vic Mensa.
Josh Terry, journalist for Vice, Rolling Stone: Ohmme are sort of the center of the Chicago music community.
And also their voices work so well together. They … definitely have their own unique personalities, but together it's such a really compelling and interesting force to be reckoned with.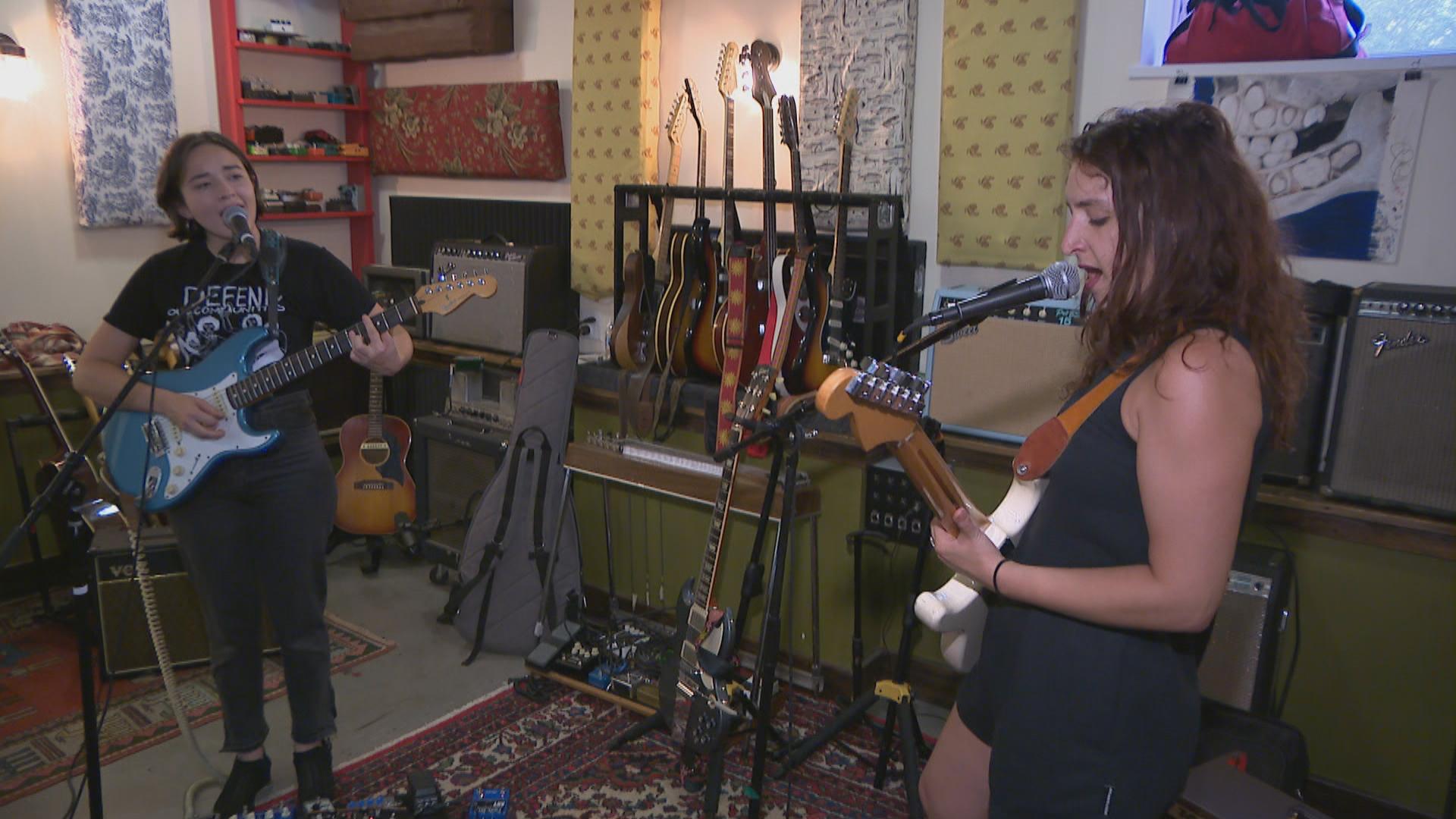 Macie Stewart, left, and Sima Cunningham of Ohmme. (Chicago Tonight)
Cunningham: Ohmme only works with the two of us, with our two voices and how those play off each other, and you know it's always kinda fascinating to us because we have very different voices but everyone is always, feels like we blend so well that we sound related. But to us, we think we have dramatically different voices but we also hear that on the back end that it creates this really cool effect when we are singing together.
Terry: There's a whole collaborative spirit with the artists in Chicago. You can jump from genre to genre, it doesn't matter as long as, you know, people are excited about making music and that's definitely the story of Chicago music and it has been for decades.
Stewart: It's a really fertile place to make music and I think that's why there's a lot of interesting music coming out of Chicago right now too, is because no one's afraid to step out of that comfort zone or to step out of that box of genre or whatever, and everyone's just excited to make music. To make something new.
More on this story
Ohmme's new release is called "Parts." It was just released on the Midwestern record label Joyful Noise. They're touring the East Coast right now and will return to Chicago in the fall.
---
Related stories:
2018 Chicago Summer Festival Guide
List: Free Summer Concerts in Millennium Park's Pritzker Pavilion
Pitchfork Lineup Includes Debuts by Melkbelly, Nnamdi Ogbonnaya
---