Willow Creek Community Church, based in South Barrington, is undergoing a seismic shift. More church leadership and elders have resigned in the wake of mishandling of allegations against the megachurch founder and spiritual leader, the Rev. Bill Hybels.
Hybels has not admitted any wrongdoing but stepped down in April after a host of women accused him of inappropriate touching, comments and extra-marital affairs. Church elders went from investigating Hybels, to clearing him, to now resigning their posts – all in a span of five months.
In all, 10 women have accused Hybels of various sexually inappropriate behaviors.
"So when we at the Chicago Tribune did our original investigation and published in March the allegations included suggestive comments that were not really appropriate for a pastor to be making, extended hugs by a pastor who was known for not liking hugs or wanting to hug. And there was a kiss in a hotel room in Sweden. There were invitations to hotel rooms on trips abroad. So, inappropriate behavior for a pastor," said Manya Brachear Pashman, the Chicago Tribune's religion reporter, who broke the story along with her colleague, Jeff Coen.
"There was also a claim of a long-time consensual affair with a church employee. She did retract that when she was confronted by an elder. But there's really no real resolution to that," said Pashman.
"And then the New York Times reported in recent weeks that his former executive assistant had carried on a two-year relationship with the pastor that included much more severe allegations like groping, massages. There was one incident that escalated into oral sex. So, the allegations certainly ramped up in severity with that with that report," Pashman said.
As a result, the entire leadership team has resigned from Willow Creek Church, which is home to 25,000 worshippers every weekend with eight churches in the Chicagoland area.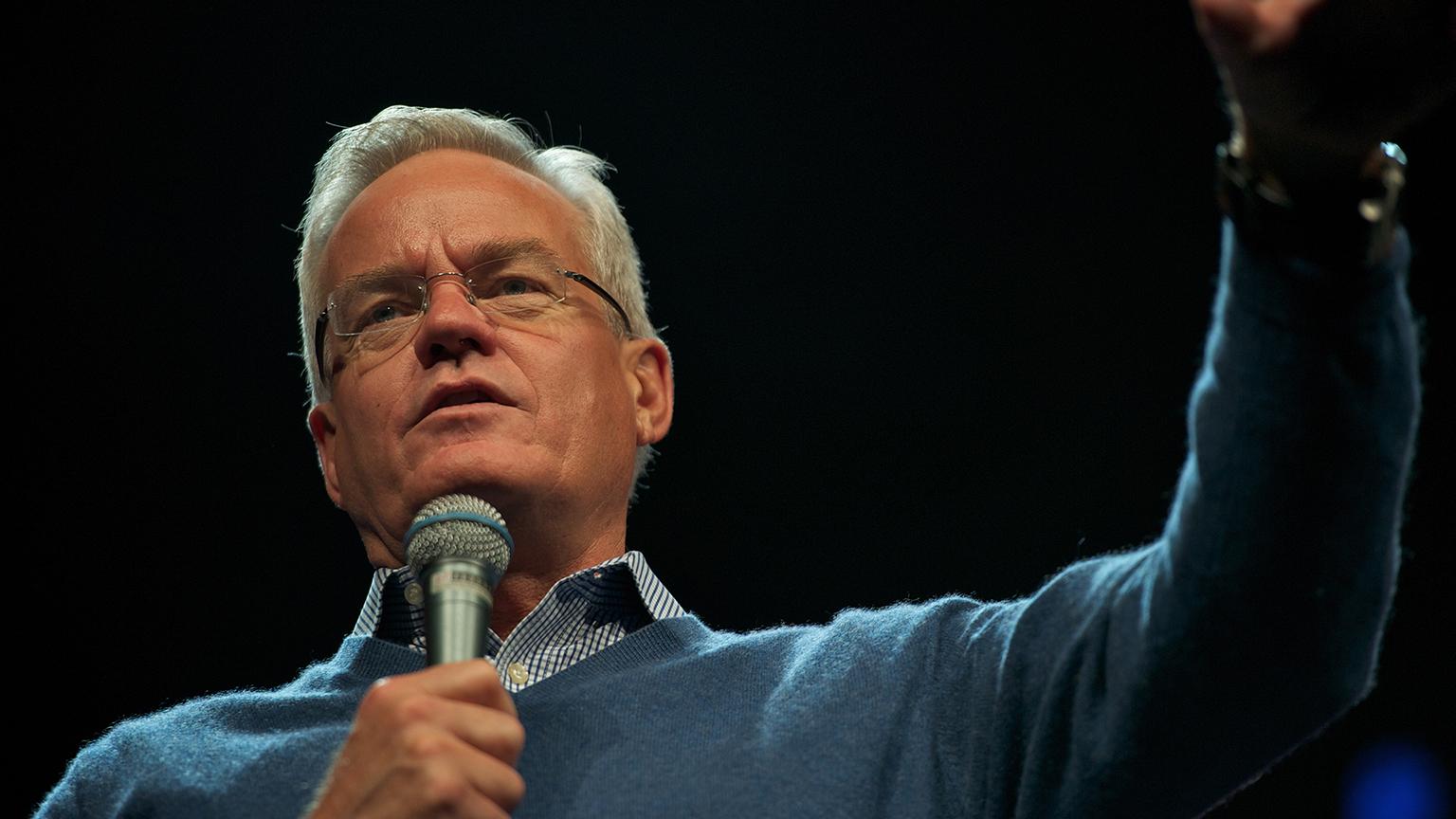 Bill Hybels (Willow Creek D/CH / Flickr)
Missy Rasmussen, an elder of the church for seven years, wrote in a statement from the board: "While Bill Hybels was our founder and pastor, he was human, broken, and self-admittedly sinful. We believe that his sins were beyond what he previously admitted on stage, and certainly we believe that his actions with these women were sinful … We, as a board, know Willow needs and deserves a fresh start, and the entire board will step down to create room for a new board."
Both of the pastors who succeeded Hybels as co-officiants, Heather Larson and Steve Carter, have also resigned.
"In recent days and weeks, it has become clear to me that this church needs a fresh start. The staff, this staff that I dearly love, they also need a clean running lane to heal, to build, to dream," wrote Larson. "I have spent a lot of time seeking God and asking Him for guidance. He has given me clarity and peace. I am stepping down from my role as lead pastor."
Willow Creek Church will launch a new investigation into the allegations against Hybels, who denies the accusations.
---
Related stories:
Evangelical Church Leader Bill Hybels Steps Down
Local Author Says Religion Might be the Best Therapeutic Drug Around
Billy Graham, 'America's Pastor,' Got His Start in the Chicago Area
---