The entertainment we consume, the products we buy, the way we relate to our employer and our coworkers – those might not sound like "religious" concepts.
But Yale University scholar Kathryn Lofton argues just the opposite in her book "Consuming Religion," which examines – through a lens of religion – everything from binge-watching TV to Britney Spears and the Kardashians to the corporate culture of Goldman Sachs.
Lofton joins Chicago Tonight for a conversation.
You can read an excerpt from the book below.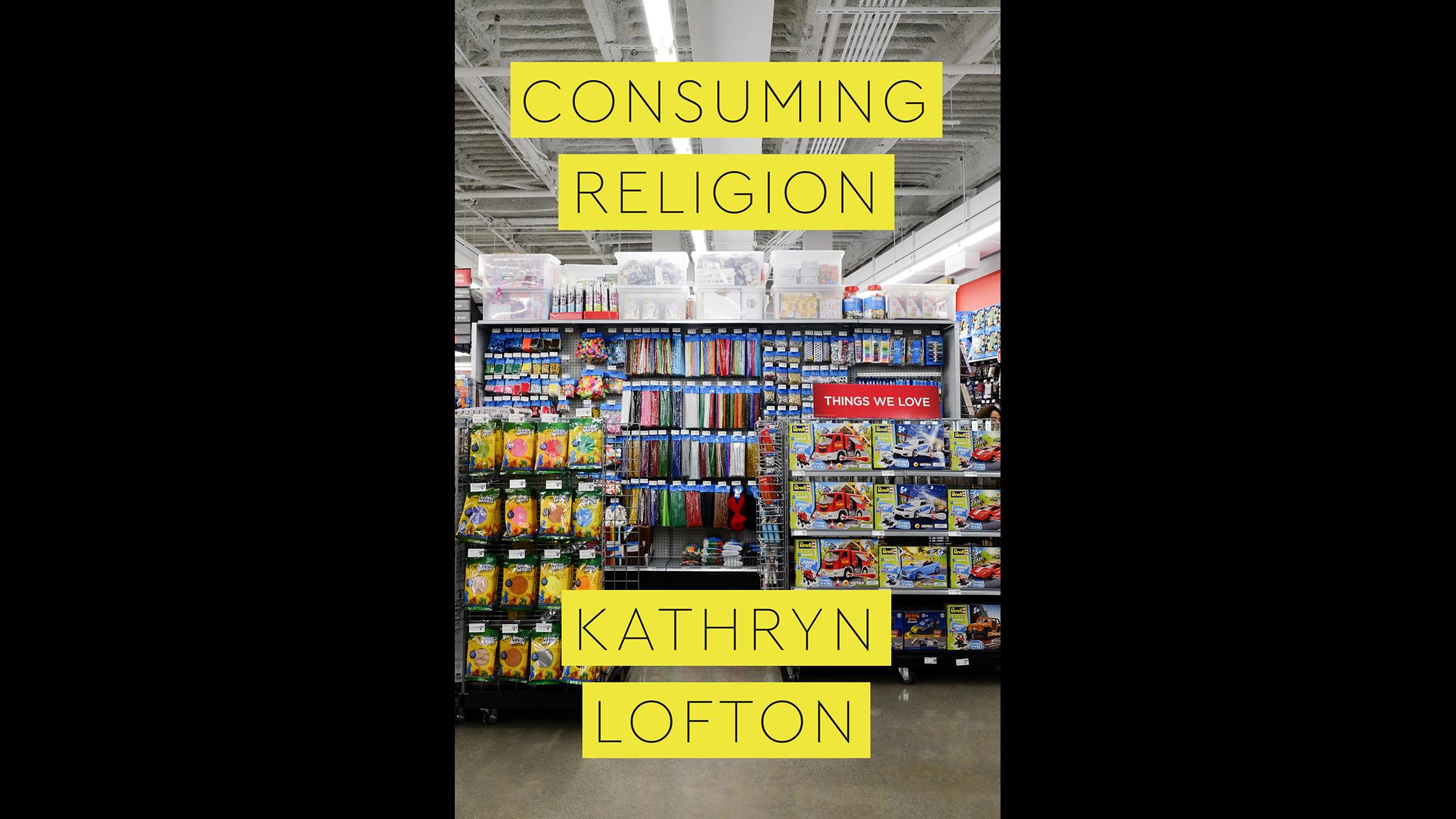 In the Kardashian tribal universe, the totem is the woman's body working on her body, which is woman-identified. According to the sisters' memoir, Kardashian Konfidential, Kris Jenner began waxing her daughters' eyebrows once they reached age eleven and taking each to a salon for bikini-line waxing at age thirteen. The sisters' ritual entrance to adult womanhood is hair management by their mother, who is frequently described as the family matriarch and is self-described as their "momager." "I'm a unique combination of mother and manager," Kris Jenner says. "I've actually trademarked the term 'Momager,' which is what I am." In her assessment of Kris Jenner's role on the show, Alice Leppert writes that although the press often vilifies Jenner "as an exploitative fame-monger, in fact, she fulfills the idealized role of the self-sacrificing mother, taking on the role of villainous mastermind and thus partially sacrificing her own celebrity image for the sake of her daughters' images." Yet this analysis doesn't quite capture how Jenner's primary appearance on the show is as this momager, organizing the family around the right opportunities for promotion, for vacations at which they can promote themselves as a family, and for relationships with one another, and with their bodies, that perpetuate the existence of their family brand. In the very first episode of Keeping Up with the Kardashians, Jenner says this about Kim's sex tape: "As her mother, I wanted to kill her. As her manager, I knew I had a job to do, and I really just wanted to move past it." Jenner would agree with Misha Kavka that on their show "gender itself becomes the quality to be flaunted," but Jenner would want to underline gender as the thing constituted by its relationship to the family economy.
Scholars of evangelicalism may be unsurprised to hear that the momager is the most overtly Christian of all the Kardashians. Her Twitter handle is "MOM, MANAGER, MOMAGER, LOVER OF LIFE, LOVER OF CHRIST." Yet all the Kardashians use Christianity and their own piety as frames for their experiences. Rob's strongest memory of his father is that he prayed with him before bed each night. Khloé prays for Lamar in the hospital. Gossip rags report that Beyoncé Knowles and Kim Kardashian are reportedly bonding over religion. "Beyoncé and Kim are both regular churchgoers with strong Christian backgrounds so no doubt Kanye will have encouraged them to bond over that," an insider told the British edition of Grazia magazine. "They'll also be able to swap some exercise tips." Magazine profiles of the family are replete with references to the family as a religious one, religion derived from their father's Armenian Orthodox Christianity but increasingly associated with something less ritual and more spiritual, something appropriately Southern California and evangelistic. We're told that the girls wouldn't abort any pregnancy because of this religious belief. Speaking about her surprise first pregnancy, Kourtney said, "And I felt in my body, this is meant to be. God does things for a reason, and I just felt like it was the right thing that was happening in my life." Khloé, too, advertises family values politics in her commitment to her marriage: "I'm a modern girl, but you should put your husband first." Later, after it is announced that Kourtney broke up with her children's dad, Scott Disick, in July 2015, Kourtney tweets from Psalm 7. In the eleventh season, Kim and Kanye baptize their twenty-one-month-old daughter at the Saint James Cathedral in the Armenian Quarter of the Old City of Jerusalem.
These examples don't convey the totality of what the Kardashians do to religion, however. Their handling of religious idiom is always and ever Kardashian inasmuch as they are always focused on how whatever piety they embrace (Bible study, prayer, pastoral counseling) can bring them back to themselves. This can sometimes be read as a grotesque impiety. Kim will tweet "The pope is dope," and will cause a minor uproar when Argentinians think she is suggesting the Pope is drugs. In a seventh-season episode, Kim will remark, "I think if I'm forty and I don't have any kids and I'm not married, I would have a baby artificially inseminated. I would feel like Mary—like Jesus is my baby." The pastor who married Kim and Kanye, Rich Wilkerson Jr., gets his own reality series, aptly titled Rich in Faith, on the Oxygen network. And the family says Bible for almost every unbelievable statement they utter, which is a lot of statements. For example, Kim will say to Khloé, "No way. You did not bring in a homeless guy." And Khloé will reply, "No, Bible, we found him at DASH."60 According to Khloé, Bible is a "word that you can't go back on." It means that people "can't say 'Bible' and then not do it or lie." And yes, everyone plays along. "That's just the rule in the family," she said. In short, it's an easy way to determine whether someone is telling the truth. "Like, Bible, I did take a limo to school," Scott Disick says to Khloé. "Bible, I'm not peeing," Kourtney says while standing in a pool. "Did you eat good last night or were you bad?" Khloé asks Rob. "Don't lie. Say Bible." "Bible," he replies. The conversion of scripture to slang is like everything else in the Kardashian universe, namely something bent to their own whims of intimate boundary formation.
. . .
The Kardashians illuminate the inherent irony with which contemporary American consumers perceive family values. Scholars of religion, intrigued by the effect of "family values politics" on our elections and school boards, have offered a significant historiography attesting to the grassroots organizing and patriarchal theology of conservative American Christianity in the late twentieth century. Leaders of this movement focused on the failures of American culture and national policy, casting American culture in the role of the enemy. Instead of scripture, ministers such as Jerry Falwell appealed to romanticized visions of the American past in which patriotism, Christian commitment, and family stability purportedly were assured. Although the Moral Majority never represented a statistical majority within American Christianity, its political imaginary is a pervasive trope in any description of the US electorate. The scholars who have tracked this strain of thinking inevitably find themselves concluding with a cynical twist: the antifeminist evangelical activist Anita Bryant got divorced; the evangelical preacher Ted Haggard admitted to fornication; the infamously large Duggar family is revealed to include a pedophile brother. Such revelations are components of these people's pop culture arc, as the consumers (evangelical or not) know enough about morality police to know that inevitably they are unveiled to be sinners just like us. The Kardashians confessed from the first episode, in which producers allowed a lingering shot of Kim's sex tape as a part of the backstory to their family. Built into the televised origin of the mediated Kardashians was the impossibility of their piety, allowing them in some sense to be comfortably Christian for the viewing audience, comfortable in their weekly depiction of vanity, envy, and lust, resolved in sitcom morality reconciliation. Whatever meanness an episode depicts between grotesquely jealous, or weirdly violent, or obsessively materialistic sisters, it can be resolved when a discussion is staged to resolve the conflict. Often the resolution includes the giving of a gift: a framed photograph or a piece of jewelry, a tithing by the sinner to the party sinned against.
It isn't ironic that the Kardashians have recourse to family values; it is exactly in line with the manipulative rhetorical application of family values in our political present. As Kathi Weeks has argued in The Problem with Work (2011), family values campaigns should be understood first and fore- most as a tool of political-economic discipline. The family ethic endures "for the role it plays in reproducing a stable and able workforce." No matter the sins the Kardashians commit, they—like all of us—have to go back to work at the end of each episode. Watching them resolve their shame for the sake of this resilient hustle is the most gripping of the realities depicted in this show. The way they keep working past their suffering, their mistakes, and their exposures to make themselves a totem of family even as their own family ceaselessly tears at the edges, with partners falling away and children disappearing to become obese men in the attic. The Kardashians show us, in public, how brands survive despite accusations of malfeasance, despite obvious failures of content. They survive by transforming your insults into their consumer power.
---
Related stories: