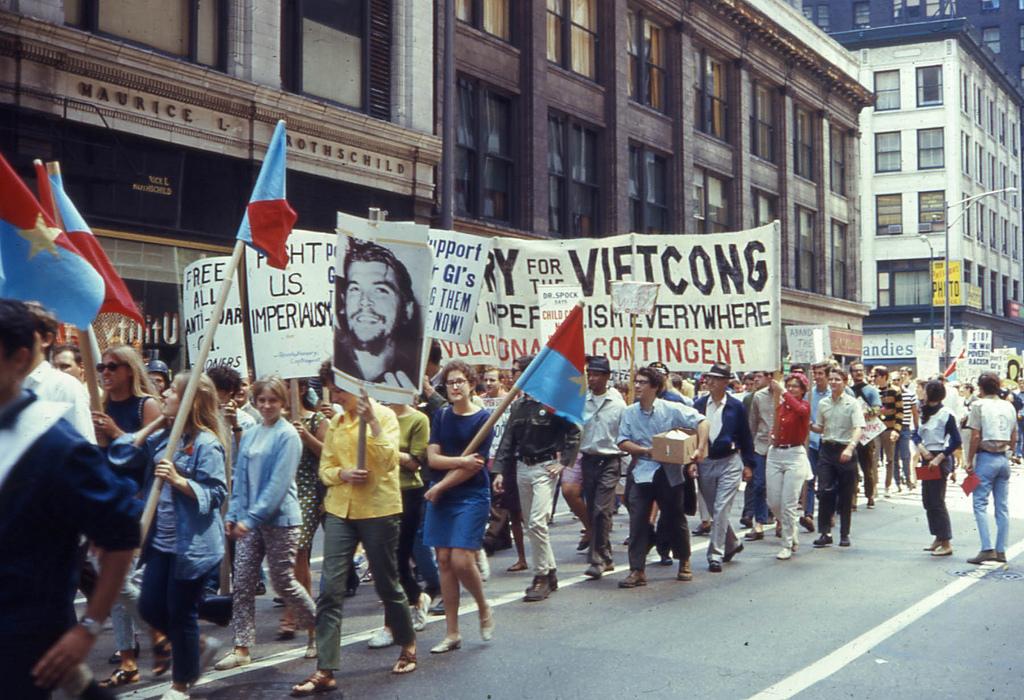 A demonstration on Aug. 10, 1968 in Chicago as the city prepared to host the Democratic National Convention. (David Wilson / Flickr)
Fifty years ago, thousands of anti-war activists clashed with Chicago police as the city hosted the 1968 Democratic National Convention.  
To commemorate the anniversary of these protests, a march and rally are planned downtown for Saturday. "This is not about nostalgia," said organizer Andy Thayer of the Gay Liberation Network and co-founder of the Chicago Committee Against War & Racism. "Today we're facing very serious problems."
The 1968 & 2018: Unite Against War and Police Violence march and rally aims to address the struggles against racism, poverty and police violence in America while highlighting the lessons learned from 1968, according to organizers.
At the time of the convention, people were protesting what was then the longest U.S. war: the Vietnam War. "Today we are bombing at least seven countries through drone strikes," Thayer said. "In the years following the awful Democratic National Convention in this town … people gave up on both (political) parties to make the changes they needed and succeeded in the ensuing few years, ending the longest U.S.-involved war (the Vietnam war)."
A rally is planned for noon at Richard J. Daley Plaza, which Thayer says was "chosen for a reason," as Daley was the mayor of Chicago during the 1968 convention. "We want to highlight the history. We're going to circle City Hall as well as march right past the Cook County Democratic Party's headquarters at LaSalle and Randolph," he said.
Speakers at the rally will include Frank Chapman, who was wrongfully convicted of first-degree murder in 1961 and a leading organizer for the Civilian Police Accountability Council; Natasha Erskine, a U.S. Air Force veteran and community organizer; and Vincent Emanuele, an anti-war veteran and community organizer.
A march, scheduled to begin at 1 p.m., will proceed from Daley Plaza to the Gen. John Logan Monument, located at Michigan Avenue and 9th Street (see map below for planned route). Organizers say people should expect rolling closures along the march route starting at 1 p.m.
---
Anyone concerned about climate change, racism or police misconduct is encouraged to participate, Thayer says, "because that's the way change has always been made. People must rely on themselves for the change they need. … We hope to instill in a younger generation of activists the need for political independence."
Contact Kristen Thometz: @kristenthometz | [email protected] | (773) 509-5452
---
Related stories
Women's March Chicago Planning October March, Rally
Protesters Take to Lake Shore Drive for Rush Hour March to Wrigley
Lake Shore Drive March: Activists to Protest Police-Involved Shootings
---