Gone are the days of leaving it to the World Trade Organization to deal with allegations of "dumping" and other such disputes. President Donald Trump is using tariffs instead, including a 25-percent tariff on steel imported from the European Union, Canada and Mexico that went into effect in June.
Lately, there's been little downtime at LexCentral Steel's Bedford Park processing plant.
Workers put spools of steel, each weighing as much as five cars, through machines called "slitters," where they're sliced into threads that are sold and shipped to companies across the Midwest that produce everything from car doors to lockers to shelving.
(Walk through any area hardware store, Target or Walmart, and chances are you'll see shelving and other products that were processed at the Bedford Park plant.)
Shipments are up about 10- to 15-percent compared with last year; owners project shipments are up as much as 40 percent from the "bottom of the doldrums" around 2005 or 2008. 
Steel has been in the spotlight thanks to Trump following through on a campaign promise to take decisive action to revive the American steel industry.
"Thank you all and I'm thrilled to be here in Granite City with the men and women of U.S. Steel. Great company," Trump said in his speech there last month. "Today we're celebrating a great victory. A victory for all of you. For this community. And for our entire country."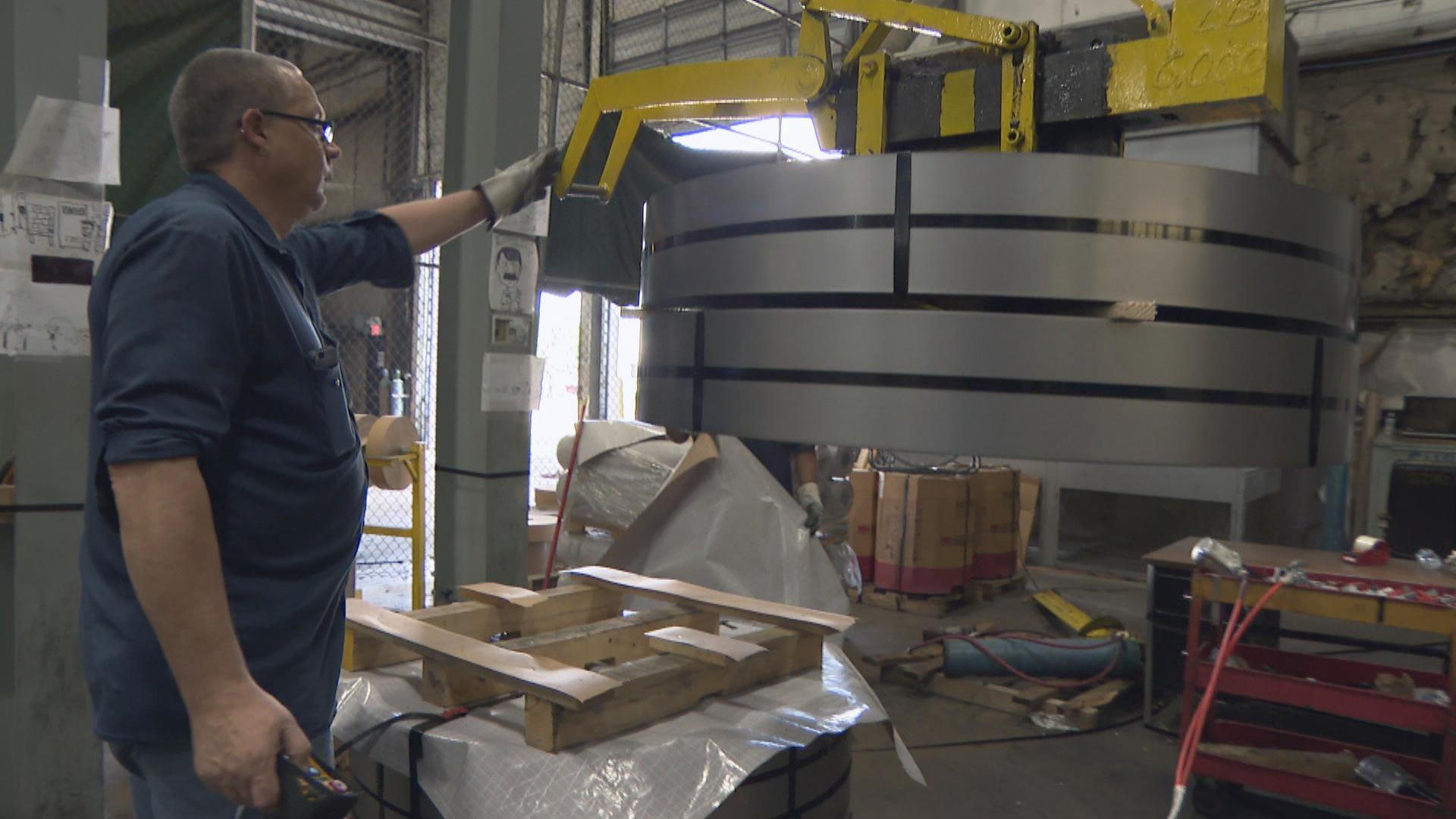 It's all good news for the offshoots of LexGroup Co., celebrating 50 years as a one of the nation's largest flat-rolled steel distributors.
"This is the first time in a decade I've gone into customers and the number one concern is we need more people. We need workers. We need welders, we need tool and die guys, we need guys to work in a factory," LexCentral Steel President Bill Douglass said. "I think people are looking tariffs a little too narrowly. It's not about protecting the steel industry. It's about opening markets. Every product that we can open up overseas for our products – our cars, our manufacturing goods, our stuff … anything we can open up overseas, which is heavily tariffed, is going to bring manufacturing back here. And I think that's ultimately what we want."
His father, LexGroup CEO Robert Douglass – who has spent his entire career in the steel industry – is a Trump fan who appreciates the flexibility tariffs provide, their ability to poke and to prod, especially compared with "dumping" cases that he said are so carried out, with repercussions that come too late.
"Tariffs are an immediate tool, and it's just a tool. It's a tool to get attention, it's a tool to renegotiate," he said. "You don't have a trade war that you've already lost. We have a deficit trade with darn near every product that we have. So all we have to do is get the attention that, OK, renegotiate some of these things. Trade wars are saber rattling. But when you've already got a horrendous deficit, what more do you have to lose? That's the whole thing."
He too says the focus on tariffs is overblown, compared to the effect of the Congressional tax code overhaul on the economy.
"The tax changes and depreciation laws really incentivize manufacturers to buy new equipment. And we will be doing it next year. People are doing it now," he said. "So more important than tariffs are the tax laws that enable new equipment (to be) purchased."
But that equipment? Thanks to tariffs, it could cost more.
"The steel tariffs and the aluminum tariffs are going to create winners and losers, by either putting taxes on imports coming from foreign suppliers or by putting quotas that limit how much we can buy from abroad. That's going to raise the price of steel and aluminum in the U.S.," said Jonathan Dingel, associate professor of economics at the University of Chicago Booth School of Business. "So that makes firms that produce steel and aluminum happy – the price of their output is higher. It makes customers that use that steel and aluminum unhappy. So a lot of companies, from Coca Cola to Caterpillar, have announced that they'll be passing through some of those cost increases as price increases for the consumers that buy their goods."
The University of Chicago recently surveyed leading economists from UChicago, Yale, Harvard and MIT. They were asked whether the new U.S. tariffs on steel and aluminum would help Americans' welfare. Every economist who responded said the tariffs would not help Americans.
Trade policy and the steel industry are complicated, so Dingel says it's hard to say when you'll start to pay more for that can of Coke, a new car or condo.
But there are already fears and reports of higher steel prices hurting construction.
Then there's the question of a trade war.
"I would say at the moment it might be a trade spat or a trade skirmish more than a trade war. But of course you worry that spats or skirmishes can turn into a full-blown war," Dingel said. "I think what's really difficult for businesses right now is the amount of uncertainty surrounding trade policy. It's hard to make investments or make plans if you can't be sure what the tax rate is going to be on steel, aluminum, auto parts, etc."
That uncertainty comes not just from questions about what Trump will do, but what additional possible retaliatory actions other countries may take – and which industries they will affect.
But the leaders of LexGroup Steel aren't concerned, pointing out that in a war, both sides have a lot to lose.
Dingel says Illinois is like a microcosm of the nation: There are clear winners and losers here – U.S. Steel and companies like LexGroup are feeling the advantages of tariffs, while local manufacturers (even soy farmers hit by retaliatory swipes) are on the losing side.
Follow Amanda Vinicky on Twitter: @AmandaVinicky
---
Related stories:
US Economy Strong But Trump's Tariffs Could Cause Problems
US Chamber: $3.8 Billion Worth of Illinois Goods Threatened by Trade War
Escalating Trade War Sparks Fear for Wall Street, US Consumers
---