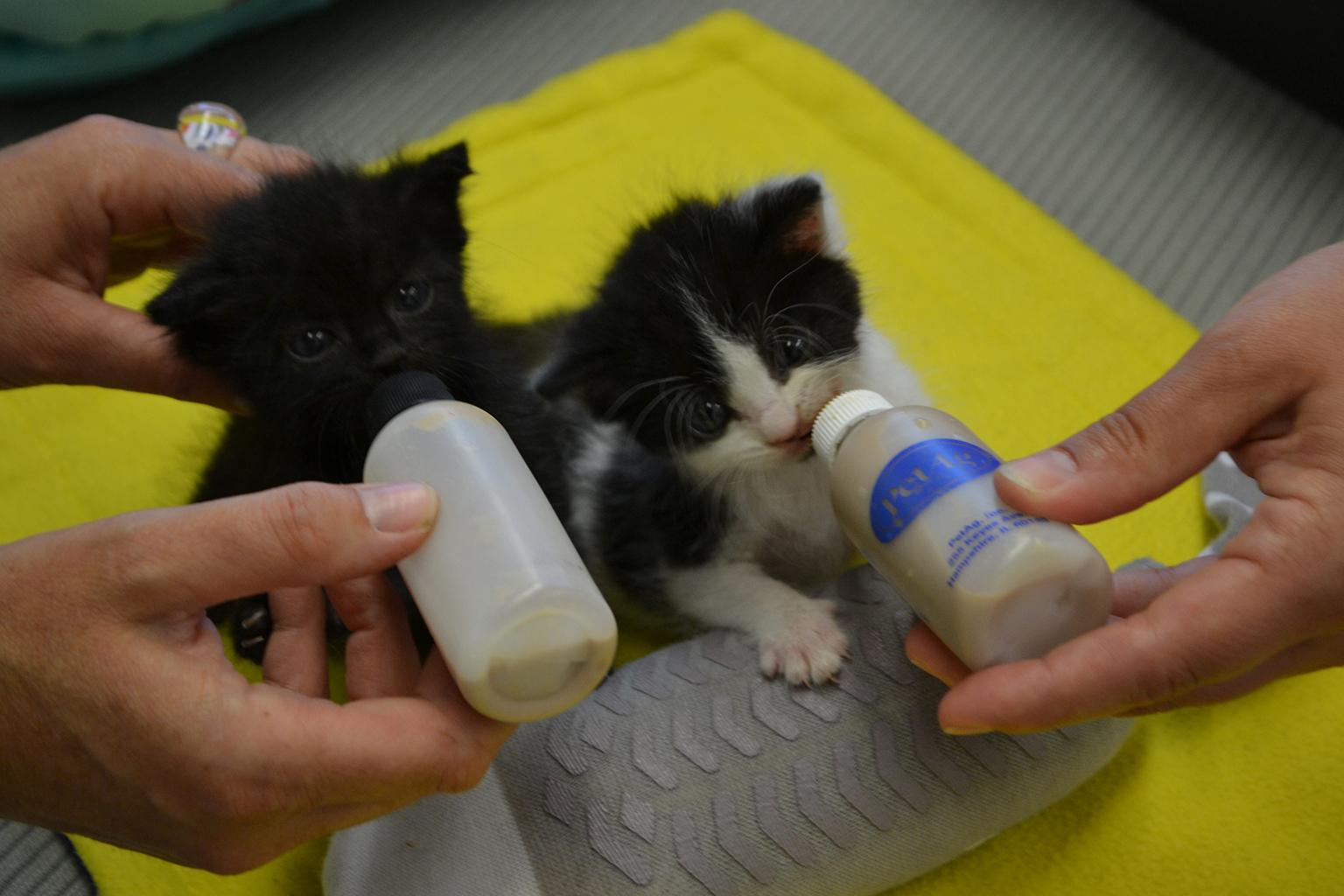 Now 4 weeks old, kittens Jesus, left, and Juan were brought to Chicago Animal Care and Control when they were 1 week old, following a rainstorm that separated them from their mother. (Alex Ruppenthal / Chicago Tonight)
About this time every year, Jenny Schlueter and her colleagues at Chicago Animal Care and Control receive calls almost daily from residents who've happened across some baby animals on their block.
Rabbits, squirrels, possums, turtles and even baby ducklings show up each spring and summer at CACC's shelter on the Lower West Side, often delivered by well-intentioned residents who can't stand to see the babies alone.
And while many who come across young animals in the city think they've been abandoned by their mothers, that's often not the case, Schlueter said. What's more likely is that the mom is off looking for food, scouting for shelter or just taking a rest.
"The number one rule is just leave them alone," said Schlueter, assistant to CACC's executive director and coordinator for the department's kitten workshop and volunteering programs. "Usually, they need to stay [in the area]. They went to your house because they live nearby."
Residents can take action when the animal appears to be injured or in distress, Schlueter said, or if there is no sign of the mother after more than a few hours. Residents who find abandoned or injured animals should call the city's 311 line, where requests are filtered to CACC's dispatch team.
Chicago Animal Care and Control, 2741 S. Western Ave. (Alex Ruppenthal / Chicago Tonight)
CACC partners with groups like Barrington's Flint Creek Wildlife Rehabilitation to treat and care for rescued animals brought to the shelter.
"If there is any indication that something is afoul – it's not impossible that something could have happened to mom – then we do want to take them, of course," Schlueter said.
For more detailed information about what to do upon finding various types of animals in the city, Schlueter recommends Flint Creek's "Found an Animal" fact sheets and charts, which lay out step-by-step instructions for responding to wildlife. 
Caring for Kittens
The protocol changes again when dealing with kittens, which, unlike most other animals you might find outside, are domestic.
Summer is the height of kitten season in Chicago, and even though most of the season's first litters have been born, Schlueter said cats will often have two to three litters per year, and many second litters are being born now.
About a month ago, a Bridgeport man who feeds cats on his block found kittens, later named Juan and Jesus, and their two siblings. He noticed that the mother appeared sick and unable to care for her babies, so he asked a neighbor to bring them to CACC's shelter.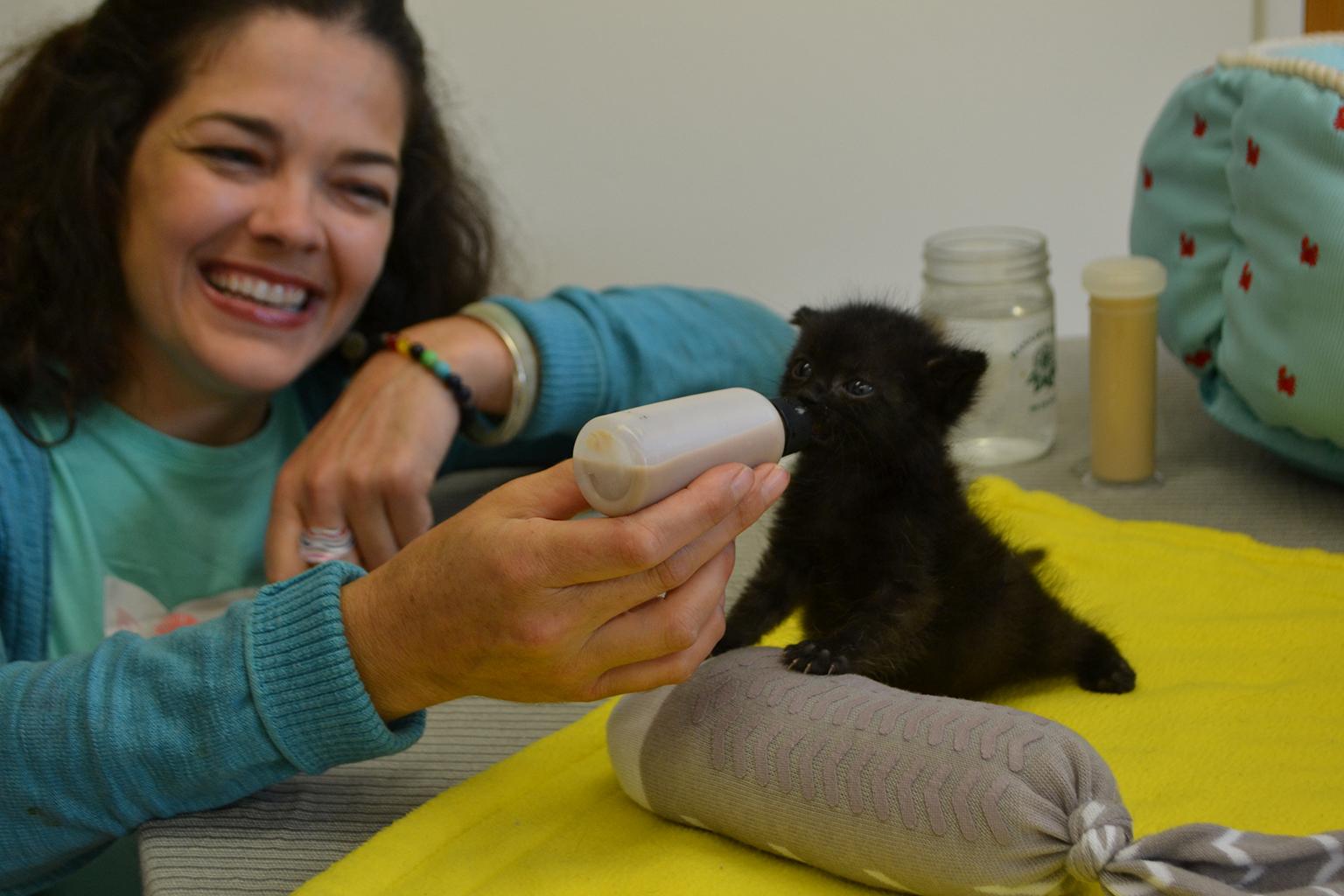 CACC's Jenny Schlueter bottle feeds Jesus, a 4-week-old kitten brought to the shelter last month. (Alex Ruppenthal / Chicago Tonight)
The kittens were just 1 week old when they arrived.
"They were in pretty rough shape," Schlueter said. "I remember they were kind of cold and wet – I believe there was a rainstorm [that night]."
CACC took care of the kittens for several hours. Then, with the help of social media and the nonprofit Friends of Chicago Animal Care and Control, staff were able to find a foster home for the kittens.
Friends also contacted Famous Fido, one of CACC's partner rescue groups, which got in touch with the man in Bridgeport and tracked down the mother cat. She was sent to PAWS Chicago to be spayed and then returned to her colony.
This entire process might not have happened a decade ago, prior to CACC's Kitten on Deck program, which lines up partner groups and foster homes for kittens during the height of Chicago's annual kitten boom. The program, which Schlueter helped start in 2014 while working for a nonprofit cat shelter, gets its name from the fact that kitten season tends to align with the baseball calendar.
Because of the program and efforts to train residents to care for kittens on their own, Schlueter said CACC has seen a significant decrease in the number of kittens that have to spend time at the shelter.
Previously, CACC had to euthanize kittens regularly because of a lack of space and resources.
"It's a shame [because] kittens are one of the most highly adoptable animals once they get to the right age," she said. "So we hate to not give them a chance just because they're not of age yet. We're trying to do all of these innovative things to step in."
Now, Schlueter said CACC is able to save nearly all of the "bottle babies" that come into the shelter.
"The number of caretakers has boomed all over the city," she said. "There's like a whole network of people who are monitoring for cats in their neighborhood."
Less than five years ago, in 2014, CACC received 8,664 cats, according to data posted on the agency's website. Last year, that number was down to 5,900, a sign that more residents are taking kittens into their homes rather than bringing them directly to CACC, Schlueter said.
In 2017, CACC also saw an increase in the number of cats that were either reunited with their owners, adopted or transferred to other shelters because of space limitations, for example. The shelter's so-called "live release rate" for cats last year was nearly 90 percent.
Just four years ago, that rate was 76 percent.
"That's really quite remarkable and something the rest of the country I think really admires," Schlueter said.
So, what should residents do when they discover a litter of abandoned kittens? Before following that instinct to scoop them up and bring them to CACC's shelter, you should first wait, watch and listen, Schlueter said.
More often than not, the mother cat is not far away and hasn't in fact abandoned her babies. Mother cats actually spend lots of time away searching for food, taking rests and even hiding from nearby humans.
"[Cats] are quite good at surviving and fending for themselves," Schlueter said. "And these babies need their mother."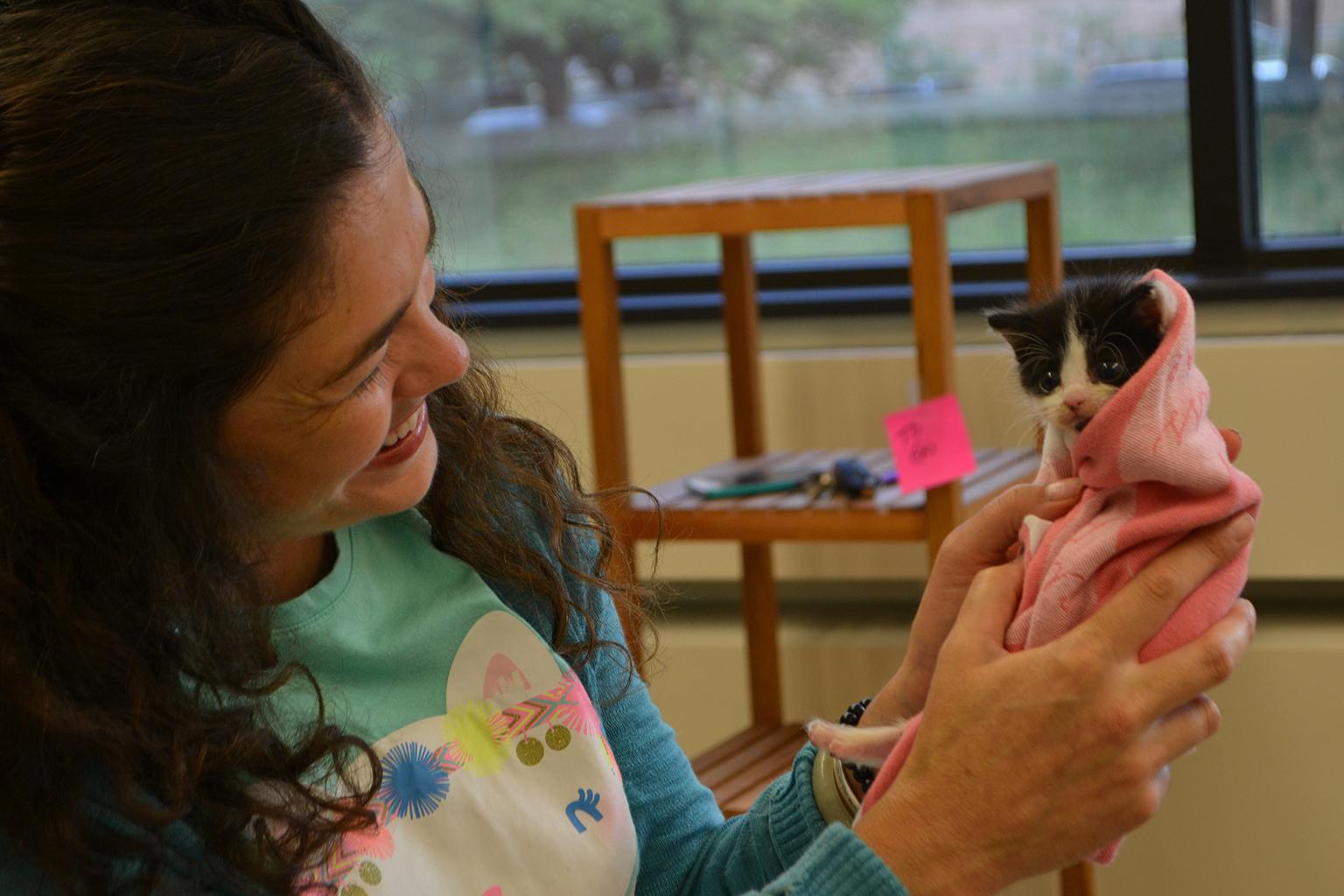 Jenny Schlueter of Chicago Animal Care and Control holds Juan, a 4-week-old kitten who arrived at the shelter last month. (Alex Ruppenthal / Chicago Tonight)
In fact, for kittens younger than 2 weeks, their chance of survival without their mom is just 50 percent. That's why the best initial response upon finding a group of kittens is to just watch and wait.
"People panic," said Kelley Gandurski, CACC's new executive director. "Often they see a bunch of kittens and they're like, 'Oh no, we have to bring them in.' And [typically] the mom will come back. People's intentions are good, but their survival rate is better if their mom is around."
If the mother's whereabouts are unknown, residents can place some fresh cat food and water outside, Schlueter said. It's best to check on the cats no more than once a day so as not to disturb the nest.
Once a mother's presence is confirmed, the next step is determined based on whether the mom is socialized.
If residents observe a feral or unfriendly cat mother, they should leave the family outside and provide cat food and water, then contact CACC or an organization like PAWS to assess the situation further.
If a mother returns and is friendly, or at least open to a human's presence, residents can take the entire family inside if they feel comfortable doing so, Schlueter said. The cats should be separated from other pets and kept in a warm place with a bed, clean litter box, food and water.
After about four to six weeks, once the kittens are ready to wean, residents can contact CACC to initiate the process of finding the family a home.
Taking in kittens for this initial stage is a tremendous help to CACC, which sometimes lacks space or volunteers to be able to care for all kittens that wind up at the shelter, Schlueter said.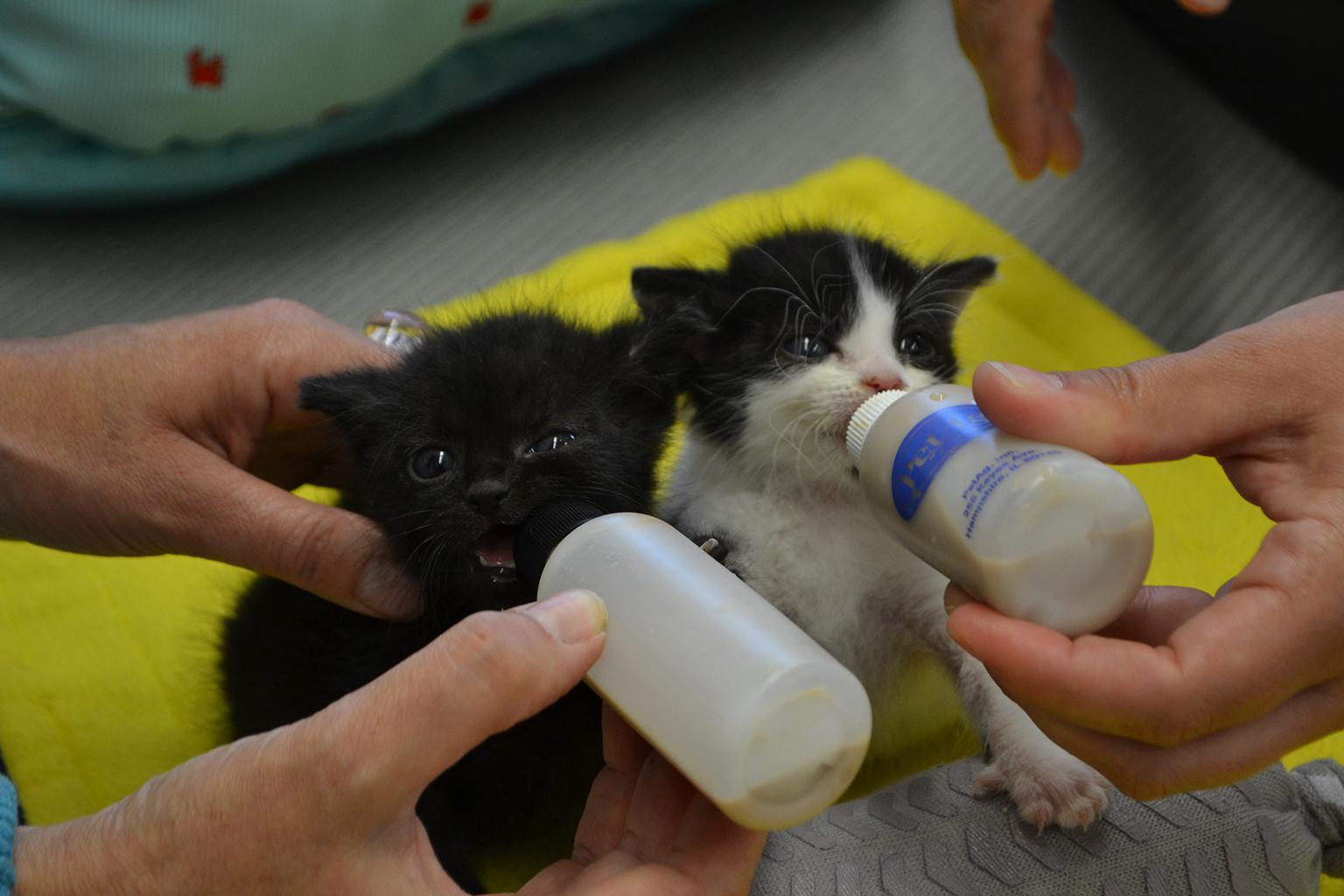 Jesus, left, and Juan are bottle fed at CACC's shelter. (Alex Ruppenthal / Chicago Tonight)
But caring for a litter of kittens is no easy task, at least not for a first-timer.
For their first two weeks, kittens must be kept in a space that stays close to 90 degrees. Schlueter recommends using a box with clean, soft towels and a heating pad or warming bottles.
Unweaned kittens require round-the-clock care and monitoring, which includes bottle feeding every two to three hours, including overnight.
Until kittens can urinate and defecate on their own (when they are about 3 weeks old), they must be stimulated in order to relieve themselves, Schlueter said. This should be done by wetting a cotton ball with warm water and gently rubbing the anal and genital area. This must be done after each meal.
For those interested in helping, Schlueter and CACC run Bottle Baby Kitten workshops where residents can learn how to shelter, feed and care for found kittens in their neighborhood. About 50 people have been trained through the program so far this year, Schlueter said.
The next scheduled workshops are 5:30 p.m. Aug. 14 and 10:30 a.m. Aug. 25, both in the auditorium at CACC, 2741 S. Western Ave. 
"A lot of people, they're a little nervous – they don't necessarily feel after one workshop they can just jump in," Schlueter said. "So then I spend a lot of time letting people shadow me here afterward.
"What we'd like to do is empower people if they can to help in their own communities because if we constantly take animals in here, it can be really difficult to keep up," she said.
Victoria Valerqa, a master's degree candidate at the University of Chicago Divinity School, went through CACC's training program and now helps care for kittens that need temporary foster homes. She recently helped out with Juan and Jesus before they were transferred to permanent homes.
"When I fostered cats in [another city], it was like, 'Here's your cats. Good luck,'" Valerqa said. "And I mean, I'm not a medical person; I didn't know how to do these things. But the program here is amazing. I've learned a lot, and I just feel really supported – like, if I have questions, there are people that can tell you what to do."
For more information about CACC's programs, visit the agency's website or Facebook page. 
Contact Alex Ruppenthal: @arupp | [email protected] | (773) 509-5623
---
Related stories:
Former Animal Care Director Susan Russell on Her Falling Out with City Hall
Chicago Proposes 3 New Dog Parks on South Side
Do Mice Prefer Chicago or its Suburbs? Lincoln Park Zoo Explores