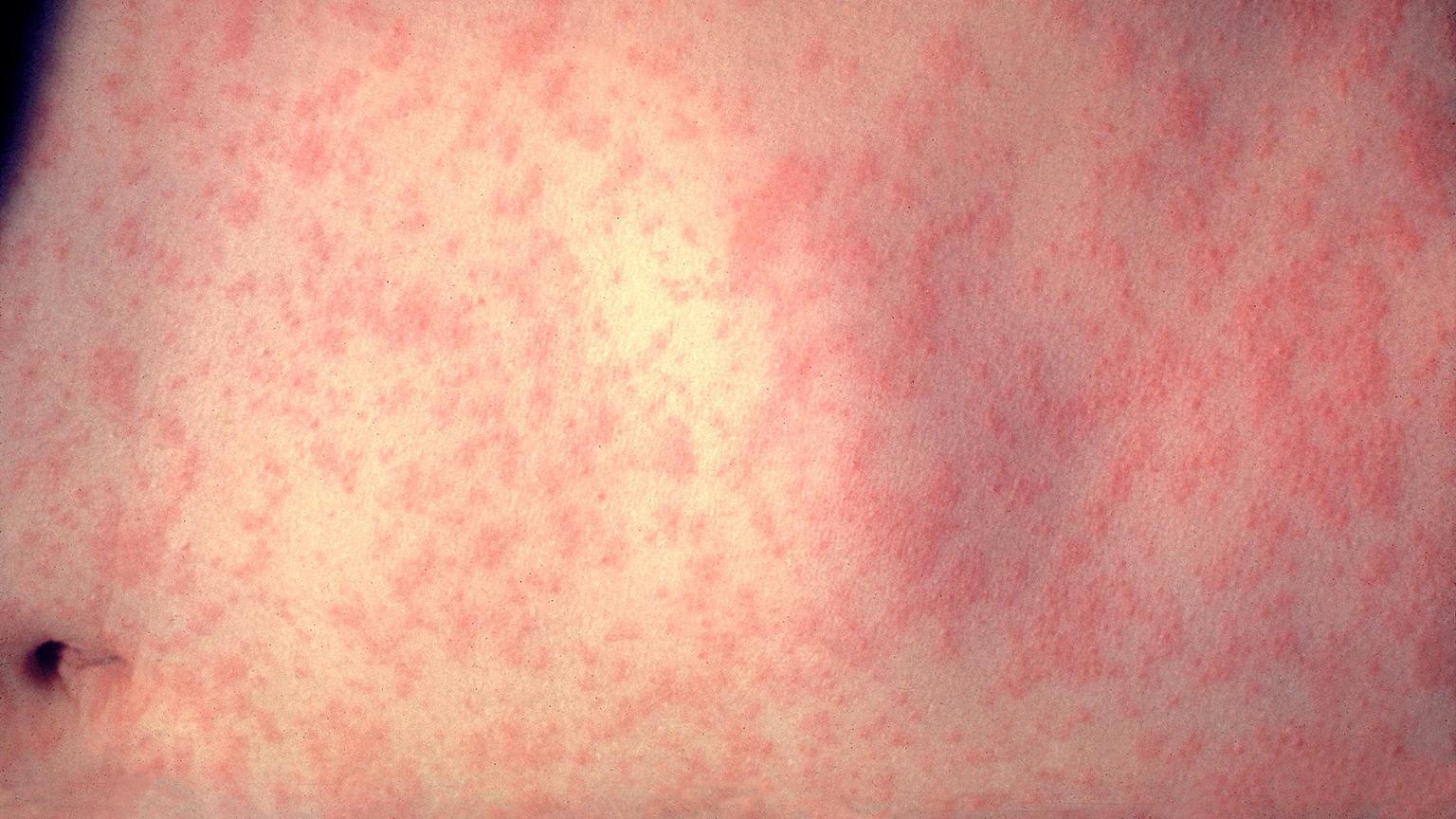 The skin of a patient three days after developing a measles infection. (Dr. Heinz F. Eichenwald / Centers for Disease Control and Prevention)
Cook County Department of Public Health officials are reporting a confirmed case of measles in a Cook County resident who recently traveled to another country with ongoing measles transmission and no prior immunity to measles.
The resident also visited a restaurant and grocery store in the area earlier this month. 
During the infectious period, the individual visited a Panera Bread, located at 400 W. Division St. in the city's Old Town neighborhood, on Friday, July 13 between the hours of 5-8:30 p.m.; and Jewel Osco, located at 333 E. Euclid Ave. in Mt. Prospect, on Saturday, July 14 between noon and 4 p.m., according to a CCDPH press release. 
Anyone who visited those locations during that timeframe who is experiencing symptoms of measles should call their health care provider and contact their local health department, officials say. Symptoms, which can develop up to 21 days after exposure, include rash, high fever, cough, runny nose, and red, watery eyes.
Officials are working with both establishments to contact employees who were present during potential exposure times. There is no ongoing risk of transmission at either location.
Measles is spread easily through the air when an infected person coughs or sneezes. People can also get sick when coming in contact with mucus or saliva from an infected person. Measles can cause serious complications such as pneumonia and encephalitis, or swelling of the brain.
Most people are vaccinated for measles during childhood and are not at high risk of getting the disease. Those who have not been vaccinated are of most concern, according to CCDPH. 
Officials recommend calling before going to a medical office or emergency department so special arrangements can be made for evaluation while protecting other patients and medical staff from a possible infection.
Contact Kristen Thometz: @kristenthometz | [email protected] | (773) 509-5452
---
Related stories
243 Cases of Foodborne Illness Reported in Illinois
Illinois Health Officials Warn of Rabid Bats After 17 Found in State
5 Things to Know About Smoke-Free Public Housing Rule
---