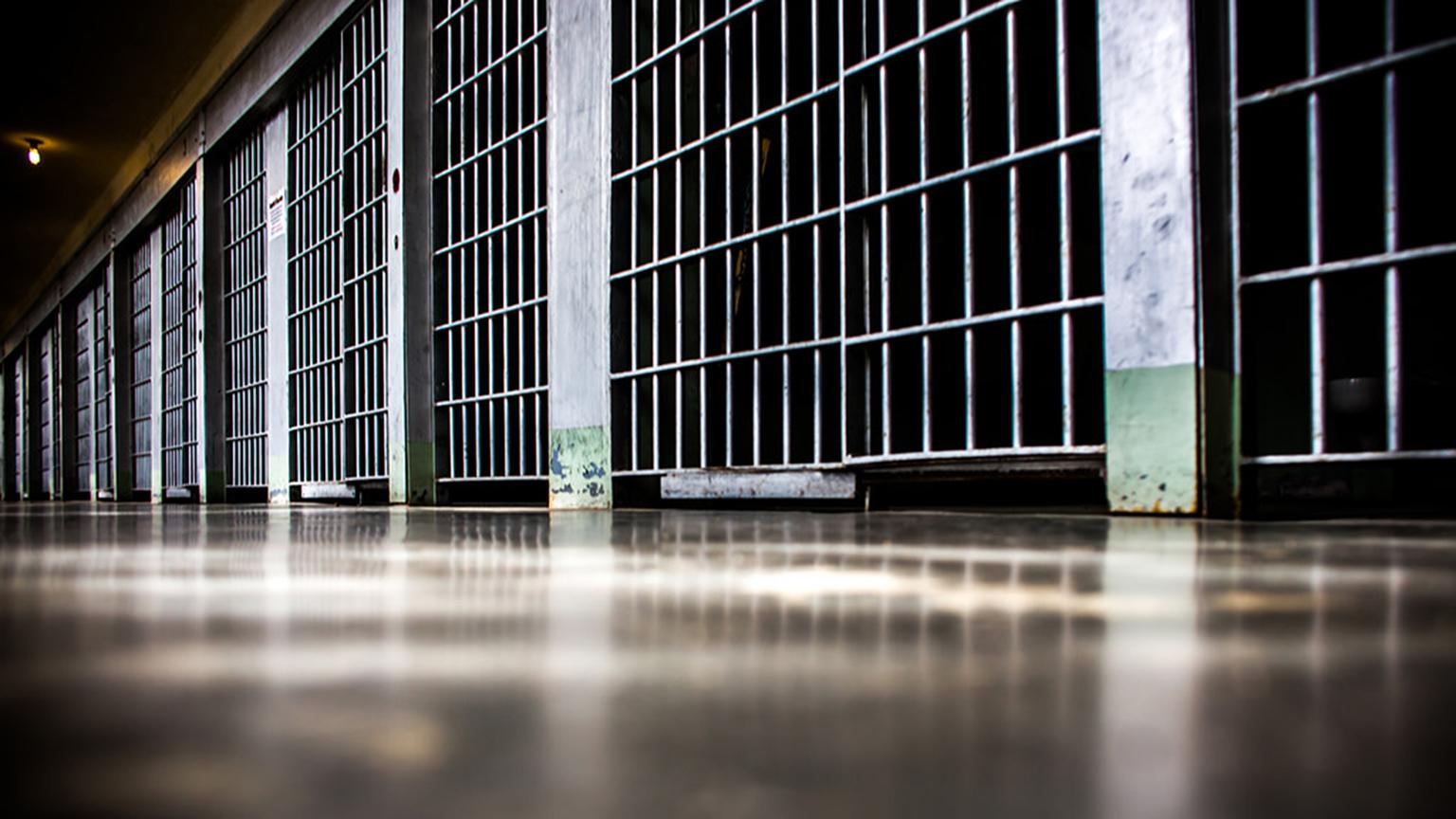 (Thomas Hawk / Flickr)
Children whose parents are incarcerated are more likely to skip needed health care and engage in unhealthy behaviors, according to a new study published in the journal Pediatrics.
"When parents are incarcerated, children are serving a life sentence as well, and unfortunately, it shows up in their health behaviors and most likely in other aspects of their life as well," said Dr. Nia Heard-Garris, lead author of the study and pediatrician at Ann & Robert H. Lurie Children's Hospital of Chicago.
The idea for the study was inspired, in part, by a conversation Heard-Garris had with Dr. Tyler Winkelman, the second author on the study, about whether they should be asking their patients if they had a parent who was incarcerated. "Having a family disruption, whether it be incarceration or divorce, can impact children and their health down the road," said Heard-Garris.
Researchers analyzed national survey data from more than 13,000 young adults (ages 24-32), and found 10 percent had a parent incarcerated during their childhood. Participants in the study were on average 10 years old the first time a parent was incarcerated.
"The United States has the highest incarceration rates in the world. With the climbing number of parents, especially mothers, who are incarcerated, our study calls attention to the invisible victims – their children," Heard-Garris said, adding more than 5 million U.S. children have had a parent in jail or prison.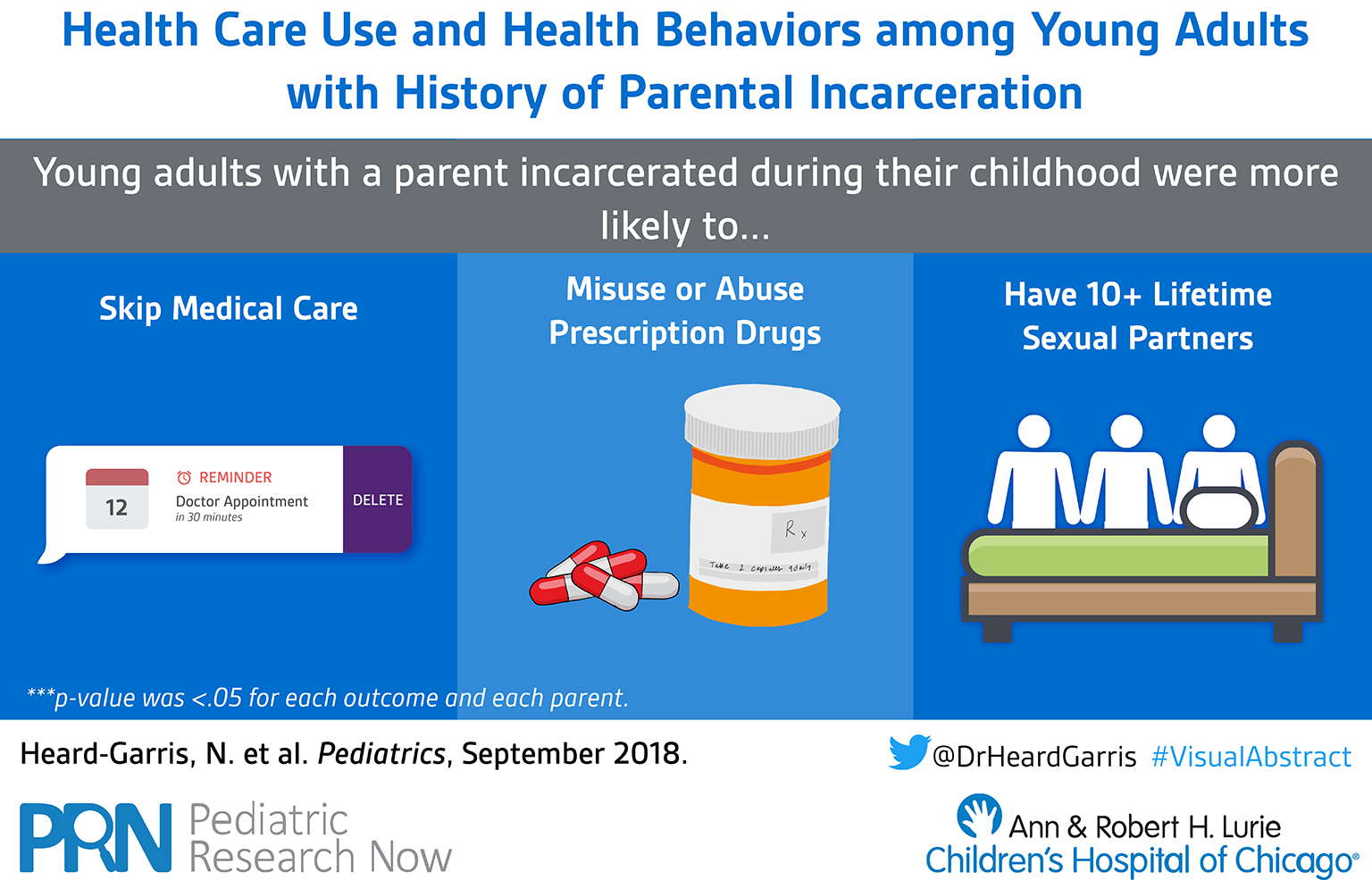 Researchers found that health care use and health behaviors were affected differently based on whether the mother or father was incarcerated. 
Incarceration of a mother during childhood doubled the likelihood of young adults using the emergency department rather than a primary care setting for medical care. "That's problematic because obviously emergency rooms were not built to be a continuous site to receive primary care," she said. "(These young adults) were also more likely to have sex in exchange for money than those (who) never had a mother incarcerated. … We didn't see that for people whose fathers were incarcerated."
Young adults whose fathers had been incarcerated during their childhoods were more likely to engage in negative health behaviors, such as increased consumption of sugary beverages and more than 50 hours spent watching TV per week. They were also 2.5 times more likely to use intravenous drugs, according to the study.
"Fathers are important and matter to a child's upbringing," said Heard-Garris.
Regardless of which parent was incarcerated, young adults who had such a history were more likely to have 10 or more sexual partners in their lifetime, putting them at a higher risk of acquiring HIV, according to Heard-Garris. They were also more likely to misuse or abuse prescription medications.
Researchers also found that while young black adults accounted for less than 15 percent of those surveyed, they accounted for about 34 percent of those with a history of an incarcerated mother and 23 percent with a history of an incarcerated father. "Having such a disproportionate amount of a group experience the incarceration of a parent is something we should look into," said Heard-Garris.
"Often we don't talk about incarceration because we assume that people are getting what they deserve that they've done something wrong and they're serving time, but I think we really need to have an honest look at incarceration policies because they have an affect not just only on those incarcerated but their families, their children and their communities," said added. "We need to make sure our policies are equitable."
Researchers are also calling for more research into identifying the specific barriers to health care among this population. 
"We need to consider how to help youth of incarcerated parents receive timely health care," said Dr. Matthew Davis, division head of academic general pediatrics and primary care at Ann & Robert H. Lurie Children's Hospital of Chicago, in a statement. "We must intervene if we are going to change the health trajectories for these kids."
Contact Kristen Thometz: @kristenthometz | [email protected] | (773) 509-5452
---
Related stories
Lurie Children's Hospital Receives Anonymous $12 Million Gift
Ordinance Aims to Punish Parents of Gun-Toting Kids
Study Links Changes in Kids' Sleep, Cortisol to Community Violence
---