Get ready for futuristic, high-speed express travel between the Loop and O'Hare International Airport on pods that run underground on electric skates.
The concept sounds like it was lifted straight out of science fiction, but billionaire Tesla founder Elon Musk says he is going to make it happen, entirely on his dime. Musk's Boring Company was selected by the city out of two finalists to provide express service to O'Hare. Musk joined Mayor Rahm Emanuel on Thursday at the partially built Block 37 "superstation" in the Loop to make the official announcement.
"Bringing Chicago's economic engines closer together will keep the city on the cutting edge of progress, create thousands of good-paying jobs, and strengthen our great city for future generations," Emanuel said in a news release. "This transformative project will help Chicago write the next chapter in our legacy of innovation and invention."
Musk says if all goes well, he hopes to be boring a tunnel for this new transit system within the next three to four months, and he says he hopes to have the entire system up and running within three years, at a cost of less than $1 billion.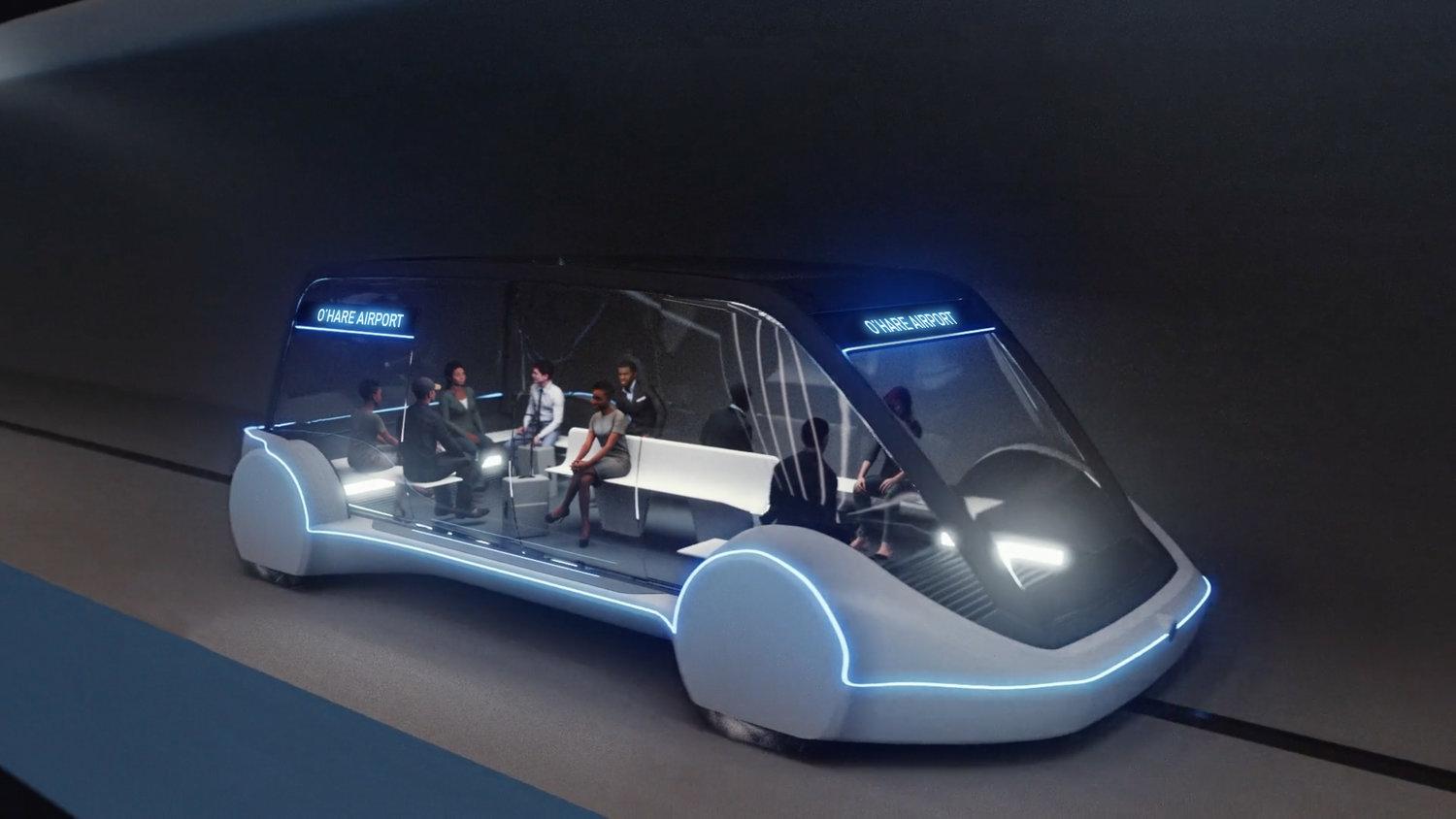 Each pod would hold 8-16 people. (Credit: The Boring Company)
Musk's proposal calls for an underground system that transports travelers on pods of 8-16 people at speeds of 125-150 mph, and vows that a one-way trip will take about 12 minutes. The pods will travel on electric skates using technology that Musk is perfecting right now on a model track in California. The project will be entirely privately funded.
Musk says he hasn't yet finalized the pricing structure, but that it will cost half the price of a typical taxi or ride-sharing ride between the Loop and O'Hare. He says the pods will feature a climate-controlled cabin, luggage storage space and Wi-Fi.
He says he knows there are doubters out there who believe this is pie in the sky – but he says Chicagoans should trust his track record.
"This is a difficult thing we're doing," Musk said. "It's a new thing, and I hope that you cheer us on through this. Because, if we succeed, it's going to be a great thing for the city. And if we fail, I guess me and others will lose a bunch of money."
The city says the exact route of the "X" is still being negotiated, but it will likely run west under Randolph street, and eventually follow under the Kennedy Expressway. It will all be built under public right of way, so no need for any eminent domain battles. But one transportation expert says the time frame sounds a little ambitious – because the federal government has yet to even approve the technology. It sometimes takes years for something like this to clear regulatory hurdles.
"If this system fails, or people are stuck in the problems, if there's signal problems or ergonomic issues, that's a big lift for the federal government," said DePaul University professor Joseph Schwieterman.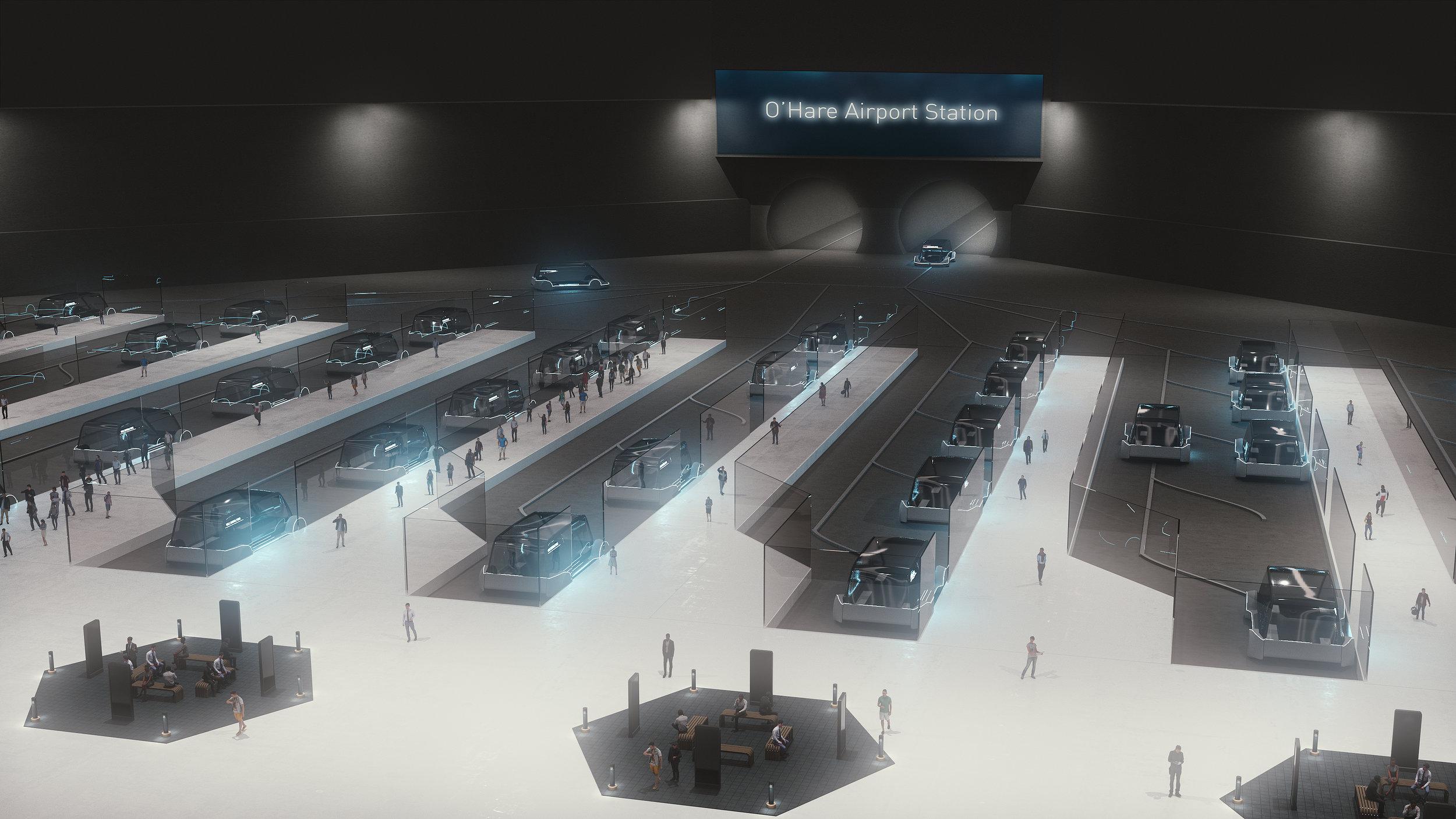 A rendering of a high-speed train station (Credit: The Boring Company)
The city and Musk are negotiating a final contract before it heads to City Council for a vote.  He says he was partially drawn to Chicago because of what he views as a small number of regulatory battles that have to be won before being able to proceed. But the council's progressive caucus wants to put the breaks on the whole thing, for fear the city doesn't end up with another parking meter deal.
"Before we green light a potential boondoggle, the public deserves answers about how this will be paid for, and how this supposedly entirely privately funded plan will be kept accountable to Chicagoans. There are questions about the economic, social, legal and environmental impacts that the public needed answered before choosing this project," said Ald. Scott Waguespack (32nd), a frequent critic of the mayor.
The trip on the CTA's Blue Line train can take between 35-40 minutes, and infrequent service on the Metra between Union Station and a satellite parking lot at O'Hare takes about 32 minutes. 
Follow Paris Schutz on Twitter: @paschutz
---
Related stories:
Downtown to O'Hare in 32 Minutes: On Board a Little-Used Metra Line
Toronto's Troubled Airport Express Train Could Be Cautionary Tale for Chicago
Critics of O'Hare Express Train Say Emanuel on Wrong Track
---