An express train linking downtown to O'Hare Airport has been an ambitious vision of Chicago mayors as far back as Mayor Richard M. Daley in 2001. Last year Mayor Rahm Emanuel put that bold dream back on track, saying he hoped to break ground on the grand project within three years.
Emanuel has pledged not to use public money, that financing will instead come from private investors. But critics say Emanuel is on the wrong track and they fear taxpayers are being railroaded into funding an unnecessary and expensive public transit project. 
"There are a couple things I worry about," says Janet Smith, professor of Urban Planning and Policy at the University of Illinois at Chicago and co-director of the Nathalie Voorhees Center for Neighborhood and Community Improvement. "Even if it's privately funded, what are we giving away? Tax breaks, land? I consider that money. It's money that could go to libraries, schools, etc. … And what about when the train needs repairs or if the company isn't generating the revenue they expected? Will the city then have to step in and subsidize the project? That's what we commonly see."
Smith and her colleague, UIC Urban Planning and Policy assistant professor, Kate Lowe, express their opposition to the train project in "Somebody Please Show Rahm the Blue Line" an op-ed for Crain's Chicago Business: 
Here's why public transportation agencies and the general public should derail this process before momentum takes over: Chicago already has a direct transit connection between O'Hare and downtown: the Blue Line. In fact, among the nation's 40 busiest airports, a FiveThirtyEight analysis identified O'Hare as a unique example where the train is already a good option for downtown and can often beat a taxi in travel time. Improvements along the Blue Line have sped up the trip, and the recently announced FastTracks program will allow increased frequency. Chicago is already winning the competition for good train access to a major airport.
Beyond being unnecessary, we see risk for harm due to a possible diversion of scarce public resources. While the RFQ clearly states there will be no public funds provided, transportation projections of ridership levels and recouping production costs are notoriously overly optimistic. It's likely that a funding gap will emerge as cost projections escalate or a construction problem emerges.
We expect that the public sector would then fill the funding gap.
"For urban planning and transportation researchers, it's all about translating our academic research into policy," said Lowe. "It's frustrating to see a project move forward that's unnecessary and even potentially harmful, when there are so many needed investments. We wanted to change the conversation. I perceive this as a vanity project for Mayor Emanuel. What we need to do to enhance prosperity in Chicago is make growth more inclusive."
Lowe and Smith join Phil Ponce to discuss the prospects of an O'Hare-downtown express train and their concerns over privatization of public transit.
---
Related stories: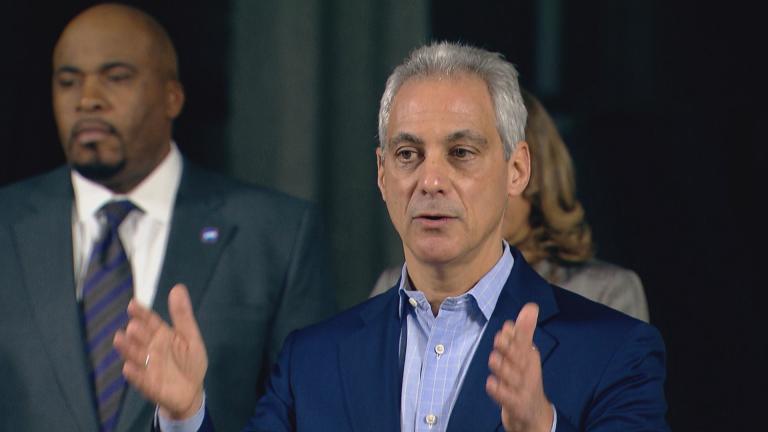 High-Speed O'Hare Airport Service Barrels Forward
Nov. 29: How would you like to whisk from the Loop to O'Hare International Airport in under 20 minutes? Mayor Rahm Emanuel says the idea is one giant step closer to reality.
---