Video: Evan Garcia visits DevLoop, Virgin Hyperloop One's test site in Nevada, to learn more about the company's high-speed transit plans.
---
The idea of a hyperloop – a high-speed train that soars through a vacuum tube at hundreds of miles per hour – was first publicly proposed five years ago by SpaceX and Tesla CEO Elon Musk.
Since then, engineers and transportation professionals have been racing to create their own versions of Musk's idea.
The company Virgin Hyperloop One appears to be ahead of the pack – with the first and only full-scale hyperloop test system built in the Mojave Desert, about 30 minutes north of Las Vegas.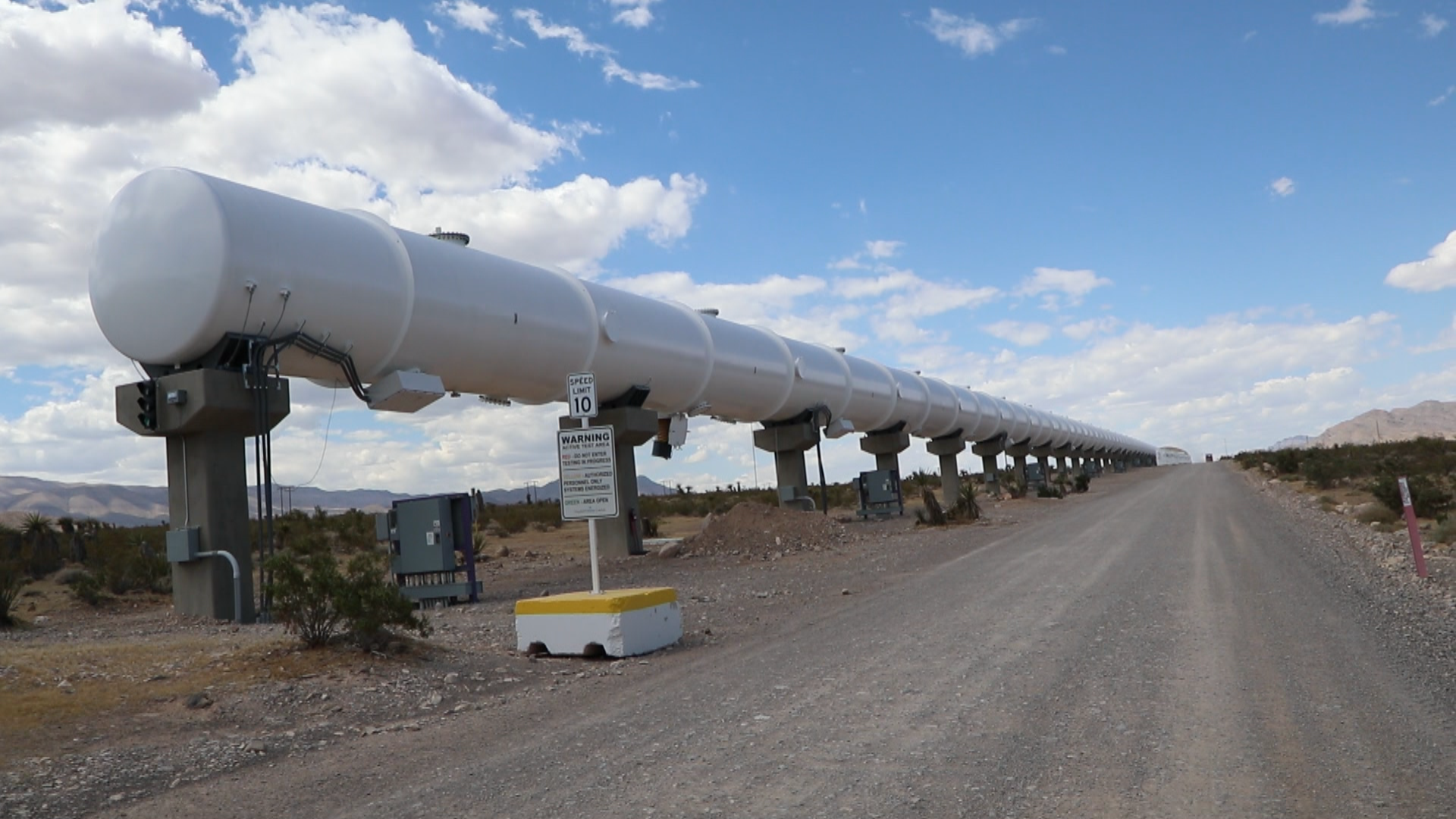 (Evan Garcia / Chicago Tonight)
Together with the Mid-Ohio Regional Planning Commission, Virgin Hyperloop One is conducting a $2.5 million feasibility study on a proposed hyperloop route connecting Chicago, Columbus, Ohio and Pittsburgh.
A one-way hyperloop trip from Chicago to Pittsburgh would take roughly 45 minutes. The same trip on an airplane takes double that amount, at 1.5 hours; by car, the trip is roughly seven hours long.
"People can be living in their neighborhoods in communities that they love but go to other areas where there might be employment," said Terri Flora, the MORPC's director of public and government affairs.
(Courtesy of Virgin Hyperloop One)
A hyperloop pod is propelled by electric motors and magnets, which allow the pods to levitate above the track. Vacuum pumps depressurize tubes, removing all the air and making it possible for trains to travel more than 700 mph with little friction.
"By making a tube and getting the air out of the way – and levitating, so we're not touching things – we've now won the friction equation," said Rob Ferber, Virgin Hyperloop One's vice president and chief engineer. "And that's how you win the game."
The company's test pod, which is built for cargo, has gone through more than 200 test runs and can now reach speeds of 240 mph. Ferber said a commercial hyperloop train will likely go a little less than double that speed.
"It looks like right now, most of our systems will be operating at 550 mph or below. That's not because of the physics, that's because drawing straight lines through cities, it turns out, is challenging," Ferber said. "We're given easements and alignments that have bends, they have curves, they have hills, so when you factor those in, they limit the speed just a little bit. Given a little more money for real estate acquisition, you can straighten those, but it may not be worth it."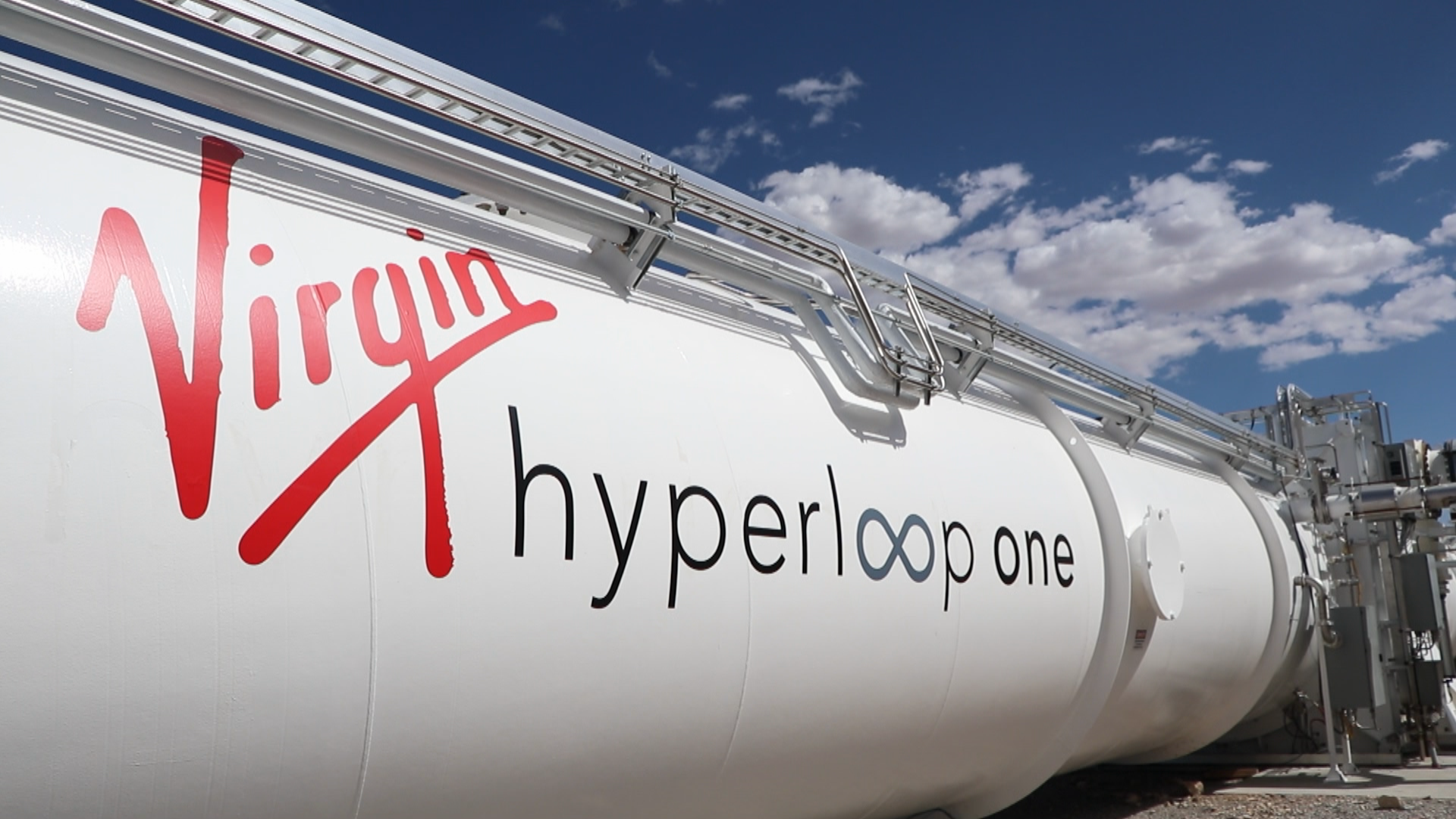 (Evan Garcia / Chicago Tonight)
When it comes to land acquisition for a hyperloop track, Flora said planners are looking into partnerships with existing rail lines.
Flora wouldn't comment on the possible cost of a Chicago-Columbus-Pittsburgh hyperloop route, but it will most likely be in the billions. Years ago, Musk estimated a route connecting Los Angeles to the San Francisco Bay Area would cost $6 billion.
Ferber said Virgin Hyperloop One has so far raised nearly $300 million from investors. He expects the first commercial hyperloop system to be in place within the next 5 to 10 years and said the first track will likely connect Dubai to Abu Dhabi in the United Arab Emirates.
Follow Evan Garcia on Twitter: @EvanRGarcia
---
Related stories:
High-Speed O'Hare Airport Service Barrels Forward
Hyperloop One Develops High-Speed Pods, Big Plans for Chicago
Elon Musk's SpaceX: A New Era of Commercial Space Exploration?
---