The Obama Presidential Center clears another hurdle, sailing through the Zoning Committee on Tuesday and the Chicago Plan Commission last week.
But after seven hours of testimony from both supporters and opponents before the Plan Commission, no mention was made of what materials will be used. So what exactly did they approve?
"The outline has been approved. But the novel has yet to be written," said Obama Presidential Center architect Billie Tsien.
Joining us to talk about the Obama Presidential Center and more is the Chicago Tribune's Pulitzer Prize-winning architecture critic Blair Kamin.
Below, an edited Q&A with Kamin.

Architect Billie Tsien says there's an "outline," but the "novel" hasn't been written yet. So what did the Plan Commission approve?
The commission approved a general concept of the Obama Presidential Center. It specifies where buildings will go and what their uses will be. And, in general, it talks about materials like stone or windows but it doesn't specify exactly what kind of stone, for example, would be used. So it's the they approved the zoning and overall design but not the detail from the design.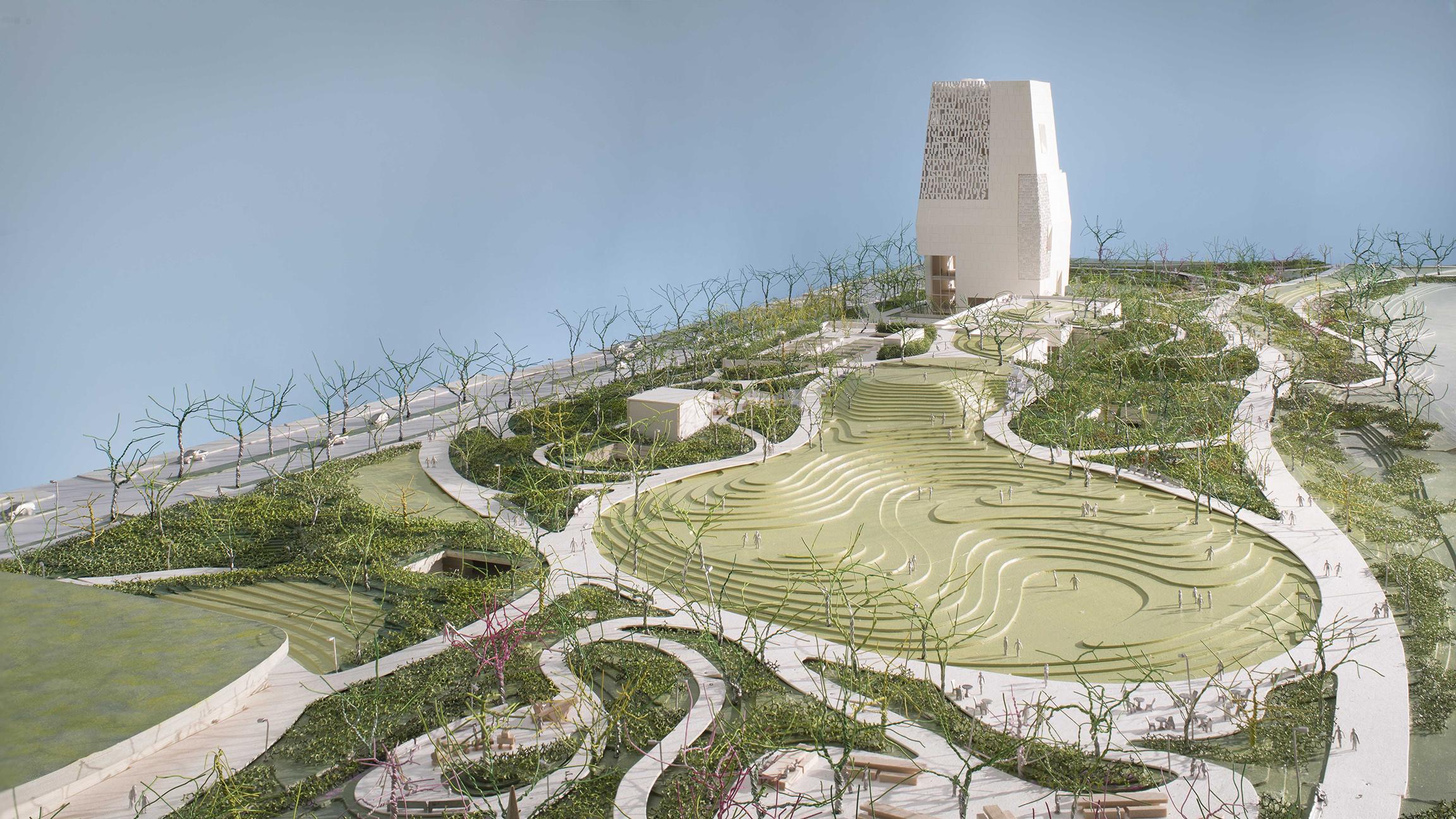 Obama Presidential Center rendering (Courtesy Obama Foundation)
You wrote that materials matter. So when will we know more about the details?
We'll know more in about nine months. This is following a typical process. The architects are now going to flush out their outline and they're going into what's called design development. That means that they will now really work up the details of how their buildings are going to be clad and how they're going to work. And so they are now going to quarries and other places to look for the appropriate stone for the building. They want it be, Billie Tsien said, "warm, durable and affordable."
You also asked her more specifically what the stone wants to be and she said, "like Obama." Can you tell us more about that?
When I asked her what the stone wants to be, that played on a line by the famous architect Lou Kahn who said, "You ask a brick what does it want to be, and the brick says that I want to be an arch." So I asked Billie what does the stone for the Obama Center want to be? And she said she wants it to be like Obama: warm with a sense of complexity and in for the long run. Those were her words. In other words, she doesn't want the stone to be a one-liner. She doesn't want to look like a flat granite facade on some corporate building. She wants to have a kind of sense of gravitas and institutional identity that expresses who she feels Obama is. And so, we'll see how architects are able to do that by varying textures: smooth, rough, screen-like.
There's a lot of tricks in their bag that they can use to try to make the building have, you know, a strong sense of personality and warmth and welcome to it.
You were at the hearing and it took seven hours. And there was there was a lot of a lot of opposition, and a lot of support. But do you believe that the Obama Foundation is really listening to the concerns of the community?
Yeah, I do think they're listening. That doesn't necessarily mean they're responding in ways the community likes. One of the big issues at this point has to do with the impact of the Center on Woodlawn in the neighborhood immediately to the west. The activists in the neighborhood are pushing for property tax freeze guarantees of affordable housing. The question really is whether it's appropriate to ask the Obama Foundation to provide those. I mean, their job really is building a center. In my view, it's the city's responsibility to work with the activists on the Obama Foundation to ensure that the needs of the community are met – particularly when it comes to housing and ensuring that people aren't forced out by gentrification.
The Zoning Committee approved the plan Tuesday? 
Yes. The City Council Zoning Committee approved it today. It commits the city to making $175 million in public infrastructure improvements. There was one no vote from Ald. David Moore. Moore said he could not in good conscience commit to spending around $175 million in public infrastructure improvements when no one can say for certain where that money will come from. Well, that money will likely come from the city seeking additional state and federal funds.
But the battle isn't over. There's also a federal review. What does that look like?
The federal review is mandated because Jackson Park is on the National Register of Historic Places and federal funds are likely to be used for the highway improvements to road and other infrastructure upgrades associated with the site. So, the federal government is required to assess whether there are going to be any detrimental impacts on Jackson Park or other historic features.
So far, we certainly have conflict over the whole plan with groups like the Cultural Landscape Foundation arguing that the Obama Center will impinge upon and be detrimental to Jackson Park, but they're only one voice. And it's unclear at this point exactly how much impact they'll have. So, if I were betting, it's possible I would say that there could be tweaks to the set of plans. But a fundamental no or blockage of it would be very surprising.
---
Related stories:
Plan Commission Greenlights Obama Presidential Center
As Obama Presidential Center Edges Closer to Final Design, New Lawsuit Filed
Blair Kamin on the Northerly Island Engineering Fiasco
---