In 2003, Mayor Richard M. Daley orchestrated a midnight raid with bulldozers tearing up the airstrip at Meigs Field without approval of the Federal Aviation Administration.
The bold move sent shock waves through the city. 
His goal: to turn the lakefront island into a nature oasis for residents to walk, run and bike through. Millions of dollars were spent to turn Northerly Island into that prairie vision. But in a major engineering failure, parts of the path have buckled and collapsed rendering it useless. Years later, there's no solution except to block off portions of the trail with barriers.
Joining us to talk about Northerly Island and more the Chicago Tribune's Pulitzer-prize winning architecture critic, Blair Kamin.
Below, an edited Q&A with Kamin: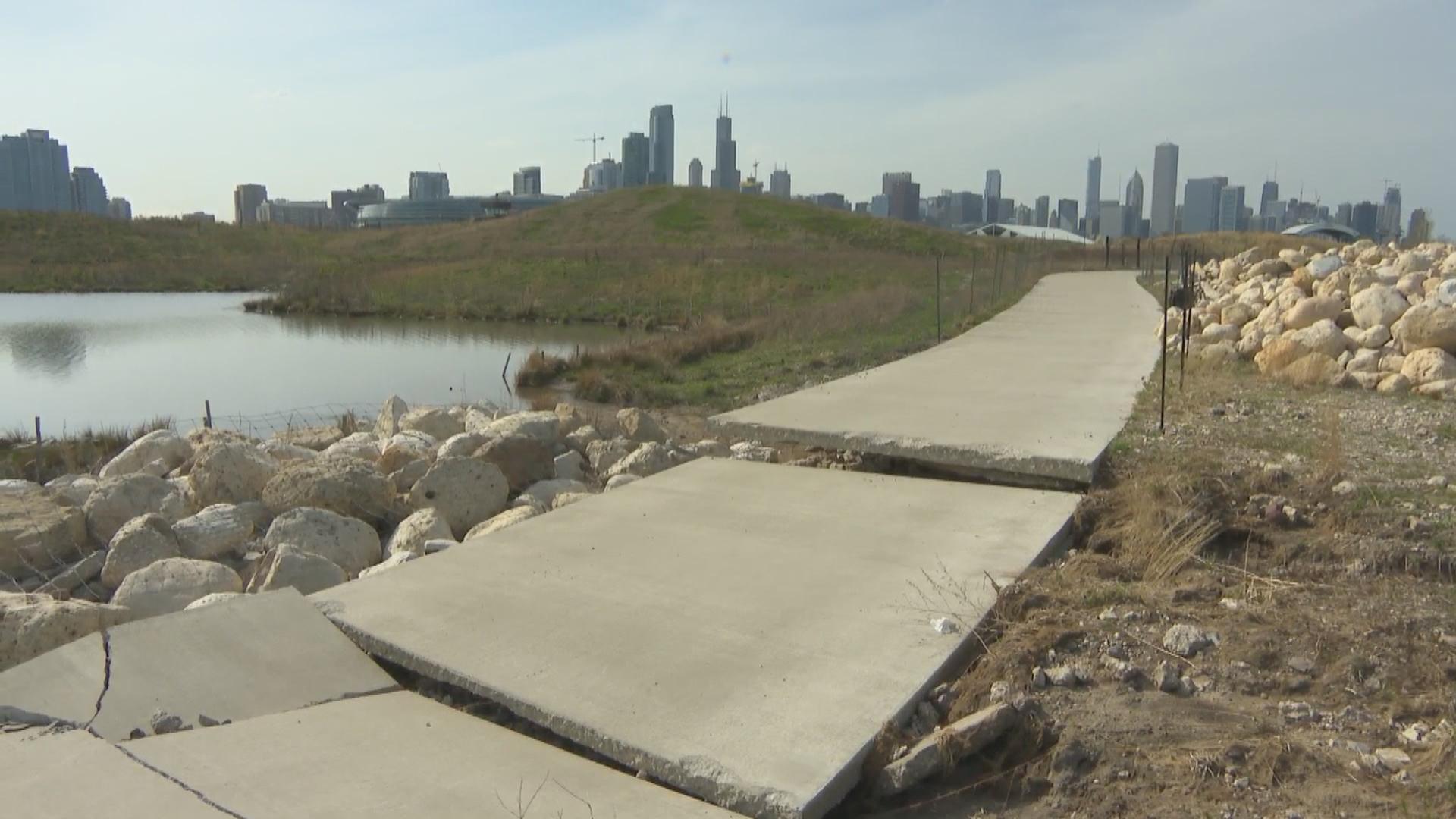 Why are parts of the path at Northerly Island damaged?
Parts of the park are closed because a portion of the path has collapsed. That collapse was caused by water shooting over a series of rocks that were designed to protect the island and they've eroded the material beneath the walkway causing it to collapse. So a pretty wide area on the east side of the peninsula has been closed with yellow barriers. So this is a mile long path. It's a walking loop and now people can't make their way around the whole thing.
So what went wrong?
Well, first of all, it's important to distinguish here between the plan for the island and the actual implementation. So Studio Gang, Jeanne Gang's firm and Smith Group JJR, a well-respected landscape firm, designed what's called the Framework Plan. When it actually came time to build the island, however, the Army Corps and the Park District were implementing the plan and they did not use all of the suggestions that the Framework Plan had made. So, for example, the framework plan proposed an off shore series of reefs and barrier islands. And the idea was that those would take the pounding of the lake. But, the Army Corps says that that would have cost four times the budget of the entire project. So, they didn't do it. So, what they did instead was a much simpler design where they put a lagoon inside the existing peninsula and armored the edge of that peninsula with rocks. And clearly it was not the right move because the lake has really eroded the area beneath.
The Park District is hoping to start some kind of construction activity this year. But they don't know when the path will reopen. And it sounds like from the Army Corps of Engineers that one possibility is that the path might not reopen at all that it just might be closed off at key points. So this is really a mess. And it's sad and hopefully it can be fixed.
So in the end, there is actually no clarity on whether it will ever open up again to the public?
No. I think the intent is to do that but it's possible that that won't happen.
Famed Spanish architect Santiago Calatrava was supposed to build a huge Spire project in Chicago, but it fell through. Now he will be building a sculpture. Tell us why he narrowed his imprint on Chicago?
As you know, the Chicago Spire was a 2,000-foot twisting proposal for a twisting skyscraper. It didn't happen when the economy went south in 2008. So, it just remained a hole in the ground and Calatrava's vanished from the scene. Now he's back and he has been asked to design a sculpture in the outdoor plaza at River Point which is an office building at 444 West Lake Street along the river. It's part of Calavtra's kind of crossover work. In other words, he's an architect but he's also an engineer and he's a sculpture and he's a painter. And he's had his sculptures exhibited at the Museum of Modern Art and also on Park Avenue, in the median of Park Avenue in Manhattan. So he's a sculptor as well as an architect. And in this case the owners of the building have commissioned him to design this red metal piece which kind of looks like it has a kind of coiling form. And it's supposed to be installed by next summer.
You recently wrote a story on the Republic newspaper's former home in Indiana. How did this particular building inspire your passion for architecture?
Well, this building was designed by Myron Goldsmith who was a partner in the Chicago office of Skidmore, Owings and Merrill. It's a newspaper building for a small town in Indiana, Columbus that is also home to the work of many great architects. It's a simple Miesian box. A horizontal metal and glass frame. It was really meant to illustrate the process of putting a newspaper together from reporting and editing to the printing of the newspaper. And the highlight of the design inside this glass box which was very visible was this yellow printing press and it was like a kinetic sculpture. People going by could see it.
I lived in New Jersey when I was a kid. My dad ran a newspaper. The newspaper burned down on Christmas Eve in 1970. So we spent the next year looking at state of the art newspaper buildings. And one of the ones we saw was the Republic, this newspaper in Columbus, Indiana. It's a beautiful building and it really was one of the first buildings I saw that really got me interested in architecture. So it's kind of an interesting thing that last week I was reporting on a story where this building, which has been vacant and its future uncertain, is now going to be home of the Master of Architecture program for Indiana University. It's a happy ending because the architecture school will be a good user of this building. It will take care of the building. The studio spaces inside of it will really take advantage of the buildings tall ceilings and natural light. So it's a happy ending and yet another good reason to go visit Columbus which has all these buildings by many great architects I.M. Pei and Eero Saarinen and many others. So it's kind of interesting to see this building come back into the news some 48 years after I first encountered it. I am getting old.
---
Related stories:
Tribune Tower Site Redesign Could Include Chicago's 2nd Tallest Skyscraper
Preservation Chicago Announces 7 'Most Endangered' Sites of 2018
Newly Rediscovered Historic House in Wilmette Faces Uncertain Future
---