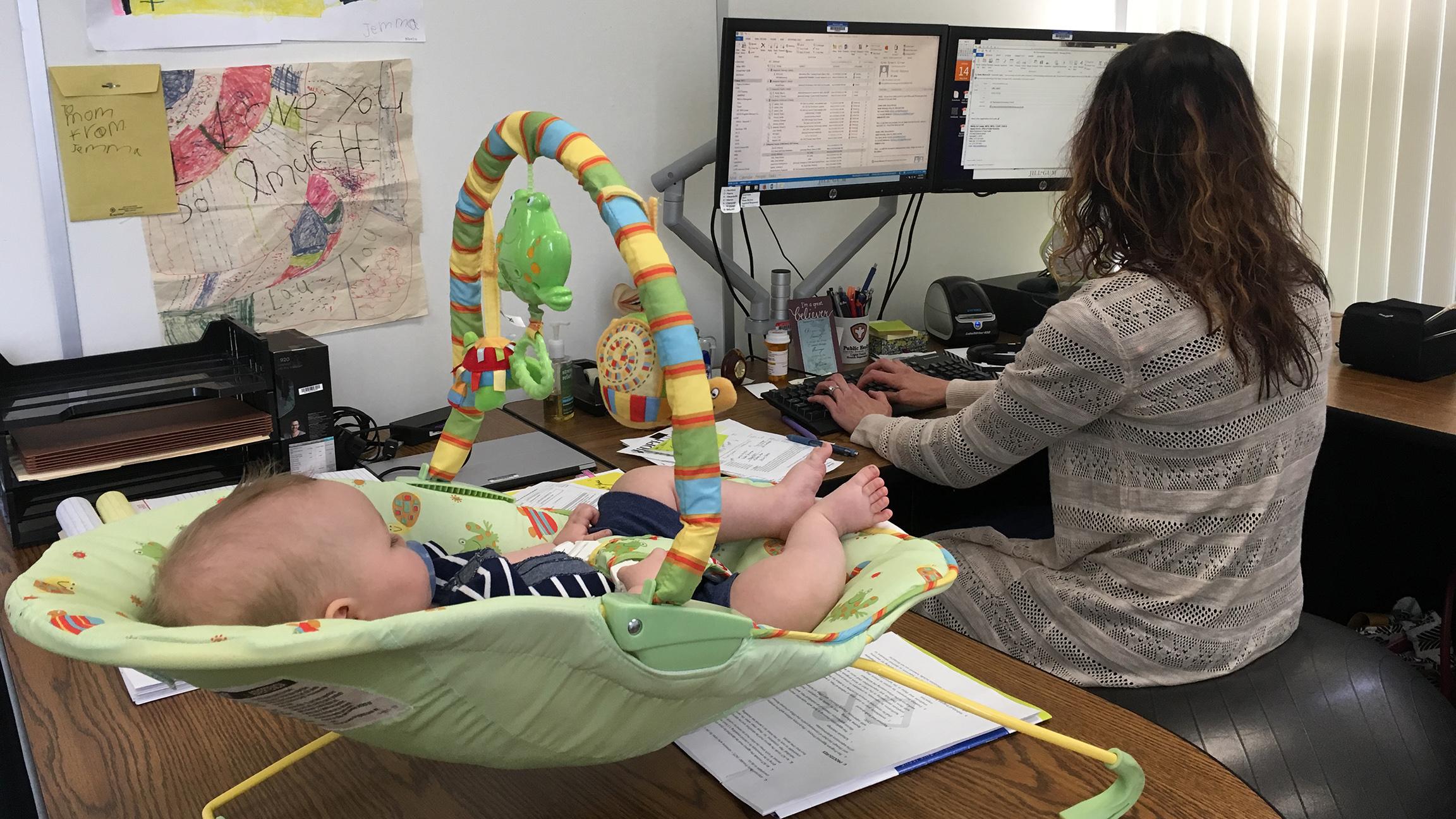 (Courtesy of Molly Lamb)
After celebrating Mother's Day on Sunday, working moms went back to their routines on Monday – dropping their children off at day care, with the nanny, at school.
Molly Lamb brought 5-month-old Jhett with her to work.
Lamb, the deputy director for the Illinois Department of Public Health's health protection division, is the first to take advantage of IDPH's new Infant at Work program, which allows – encourages, even – agency employees to bring their babies to the office.
According to IDPH's Divya Mohan Little, who drafted the policy, the initiative is the brainchild of public health Director Nirav Shah, "who thought, 'Let's put our money where our mouth is: we talk about breastfeeding, the importance of parent-infant bonding.'"
Infants ages four weeks (the number of weeks Illinois government gives its workforce for maternity leave) to 6 months are eligible to come to work with their parents, provided they have a supervisor's approval.
"Six months is typically when babies start to move and become mobile and become destructive, and I can speak from experience on that one," Little said, with a laugh. "That six-month cutoff is designed really to maintain the stability in the workplace."
In order to participate, an employee has to submit a plan that designates an alternative caregiver for the child, outlines where the baby will physically be during the workday, lists equipment needed to care for the baby, and includes a blueprint for feeding and dealing with dirty diapers as well as any other "concessions" that need to be made.
A co-worker must also agree to sign on as a designated "onsite alternative care provider."
"It is understood that babies will cry when they are hungry, need to be changed, or need to be comforted," the Infant at Work policy reads. "Reasonable time will be authorized by management to care of the baby during these periods. If management indicates the baby is disrupting others' work, he/she may request the employee find other care for the child. If the employee is unable to maintain the balance of child care and work performance and must leave work to focus on the baby's care, they will be required to take appropriate benefit time during their absence from work in accordance with department policy and directives."
Jhett could be heard audibly fussing during a phone interview with Lamb on Tuesday morning. "He was just … he fights sleep a little bit," Lamb said. "He's tired." A co-worker overheard, and took him out of Lamb's private office so she could continue the interview uninterrupted.
"Professional judgment comes into play," Lamb said. "That's how I'm carrying this out every day: I'm looking at my calendar and I'm assessing."
If she has a lot of external meetings that could go long, she takes Jhett to day care; if she's mostly working in the office, it's a good day for Jhett to come along. He can nap in the Pack 'n' Play playpen she's brought to the office, or rest in the bouncy sheet she keeps on her desk or on the floor.
"And then I have a blanket and a tummy pad if he wants to do some tummy time," Lamb said.
And supplies. It's incumbent on the parent, not custodians, to deal with dirty diapers.
"We're not going to add a burden to our cleaning staff that requires this. You're not allowed to just throw it in the trash can in a common area. You have to keep it in your office and you have to manage the odor," Little said.
That may not be enough to mollify a co-worker rattled by a baby's cry or even someone distracted by a baby's cute coos.
In that case, Little said colleagues can make use of built-in controls, like complaining to a supervisor, who must already perform periodic evaluations. Parents must sign a waiver at the onset, acknowledging that they may be required to remove their infant from the workplace.
On the balance, though, Little said she believes the program will benefit both the parent and the health department.
The benefits to a mother or father are obvious: savings on private child care, bonding, breastfeeding. But Little said IDPH will be advantaged by higher morale, lower turnover costs and new parents returning to work sooner.
"My second daughter was so well-scheduled and by the time I left maternity leave, I could have easily brought here in here, known her nap schedule, she was so chill and easy. It would have been a really great advantage to me," she said.
Certain employees will not be eligible by the nature of their duties – those who work in a lab testing for tuberculosis, or public health workers who spend their days monitoring nursing homes, for example.
(Courtesy of Molly Lamb)
Lamb, a happily married mother of three (Jindy is 3 and Jemma is 7) who is pursuing her doctorate, lives in a bedroom community just outside of Springfield. "It never gets easier" to go back to work after having a baby, she said.
But two days in, she says the Infant at Work program has made her life as a working mom easier. She doesn't have to take time to clean bottles, to pump during the work day, to rush home from the office to feed Jhett – she nurses him at work. And though he can only go to work with her for a handful of more weeks, it helps some to assuage "that continual guilt of not being with my children."
"Being able to spend the extra time with Jhett is really meaningful, as I try to juggle everything as a professional," Lamb said.
Lamb already knows of other employees who are expecting, and as their supervisor, she will work with them so they can bring their infants to the office.
There are no current plans to extend the program to other state agencies, or to outside of state government.
Gov. Bruce Rauner's Central Management Services gave legal approval and first lady Diana Rauner, who is president of the early childhood organization Ounce of Prevention, is enthusiastic, Little said.
IDPH will collect data throughout the two-year pilot to measure its effectiveness and potential savings.
Follow Amanda Vinicky on Twitter: @AmandaVinicky
---
Related stories:
Women-Only Coworking Spaces Get Red-Carpet Welcome in Chicago
ERA Battle Moves to House, Supporters on Brink of Victory
'Don't Panic': Chicago Officials Hope to Save Lives With Safe Haven Law
---