An analysis published Wednesday by the nonpartisan Civic Federation says Gov. Bruce Rauner's proposed budget is balanced – on paper anyway – but only precariously so.
It's an easier task, Civic Federation President Laurence Msall notes, given that Rauner has an extra $5 billion to spend because of the income tax increase approved last summer over the Republican's veto.
Even with that additional revenue, Msall said his organization is "concerned, though, that the governor's plan to spend that $38 billion is reliant on some very aggressive assumptions."
The Civic Federation estimates there's $1.8 billion in Rauner's plan that would throw it out of balance should it not pan out, including shifting the cost of pensions from the state and to local school districts, community colleges and public universities – a concept the Civic Federation backs in some fashion, but which the General Assembly has shown no appetite for approving.
Rauner also banks on the state selling the Thompson Center, for the third year in a row.
While legislators may go along with it, Msall says Illinois shouldn't bank on it, or count on $240 million in revenue from a coming to state coffers within fiscal year 2019.
"Governor Rauner laid out his budget proposal in February. As this report notes, thanks to a number of reforms and spending reductions, it is balanced with a surplus. These are our administration's ideas, but we are open to suggestions from the legislature to provide better value for taxpayers," Rauner spokeswoman Rachel Bold said.
The campaign of his general election rival, Democratic nominee for governor J.B. Pritzker, had a decidedly different take.
"It seems the Civic Federation agrees that this is more of the same from a failed governor who would rather spew lies about presenting a balanced budget than actually do the work to put one together," spokeswoman Jordan Abudayyeh said.
It's not uncommon for an end budget deal to deviate, sometimes in great measure, from a governor's ideas.
No matter how much that's the case as Rauner and lawmakers stare down a May 31 deadline, the Civic Federation's report includes relevant information, stern warnings and potential prescriptions.
The biggest takeaway: Illinois' gravest threat is a renewal of the political stalemate that vexed Springfield the past couple of years.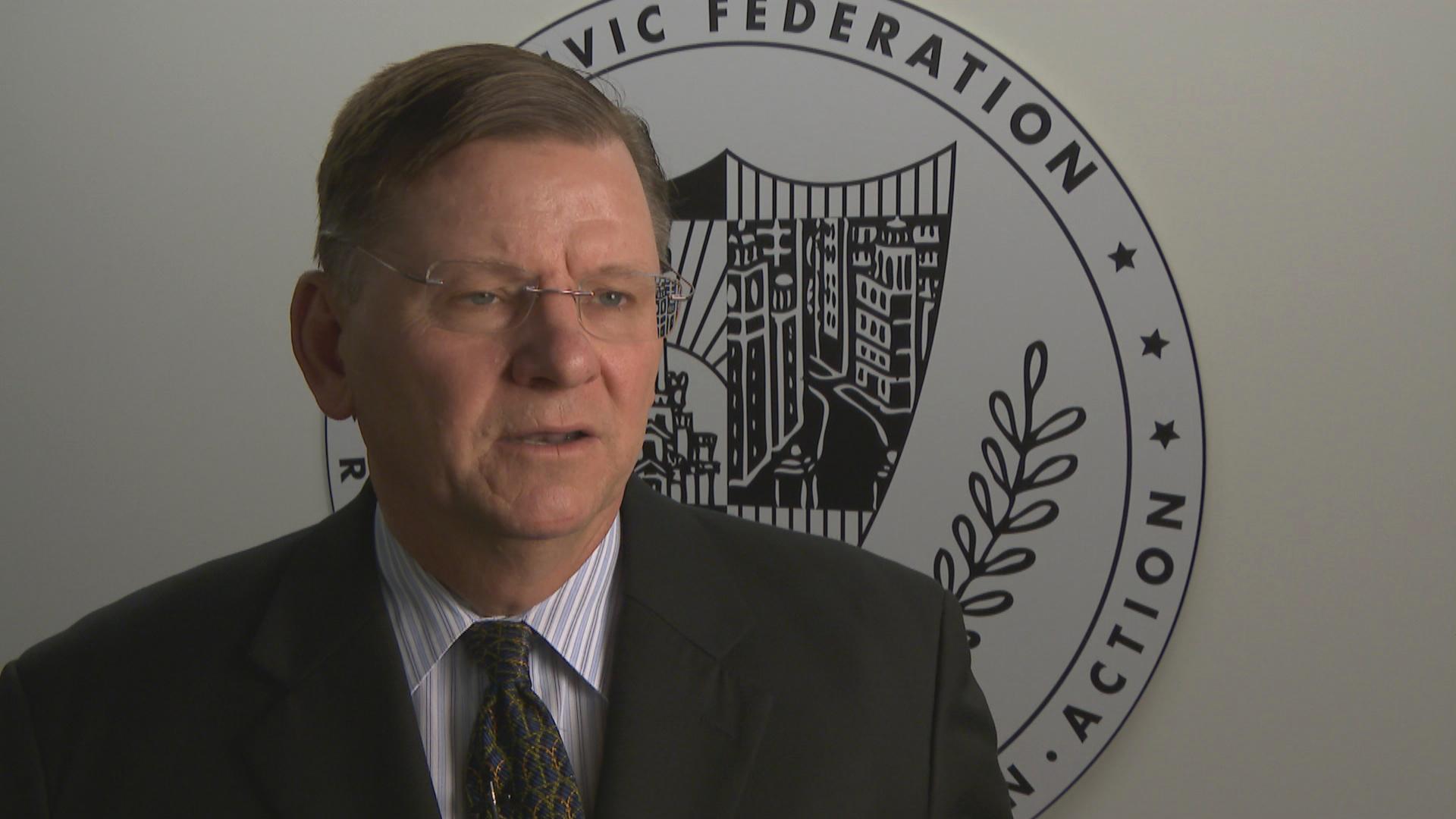 "The worst thing is not pass a budget this session because we know it's going to cost far more than just the imbalance and the unpleasantness of not being able to pay your employees, not being able to provide your services. It costs a lot more," Msall said.
The threat is real, as demonstrated by elected officials' capacity to ignore a crumbling social service and higher education infrastructure, credit rating downgrades and mounting debt, their brinkmanship leading Illinois to fiscal freefall for two years.
"There is a risk when it's a political organization like the state of Illinois which has in the past ignored the warning signs that 49 other states follow," Msall said.
On the opposite side of that equation, Msall said, "what makes me think that the General Assembly and the governor will come together with a budget is because they now have two years' experience of seeing just how expensive it was not having a budget."
The report offers a road map for how Illinois could get on a sustainable course.
On the spending side, the Civic Federation calls for holding the reins on spending, for consolidating units of local government and for merging all locally managed police and fire pension funds into a single system.
The Civic Federation also wants a constitutional amendment that would give Illinois freedom to reduce future public pension benefits.
A strict constitutional provision forbids that now, so on the revenue side the Civic Federation recommends going at it from the opposite side – by taxing retirement income.
"Leaving $2.5 billion on the table because we used to, because we historically tried to not tax our retirees, doesn't make any more sense," Msall said. "People are not staying in Illinois because their retirement income is not taxed. People are moving to surrounding states like Indiana and Wisconsin that taxes retirement income."
Also on the revenue side, the Civic Federation calls for adding a sales tax to services which, unlike goods, don't carry any state sales tax now.
Pritkzer and Rauner each say they oppose either tax, and there's no chance of either becoming part of the deal lawmakers are currently trying to negotiate.
Follow Amanda Vinicky on Twitter: @AmandaVinicky
---
Related stories:
Will This Be the Year Illinois Passes a Budget on Time?
Illinois' Budget Impasse Leads to 'Out of Control' Interest Payments
Rauner Re-election Budget Plan Puts Burden on Local Governments
---