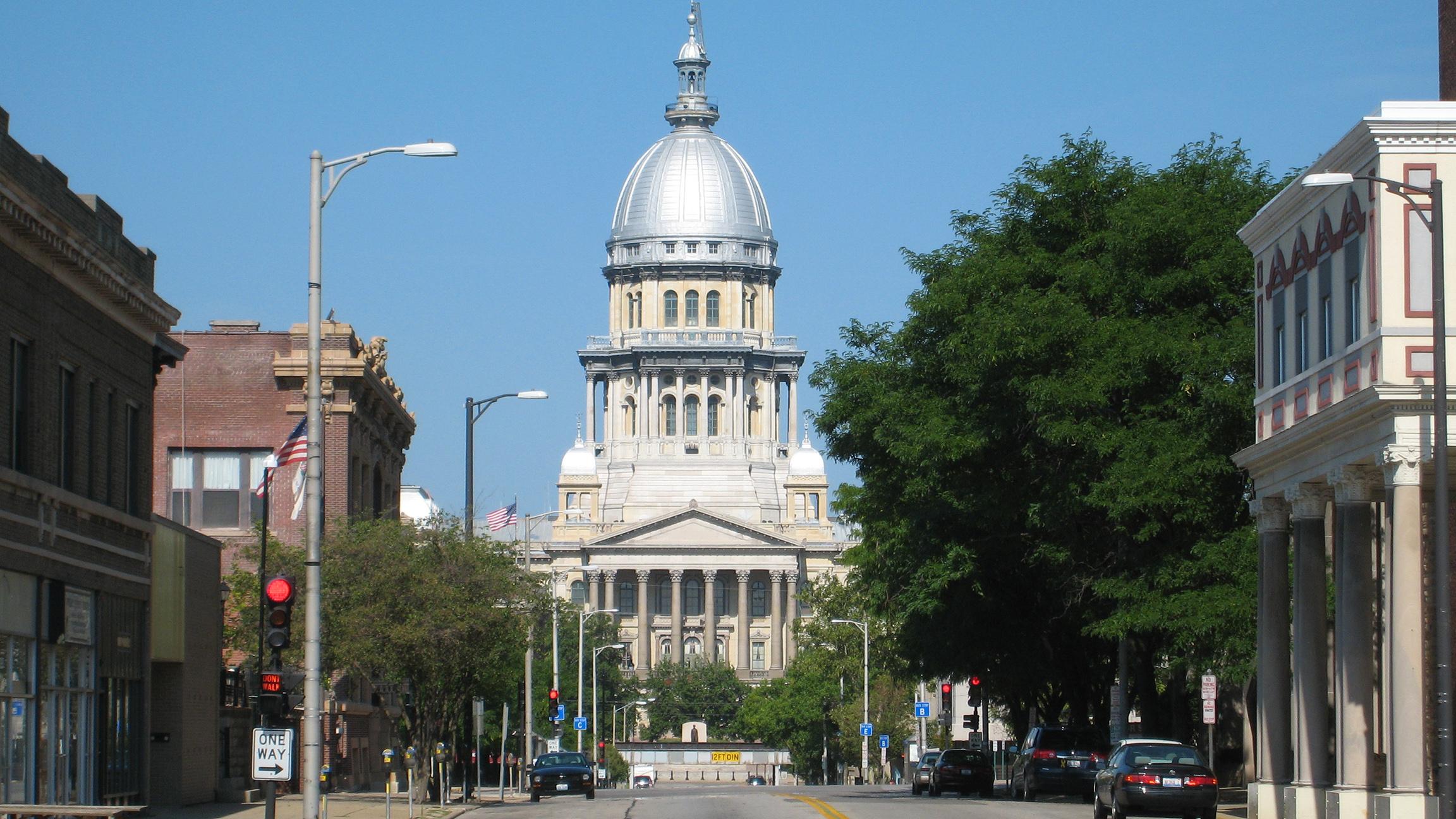 (Éovart Caçeir at English Wikipedia)
Illinois' top lawmakers and Gov. Bruce Rauner met privately in Springfield on Tuesday in an attempt to do something they've thus far been unable to accomplish since Rauner took office in 2016 – brokering a full year's budget deal.
The General Assembly has until May 31 to pass one. Leaders from both parties say they aim to get it done.
"We agree on having a balanced budget, we agree on getting out of here and nobody wants to go over the summer without a budget," said Senate President John Cullerton, a Democrat.
While Rauner frequently says in public that he'll insist the plan include no new taxes, Cullerton says "nobody's talking about that. We did that last year."
Illinois' record two-year partisan standoff ended last July when roughly a dozen Republicans joined with Democrats to increase the state's income tax to 4.95 percent.
That's reaping state government about $5 billion dollars in additional revenue that should make reaching a deal easier.
"Last year was much more chaotic, right. We were $6 billion apart," Cullerton said. "Now we're much closer this year … because we have more revenue."
Even so, reliance on one-time revenues last year means lawmakers have some $2.7 billion less to work with.
That may be at the heart of an indeterminate "gap" (Cullerton declined to share its size) that the leaders must collectively close in order to reach a deal. "We have a general understanding, I think, about how much money we have coming in and there's some variables in terms of – we have a general idea of I think how much we need to spend. There's just a gap that has to be closed and there's a number of different topics that we discussed that would allow us to do that," he said.
He says options include determining how much savings the state can count on from "pension reform," borrowing from internal state funds so that it can be directed toward the general fund for other uses and the sale of the James R. Thompson Center, state government's Chicago headquarters, which Rauner advocates selling.
"Selling the Thompson Center could bring in $200 or $300 (million) so there's a number you're never going to tie down. That's another consideration of closing this gap. There's a number of different things that we would consider to close the gap," Cullerton said.
While Cullerton classified the meeting as "good" and leading to progress, and Senate Republican leader Bill Brady described it as "fruitful" – "there will be cooperation," he said, "we're all more anxious than we want to be, no one more than the governor, to solve this, and protect the taxpayers of the state" – Rauner expressed disappointment that things were moving too slowly.
"I would like to see it move more expeditiously," Rauner said after the meeting.
Rauner and the Republican leaders say Democrats are at fault for refusing to certify a revenue estimate. Pinning down a figure for how much Illinois can spend, they say, is a precursor to a reaching, and managing, a balanced budget.
"We don't even have agreement on a revenue number … That's how you really start. How do you know what to set appropriations to if you don't know what the revenue is so you can match it? We want to match spending and revenues. That's a novel concept in the General Assembly," Rauner said. "When they won't agree on a number, of even propose a specific number, you don't really know" how far off they two sides are on a number.
"By having some type of an agreement of what revenue we're going to have not only saves taxpayers money but it saves Democrats from themselves," House GOP leader Jim Durkin said. 
The nonpartisan Commission on Government Forecasting and Accountability forecasts that Illinois will have $37.87 billion to work with in fiscal year 2019, compared to an estimated $40.6 billion for the current fiscal year.
Cullerton says the focus on a revenue estimate is just a political fuss.
"I wouldn't be hung up on that. That gets into somewhat of a gotcha game and a political fight," he said. "That's not what's holding us up."
It's one of many ways November's upcoming elections are constantly simmering under any budget talks.
House Speaker Michael Madigan did not speak with the media following the meeting in Rauner's capitol office suite.
Though the Rauner administration has said it needs more money – and quickly, particularly to avoid problems within the Department of Corrections – to finish out this fiscal year, Cullerton says the leaders did not discuss supplemental appropriations.
Additional talks about so-called "budgeteers" (rank-and-file legislators doing the nitty-gritty budgeting) are continuing.
Follow Amanda Vinicky on Twitter: @AmandaVinicky
---
Related stories:
Illinois Lawmakers Contemplate a Graduated Income Tax
Illinois' Budget Impasse Leads to 'Out of Control' Interest Payments
Rauner Re-election Budget Plan Puts Burden on Local Governments
Michael Madigan Wins 6th Term as Head of Illinois' Democratic Party
---