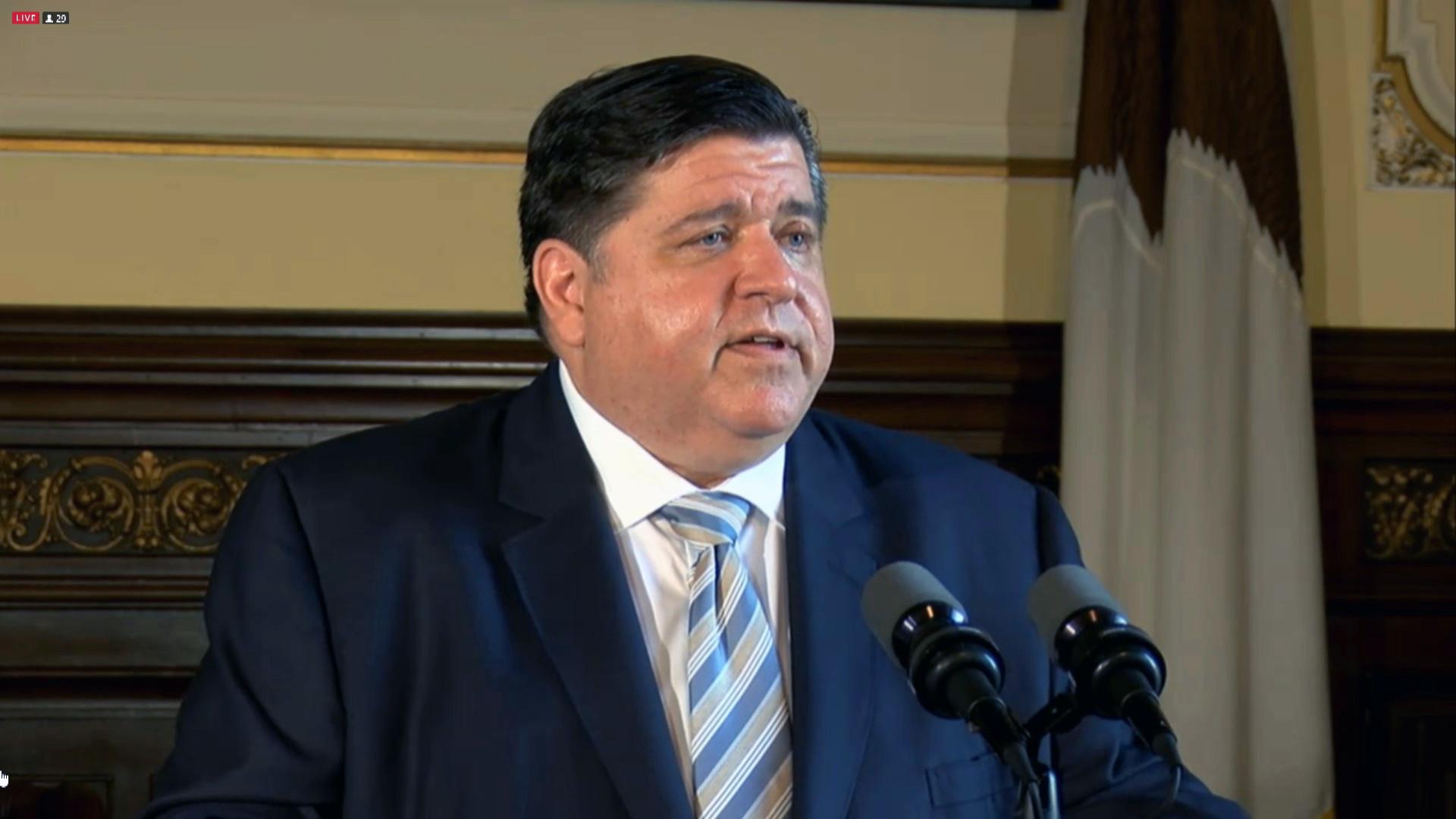 Gov. J.B. Pritzker comments on the state's bond rating upgrade from Moody's Investors Service on Tuesday, June 29, 2021. (WTTW News via Governor's Office)
Illinois broke a 23-year streak on Tuesday, when credit ratings agency Moody's upgraded the state's bond rating for the first time since 1998 – the same year the Chicago Bulls won their last championship.
Gov. J.B. Pritzker called the change a "major milestone."
"I say with full certainty, Illinois' fiscal situation is heading in the right direction for the first time in the 21st century," the Democrat said.
The announcement comes before Illinois' 2022 fiscal year begins on Thursday.
Democrats late last month approved a $43 billion budget for fiscal 2022 over Republicans who complained they didn't have time to review the spending plan.
In its analysis, Moody's cited Illinois' restraint in using federal COVID-19 relief money, which is intended to stretch over years.
Moody's also commended the state for paying back a COVID-19 emergency loan from the Federal Reserve and dedicating $9.8 billion toward pensions as required by state statute.
Illinois has skipped pension payments in the past, leaving the state with an immense long-term unfunded liability exceeding $140 billion.
A law passed in 1995 aims to pay that down by 2045, but the escalating ramp of pension payments has tempted governors — including Pritzker at one time, though he did not go through with it — to skip the full payment in order to free up money for other needs.
Moody's warns that Illinois' progress could be thwarted should the state attempt to scrimp on pensions in the future.
"Illinois still faces longer-term challenges from unusually large unfunded pension liabilities, which are routinely shortchanged under the state's funding statute. These liabilities could exert growing pressure as the impact of federal support dissipates, barring significant revenue increases or other fiscal changes," the ratings upgrade analysis reads.
Illinois' credit rating also suffered from the two-year budget impasse brought on in 2015 as Republican Gov. Bruce Rauner feuded with the Democratic-dominated General Assembly.
Pritzker on Tuesday noted that Illinois saw eight credit downgrades under his predecessor.
Senate President Don Harmon's statement likewise seemed aimed at Rauner.
"Stability and responsibility produce results. You don't need to ruin people's lives to have sound fiscal policies and positive outcomes," Harmon said.
The state's general obligation rating — now Baa2, up from Baa3 — is still relatively low, but moving up a notch means Illinois should save money when it goes to the bond market; Pritzker estimated those savings will be worth tens of millions of dollars.
The upgrade will also give Pritzker something to boast about as he's expected to soon begin campaigning for another term. Pritzker has thus far evaded saying whether he'll run again, but with the June 28, 2022 primary now a year away, decision time should come soon.
The two other major credit ratings houses, Fitch and S&P, recently moved Illinois' credit outlook from negative to positive, another sign that national fiscal watchdogs are not disappointed, though perhaps not outright pleased, with Illinois' recent budgetary decisions.
Follow Amanda Vinicky on Twitter: @AmandaVinicky
---