The financially beleaguered south suburban town of Harvey shorted its police and fire pensions for years. As a result, the Illinois comptroller is holding up more than $1 million in state money the town is owed, thanks to a state law that just took effect.
But is Harvey just the first shoe to drop in a state full of municipalities with underwater pensions?
Under the law, the state can withhold tax money a town is slated to receive if the town doesn't pay the required amount into its police and firefighter pensions. The funds withheld go right into the pension fund instead of town services.
In Harvey, that's about $1.4 million because the town shorted its funds for years. It has now announced it will lay off nearly half of its police and fire department. Harvey's Mayor Eric Kellogg declined to speak with us, but town attorney Bob Fioretti says residents shouldn't fear the worst.
"We are going to find some solution, if possible," Fioretti said, signaling that the town was still negotiating with its police and fire pension funds. "If not, the layoffs will occur. But the safety of the population is key, and that will continue."
The pension law at issue was passed in 2010 as a way to make sure towns stopped shorting their pension funds. A judge affirmed on Monday that the Illinois comptroller was within the law to withhold the revenue.
"The Comptroller's Office does not want to see any Harvey employees harmed or any Harvey residents put at risk, but the law does not give the Comptroller discretion in this case," said Comptroller spokesperson Abdon Pallasch. "The Comptroller's Office is obligated to follow the law. This dispute is between the retired Harvey police officers' pension fund and the city of Harvey."
This could just be the first shoe to drop.
The city of North Chicago is being penalized as well. And according to an analysis by Amanda Kass, a researcher at the University of Chicago, there are 74 police or fire pension funds in towns across the state that are as similarly underfunded as Harvey (you can download that list of funds here). In the Chicago area, they include Burbank, Evergreen Park, Maywood, Melrose Park and Niles – to name a few. The Civic Federation's Laurence Msall says these towns could go the same route.
"If they ignore the law and don't make the contribution as Harvey has, then yes, those municipalities all around the state have ability to seek an intercept of state revenues that would otherwise come to the municipality," Msall said.
The complicating factor for Harvey is that it has had years of decline and corruption in government. Also, property taxes are very high and there is almost nowhere to go for revenue.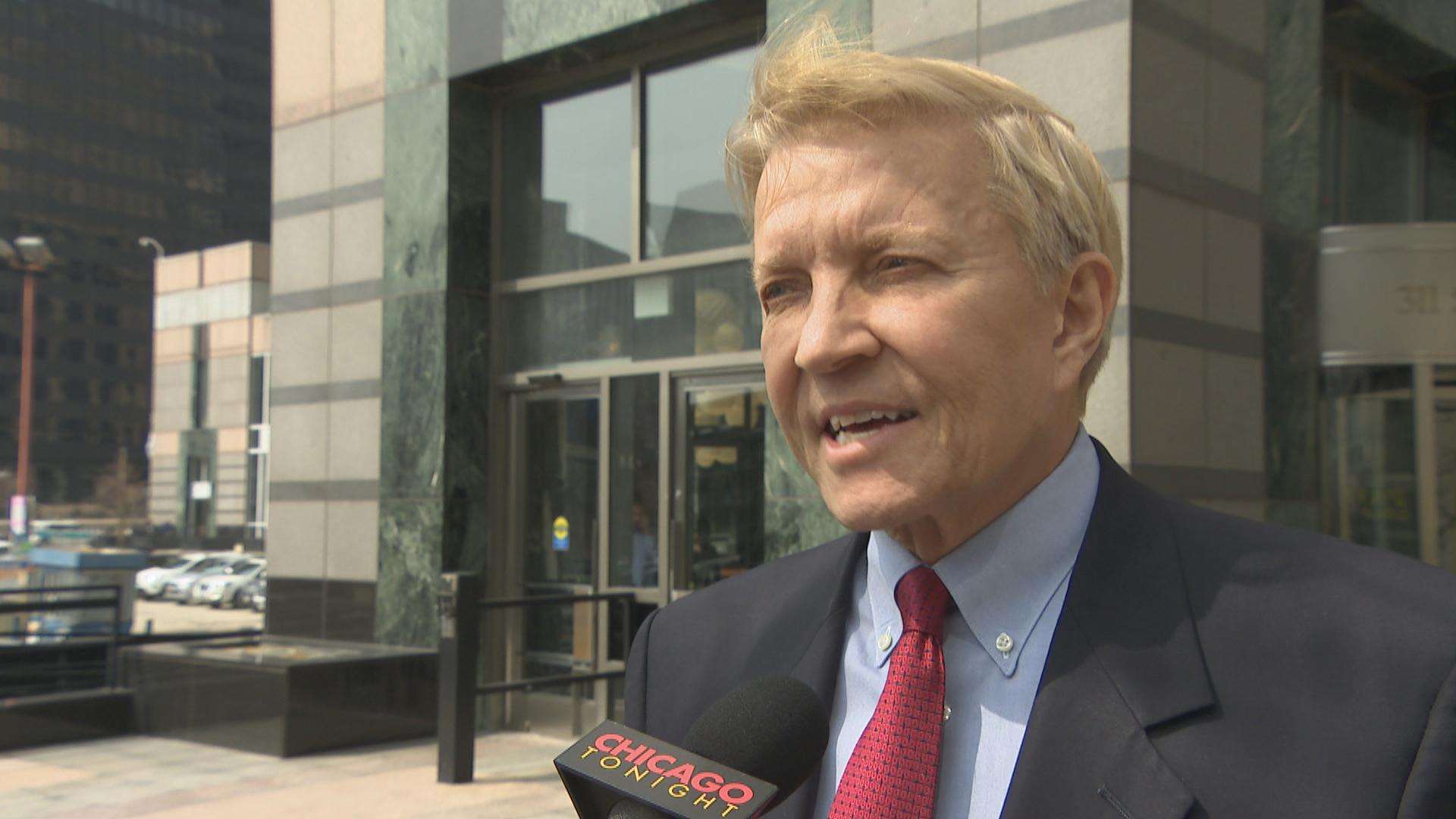 Attorney Bob Fioretti represents the city of Harvey.
"We have an aging population, a declining population, a fixed-income population, and our revenues aren't even being collected from the real estate taxes. We're below 50 percent for the year on those collections," Fioretti said, noting that the delinquent real estate tax money is costing the town $12 million this year.
To further complicate things, Kellogg has been investigated by the U.S. Securities and Exchange Commission for financial improprieties and as a result, the town cannot even tap the municipal bond market to borrow money.
Msall says the state helped create the mess by setting up the pension funds and setting all of the pension levels. It must either dissolve Harvey's pension into the state fund, or put together an emergency financial team to sort through the wreckage of this and other distressed towns.
"Let's create a board that could be independent with real financial expertise to guide these local governments, not to push them into bankruptcy," Msall said. "The best path forward for Harvey is independent oversight that could sort out why they're not making their financial reports on a regular basis."
Chicago, even though it shorted many of its pensions for years, is not headed toward a similar fate. It had state law changed to allow for pension holidays. Harvey and other towns didn't. Pension fund managers have to appeal to the comptroller's office to have a municipality's tax money intercepted.
Follow Paris Schutz on Twitter: @paschutz
---
Related stories:
Chicago Park District Pension Deal Struck Down. Now What?
Comptroller Mendoza: State's Bill Backlog Now $8.4 Billion
$107 Billion Borrowing Plan Could Save State Pensions
List of Top 200 Pension Earners Shows Potential for Big Payouts
---