Have you ever wondered what Sue, the Field Museum's T. rex, would look like with some meat on her bones? Now you can find out just steps outside the museum's doors in the new "Jurassic World" exhibition.
Inside a 16,000-square-foot tent on the Field's north lawn, dinosaur devotees can gaze up at a towering brachiosaur, get face-to-snout with a stalking velociraptor, and yes, encounter a raging T. rex, who is (perhaps unsurprisingly) Field Museum President Richard LaRiviere's favorite. "Oh, there's no question, the T. rex is the scariest, the most dominant, the most dangerous, and they do a wonderful job of conveying those aspects of those remarkable animals."
Presented in partnership with the Field Museum, the "Jurassic World" exhibit aims to be an immersive experience that brings the 2015 movie and its gigantic reptilian stars to life. Visitors explore Isla Nublar, the island that is the site of the fictional dinosaur park "Jurassic World," through a series of jungle environments featuring lifelike animatronic dinos from the placid to the petrifying. Also on the tour: a training paddock similar to the one in the movie where actor Chris Pratt's character famously soothes snarling raptors.
Universal Brand Development Director of Worldwide Entertainment Alexis Scalice says that while it's definitely a thrilling good time, the partnership with the Field Museum gives visitors more to explore. "We are finding it inspires families and kids [to] want to go and learn about paleontology as well, and the Field, we're so lucky to be here, it's one of the most world-renowned centers for their dinosaur fossils was a huge piece for us, to be able to do that, so we're excited to see that after the exhibit, they want to meet Sue."
That's just what the Field Museum is betting on. LaRiviere says, "We discussed with our scientists about how they became interested in paleontology, and in many instances it was through fiction, through stories, novels, or movies, and so we're hoping that 'Jurassic World' will introduce people to the fantasy of what our fossils might have looked like, and come to understand the value of these collections all the more."
Even though the "Jurassic World" exhibit is entertainment first, its producers say getting the science as accurate as possible was crucial to making it feel real to dinosaur fans, says Scalice. "From a paleontology perspective, they've done a lot of studies to make sure it has that true real experience with them, so there's a number of different interactive animatronics to really give that excitement, but also just the roar and the life that comes with them. They get an idea of what it was like to walk next to a dinosaur."
LaRiviere thinks they did a pretty good job of it. "The color, exact texture, the skin, is really, it's scientific guess, but at the end of the day it's fantasy. What we really do know a great deal about from the fossils is the structure of these bodies and probably how they move, and this is a fair representation of the best scientific estimates of what we know these animals."
Chicago is the show's second stop in the United States after a 2016 stay in Philadelphia and a debut earlier the same year at the Melbourne Museum in Australia. The Field's LaRiviere says they're excited to welcome the new neighbors, even if they're a little loud. "For me, the great thrill every day is walking through the Field Museum and watching the people astonished by our science. And this exhibit embodies that beautifully, because you get to watch the surprise, sometimes fear, little bit of panic in the young ones sometimes, it's really fun."
"Jurassic World: The Exhibition" is on view at the Field Museum through Jan. 7, 2018. Add-on tickets to a Field Museum visit are $15 for adults and $10 for children during regular museum hours. The exhibit will also be open for evening visits from 5-9 p.m.; stand-alone tickets are $25 for adults, $20 for children.
---
Related stories: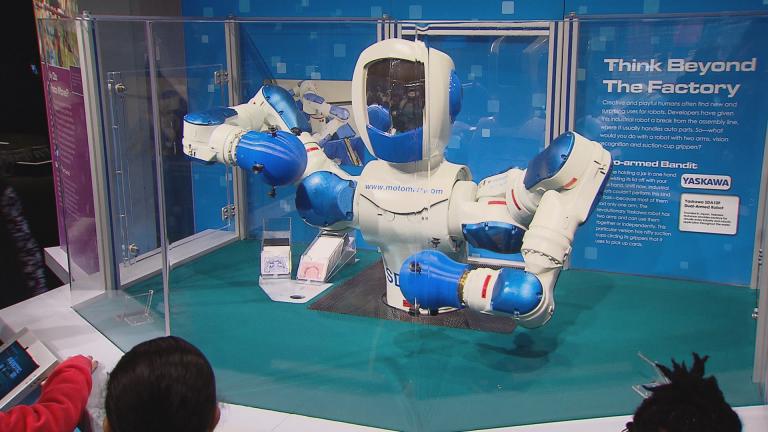 'Robot Revolution' Returns to Chicago
May 15: They can play blackjack, dance and climb walls. The Museum of Science and Industry brings back its interactive exhibition – with a few new additions.
---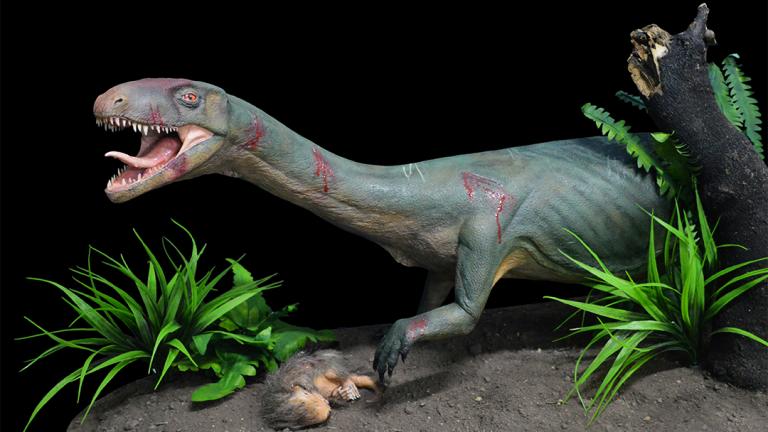 Scientists Discover Early Dinosaur 'Cousin' with Surprising Features
April 13: A Field Museum researcher is among a global group of scientists who have discovered an early dinosaur that reshapes our understanding of dinosaurs' evolution.
---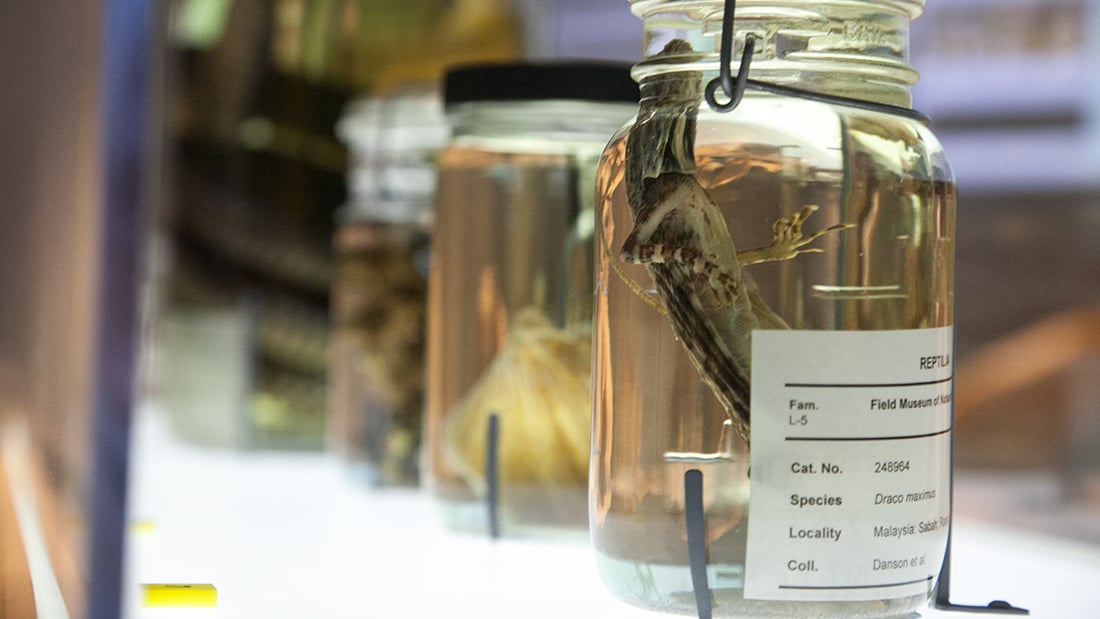 Field Museum Offers Behind-the-Scenes Look at 'Encyclopedic' Collections
March 28: More than 30 million objects are stored behind the scenes at the Field Museum. A new exhibition addresses how scientists from all over the world are using the vast collections to make new discoveries.
---