Gov. Bruce Rauner has thus far been able to avoid taking a firm stance on abortion legislation, but his time for wavering is coming to an end.
Democrats released a procedural hold on the measure, giving Rauner the next 60 days – until late November – to act a bill that would expand taxpayer-funded abortions in Illinois.
"I'm gonna keep doing what I've been doing and that is listening to advocates all across the state of Illinois and also meeting with legislators about it," Rauner said following an unrelated appearance at a Chicago charter school on Monday. "And then we'll be deciding where to go from there."
Rauner said that he will make a decision in the "near future" but would not elaborate further about a timeline for action.
"These are complex issues, they're very heartfelt, very strong, strong views on all sides and I want to make sure that I respect everyone in the process and listen to their points of view," the Republican governor said.
House Bill 40 would authorize state funding of abortions for Medicaid recipients and for state employees under their government insurance plans. 
Republican legislators say that Rauner personally told them he would veto it, according to insiders and widespread rumors he's changed his mind; that's why Democratic Sen. Don Harmon of Oak Park is releasing his procedural hold, known as a "motion to reconsider," on the legislation.
"The work of constituents and advocates who have urged the governor to sign this legislation appears to be having some effect, as the governor recently backed away from his promise to veto it," Harmon wrote in a press release early Monday. "I believe Gov. Rauner understands that he has made a commitment to support women's reproductive rights, and I look forward to him signing this bill as it passed the General Assembly."
The legislation passed the House in April by a vote of 62-55, and cleared the Senate in May on a vote of 33- 22 – neither of those majorities meet the three-fifths support that would be needed to override a gubernatorial veto.
The legislation also removes "trigger" language from a state law passed in 1975 that supporters of abortion rights say would make the procedure illegal in Illinois should the U.S. Supreme Court reverse the Roe v. Wade ruling. They say it's necessary in the era of President Donald Trump.  Critics say the 1975 language poses no real threat to the legality of abortions in Illinois, and claims to that effect are a hoax, a scare tactic designed to put Rauner in a corner.
Rauner has waded carefully in the tumultuous waters of Illinois politics when it comes to social issues, saying as a candidate in 2014 that he had no social agenda.
His wife, Diana Rauner, helped to pay for a full-page Personal Choice for Illinois newspaper ad that October – an "open letter from supporters of reproductive rights" addressed to "Supporters of Reproductive Rights" celebrating that "both candidates for Illinois Governor (Rauner and then Democratic Gov. Pat Quinn) are pro-choice."
After House Bill 40 gained attention this year, Personal PAC released a candidate survey from 2014 in which Rauner checked "yes" questions asking if he would sign legislation "restoring abortion coverage under the state Medicaid plan" and "to restore state employees' health insurance coverage for abortion."
"I fundamentally believe that abortion should be a woman's private decision, hopefully in consultation with her loved ones and her faith community, and that this decision should not be impeded by government," he wrote. "This principle should apply to all women, regardless of income level or location of residency."
He continued: "I dislike the Illinois law that restricts abortion under the state Medicaid plan and state employees' health insurance because I believe it unfairly restricts access based on income. I would support a legislative effort to reverse that law."
However, Rauner's administration signaled this spring that he would veto House Bill 40, calling the issue "divisive" and a "distraction" at a time that Illinois needed to focus on issues like a budget, jobs, property taxes and term limits.
"I have always been and will always be a strong supporter and protector of women's reproductive rights," Rauner said on April 21. "We in Illinois have good existing law."
His spokeswoman wrote in a statement around that time that "recognizing the sharp divisions of opinion of taxpayer funding of abortion, (Rauner) does not support HB40."
With this measure, Democrats have forced Rauner into a no-win situation politically: No matter what the first-term Republican does, he stands to anger and break a promise to a voter block – either moderates and advocates of choice, or anti-choice and conservative voters – whose support he may need as he campaigns for re-election.
"This is a disturbing pattern with Bruce Rauner: he says one thing and does another thing. This is a very disturbing pattern of Bruce Rauner being a politician," said Rep. David McSweeney, R-Barrington Hills, noting that conservatives are already frustrated with Rauner for signing a law they decry as making Illinois a "sanctuary state" because it says that law enforcement cannot detain someone based solely on his or her immigration status, as well as a new education funding law that sends more money to Chicago Public Schools.
"A lot of conservatives are very upset," McSweeney said. "People are very, very focused on the fact that Bruce Rauner needs to keep his word."
The national advocacy organization CatholicVote.org said that if Rauner supports the "reckless" bill it will "doom" and "sink his re-election," and will burden the Illinois budget by spending "scarce state resources" on abortions.
"If Governor Rauner signs the bill as written, we will urge our members along with every pro-life voter in the state to support an alternative candidate — or to abstain from voting for his re-election. And we won't be the only group doing so," CatholicVote president Brian Burch said in a statement. "Governor Rauner pledged to remain neutral on social issues. He repeatedly said he does not have a social agenda yet is already defending himself in a lawsuit for breaking this promise. If Bruce Rauner signs his name to this abortion spending bill, he cannot be trusted with another term as Governor."
In recent weeks, Rauner has signaled that he's backing away from that position (reportedly under pressure from the first lady).
Illinois governors have a mechanism up their suit sleeves unavailable to most other state's chief executives: That of the amendatory veto. Rauner can use that power to nix or rewrite portions of the bill as passed by the General Assembly, and leave other elements of it intact. He could, for example, delete the "trigger law" language but leave in place adding abortion to Medicaid coverage.
Rauner declined to respond Monday when a reporter asked if that's his intent with House Bill 40, repeating only that he's listening and learning to advocates on both sides. Rauner likewise didn't directly answer a question as to whether his own position or views on abortion have changed. 
Follow Amanda Vinicky on Twitter: @AmandaVinicky
---
Related stories: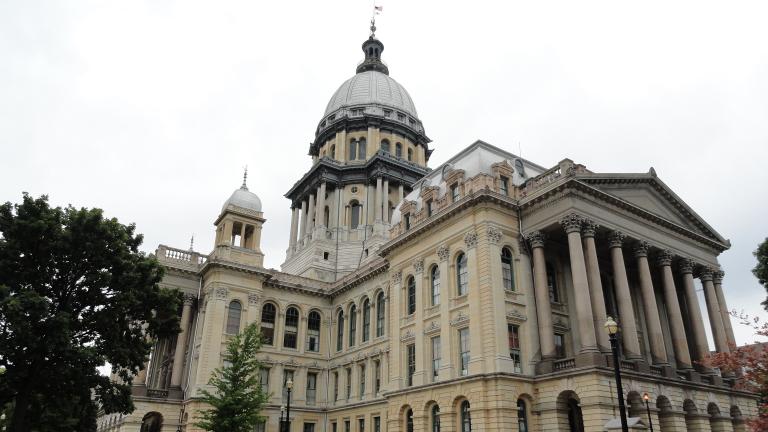 Illinois Senate Passes Bill to Expand Taxpayer-Funded Abortions
May 10: In passing House Bill 40, Illinois senators tossed a political hot potato into Gov. Bruce Rauner's lap ahead of the 2018 gubernatorial campaign.
---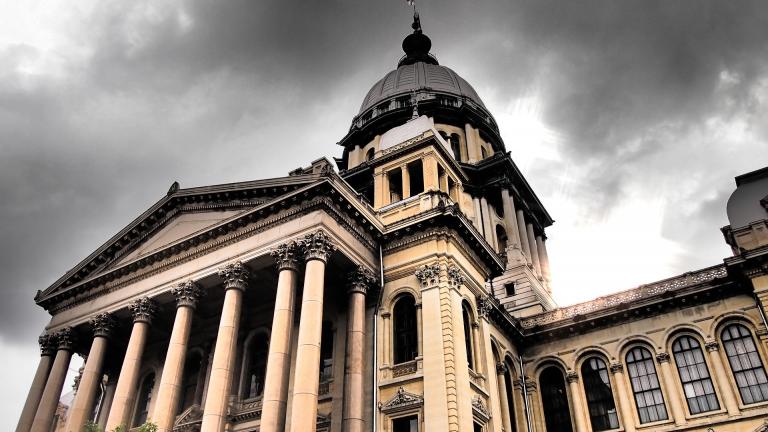 House Passes 'Abortion Bill,' Puts Governor in Political Pickle
April 25: After two hours of debate this afternoon, the Illinois House passed a measure that paves the way for more taxpayer-funded abortions. The legislation allows for Medicaid recipients to use that government health insurance to cover an abortion. Likewise, for state employees.
---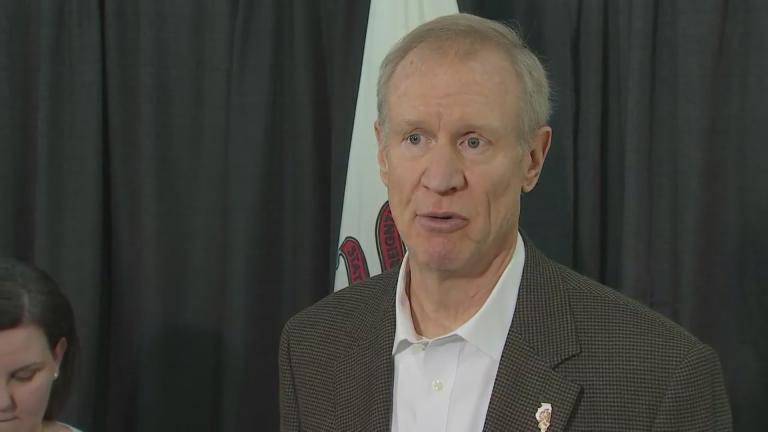 Rauner Says About-Face on Abortion Due to 'Focus'
April 21: Gov. Bruce Rauner is casting his promise to veto legislation that's become known as the "abortion bill" as a matter of timing rather than philosophy.
---