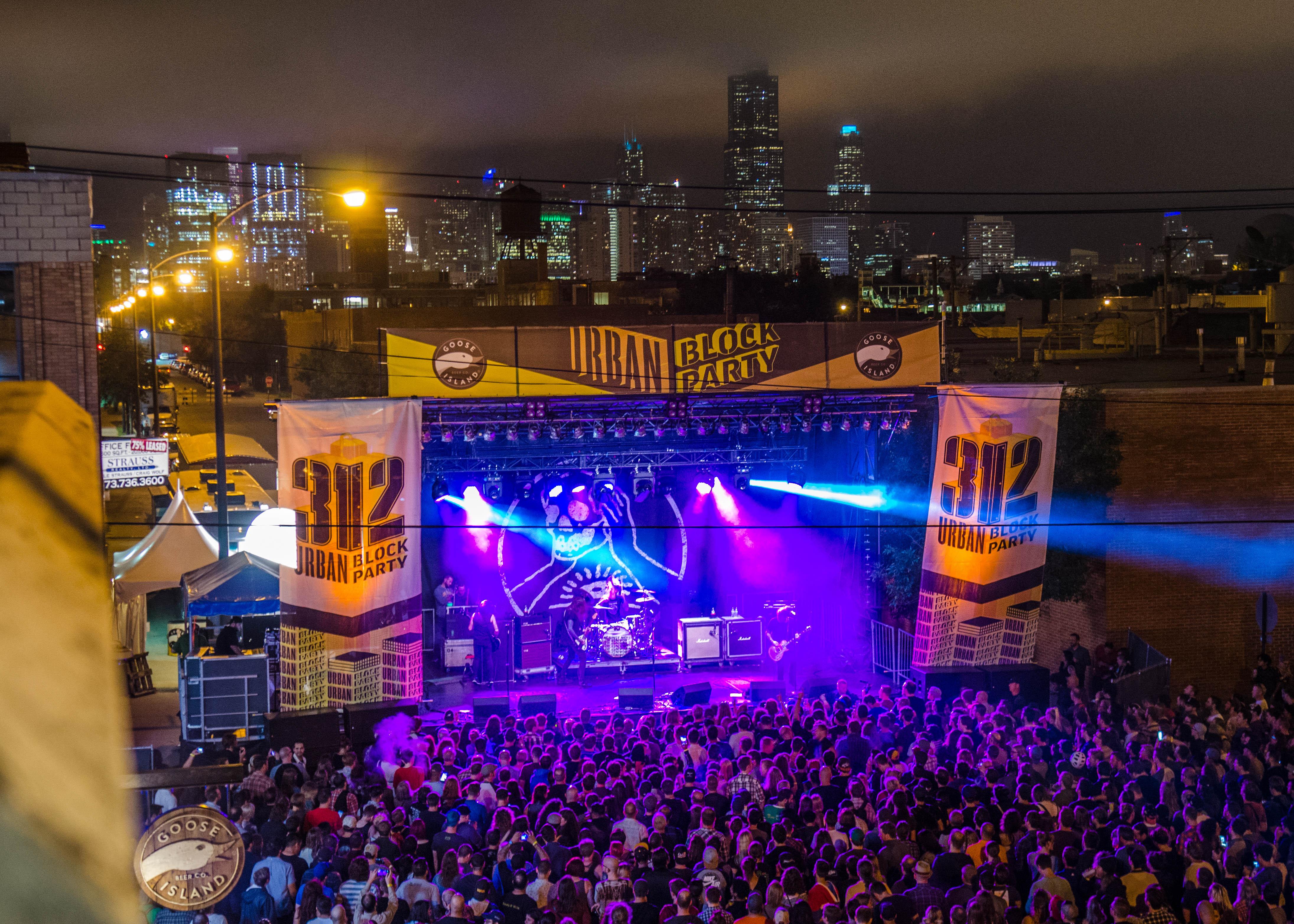 (Courtesy of Goose Island Beer Co.)
1. Toast
Goose Island Beer Co. marks the end of summer with its annual 312 Block Party, a suds-and-music bash that features $3 pours (they vary in size) of its flagship brew in addition to Old Man Grumpy, Oktoberfest and Bourbon County Brand Stout. Live music highlights: The Record Company, Ted Leo and the Pharmacists, Filthy Friends (Friday); Animal Collective, Joey Purp, DJ Prince Paul (Saturday). Food vendors include Girl and the Goat, Wow Bao and Beat Kitchen. And not to be overlooked: an honest-to-goodness, prêt-à-porter "jorts" station churns out custom cuts for charity.
Psst: There's another West Town beer bash this weekend. (See "Experience" below.)
Details: Gates open 5 p.m. Friday; 3 p.m. Saturday at 1800 W. Fulton St. $10 suggested donation. / MAP

2. Indulge
The upscale food fest Chicago Gourmet turns 10 this year, and you can bet your bubbly they're going to crank up the party. Among the highlights of a weeklong anniversary celebration are a Rick Bayless dinner on the 606 trail ($200) and a dance party at the Willis Tower Skydeck with Mindy Segal ($85). Find info on all of the satellite parties here.
As for the main event: Expect cooking demos from local talent, seminars and book signings in addition to the dozen gourmet tasting pavilions that run the flavor gamut from barbecue to Thai food to Mexican and beyond. Participating chefs include—in addition to Bayless and Segal—Graham Elliot, Stephanie Izard, Paul Kahan, Art Smith, Carrie Nahabedian, Tony Mantuano and Takashi Yagihashi.
The annual Grand Cru tasting ($205 in addition to main event ticket) takes place from 2-4 p.m. Saturday and Sunday. 
Main event: Noon-6 p.m. Saturday; noon-5 p.m. Sunday at Millennium Park, 201 E. Randolph St. $185. / MAP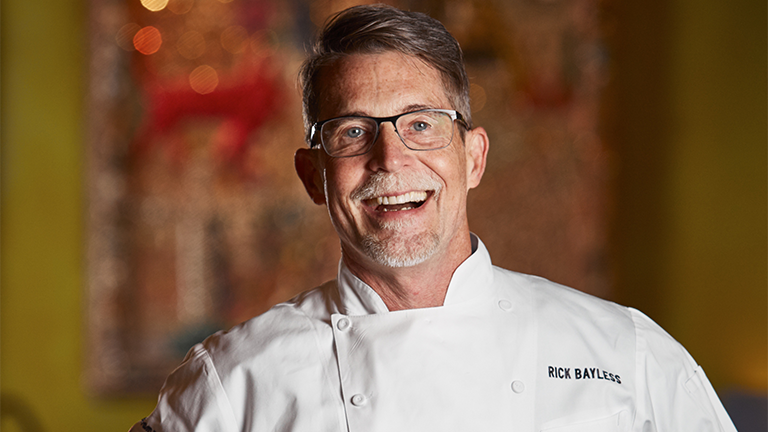 "Mexico: One Plate at a Time" host Rick Bayless joins in the Chicago Gourmet fun this weekend. (Galdones Photography)
3. Shop
More than 100 artists set up shop at the pet-friendly Edgewater Arts Festival, stocked with paintings, photography, handmade jewelry, ceramics, glass, fashion and more. Additional highlights: an eclectic live music lineup on three stages; a beer garden featuring Lagunitas and wine, plus food options from Mexican restaurant Mas Alla Del Sol and Cajun-inspired Fireside Restaurant and Lounge; kids activities and a music talent show; and jewelry workshops and art classes.
Details: 11 a.m.-6 p.m. Saturday-Sunday along Granville Avenue, from Broadway to Kenmore Avenue. $5 suggested donation. / MAP

4. Laugh
Hannibal Buress. T.J. Miller. Fred Armisen. Cameron Esposito. What else do these four comedians have in common? A shared history of making folks laugh at The Lincoln Lodge, billed as the nation's longest-running independent comedy showcase—with an impressive alumni club, to boot. Now in its 18th year, the show extends to two nights in 2017 and rocks a new Wrigleyville location. See local stand-up comedians plus a variety act and an awkward-funny "Man on the Street" segment.
Details: 8 p.m. Friday-Saturday at Under the Gun Theater, 956 W. Newport Ave. $10. / MAP
The Lincoln Lodge cast, clockwise from top left: Ricky Gonzalez, Alex Kumin, Kevin Lobkovich, Deanna Ortiz, Stephanie Weber, Kyle Scanlan, Sarah Sherman, Derek Smith.
5. Groove
Thirty-five free concerts comprise the two-day Hyde Park Jazz Festival, featuring local, national and international artists across 11 stages. Among Saturday's offerings: Ifficial Reggae Movement, Ari Brown Quartet, Dee Alexander, Ben Goldberg, Majestic Gents and The NuBlu Band and DJ Sadie Woods; on Sunday, see CALJE, Yes We Can: the Songs of New Orleans and more. Extras: an outdoor dance floor, food and drink vendors, picnic areas, artists and more.
Details: 1 p.m.-midnight Saturday; 2-7 p.m. Sunday at various locations in Hyde Park, including the Midway Plaisance at Ellis Avenue. All performances are free; a $5 donation is suggested. Some venues have limited seating. / MAP
A swig of Williamsburg cool comes to Chicago this weekend via The Brooklyn Brewery Mash's Beer Mansion, a traveling beer festival that organizers playfully describe as "a wind-in-your-hair, seat-of-your-pants, highwire-act of a beer bash." Making its penultimate stop in West Town, the global seven-city tour includes a souvenir tasting glass, unlimited pours of beers and cider from the host brewery in addition to local heros Solemn Oath, Marz Brewing, Hopewell and Whiner Beer; food vendors selected by foodie website Eater; games, tech and art; and performances by Deeper and Negative Scanner (Friday) and Connections and Peter Stringer-Hye (Saturday). 
Details: 6-10 p.m. Friday-Saturday at Morgan's on Fulton, 950 W. Fulton St. $50-$65. / MAP
7. Pluck
Take a bite out of fall at the 26th annual Apple Fest in historic Long Grove, where local vendors are stocked with treats both traditional and unusual, like apple popcorn, apple cider donuts, hot cider and apple fudge. Other festivities include live music on three stages, kids activities and games and daily apple pie-eating contests. Music headliners: Modern Day Romeos (Friday), Sixteen Candles (Saturday) and American English (Sunday).
Details: 11 a.m.-11 p.m. Friday; 10 a.m.-11 p.m. Saturday; 10 a.m.-6 p.m. Sunday at 308 Old McHenry Road, Long Grove. $5; free for kids ages 12 and under. Free parking in public lots. / MAP
8. Satisfy
Do you have a mysterious rock, fossil or bird photo you're curious to get more information about? Stop by ID Day at the Field Museum, where scientists are on hand for the fourth year to identify your interesting objects and answer questions about them. (Think of it as the science version of "Antiques Roadshow" – without the monetary appraisal.) Please, don't bring in anything that's alive or was recently, say organizers. And if you don't have your own object to show, stop by to see and touch various museum specimens.
Details: 10 a.m.-2 p.m. Saturday at the Field Museum, 1400 S. Lake Shore Drive. Free admission for Illinois residents. / MAP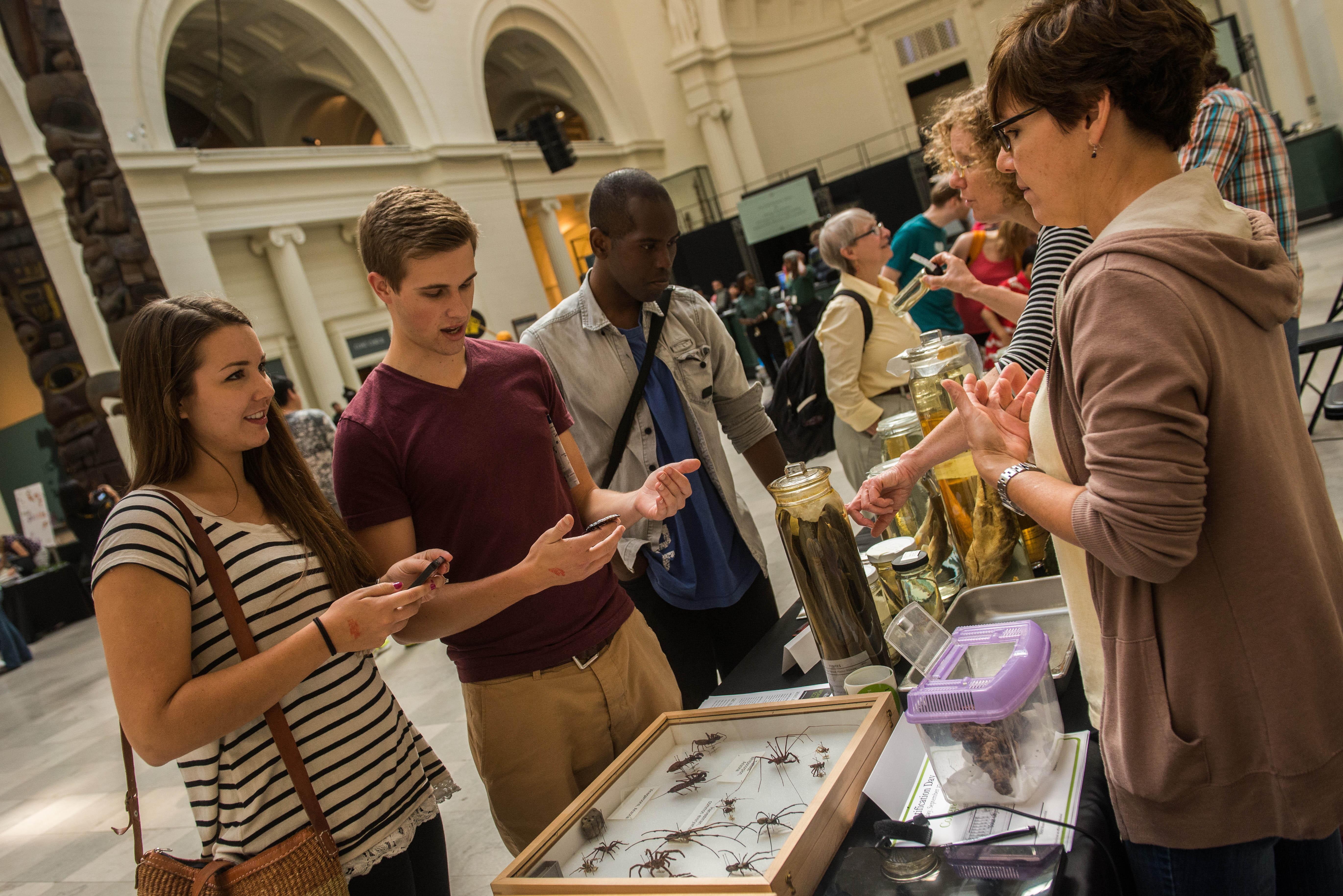 (© The Field Museum)
9. Listen up
Theater meets history meets empowerment when members of the newly created MC-10 Playwrights Ensemble take inspiration from the ACLU for "Use It Or Lose It: An Evening of Short Plays About Your Rights." The one-night-only show takes on President Donald Trump's travel ban, abortion, encounters with the TSA and other topics.
Details: 7 p.m. Saturday at the Greenhouse Theater Center, 2257 N. Lincoln Ave. Tickets are "pay what you want." / MAP
Greenhouse Theater Center's MC-10 Playwrights Ensemble, from left: Zayd Dohrn, Rebecca Gilman, Lydia Diamond, Julie Marie Myatt, Laura Schellhardt, Sandra Delgado, Brett Neveu, Thomas Bradshaw, Philip Dawkins and Tanya Palmer.
10. Jump
The countdown to Halloween is officially on as the doors of haunted houses creak slowly open. In Morton Grove, two new shows aim to raise your hair and elicit screams when House of Torment returns for a third year. A zombie cheerleader leads the freak fest in "Nightmare High: Fall Harvest," while deadly insects and creatures run rampant in "The Swarm." The attraction includes a cast of 75 actors and 50 "stunt personnel," plus free parking. Recommended for ages 12 and up.
Details: 8-10 p.m. Friday-Saturday at 8240 Austin Ave., Morton Grove. Continues on select dates through Nov. 4. $19.99-$32.99, plus tax. / MAP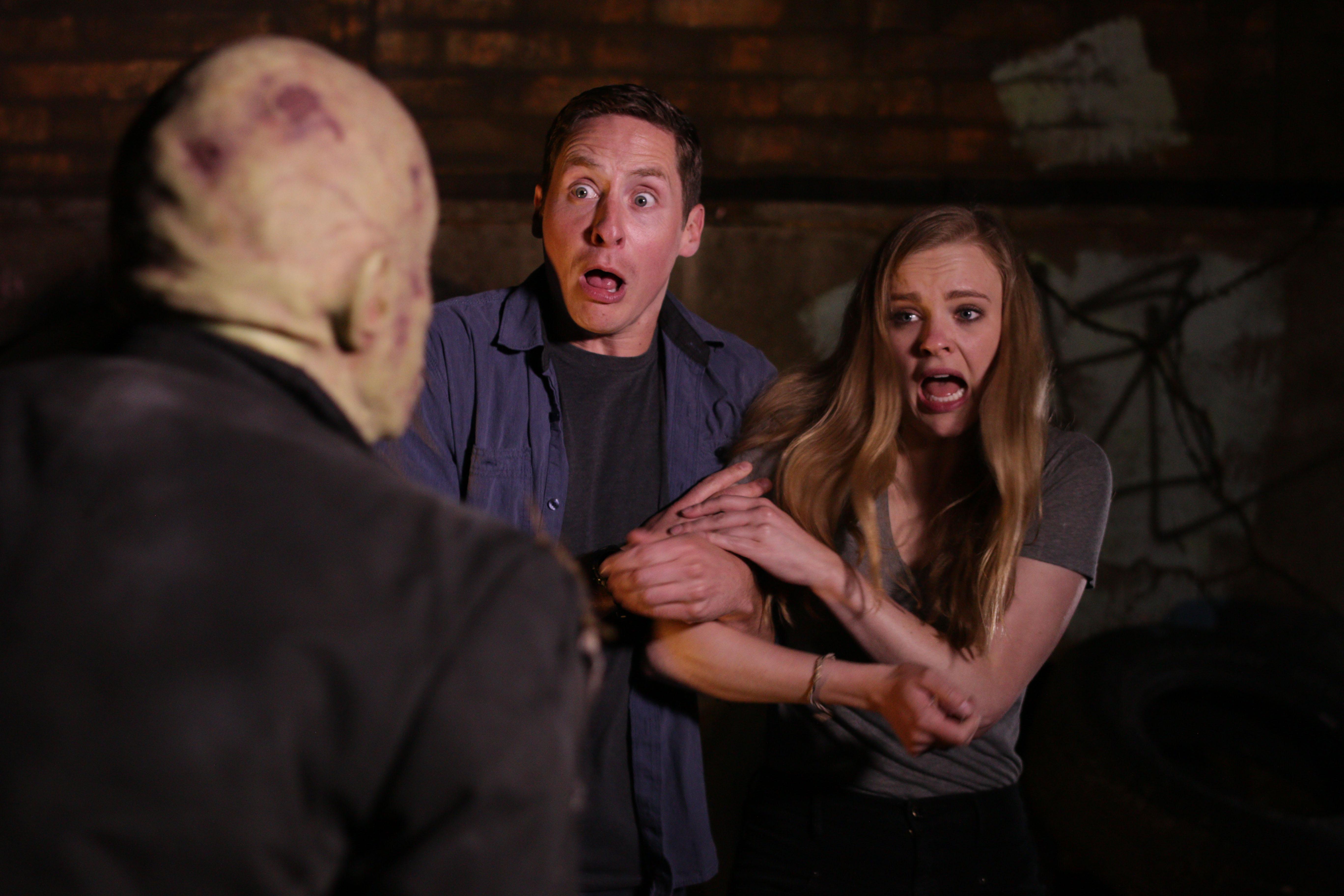 (Courtesy of House of Torment)
Events listed are subject to change. We recommend double-checking times and locations before you head out the door. Want to share your upcoming events with us for consideration in a future roundup? Send us an email.
---